Smart home security cameras are a must-have addition today in any smart home system. If you can't keep your home safe, all the effort will be useless, after all.
And actually, a smart home security camera can do more than catching thieves and burglars. It can also ease your life with remote viewing, two-way audio, and free app push alert to watch your baby, pets or anything that matters.
Now let's end your anxiety in the endless smart home security camera options.
The top 3 cameras recommended here will cover all your security needs without extra fees like subscriptions, even if there is NO power and NO WiFi network.
And you may also continue to read for more expert insights into the top 8 essentials in selecting a best smart home security camera.
Any questions and discussion about smart home security cameras are welcome in the comment area! We will reply to you very soon, with the most straightforward suggestions.
#1. Best Smart Home Security Cameras (with Reviews & Videos)
So here we've picked up the top 3 best selling smart home security cameras that you will definitely fall in love with, based on the real users' review, real video performance and the real useful features to make your home safe and smart.
Of course, all the mentioned smart home security cameras are reliable, easy to set up for even a beginner, and decently priced with free fully featured software and NO subscriptions, to bring you peace of mind.
Best Overall Smart Home Security Camera: Reolink Argus 2
This award-winning WiFi smart home security camera (Innovative Product 2021) is the best choice for both indoors and outdoors, with or without power, to catch thieves, watch pets or any kind of security solution you may looking for.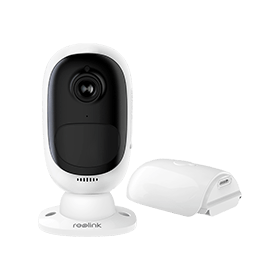 Reolink Argus 2
100% Wire-Free Starlight Camera
Rechargeable Battery & Solar Powered; Outdoor/Indoor Protection; 1080 Full HD; Starlight Night Vision; 2-Way Audio; Live View Anytime Anywhere.
And here is why you will love it:
Battery powered with NO cable at all, easy to install
Very visible during night with starlight night vision
Easy and free Reolink client to check feeds online via phone, PC and laptop
Push notifications to your phone if motion is detected
Safe storage of data to SD card or online, no monthly fees needed
Easy to hide with skins so anyone not looking for it will not notice it
Two-way communication enables you to talk back
Compatible with Google Assistant
Specifications:
Learn more about the smart home WiFi security camera via this specification chart:
| | |
| --- | --- |
| Resolution | 1920 x 1080 (2.0 Megapixel) |
| Angle of View | Diagonal: 130° |
| Motion Detection Distance | Up to 9 Meters |
| Night Vision | Starlight Night Vision (Up to 33 Feet) |
| Audio | Two-Way Audio |
| Battery Life | 4 – 6 Months |
Smart Home Security Camera Reviews:
(Expert Rating 4 Stars out of 5)
As the best selling wireless smart home security camera among users over 200 countries worldwide, featuring on top-tier media like CNET, Wirecutter, and PCWorld, what the users and professional tech reviewers have to say about it?
Customer Review: The camera came very well packed and was an absolute breeze to get going how easy is it when the camera tells you what to do.
PCWorld Review: Easy to install anywhere, Reolink's Argus 2 wireless streaming security cameras let you keep an eye on things without over-taxing your broadband connection.
Bonus tips
I do not have WiFi or a wireless router in the home. Can I still link a smart home security camera to my smartphone?
Yes you CAN, with the right type of smart home wireless IP security camera. For example, the 4G security camera will work independently even without WiFi or electrical power source.
Best Budget Outdoor Smart Home Security Camera: Reolink RLC-410
With the price tag of only $ 59.99, this PoE smart home security camera is the top choice and most recommended if you are looking for the best budget camera.
But that doesn't mean it will compromise in the quality, features, or any kind. And here is what you can get from this solid built smart home security camera:
PoE featured (one cable only) with literally plug and play installation
Continuous or motion-based day and night recording
4MP resolution to identify vehicle color, type, and persons (See video samples)
100ft night vision in low light conditions to overlook the driveway
Live access from free smart home security camera software on the smartphone
Specifications:
For a deeper understanding of this smart home security camera, check this chart:
| | |
| --- | --- |
| Resolution | 2560×1440 (4.0 Megapixels) |
| Day/Night Mode | Auto Switchover |
| Frame Rate | 30fps |
| Waterproof | IP66 Rating (What is IP66) |
| IR Night Vision | 30 Meters (100ft) |
| Audio | Built-in Microphone |
Smart Home Security Camera Reviews:
(Amazon Rating 4 Stars out of 5)
Amazon Review: Great for the price. These cameras have the best picture (both day and night) that I have seen at this price point. Frame rate is also excellent. Great focus as well. And it has the best night vision I've seen on a consumer level so far.
PCWorld Review: Excellent performance, affordable price. Reolink's RLC-410 performed admirably. It delivers solid surveillance on its own or as part of a comprehensive security system.
For more smart home security camera video samples, visit the #ReolinkCaptures program here.
Best Smart Home Security Camera System: Reolink RLK8-410B4
So you are hunting for a smart home security camera system? And you want it to be easy to install, decently priced, and reliable. Then you may check out the Reolink RLK8-410B4.
Packing with 4 best budget smart home security cameras Reolink RLC-410, and a NVR with built-in 3TB HDD for weeks' recording, this smart home security camera system offers the most reliable solution to protect your home 24/7.
Why you'll love it:
Plug and play, easy to install and use
Come with 4 pcs of 1440p Super HD cameras
Work perfectly with & without Internet connection
Safe storage of data in the NVR (3TB pre-installed)
24/7 recording, motion recording and scheduled recording
Expandable local storage (up to 8TB with the 2 solutions)
| | |
| --- | --- |
| Camera Resolution | 5MP/4MP/3MP/1080p/720p of your choice |
| Audio | Cameras with Built-in Mic |
| Maximum HDD | 8 TB (3 TB built-in HDD ) |
| Min. Illumination | 0 Lux (With IR Illuminator) |
| Frame Rate | 30fps @4MP resolution |
| Waterproof | IP66 Waterproof Rating |
Smart Home Security Camera Reviews:
(Amazon Rating 4.2 Stars out of 5)
Amazon Review: It was very easy to setup and deploy. Went through the startup of the NVR without a hitch and the cameras came online without any hesitation, and the picture is great.
Securitybros Review: People who are looking for a more affordable surveillance system that rivals high-end expensive models in terms of quality and reliability could gain the upper hand with Reolink's security package.
Top 8 Features to Consider for Smart Home Security Camera
Loads of security cameras, providing barely satisfactory remote monitoring, claim to be smart home security cameras.
And here we've summarized some smart features you should never miss to make sure you get a real smart home security camera:
Remote viewing. A smart home security camera with remote viewing allows you to check the feeds online and see everything is ok when the alarms go off.
Easy and free fully featured software. Some quality smart home security camera manufacturers will provide FREE software on both PC and mobile that alerts you when an alarm is triggered.
Push notifications. When anything triggers your smartphone home security cameras, push notifications will be sent directly to your phone, so that you will not miss anything important, even though you are miles away.
Smart motion detection. Accurate alerts are especially important for the motion-based smart home cameras, most of which are battery-powered ones. And remember to get the right angle for your cameras to reduce false alarms.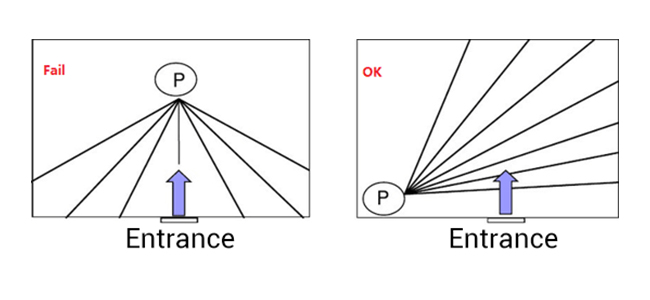 IR night vision. If you want to keep an eye on your new office nearby my home, watch animal activities or your babies during the night, a smart home security camera with night vision would be necessary.
Easy installation. A real smart home security camera system like Reolink Argus 2 allows you to install it without any cable being run through the house. If you are not a tech person and want a smart home security camera system, choose a PoE system will save you tons of trouble.
High definition. With an HD smart home security camera, you can monitor your driveway from a garage attic window like 30 feet from the area and identify the plate number, without worrying about the fuzzy images.
Two-way communication. Want to catch the intruders in action and stop them verbally, talk back to your loved little ones, give your pets orders, or speak to the delivery man directly? Get a smart home security camera with 2-way audio.