PoE cameras are a versatile and efficient surveillance solution that utilizes Power over Ethernet technology. By combining power and network connectivity through a single Ethernet cable, these cameras simplify installation and reduce cable clutter, making them an increasingly popular choice for both residential and commercial security applications.
In this comprehensive guide, we will provide you with a thorough understanding of what PoE IP cameras are and how they can revolutionize your security experience. You will find what you want here whether you are new to the PoE camera or a pro.
What Is A PoE Camera
A PoE camera is a type of IP-based security camera that uses Power over Ethernet (PoE) technology to transmit both power and data via a single cable, such as CAT5, CAT5E, CAT6, etc.
These types of Ethernet cables are specifically designed to support the requirements of Power over Ethernet technology, which is governed by the IEEE 802.3 standards. Only these cables are capable of carrying both power and data and allow for distances up to 100 meters (328 feet).
PoE cameras streamline the installation process and reduce the need for multiple cables, making them a popular choice for modern security systems. And due to their easy-to-setup feature, PoE security cameras are often called plug-and-play cameras.
PoE cameras come with a variety of features, depending on the model, such as motion detection, night vision capabilities, digital noise reduction, wide dynamic range imaging, and more. Additionally, some models are equipped with two-way audio so users can communicate with people captured by the camera.
Thanks to their extraordinary features and reliable performance, PoE security cameras have become an increasingly attractive option for residential and commercial security applications.
How Does A PoE Camera Work
Many beginners expect a PoE camera to work by simply connecting it to their home router with an Ethernet cable. That's correct only when they use a CAT5 or higher-category Ethernet cable and the router support PoE.
In cases when your router doesn't support PoE or you want to manage multiple PoE cameras, you need to utilize other devices such as a PoE injector or PoE switch.
A PoE injector can add Power over Ethernet (PoE) capabilities to a non-PoE network switch or router. Similarly, a PoE switch has built-in PoE capabilities and can provide both power and data transmission to PoE cameras. Their main difference is that a PoE switch comes with multiple ports to support several PoE devices simultaneously, while a PoE injector can only support one PoE camera.
How To Choose The Best PoE Camera
Choosing the best PoE security camera for your security and surveillance needs involves evaluating various factors and features. Here are some key considerations to help you select the ideal PoE camera:
1. PoE Standard
The PoE standard determines the power output that the camera can receive and ensures compatibility with your existing PoE equipment. There are two common PoE standards: IEEE 802.3af (PoE) and IEEE 802.3at (PoE+) standards. The IEEE 802.3af standard provides up to 15.4 watts of power per port, while the IEEE 802.3at standard offers up to 25.5 watts.
The 802.3at as a newer PoE standard is backward compatible with the 802.3af standard, which means that devices supporting the 802.3at standard can also supply power to devices designed for the 802.3af standard. To avoid compatibility issues, it's essential to choose a PoE camera that matches the PoE standard of your existing equipment, such as PoE switches or injectors.
2. Image Quality
Consider the resolution of the PoE camera, as it directly impacts the clarity and detail of the footage. Common resolutions include 1080p (2MP), 3MP, 4MP, 5MP, and 4K (8MP). Higher resolutions like 4K provide better image quality but may require more storage space and bandwidth.
3. Field of View
The field of view (FOV) determines the area the camera can cover. Wider FOVs enable monitoring of larger areas, while narrower FOVs are suitable for focusing on specific points or entryways. If you want to monitor a large area, choose a wide-angle PoE camera.
4. Night Vision
Evaluate the camera's night vision capabilities, as it is crucial for capturing clear footage in low-light conditions and providing 24/7 home security. Look for cameras with infrared (IR) LEDs and check their effective range to ensure adequate coverage in the dark. In this way, you won't miss anything both day and night.
5. Remote Access & Compatibility
Ensure the PoE camera is compatible with your existing security system or NVR and offers remote access through a user-friendly app or web interface. This is necessary for you to view live feeds and manage settings from anywhere.
6. Weather Resistance
If you plan to install the camera outdoors, make sure it has a suitable IP (Ingress Protection) rating to withstand harsh weather conditions, such as rain, snow, or dust. An IP66 rating or higher is recommended for outdoor cameras.
7. Budget
Determine your budget for the PoE camera and compare the features and performance of various models within your price range. Keep in mind that a higher initial cost may be offset by long-term savings from simplified installation and centralized power management.
How to Set up PoE Security Cameras & Systems
There are 3 simple solutions for you to get your PoE security camera to work in whatever situation. To make things easy to understand, we'll take Reolink PoE cameras for example.
Solution 1: Plug and play when your home router supports PoE
Technically, you only need to connect your PoE security cameras to the router that supports PoE with an Ethernet cable, and then your PoE camera will start to work. This is a plug-and-play solution even for beginners.
If you need larger storage with a PoE home security camera system, just add an NVR to your router.
Solution 2: Use a PoE injector/PoE switch when the router doesn't support PoE
Things will be a little more complicated when your router is not PoE featured, or the monitoring areas are out of the reach of existing camera wires. In either case, a PoE injector or PoE IP camera switch will help you get PoE for IP cameras.
Here's how you can use them to set up a PoE camera system:
With a PoE IP camera injector, you will need to plug the Ethernet cable of the PoE camera into the injector, connect the injector to your router, and then power the injector. And the work is done.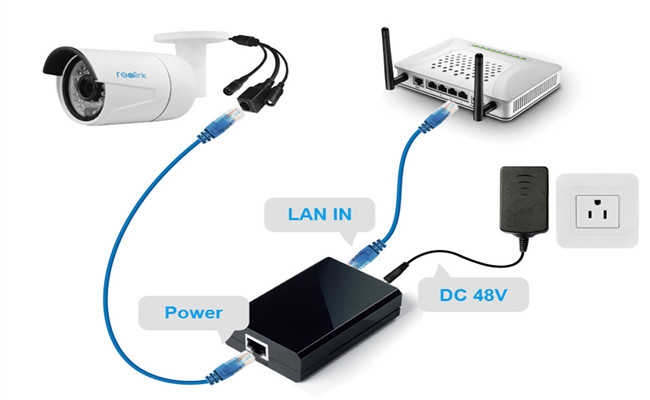 Note: Mind that the PoE injector normally provides only one PoE camera, as mentioned above. So if you have multiple PoE cameras, add a network switch to the system, or just turn to a PoE switch instead.
With a PoE camera switch, you only need to plug the Ethernet cable of all the cameras into the switch, connect the PoE switch to the router, and then power the system up.
Solution 3: Add an NVR to the PoE camera system
You may also add an NVR to your PoE camera system for local video storage.
Actually, if you get a complete PoE IP camera system set, which means both PoE security cameras and NVR are provided by one manufacturer, you can simply connect all cameras with the NVR directly via the 8, 16, or even 32 PoE ports on it.
You can also connect the NVR to a router if you want remote viewing or push notifications from the PoE cameras on your phone.
Below is the wiring diagram of a PoE security camera system: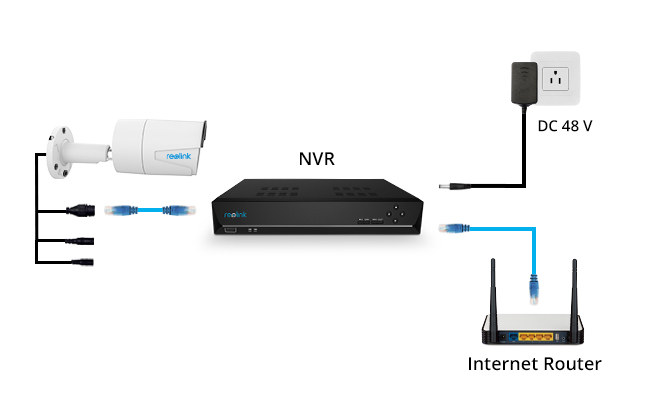 Here is also a Reolink PoE security camera system review showing you all details of the installation:
After all, you should make a plan for your PoE camera security system first (including the installation location and extra PoE extenders), and then decide which way to go and build a PoE security camera system to best suit your needs.
Here is an easy Reolink PoE security camera system review showing you all details in the installation:
PoE Security Cameras & Systems: A Top-Selling List
In the big world of security cameras with PoE, a quick way to target the best PoE camera is to focus on your demanding features, like the resolution, night vision, PTZ, audio, weatherproof, etc.
Some reputable brands have produced PoE security cameras with all these good features, making them suitable for all security applications outdoors and indoors. Here are some of the best-selling security cameras.
The most popular 4K PoE camera outdoor - RLC-810A
RLC-810A is a 4K Ultra HD PoE security camera that offers excellent image quality with 3840x2160 resolution, allowing you to see more details vividly and clearly.
RLC-810A features advanced AI-powered person/vehicle/pet detection, which significantly reduces false alarms. It also comes with 18pcs built-in infrared LEDs for night vision up to 130 feet and an IP66 weatherproof rating, making it durable enough to withstand harsh weather conditions.
Smart 360° PTZ PoE camera with 5X optical zoom - RLC-823A
The RLC-823A comes with 4K 8MP UHD and 5x optical zoom, enabling you to focus on distant objects without compromising image quality.
Like the RLC-810A, it also has smart detection and clear night vision. But the best thing about RLC-823A is that it can pan and tilt to offer a 360° endless view, leaving no blind spots at all. The added PTZ functionality makes it suitable for monitoring larger areas and focusing on specific details.
Comprehensive PoE camera system - RLK8-800B4
If you want to build a home surveillance system, the 8-channel PoE security system RLK8-800B4 is a perfect solution.
This integrated PoE camera system includes an 8-channel NVR and eight 4K cameras, along with necessary accessories. The NVR has a built-in 2TB HDD (expandable up to 6TB) that greatly expands the storage space for your PoE cameras and it can save all the recordings locally and securely.
This system offers 24/7 continuous recording and provides a comprehensive solution for larger properties or businesses looking for a multi-camera setup. Also, you can view the footage remotely via Reolink's App or Client.
If you want a 16-channel PoE camera system, here is another great choice for you.

PoE VS Non-PoE Cameras
When considering security cameras for your surveillance system, you may come across PoE and non-PoE cameras. Here, we'll compare the key differences between them to help you make an informed decision.
Wiring and installation cost
PoE cameras receive power and transmit data through a single Ethernet cable. This eliminates the need for extra wiring and has made the installation of PoE cameras less complex, faster, and more cost-effective than ever before.
Non-PoE cameras, on the other hand, require both a power source and an Ethernet connection for data transmission. This leads to more complicated wiring requirements as well as higher installation costs due to the additional cabling needed.
Centralized power management
PoE cameras can be connected to a PoE switch, allowing centralized control and monitoring of the entire surveillance system. This includes remotely rebooting devices, adjusting power allocation, and implementing power backup solutions.
On the other hand, non-PoE cameras often lack centralized power management, making it more challenging to control and monitor the entire surveillance system.
But this is not a big deal as both PoE and non-PoE cameras can be connected to an NVR for easy management.
Maximum cable length
PoE cameras can be installed at distances up to 100 meters (328 feet) from the PoE switch or injector without signal degradation or the need for additional power sources.
However, non-PoE cameras may have shorter maximum cable lengths compared to PoE cameras, which can limit camera placement options and necessitate additional signal repeaters or power sources.
Transmission speed
The transmission speed of both PoE and non-PoE cameras depends on the type of Ethernet cable and network switch used, rather than the cameras themselves.
But some non-PoE cameras, such as WiFi cameras, need to be in the range of the router and their transmission speed tends to be influenced by various factors. Even though non-PoE CCTV cameras send continuous analog signals over coaxial cables with minimal latency, they support the low resolution and might suffer from signal loss over long cable runs.
In general, PoE cameras always ensure stable and fast data transmission even over longer distances (up to 100m). So if you want a security camera system with a reliable connection, PoE cameras are the best choice.
Compatibility and flexibility
Non-PoE cameras can be a better choice for compatibility with existing non-PoE network switches or routers. In cases where upgrading the entire network infrastructure to support PoE is not feasible, non-PoE cameras can be used with separate power sources.
Besides, some non-PoE cameras are wireless, relying on Wi-Fi or a 4G network for data transmission instead of Ethernet cables. This can simplify installation in areas where running cables is difficult or impractical.
While non-PoE cameras may have certain advantages in specific situations, PoE cameras generally provide a more convenient and cost-effective solution for most surveillance applications. But choosing between a PoE or non-PoE camera system will finally depend on individual needs and preferences.
Hot PoE CCTV Camera Q&As
Besides the PoE IP camera installation, there are some other questions that we've been frequently asked about as listed below.
What's the max distance for PoE cameras to work?
It's suggested to use the PoE IP camera under 300 feet (100 meters) to avoid unstable signal issues or possible power attenuation problems. However, you may extend the distance with the help of a PoE switch or PoE injector.
If you are not sure about the max distance your PoE IP camera can go, check that with the camera provider to ensure your plan works well to your requirements.
Can PoE cameras work without the Internet?
Yes, PoE cameras can work without an internet connection. PoE cameras can receive power and transmit data through an Ethernet cable connected to a PoE switch or injector, which is separate from the internet.
Even without Internet access, PoE cameras can record footage locally to an SD card, NVR, or DVR. And you can still view the live feed from your PoE cameras on a local monitor connected to the NVR or DVR. If your PoE cameras are equipped with on-device motion detection features, they will continue to detect movement and trigger alerts.
But it's important to note that while PoE cameras can function without an internet connection, you lose the ability to remotely monitor and control the cameras, receive notifications, and access cloud storage (if available). If these features matter to you, ensure you have a reliable internet connection for your security camera system.
What Are the Benefits of PoE Cameras?
PoE cameras offer a variety of benefits as an effective and efficient surveillance solution. Here are some key advantages of PoE cameras:
Simplified Installation: PoE cameras require only a single Ethernet cable for both power and data transmission. This eliminates the need to install separate power cables which in turn reduces installation costs.
Reliability: PoE cameras provide a more stable and reliable connection compared to Wi-Fi cameras, as they are not subject to interference or signal loss that can occur with wireless connections.
Flexibility: PoE cameras support cable up to 100 meters (328 feet) from the PoE switch or injector, allowing for greater flexibility in camera placement without compromising signal quality or requiring additional power sources.
Scalability: PoE camera systems are highly scalable, making it easy to expand your surveillance network by adding more cameras as needed. You can simply connect additional cameras to your existing PoE switch or injector without the need for new power supplies.
Are PoE cameras better than other cameras?
In most cases, PoE cameras offer certain advantages over other types of cameras.
PoE cameras provide a more streamlined and efficient installation process, centralized power management, and longer cable runs compared to other types of cameras. They are generally considered better for larger surveillance systems or situations where a stable and reliable connection is crucial.
However, Wi-Fi cameras may be more suitable for smaller installations and areas where running cables is challenging or PoE is not supported. Ultimately, the choice between PoE cameras and other camera types will depend on your specific needs and preferences.
Conclusion
Overall, PoE cameras provide a convenient and efficient solution for modern security needs. Investing in a PoE camera system can enhance security and simplify installation. Carefully consider your unique preferences, and confidently choose the ideal solution for your property.
If you have any questions about PoE cameras, don't hesitate to share them with us in the comments section below. We'd love to know your thoughts.