Are you toying with ideas whether to choose dome security cameras or bullet cameras for home surveillance?
First-time buyers, who are trying to find the exact surveillance cameras for house defense, very often, will inevitably run into such issue.
Today we share some insights on what a dome camera is, how it works and the reasons for choosing dome security cameras.
What Is a Dome Camera
Dome security cameras get their name for the dome-shaped housings, which are designed to brave all the elements. The dome CCTV cameras are widely used inside and outside the home, on the ceilings, in retail stores, hotels, etc.
Due to the dome shape, it is almost impossible for you (especially for the potential thieves or intruders) to tell which direction the dome surveillance camera is actually pointing at.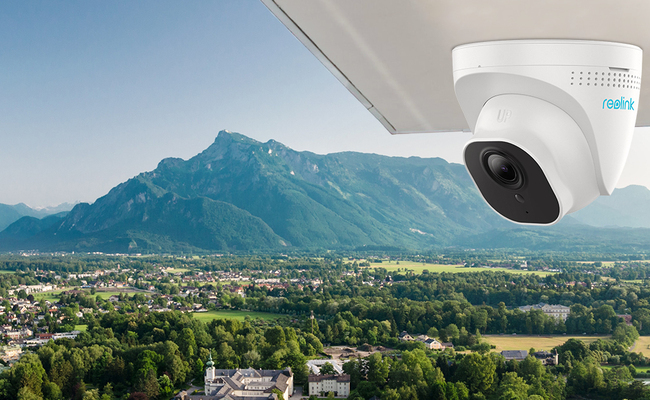 Check out our other blog post for a complete guide to dome cameras, including benefits, types, comparisons, and best options.
How Do Dome Security Cameras Work
Dome security cameras are packed with infrared LED lights to work perfectly with little or no light at all, such as the Reolink RLC-422 dome IP camera, which can see up to 100ft in total darkness with 24pcs infrared LEDs.
For the wired dome security cameras, they can get power juice and send video signals over the same CAT5 or CAT6 cable. Then you can access the dome CCTV cameras from anywhere on your mobile devices over Internet.
The wireless dome security cameras, on the other hand, transmit video signals wirelessly over the WiFi network, saving you the trouble to run messy wires and drill holes (a power adapter is required).
Top 6 Advantages of Dome Security Cameras
So are dome security cameras better? Should you buy the outdoor dome security cameras or bullet ones?
Now look through the top 6 advantages of dome-shaped security cameras and you'll reach your conclusions.
Reason 1: Variety and Diversity
Dome security cameras come in different shapes and sizes.
Technically speaking, dome cameras could be IP dome security cameras or analog dome security cameras, and some of them could be packed with IR night vision or other advanced technologies like pan-tilt-zoom features, motion sensors or thermal sensors.
In terms of appearance, dome surveillance cameras have fixed or mobile and movable domes; various external housing could be designed to blend in with the surrounding.
And the very notion of outdoor dome security cameras means they are born to be a variety which not only indicates the variety of design mentioned before, but also the practical application on various setting such as cross-road, parking lot, supermarket, backyard, etc.
CCTV outdoor dome cameras, for example, are widely used in public areas and areas where people congregate and gather frequently, like rail stations, squares or plaza.
The primary reason for opting for dome security camera systems stems from the fact that they are uniquely qualified to be responsible for massive area surveillance, especially if they are outfitted with extraordinarily advanced sensors and high resolution like 20MP or 50MP.
Outdoor dome security cameras for residential areas are widely used to monitor larger areas such as a detached garage, parking lot or backyard. Indoor dome surveillance cameras are commonly used in living room and dining room.
Reason 2: Wide Angle
The very element in the dome security camera design – dome shape launches it on a path to be multi-functional and flexible, which sets them apart from the bullet-shaped camera as bullet cameras are intensively targeting on certain designated patch of land.
Dome-shaped security cameras either outdoor dome or indoor dome, however, can be transformed into panoramic surveillance cameras that are packed with multiple sensors.
PTZ dome security cameras are bestowed with ultra wide angle cameras which maximize areas of scouting and expand the field of view significantly to 180-degree or staggering 360-degree, overshadowing majority of other bullet cameras on the market.
What's more, shape matters in various ways; dome shaped security cameras are more likely to be configured as dome pan-tilt-zoom (PTZ) cameras since unique dome design gives the camera the leeway to rotate horizontally and vertically, and multitask to achieve exceptional surveillance.
Reolink RLC-423
PoE Waterproof PTZ Security Camera
5-Megapixel Super HD; 360° Pan & 90° Tilt ; 4X Optical Zoom; 190ft Infrared Night Vision; Smart Motion Detection; Remote Live View & Control.
Reason 3: Vandal Resistant
Of course, there are some undetected flaws in dome-shaped cameras if you choose wrongly. For example, dome security cameras, especially outdoor dome surveillance cameras, are susceptible to damaging and rough handling if they are not vandal-proof dome security cameras.
If you are looking for a security camera to be placed in a low ceiling or places that are closer to capture the faces of visitors or within your arm's reach, you need to consider possible mistreatment or attempt to take them off.
Outdoor dome security camera housing is normally rated IK 10 as vandal-proof to ward off tampering and rough handling, and the sleek shape of outdoor CCTV dome camera is relatively hardened to being manually taken off by intruders or burglars.
While bullet cameras are prone to be knocked off or manually altered to pointing to other directions.
Moreover, outdoor wireless dome security cameras, similar to bullet cameras, are manufactured to withstand harsh weather conditions like rain.
Reason 4: Discreet and Low Profile
Another reason for the popularity of dome security cameras is that they are not readily noticeable and conspicuous, which is particularly useful for the front door, church surveillance or places where you don't expect passers-by or visitors to be instantly aware of the existence or whereabouts of surveillance cameras.
For example, one user from Reddit was thinking about buying surveillance cameras to gather evidence of crazy ex, saying
"Adding to that, the more discreet the better. This lady is wily to say the least, so if she doesn't know she's being recorded that's a plus."
Many users praise dome surveillance cameras as low profile options, less visible at the first glance, which is also important when it comes to avoiding possible vandalizing activities.
Reason 5: Artistic Appeal
Many homeowners prefer dome security cameras over bullet cameras merely out of affection on the artistic appearance.
Instead of being relatively intrusive, IP dome security cameras take on simplicity and minimalism to soften intrusion with the surrounding, especially white-colored dome security cameras, they can easily blend in with the settings such as limestone white walls and ceiling plaster.
That could explain why many customers are prone to install dome shaped security cameras inside the house: the dome security cameras if not being in sharp contrast to the whole color tone will naturally immerse with interior décor.
Reason 6: Installation
The installation between PoE bullet and dome surveillance cameras is somehow similar to each other as both types need to place the bracket on the surface and screw before mounting them.
But the wired or wireless dome security cameras do make a difference which implicates some drilling into the wall and threading wires around the house.
Wireless dome security cameras, however, don't entail any wiring for video transmission and operate over the WiFi network.
One obvious difference is that some outdoor dome security cameras cannot easily be readjusted the pointing angle once being mounted to the ceiling whereas bullet can be adjusted or tempered easily.
Reason 7: Day & Night Monitoring
Infrared dome security cameras can stand guard your property both day and night, even in total darkness. In virtue of the built-in infrared LEDs, the outdoor dome security cameras can deliver sharp and clear images without ambient light at all.
In the unfortunate case that you suffer from a home break-in, the dome-shaped security cameras would send you instant alerts and the recorded footage can also be the proof to help pinpoint suspects.
Below is a high-resolution video shared by a user of outdoor dome security camera Reolink RLC-520.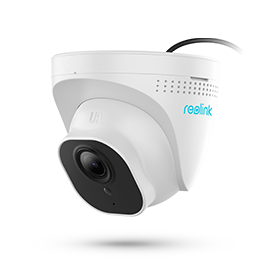 Reolink RLC-520
PoE Dome Security Camera with Audio
5MP Super HD; Outdoor/Indoor Protection; 100ft Infrared Night Vision; Audio Recording; Smartphone Remote Access & Control.
Conclusion
Despite many benefits of dome cameras, any outdoor cameras if not being well maintained could easily become dusty and a potential hotbed for spider webs, thus regular maintenance and cleaning on the surface on any security cameras are necessary to prolong their lifespan in the long haul.