Are you afraid of having your outdoor security cameras vandalized or destroyed by intruders?
That's where the vandal proof security cameras come in.
In today's post, you'll learn what is a vandal proof camera and how to choose the best vandal resistant dome cameras.
What Is a Vandal-Proof Security Camera
Vandal proof security cameras or CCTV cameras are the IP cameras outfitted with metal housings or vandal-proof dome covers, so as to prevent the lens from becoming damaged or destroyed when there's maltreatment or physical abuse.
There are a few questions about what weather-proof security cameras or water-proof CCTV cameras are, find out more here and understand the meaning of IP ratings for security cameras.
Do You Really Need Vandal Proof Cameras?
With prevailing use of surveillance systems, security cameras are becoming increasingly vulnerable to vandalism because many thieves or burglars try to cover their criminal acts by dismantling security systems with brute force or iron bars.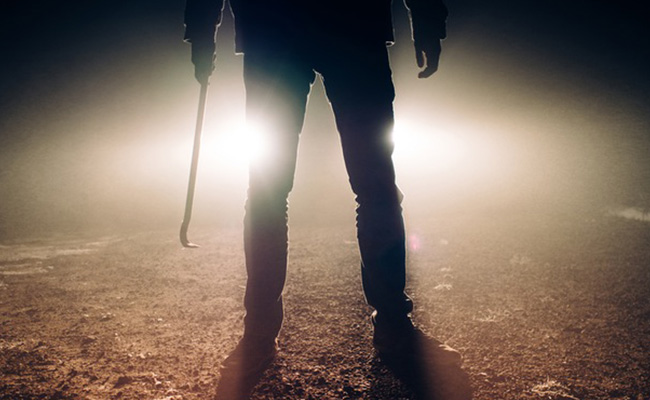 Intentional damage on outdoor or indoor security cameras may happen at night, whereby infrared vandal-proof cameras with excellent night vision not only help capture would-be burglars or intruders but also ensure that the camera remains intact.
An outdoor IP camera suffers from unexpected hassles like vandalism, which not only undermines your home defense system but also increases household expenditure.
Today we share some helpful insights to help you choose vandal-proof security cameras and camera systems.
Best Picks of Vandal-Resistant Security Cameras
Some customers worried that outdoor dome security cameras are more vulnerable to mishandling or physical tampering than bullet cameras because of the nature of dome cameras - transparent dome cover.
The truth is that, vandal-proof dome security cameras are protected by rugged metal casings and durable polycarbonate domes, thus being able to stand up rough handling.
For that matter, an international standard for specifying the capacity of camera enclosure to withstand external mechanical impact was introduced, known as IK Code.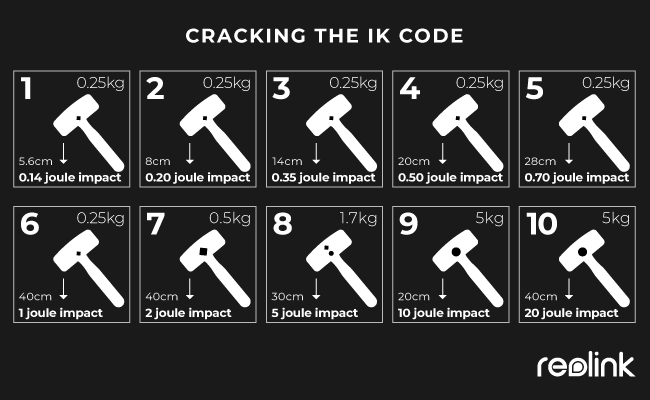 The higher the digital goes, the more vandal-proof the IP camera is.
The IK code is widely applied to categorize housing or enclosure vandal resistance, especially for outdoor vandal-proof dome cameras whose dome covers could experience impact or damage easily.
Below we have picked up two best wired and wireless vandal proof dome security cameras for your options.
Best Wired Vandal Proof Dome Security Camera – Reolink RLC-842A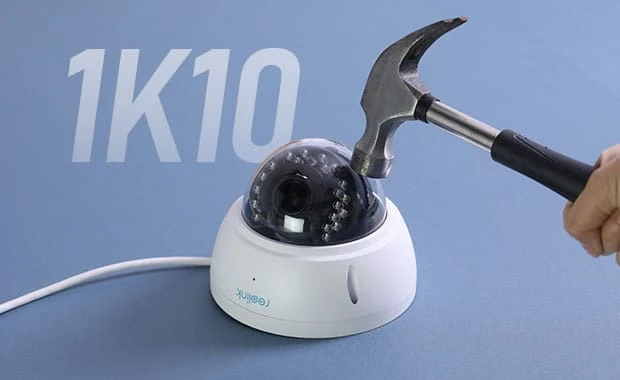 Reolink RLC-842A, a vandal proof dome security camera, is constructed of tough and durable aluminum alloy casing and Acrylonitrile butadiene styrene (ABS) dome whose most important mechanical properties are impact resistance and toughness.
Reolink vandal-proof dome cameras are rated IK code 10, which can withstand up to impact from 5kg objects dropping from the height of 400mm. The vandal proof IR dome security cameras are relatively covert and can be mounted easily.
At the same time, it's a vandal-proof dome security camera packed with 24pcs infrared LED to maximize illumination in low light environment.
Apart from being an outdoor vandal-proof IR dome camera, Reolink RLC-842A has other amazing features.
4K 8MP Ultra HD super HD to create clearer and sharper image and videos
5x optical zoom to zoom in small details without impairing image quality
24pcs IR LED to achieve excellent night vision
Intelligent motion trigger and alert function to keep you informed
IP 66 waterproof and tough camera housing
Easy and simple installation
No monthly subscription fee and user-friendly app interface
Best Vandal-Proof Wireless Dome Security Camera – Reolink RLC-542WA
This outdoor vandal proof security camera Reolink RLC-542WA with the 5MP high resolution (at your choice), IK10 vandal proof, IP66 waterproof, etc.
The Reolink RLC-542WA is a vandal proof wireless security camera, which transmits data wirelessly over WiFi network.
Also, this vandal proof dome security camera support dual-band WiFi (2.4 & 5 GHz), ensuring that you won't suffer from signal loss or interference.
Below is a high quality video shared by a user of RLC-542WA.
Tips to Help Better Protect Your Vandal Proof Security Camera
To better secure your outdoor vandal-proof security cameras from natural or intentional damage, here are some useful tips to add an extra protection layer.
1. Vandal-Proof Camera Installation
To be better immune to physical mutilation or damage, firmly mounting vandal-proof camera housing around outdoor cameras can help them withstand rough handling.
Alternatively, anchoring the outdoor tamper proof security cameras to the concrete wall or ceiling with screws can prevent the cameras from being knocked down easily.
Firmly fixing PTZ cameras or wireless security cameras on the wall or ceiling makes them vandal-resistant and less vulnerable to maltreatment.
Here's a video about how to set up and install a wireless vandal-proof security camera. You can follow the tips inside to install your own camera.
2. Vandal-Resistant Security Camera Placement
The placement of outdoor vandal proof security cameras makes a difference when it comes to the tempering IP security cameras could suffer.
If you are placing your vandal dome security cameras within arm's reach, it's highly likely outdoor cameras could be more susceptible to physical access or deliberate damage.
Placing your vandal proof security camera systems in a spot that is out of intruders or thieves' reach, for example, the ceiling where dome camera can be easily mounted, or elevated areas of external walls in your property, helps reduce the chances of having outdoor vandal proof surveillance cameras being sabotaged.
Placing your outdoor vandal-resistant dome cameras in a hard-to-reach spot also helps avoid getting your video surveillance cameras blinded by paint spray, or reduce the likelihood of being obscured by light torch or lasers.
But it's important to bear in mind that the mounting place of vandal proof CCTV cameras has an impact on viewing angles and areas covered. It's always a good idea to understand your house layout better before wiring them up.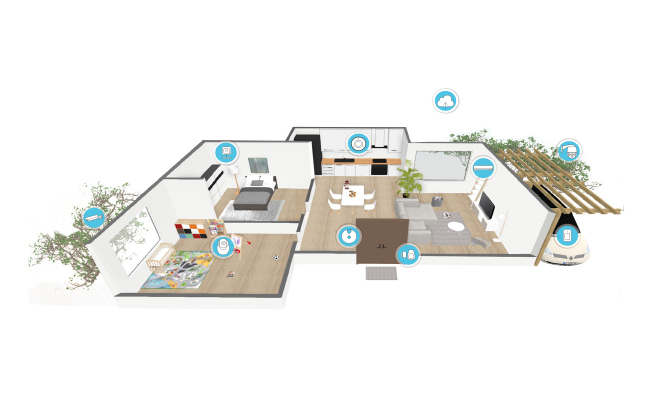 The inaccessibility of your outdoor vandal dome security cameras could make the cameras pretty much impervious to any mishandling or purposeful mutilation.
3. Fake or Dummy Vandal Proof Dome Security Cameras
There are some readers suggesting using fake or dummy outdoor vandal proof security cameras to deceive potential intruders or to deter break-ins in the front door or driveway. There are mixed opinions about such solution.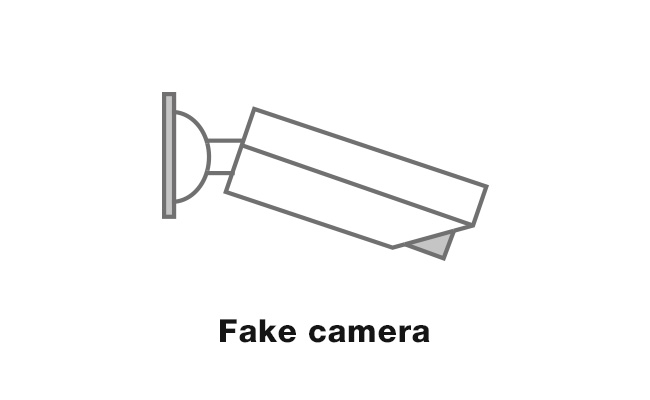 The evidence of effectiveness of fake outdoor camera in preventing break-ins has yet proven to be solid or scientifically verified, but it does make some sense when it involves the mentality of some potential criminals.
Convicted burglars reveal that they are less prone to attack a house with obvious visibility of security surveillance system, according to the survey conducted by KGW's investigative team.
However, if solely relying on fake cameras instead of installing a genuine outdoor vandal-proof security camera,, it might be a harbinger of unfortunate incidents when real problems strike.
Therefore, it's significant to batten down the hatches and get a real vandal-proof IP outdoor security camera.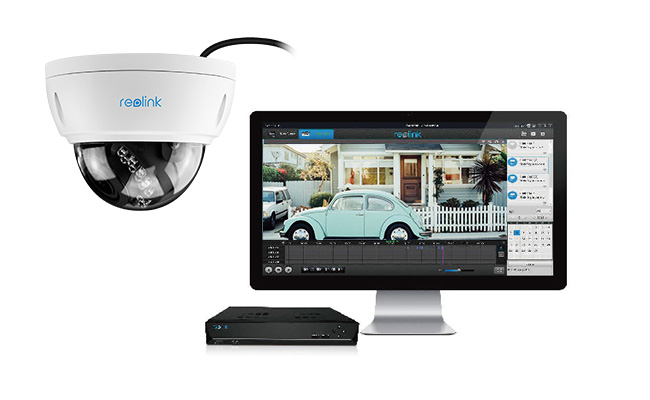 However, it's still reasonable to place a dummy camera outdoor visible enough to trick intruders, and meanwhile, having some covert outdoor vandal-proof IP security cameras monitoring your house.
Conclusion
With increasing popularity of security camera, vandalism on public or private outdoor security cameras has kept popping up in recent year.
Therefore, installing an outdoor vandal-proof security camera system will not only boost home security but also save money by prolonging camera lifespan.