With their improved resolution over other cameras, exceptional low-light performance, and innovative smart features, 4K security cameras have become the first choice in recent years for homeowners and business owners who want to build a top-quality surveillance system.
However, some consumers hesitate to buy these cameras due to their high cost, storage limits, and very large export files, among other issues. Some consumers feel overwhelmed by all of the available options.
Now we're here to help. In this guide, we will discuss the essentials of 4K security cameras so that you can make an informed decision about what camera is right for your home or business.
4K Security Camera Basics
4K security cameras are high-resolution cameras that can capture footage at a resolution of 3840 x 2160 pixels. This resolution is four times higher than that of standard 1080p HD cameras. Sometimes they are also called 8MP security cameras, ultra HD cameras (4K UHD security cameras), or 2160p security cameras.
An image is made up of thousands and millions of pixels horizontally and vertically. 4K resolution means that there are about 4K horizontal pixels on the image.
This increased resolution results in more detailed, sharper images with improved color accuracy, making it easier to identify people, objects, and potential threats.
For example, you can clearly read license plates of cars passing by or parked out front, easily identify T-shirt characters of any passerby on the street, the details of the pot plant across the street, and the facial features of thieves and burglars trying to break into your home.
Editor's Tips: You might have noticed two resolution standards if you search for 4K security cameras: 3840 x 2160 and 4096 x 2160. Generally, when security professionals talk about 4K IP cameras or 8MP security cameras, they are referring to the ones with 3840 x 2160 resolution.
Different Types of 4K Surveillance Camera: Which One Suits You Best?
Whether you require portability, extensive coverage, or a stable wired connection, there is a 4K camera option tailored to your requirements. By understanding the unique features and benefits of each type, you'll know which one is the perfect to enhance the security of your property.
Wired 4K PoE Cameras
Wired 4K PoE cameras are a reliable and efficient surveillance option, utilizing Power over Ethernet (PoE) technology. These 4K cameras receive both power and data through a single Ethernet cable, simplifying installation and minimizing cable clutter.
With high-resolution 4K UHD and a stable wired connection, they provide continuous, high-quality surveillance and diminished risk of signal interference. Ideal for businesses, institutions, or properties where wireless connectivity may be unreliable or undesirable, wired 4K PoE cameras offer a dependable solution for your security needs.
If you want a robust and resilient security solution, take a look at Reolink's 4K PoE camera RLC-810A, which stands out for its advanced person/vehicle/pet detection, user-friendly installation, and exceptional night vision performance. It ensures that your property remains well-protected day and night.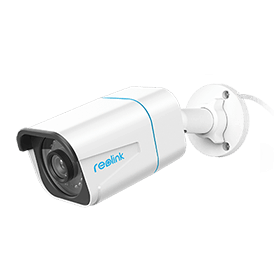 Reolink RLC-810A
4K PoE IP Camera with Person/Vehicle Detection
Smart Person/Vehicle Alerts; 4K UHD Day & Night; 100ft Night Vision; Time Lapse; IP66 Certified Weatherproof; Audio Recording.
Check out the video footage captured by Reolink 4K PoE camera RLC-810A to feel the clarity 4K resolution offers.
Wired 4K WiFi Cameras
Wired 4K WiFi cameras combine the reliability of wired connections with the convenience of WiFi technology, offering a robust surveillance solution for your security needs. These cameras utilize a wired connection for power and a stable WiFi connection for data transmission, ensuring a seamless and efficient operation.
With high-resolution 4K UHD capabilities, these cameras capture detailed and crisp images, providing enhanced surveillance. The wired connection ensures a consistent and stable data transfer, reducing the risk of signal interruptions. This makes them suitable for environments where a wired setup is preferred, yet the flexibility of WiFi is desired.
If you want a good WiFi camera, RLC-810WA is a proper choice. RLC-810WA is an advanced 4K WiFi 6 surveillance camera designed for enhanced security and surveillance. With its impressive 8-megapixel Ultra HD resolution, this camera provides crisp and detailed video footage, ensuring that you capture every detail with clarity.
The incorporation of Dual-Band WiFi 6 technology ensures faster speed and higher stability in wireless connections, allowing for seamless streaming and reliable data transmission. This is particularly beneficial for real-time monitoring and accessing footage remotely.
Reolink RLC-810WA
4K WiFi 6 Surveillance Camera
4K 8MP Ultra HD, Dual-Band WiFi 6, Color Night Vision, IP67 Waterproof, Smart Detection, Two-Way Audio, Built-in Siren.
Wireless 4K Battery Cameras
Convenience and flexibility are essential factors when choosing a surveillance camera. Wireless 4K battery cameras provide both of these advantages, offering high-resolution imagery and unparalleled flexibility in terms of installation and positioning.
Powered by batteries and transmitting video data wirelessly, these cameras are well-suited for situations where wiring is impractical or impossible and perfect for monitoring remote locations or temporary events.
Furthermore, their portable design allows for easy repositioning or relocation as needed, providing versatile surveillance options.
While ease of installation is a significant advantage, the 3-6 month battery life and potential for interrupted connectivity should be considered. 4K video recording can negatively impact battery life due to high power consumption.
A great example of a wireless 4K battery-powered security camera is the Reolink Argus PT Ultra. This cutting-edge battery camera not only offers crystal-clear 4K video but also boasts a pan-tilt function, long-lasting battery life, and weatherproof design.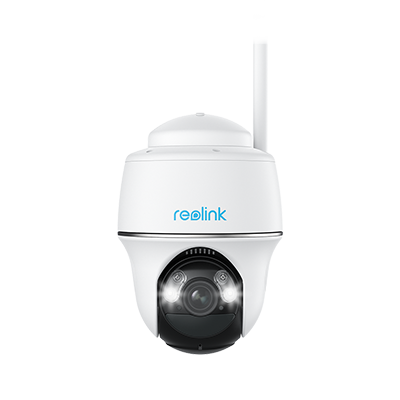 Argus PT Ultra
4k 100% Wire-Free PT Camera
4K 8MP Ultra HD; 5GHz/2.4GHz WiFi; Rechargeable Battery & Solar Powered; 355° Pan & 140° Tilt; IP65 Certified Weatherproof; Clear Night Vision; 2-Way Audio; 122° Wide Viewing Angle.
If you are interested in learning about more about this type of 4K security cameras, check out our comprehensive guide on 4K wireless security camera.
4K Pan-Tilt-Zoom (PTZ) Cameras
Equipped with the ability to pan, tilt, and zoom remotely, 4K PTZ cameras provide comprehensive coverage and the ability to capture detailed images from various angles.
These advanced 4K IP cameras can track moving objects, focus on specific areas, and capture intricate details with their high-resolution lenses. Ideal for monitoring expansive areas, such as parking lots or public spaces, 4K PTZ cameras ensure that no detail goes unnoticed. Their ability to cover large areas and capture intricate details from a distance makes them invaluable for businesses and institutions alike.
However, their advanced features and sophisticated technology often result in a higher price tag compared to other 4K cameras.
If you have limited budget and want a 4K PTZ security camera, try Reolink E1 Outdoor Pro, which provide smooth operation and exceptional image quality to ensure comprehensive security for your property. With Dual-Band WiFi 6, it ensures a stable and high-speed connection for seamless monitoring. Moreover, the 3X Optical Zoom capability allows you to focus on specific details.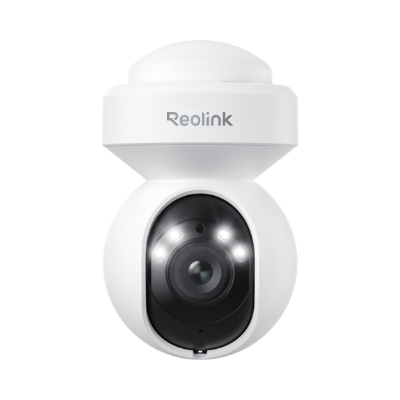 Reolink E1 Outdoor Pro
4K WiFi PTZ Camera with Auto-Tracking
4K 8MP Super HD, Smart Person/Vehicle Alerts, 355° Pan & 50° Tilt & 3X Optical Zoom, Auto Tracking, Color Night Vision.
Here is a footage shared by a user of PTZ camera, which may allow you get to know the PTZ function more easily.
4K Doorbell Cameras
The entrance of a home or business is a critical security point. A 4K doorbell camera provides unobtrusive yet powerful security solution for your front door.
This high-definition camera captures crisp images and allows you to communicate with visitors via built-in audio systems from the comfort of your home. With smart motion detection, these doorbell cameras can send alerts to your smartphone, ensuring you stay informed of activity outside your home.
For those who prioritize safety and want to keep a watchful eye on their property's entrance, a 4K doorbell camera is an ideal choice.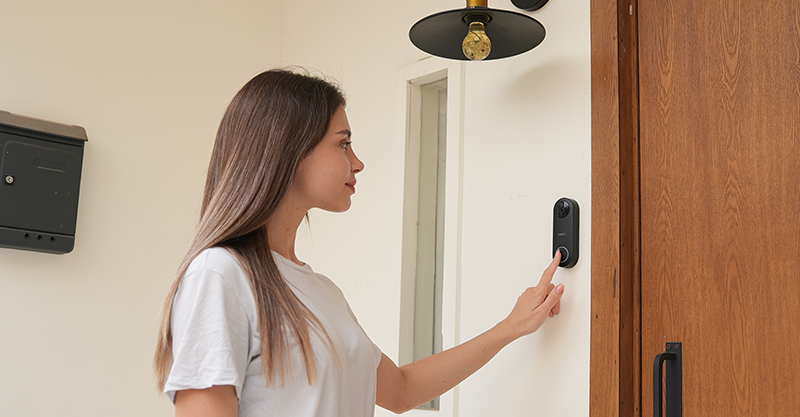 4K Security Camera Systems
For those seeking a comprehensive security solution, a 4K security camera system offers multiple cameras that work in tandem.
These systems often include an array of high-resolution 4K cameras strategically placed throughout your premises, providing extensive coverage and versatility.Also, 4K security camera systems provide advanced features such as motion detection, 24/7 recording, and remote monitoring capabilities, ensuring robust and reliable protection.
For individuals or businesses seeking top-notch security coverage, a 4K security camera system is a wise investment.
The reputable security brand Reolink also offers an series of 4K security camera systems with high-quality performance. These systems, such as RLK12-800WB4, incorporate Reolink's 4K security cameras and an large-capacity NVR. With its Dual-Band WiFi 6, this all-powerful 4K security kit ensures top-notch connectivity. The 4K 8MP Ultra HD resolution guarantees clear images. The 12-Channel NVR with a spacious 2TB HDD provides ample storage for your security footage, making RLK12-800WB4 a comprehensive and reliable choice for safeguarding your space.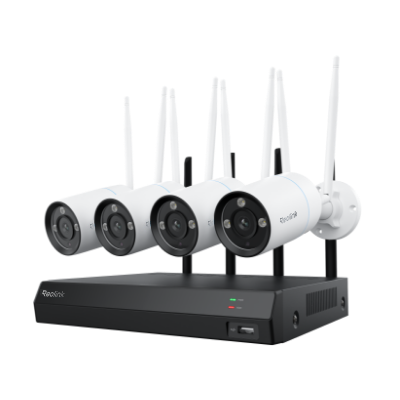 Reolink RLK12-800WB4
4K Security Kit with Next-Gen WiFi 6
4 pcs 4K Ultra HD Security Cameras; Dual-Band WiFi 6; 2TB HDD 12-Channel NVR for 24/7 Recording; Peron/Vehicle/Animal Detection; IP67 Weatherproof.
The video below shows exactly how did a postman knock down the trash can at a distance, check it out.
Pros and Cons of 4K Security Camera
In the realm of security solutions, the 4K security camera has gained prominence for its exceptional image quality, but that doesn't mean these cameras are perfect. Here are some advantages and disadvantages of the cameras and their features.
Benefits of 4K Security Cameras
Unparalleled image quality
The primary advantage of a 4K surveillance camera is the superior image quality it offers. With a resolution of 3840x2160 pixels, these cameras capture four times the detail of 1080p Full HD cameras. This increased clarity allows for better identification of faces, license plates, and other critical details, enhancing overall security.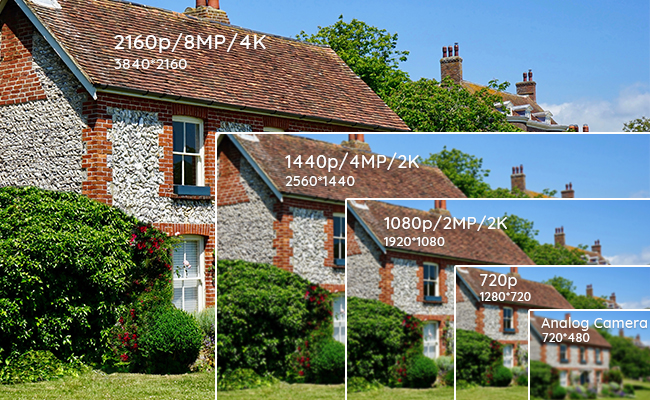 Improved digital zoom capabilities
Since there are more pixels available, you can zoom in on specific areas of interest without losing as much detail as lower-resolution cameras. This feature can be crucial for investigations or identifying suspicious activity.
Wider field of view
4K security cameras typically offer a wider field of view compared to lower-resolution cameras. This attribute allows a single 4K camera to cover a larger area, potentially reducing the number of cameras needed to achieve comprehensive coverage.
Enhanced low-light performance
Advanced image sensors and processing technology in 4K security cameras enable the cameras to capture clear images during the night or in poorly lit areas. This improvement is particularly valuable for nighttime surveillance, ensuring that crucial details are not lost in the dark.
Future-proof technology
Investing in 4K security cameras helps future-proof your surveillance system. As technology continues to advance, 4K resolution is becoming the new standard for video quality. By adopting 4K cameras now, you can avoid potential compatibility issues in the future.
Downsides of 4K Surveillance Cameras
Higher cost
4K security cameras with advanced technology and superior performance come at a price, making these cameras more expensive than their lower-resolution counterparts. This factor may be prohibitive for some users, particularly those with tight budgets or extensive surveillance needs.
Increased storage and bandwidth requirements
The high-resolution imagery generated by 4K cameras requires more storage space and bandwidth for transmission. This demand can lead to increased costs for storage solutions and network upgrades, as well as potential performance issues if the network cannot handle the additional load.
Limited compatibility
As 4K technology is relatively new, some existing surveillance systems may not be compatible with 4K cameras. This limitation can necessitate additional investments in compatible hardware, such as recorders or monitors, to fully utilize the benefits of a 4K security camera.
Power consumption
4K cameras typically consume more power than lower-resolution cameras due to their advanced features and higher processing demands. This increased power consumption may require upgraded power supplies or additional power management considerations.
Choosing The Best 4K Security Camera: Top Things to Consider
4K ultra HD IP cameras are awesome, but you need to make sure you get a true 4K security camera, whether you are looking for a dome, bullet, wireless, PoE, or PTZ one.
Check the following things to make sure you are not getting into the cheat of marketers.
1. Actual Resolution
It seems to be a non-brainer to check the 4K IP security camera resolution. Isn't it 4K as advertised?
In fact, some security cameras might highlight their 4K sensors to get your attention, but actually you will only get 1080p grainy video images from them. So do remember to check its resolution (3840 x 2160) to make sure you get a true 4K ultra HD security camera.
2. Camera Codec
A high-quality 4K surveillance camera should utilize advanced High Efficiency Video Coding (HEVC) or H.265, which maintains the camera's 4K image quality without compromising file size.
In essence, this technology allows the 4K IP camera to deliver 8MP high-quality videos while minimizing the strain on your home network and reducing storage space requirements by 50%. This feature is particularly significant for 4K security camera systems, as it maximizes efficiency without sacrificing image clarity.
3. Field of View
While a 4K security camera does provide a wider range of view, you still need to check its viewing angle to make sure the 4K IP camera could cover your desired monitoring area, like the front door, driveway, porch or garage.
Usually, a 4K video security camera could go around 100° horizontally. To cover more areas, say 360° endless monitoring, you might choose the 4K HD security camera with PTZ function.
4. Low-Light Performance
Surveillance often requires monitoring in challenging lighting conditions, such as at night or in dimly lit areas.
When choosing a 4K security camera, look for models with advanced low-light capabilities, including infrared (IR) illumination and wide dynamic range (WDR) technology, which can provide clear images in suboptimal lighting conditions.
Here's a comparision of pictures with and without WDR.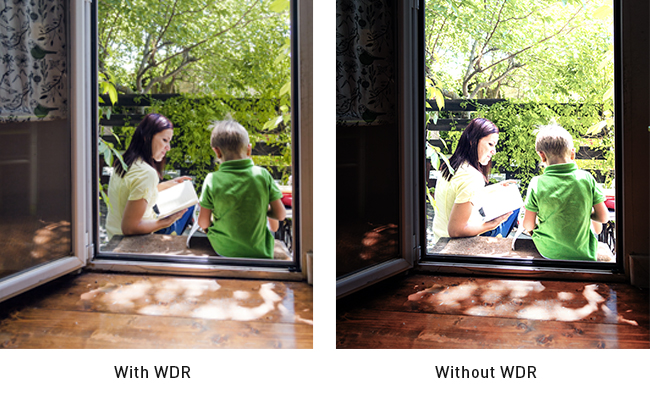 5. Video Fluency
4K security cameras that capture 20-30 frames per second (FPS) can record a fluent video. If possible, ask for a video demonstration from the manufacturer or search for some 8MP test video footage from other users on YouTube to verify that the video is not choppy and captures your desired area effectively.
6. Warranty and Support
A reliable and efficient support team ensures that your camera performs optimally and that any issues are promptly addressed. While comparing various manufacturers, examine their customer service reputation and responsiveness to avoid wasting time and effort on ineffective solutions.
Moreover, pay close attention to the warranty period provided, especially when you are purchasing from some retailers or camera agents. Extended warranties, such as two-year coverage, significantly enhance the value of your investment in an 4K security camera.
7. Compatibility Issues
Ensure that the 4K security camera you choose is compatible with your existing surveillance system, including recorders, monitors, and software. Incompatibility may necessitate additional investments in compatible hardware or upgrades to your current system.
4K Video Compression Explained: H.265 vs. H.264
Video compression is a crucial aspect of managing the large file sizes associated with high-resolution video, such as those generated by 4K security cameras. Efficient compression techniques reduce the storage and bandwidth requirements of video files without significantly compromising quality.
In the context of 4K security cameras, two popular video compression standards are H.264 and H.265.
H.264 vs. H.265
H.264, known as Advanced Video Coding (AVC), is a widely used video compression standard suitable for a variety of applications. However, H.265, also known as High-Efficiency Video Coding (HEVC), was developed as a successor to H.264 to address the increasing demand for high-resolution video.
The primary difference between H.264 and H.265 is their compression efficiency. H.265 can achieve the same video quality as H.264 with approximately half the bandwidth when transmitting. This is great news for your download and upload speeds.
Another advantage of H.265 is its improved motion compensation and spatial prediction capabilities. These enhancements result in better video quality, particularly in scenes with complex motion and high levels of detail.
Benefits of H.265 for 4K Security Cameras
Given the larger file sizes associated with 4K video, the improved compression efficiency of H.265 is particularly advantageous for 4K security cameras. By adopting H.265, users can benefit from:
Compression Efficiency: H.265 requires less storage space and network bandwidth to transmit high-resolution video, thanks to its improved compression efficiency. This advantage allows for better management of storage resources and network traffic in 4K security camera systems.
Improved Video Quality: H.265 delivers better video quality than H.264 at the same bitrate, ensuring that the high-resolution images captured by 4K security cameras maintain their clarity and detail.
Optimized Video Analytics: The enhanced video quality provided by H.265 contributes to more accurate video analytics, such as motion detection, facial recognition, and license plate reading. This improvement can lead to a more effective and reliable security system.
4K Surveillance Footage: Tips for Efficient Storage and Management
The large file sizes associated with 4K video cameras always present challenges for storage and management. The following tips can help optimize the storage and management of 4K surveillance cameras.
1.Utilize Video Compression
Efficient video compression is essential for reducing the size of 4K video files without significantly compromising their quality. The H.265 codec is particularly well-suited for 4K video compression, as it can provide the same video quality as H.264 at approximately half the bitrate. By adopting the H.265 codec, you can save storage space and reduce bandwidth requirements.
2.Opt for Scalable Storage Solutions
As your 4K surveillance system expands, your storage needs will grow accordingly. To ensure that your storage infrastructure can accommodate this growth, opt for scalable storage solutions such as Network Attached Storage (NAS) devices or cloud-based storage services. These solutions can be easily expanded to meet your evolving storage requirements.
3.Prioritize Motion Detection Recording
One effective way to minimize storage consumption is by configuring your 4K security cameras to record only when motion is detected. This approach can significantly reduce the amount of redundant footage stored, as the cameras will not record when there is no activity. Fine-tuning the motion detection settings, such as sensitivity and detection zones, can further optimize storage efficiency.
4.Regularly Review and Delete Old Footage
Performing regular reviews of your stored 4K surveillance footage can help identify outdated or irrelevant recordings that can be deleted to free up storage space. Establishing a retention policy that outlines how long footage should be retained and when it should be deleted can further contribute to efficient storage management.
5.Optimize Video Streaming
To minimize network bandwidth consumption, optimize the streaming settings of your 4K IP cameras. Consider reducing the frame rate or using adaptive bitrate streaming, which automatically adjusts the video quality based on network conditions. This approach can help maintain smooth video streaming while reducing the strain on your network.
Bonus Tips: How to Optimize Your 4K Security Camera Performance
Maximizing the performance of your 4K security cameras is essential to ensure the highest level of security and efficiency. In the folwing part, we will provide bonus tips on how to optimize your 4K security camera system for the best performance.
Position the Camera Properly
Strategically placing your cameras can significantly impact their effectiveness. Install your cameras in locations that cover key entry points, high-risk areas, and high-traffic zones. Ensure the cameras are mounted at an appropriate height and angle to avoid blind spots and capture the desired field of view.
Adjust Settings and Configurations
Fine-tuning your 4K security camera settings can help enhance performance and reduce false alarms. Adjust the motion detection sensitivity, detection zones, and video analytics to suit your specific security needs. Also, consider configuring the video compression settings to balance video quality and storage requirements.
Keep the Camera Clean
Routine cleaning and maintenance are crucial for optimal camera performance. Dust, dirt, and debris can accumulate on the camera lens, impacting image quality. Clean the camera lens regularly using a soft, lint-free cloth and avoid using harsh cleaning chemicals that could damage the lens.
Update Firmware Regularly
Manufacturers frequently release firmware updates to improve camera performance, fix security vulnerabilities, and add new features. Regularly updating your camera's firmware can help ensure optimal performance and maintain the security of your camera system.
Monitor Footage Regularly
Consistently reviewing your camera footage can help identify potential performance issues and areas for improvement. Regular monitoring can also help detect any suspicious activity and ensure your security measures are effective.
Frequently Asked Questions About 4K Security Cameras
If you're considering installing a 4K security camera, you may have questions about their features, compatibility, and usefulness. Here we aim to address some of the most common inquiries about 4K security cameras to help you make an informed decision.
Do 4K security cameras need a 4K monitor?
While a 4K monitor is not required, it's a good idea to purchase one. A 4K monitor is helpful for seeing all the details captured by the camera. Using a lower-resolution monitor will result in the downscaling of the 4K footage, making it less clear (and somewhat defeating the purpose of buying the 4K camera in the first place).
Are 4K security cameras worth the investment?
4K security cameras can provide significant benefits, such as improved image quality, better detail, and a larger field of view. However, whether it is worth the investment depends on your specific security needs, budget, and infrastructure. If you require high-resolution footage for identifying critical details or covering large areas, 4K security cameras may be worth the investment.
What's the highest resolution of security cameras?
The resolution of security cameras varies, with 4K (3840 x 2160 pixels) being one of the highest resolutions commonly available. But there are also higher-resolution cameras, such as 8K cameras, which offer 7680 x 4320 pixels. Keep in mind that higher resolution cameras often come with increased storage and bandwidth requirements.
If you want a higher resolution camera more than 4K, you can consider Reolink 12MP security cameras, which offer uparalled image quality and comes with a budget-friendly price tag.
What is the difference between 4K and 1080p security cameras?
The primary difference between 4K and 1080p security cameras is the resolution. A 4K camera captures video at a resolution of 3840 x 2160 pixels, while a 1080p camera captures video at 1920 x 1080 pixels. This means that a 4K camera can deliver four times the resolution of a 1080p camera, resulting in more detailed images and better low-light performance.
Do 4K security cameras take up more storage space?
Due to their higher resolution, 4K security cameras can produce larger file sizes compared to lower-resolution cameras. However, efficient video compression technologies, such as H.265, can help mitigate the increased storage demands by compressing the video files without significant loss of quality. To manage storage effectively, it is essential to balance the resolution, compression settings, and storage capacity.
Conclusion
4K security cameras represent a significant leap forward in surveillance technology, delivering exceptional image quality and offering a variety of options to suit diverse needs.
As you choose the perfect 4K camera for your home or business, it is crucial to assess your unique requirements and carefully weigh the advantages and disadvantages of each type. Feel free to share your thoughts and experiences in the comments section below, as this can contribute to a meaningful exchange of ideas surrounding this state-of-the-art security solution.