For those looking to secure large areas, like entryways and garages, wide-angle security cameras are ideal options. From 150 degrees to 180 or even 360 degrees field of view, there are abundant models on the market to satisfy your various needs.
However, it is quite important to know where to start when selecting the best wide-angle camera for your home. Today we offer some helpful tips on how to choose the best wide-angle CCTV security camera for both outdoor and indoor use.
What Makes A Wide-Angle Security Camera
Security cameras that are capable of capturing at least 80 degrees of field of view (FOV) are commonly regarded as wide-angle security cameras. Super wide-angle security cameras could cover up to 180 degrees or higher. Ultra wide-angle CCTV surveillance cameras could boast 360 degrees of FOV.
Wide-angle security cameras are becoming increasingly popular because they provide an unobstructed view of your surroundings and allow you to maintain surveillance over a large area.
Many manufacturers boast about the large field of view of their wide-angle security cameras, but some of them are simply exaggerating the facts.
The field of view of a wide-angle security camera largely depends on the focal length of its lens and the size of its image sensor. You can refer to the following table to roughly estimate how many field of view a camera has and won't be fooled by fancy taglines.
| Focal Length (mm) | Diagonal (°) | Vertical (°) | Horizontal (°) |
| --- | --- | --- | --- |
| 0 | 180.0 | 180.0 | 180.0 |
| 2 | 169.4 | 161.1 | 166.9 |
| 12 | 122.0 | 90.0 | 111.1 |
| 14 | 114.2 | 81.2 | 102.7 |
| 16 | 107.1 | 73.9 | 95.1 |
| 20 | 94.5 | 61.9 | 82.4 |
| 24 | 84.1 | 53.1 | 73.7 |
| 35 | 63.4 | 37.8 | 54.4 |
Generally speaking, the focal length is inversely proportional to the field of view, which means the longer the focal length, the narrower the field of view.
Meanwhile, the size of the image sensor and the type of image sensor also plays an important role. For example, a 1/3″ image sensor produces a wider viewing angle than a 1/4″ sensor image sensor.
Pros & Cons of Wide-Angle Cameras
One of the biggest advantages of wide-angle security cameras is the increased coverage area they offer compared to traditional cameras. This means fewer cameras are needed for larger spaces or facilities, thus reducing costs associated with purchasing and installation of multiple security cameras. Additionally, wide-angle security cameras can also capture additional details about subjects in range since more of the space is visible.
However, among super wide-angle security cameras (IP or CCTV), especially fisheye cameras, image distortion is a common problem. Meanwhile, super wide-angle outdoor cameras could sacrifice some details to get wider viewing angles, which makes it harder to identify faces or other specific details.
Fortunately, there exist exceptions. If you want to see a wide-angle image but don't want the picture to be distorted, you can choose the PTZ or dual-lens camera. Both of them can provide you super wide view while having nearly no distortion.
Different Types of Wide-Angle Security Cameras
There are countless wide-angle cameras of various types on the market and it always takes some effort to fully understand them.
Here's a video introducing three major types of wide-angle cameras.
But judging from different perspectives, wide-angle security cameras can be divided into the following types.
1. Analog vs. IP cameras
In terms of the form of data transmission, wide-angle CCTV cameras can be analog or IP (Internet Protocol) based.
Analog models use traditional coaxial cables to transfer video signals from the camera directly to a recording device such as a DVR (Digital Video Recorder).
IP cameras transfer video digitally over an Ethernet cable or wirelessly via WiFi and are usually connected directly to an NVR (network video recorder). IP cameras can provide additional features such as motion detection and remote access that aren't available with analog models.
2. Fixed lens vs. varifocal lens
Fixed lens wide-angle security cameras have a set field of view that never changes. They are good choices to watch your yards if you don't want to change the viewing angle. Generally speaking, fixed lens cameras will be cheaper than varifocal lens cameras.
Varifocal lens security cameras, on the other hand, offer adjustable focal lengths which allow them to zoom in and out. The lenses can be manually adjusted from a remote control via software.
With varifocal lenses, users can easily change the angle of view depending on their specific needs at any given time. This makes them ideal for monitoring a large area while having the ability to focus on certain details, such as capturing license plate numbers or identifying human faces at longer distances.
Therefore, wide-angle surveillance cameras with varifocal lenses do better in zooming out to cover large areas and zooming in to capture tiny details. Despite their higher prices, varifocal lens cameras will deserve your investment in the long run.
3. Fisheye vs. PTZ vs. dual-lens cameras
But to be more specific, there are several special but common wide-angle security cameras including fisheye, dual-lens, and PTZ cameras.
Fisheye cameras: This type of camera is designed with a lens that allows for a wider field of view up to 360°. Fisheye cameras can be used both indoors and outdoors, making them a great choice for any home or business surveillance system. However, images from a fisheye camera are usually distorted.
PTZ cameras: PTZ stands for "pan, tilt, zoom". These wide-angle cameras have the ability to rotate both horizontally and vertically, giving you a panoramic 360° view. Besides, you can zoom in and out to view more details. Some PTZ cameras are also capable of tracking objects automatically, making them ideal for open outdoor areas such as parking lots.

Dual-lens cameras: A dual-lens camera is composed of two lenses that see the same scene. Some dual-lens security cameras have two identical lenses to capture images from two perspectives and then stitch them together to provide a wide-angle image. Other dual-lens cameras will use two different lenses, one for wide-angle view and the other for close-ups. Whichever you choose, you can enjoy an ultra-wide view without distortion.

Best 180°/360° Wide-Angle Cameras Recommendation
With so many wide-angle security cameras to choose from, it may be hard to make a quick decision. But don't worry. Here we select some of the most popular wide-angle security cameras available on the market. Each of them has outstanding features and can definitely satisfy your need.
Best dual-lens 180° security camera - Reolink Duo 2
Reolink Duo 2 is one of the newest and most innovative dual-lens security cameras. This 100% wire-free battery camera can be your best choice for surveillance in large and open areas.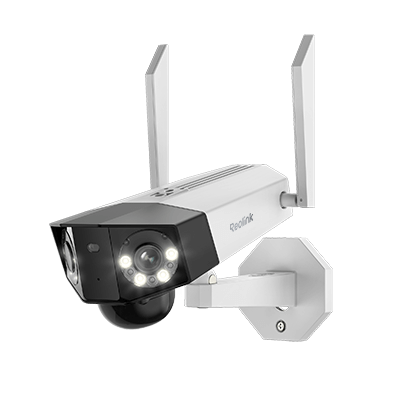 Reolink Duo 2
Smart 2K+ Dual-Lens Battery Camera
6MP Super HD, Person/Vehicle Detection, 180° Wide Viewing Angle, Battery/Solar Powered, Dual-Band WiFi, Color Night Vision.
It is equipped with twin lenses that offer you a 180° wide field of view with less distortion. The 2K+ or 6MP super high definition combined with spotlights allows you to view everything clearly and vividly all day & night. Also, it supports dual-band WiFi connection and person/vehicle detection. No subscription fee is needed!
Whether indoors or outdoors, you can trust this dual-lens security camera to protect your property. Furthermore, it has four versions for your to choose from. If you want wired wide-angle cameras, you can choose PoE and WiFi versions.
Here is a video showing you how to set up and install this dual-lens camera.
Best auto-tracking 360° wide-angle camera - Reolink TrackMix PoE
Reolink's TrackMix series are also great options. What makes this camera outstanding is its two lenses which give a mixed view of its subject – one wide-angle overview and one zoomed-in closeups.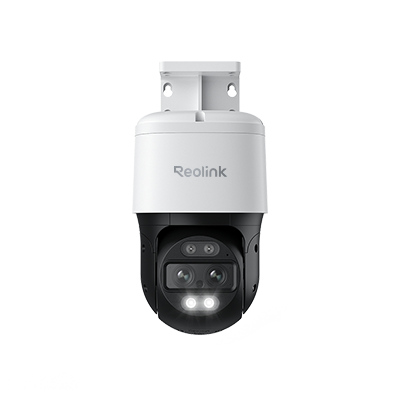 Reolink TrackMix PoE
4K Dual-Lens PTZ Camera with Dual Tracking
4K 8MP Ultra HD, Wide & Telephoto Lenses, Pan & Tilt, Auto-Tracking, Person/Vehicle Detection, Power over Ethernet, Two-Way Audio.
What's more, this dual-lens security camera can rotate 355° horizontally and 90° vertically, enabling you to see everything without blind spots. And the best part is that Reolink TrackMix PoE can automatically track any moving person or vehicle, so it's super convenient for you to focus on what matters.
Best wide-angle outdoor security camera – Reolink RLC-811A
Wide-angle outdoor security camera Reolink RLC-811A is popular among homeowners and business owners to monitor their large properties. It's packed with a wide-angle lens with a viewing angle of up to 105˚, higher than average outdoor PoE cameras.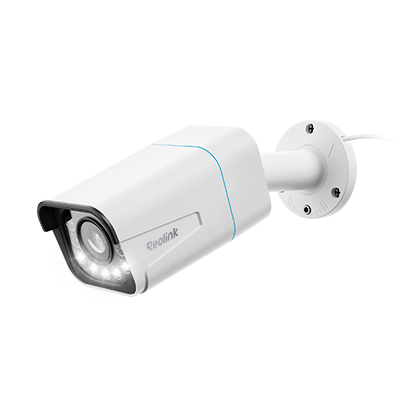 Reolink RLC-811A
4K Smart PoE Camera with 5 Spotlights
4K 8MP Ultra HD Day & Night, Person/Vehicle Alerts, 5X Optical Zoom, Two-Way Audio, Built-in Siren, Color Night Vision, Live View Anywhere.
And it also comes with 5x optical zoom capability, which enables users to zoom in to see more small details, for example, faces of strangers at the front door, plate numbers of unknown vehicles and other small details.
How to Install Wide-Angle CCTV Cameras for the Best View
Installing your wide-angle camera properly is as important as choosing the right security camera, as it determines whether you can make full use of the wide-angle camera. Here are a few useful tips to help you get the best view.
1. Determine where to install the camera
You should choose the area that needs the most coverage, such as doorways and high-traffic areas. It's important to choose the right height. A lower position may expose the camera to any intruders while a higher position will make installation more difficult.
Also, if you have multiple security cameras, remember not to install them too close. Or, they may affect each other's performance.
Once you have decided where to install your wide-angle camera, make sure to check for obstructions like trees or buildings that could obstruct the view of the camera.
2. Install the wide-angle camera properly
Next, it's time to mount your wide-angle camera. You will need to decide whether you want a wall mount or ceiling mount option, which depends on your space requirements and preferences.
If ceiling mounting is required, make sure there is enough clearance between any objects and that there isn't any interference with other fixtures and wiring in the area. If you prefer wall mounting, use appropriate anchoring materials such as screws or studs and make sure they are securely fastened into place.
3. Test and adjust the camera's angle
After your wide-angle camera has been installed and configured properly, you need to test each component thoroughly to ensure the camera can function properly. Remember to focus on its viewing angle, image/video quality, pan-tilt-zoom ability, night vision capability, etc.
Make sure the important area is covered and the wide-angle camera can provide clear images in all conditions. To achieve optimal monitoring, adjust viewing angles and lens focal length until you find what works best for your particular situation. Once everything runs correctly, you can enjoy the peace of mind offered by the wide-angle security camera.
FAQs
Do security cameras have a wide angle?
Yes, security cameras do have wide angle lenses and offer at least 80 degrees field of view. Wide-angle security cameras are designed to capture a larger area than traditional cameras. There are various wide-angle cameras on the market including fisheye cameras, PTZ cameras, and dual-lens cameras, allowing users to enjoy 180° and even 360° wide views.
How wide can a security camera see?
The field of view of a security camera largely depends on the lens focal length and the image sensor size. The longer the focal length, the narrower the field of view. Meanwhile, the bigger the image sensor, the wider the field of view.
For example, a surveillance camera with a 1/2.49" CMOS sensor and a 2.8mm focal length like Reolink RLC-810A offers 101 degrees field of view horizontally. But if you're looking for super wide-angle cameras, fisheye cameras and PTZ cameras can provide up to 360° wide views.
Which CCTV camera has a wide angle?
Reolink provides a bunch of wide-angle security cameras, whether you need a 180° or 360° view. Reolink dual-lens cameras come with at least 2K HD while offering you a 180° wide view with nearly no distortion. Also, there are a lot of PTZ cameras like RLC-823A for you to see a 360° view, being the perfect choice to monitor large areas.
Conclusion
There are many benefits of installing wide-angle security cameras, including monitoring larger areas and reducing troubles in setup and maintenance. Especially with one dual-lens security camera, you can save both money and effort to get a 180 or even 360 degrees field of view.
If you consider buying a wide-angle security camera, now is the best time! And remember to check the above guide to make a wise decision. If you have any questions about wide-angle security cameras, leave a comment below and we'll reply ASAP.