4K security cameras, coming with improved resolution, color and contract performance even in adverse conditions, have become the first choice in 2020 for the high-quality surveillance hunters.
Yet you are worried that 4K surveillance cameras may bring high cost, storage, bandwidth and other issues? Or just get overwhelmed by the new trend and don't know where to start – what's the 4K CCTV camera, or the so-called 8MP security camera, ultra HD security camera on earth?
Today let's have a thorough discussion about the 4K IP cameras, and you'll learn what makes a security camera 4K, where to buy a reliable 8MP security camera with affordable price, answers to all common 4K CCTV camera questions, and everything you care about 4K surveillance cameras.
Just leave a comment below if there are more you are interested to know about 4K security cameras.
We also cover a buying guide for 4K security camera systems, 4K wireless security cameras and 4K outdoor security cameras respectively. Click to get helpful information.
What's a 4K Security Camera
4K security cameras are those gaining a high resolution of 3840*2160 with over 8 million pixels. And that's why they are also called 8MP security cameras, 2160p security cameras, or ultra HD CCTV cameras (4K UHD security cameras).
You know, an image is made up of thousands and millions of pixels horizontally and vertically. And the 4K surveillance cameras refer to those containing about 4K horizontal pixels.
What does that mean to you?
4K IP security cameras offer you clearer details of objects than ever before.
For example, you can clearly read license plates of cars passing by or parked out front, easily identify T-shirt characters of any passerby on the street, the details of the pot plant across the street, and the facial features of thieves and burglars trying to break into your home.
That's to say, you will not lose a single detail as long as it is captured by 4K CCTV cameras. If you have a 4K security camera with audio, you can also hear the sound from the burglars or postman.
Note: You might have noticed two resolution standards if you Google 4K security camera: 38402160 and 40962160. While, in the security industry, when people talk about 4K IP cameras, 8MP security cameras, ultra HD CCTV cameras, or 2160p cameras, they talk about the ones with 3840*2160 resolution.
How Does a 4K Security Camera Work
You may wonder what makes a security camera 4K that is comparable to a sophisticated TV and photographic equipment.
Actually, that's all about its specialized tiny sensor. A 4K security camera sensor is larger in size with improved low-light sensitivity which enables it to bring 8MP high resolution. Together with its advanced video codec (10- or 12-bit), 4K CCTV cameras have realized true high quality images, in technical and visual sense.
However, a 4K sensor doesn't guarantee a true 4K IP camera. It's always wise to check the image resolution (3840*2160) and make sure you get a real 8MP security camera.
Choose 4K Security IP Cameras? YES or NO
8MP (that's 4K) security cameras can do a lot of awesome things for you, with their distinct advantage in the security camera resolution:
#1. 4K HD Security Cameras Provide Clearer Images than Ever
4K resolution cameras deliver Over 8 times clearer images than 720p cameras, 4 times clearer videos than the 1080p cameras, and twice clearer footages than the 1440p cameras.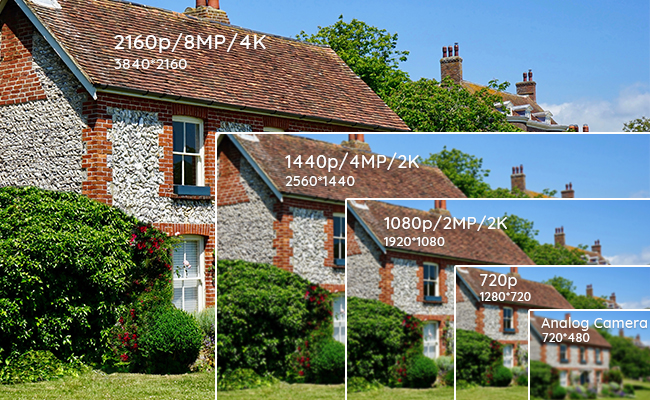 8MP security camera videos allow you to see things clearly, say 20 meters away, with details like the plate number of moving cars on the other side of the street and the people's facial features.
#2. 8MP Security Cameras Allow You to Zoom in for Details
Some people criticize the digital zoom as a fake function since the more times you zoom in, the more blurry the images will become.
Well, this is not so true with 4K IP cameras. After all, 8MP security cameras could still provide twice clearer images than the 1080p cameras even after 2X digital zooming in.
If you want to remain the high image quality after zooming in, get a 4K PTZ security camera.
#3. 4K Security Cameras Offer Wider Field of View
Usually, 4K CCTV cameras have a wider field of view than 1080p cameras with wider angle lens.
That means you could cover more areas with one single 4K IP security camera, like the front door area along with the driveway or the first floor window. That being said, you've actually saved the money for another security camera, which makes the 4K UHD security camera a cost-effective option.
And the 4K PTZ security camera even expands your view to higher level with 360° endless rotate.
#4. 8MP Security Cameras Will Become Mainstream in No Time
You might hesitate considering that 4K resolution cameras are still not very popular as 1080p ones, but they will to be sure and in a pace faster than you think.
If you get an 8MP security camera, you will be enjoying its added values day after day; while, if you get a 1080p one today, you will be counting days for them to become outdated.
With the 4K TV, digital cameras and 4K things everywhere and new 4K home security cameras with audio, night vision, PoE capability, and sound sprouting up, the market is ready for 4K security cameras already.
* Also check out other benefits of megapixel IP cameras that 4K surveillance cameras could bring in a surpassing way.
4K Security Camera vs 1080p vs 2K Camera
Still couldn't make a decision between ultra HD CCTV cameras and the 1080p ones after learning all the benefits?
4K security cameras vs 1080p ones, which one wins? Do 4K ultra HD IP cameras come as overkill for home security? Is the 8MP camera really worth your investment?
Generally, 2 MP/4MP security cameras are good for general-purpose video surveillance, but if you want to make out fine detail such as license plates from a distance, get a 4K security camera.
A chart below shows all their differences and the incomparable advantages of 4K resolution cameras.
| | | | | |
| --- | --- | --- | --- | --- |
| Camera types | Resolution | Name by vertical pixels | Name by horizontal pixels | Pixels |
| Analog security cameras | 640*480 | 480p security cameras | - | 0.4 MP |
| HD security cameras | 1280*720 | 720p security cameras | - | 0.9MP |
| Full HD security cameras | 1920*1080 | 1080p security cameras | 2K security cameras | 2MP |
| Super HD security cameras | 2560*1440 | 1440p security cameras | 2K security cameras | 4MP |
| Ultra HD security cameras | 3840*2160 | 2160p security cameras | 4K security cameras | 8MP |
Actually, with the clarity being the most important thing for a security camera to keep you safe, I don't see the reason why you don't choose 4K camera for security.
Is it for the higher cost, bandwidth and storage problems, or the possible compatibility issues?
Actually they could be easy to deal with. I'll give a full explanation later and you'll surely find a right way to get out of all these troubles. Now you may follow my steps to select a true 8MP security camera or check the resolution center first.
Best 4K Security Cameras: Top Things to Consider
4K ultra HD IP cameras are awesome, but you need to make sure you get a true 4K or 8MP security camera, whether you are looking for dome, bullet, wireless, PoE, PTZ, night vision or audio enabled one.
Check the following things to make sure you are not getting into the cheat of marketers.
#1. 8MP Security Camera Resolution
It seems to be a non-brainer to check the 4K IP security camera resolution. Isn't it 4K as advertised?
Some security cameras might highlight their 4K sensors to get your attention, but actually you will only get 1080p grainy video images from them. So do remember to check its resolution (3840*2160) to make sure you get a true 4K ultra HD security camera.
#2. 4K Surveillance Camera Codec
A quality 4K security camera will feature advanced High Efficiency Video Coding (HEVC), also known as H.265, which keeps the file size low without losing the 4K crisp image quality.
In other words, it enables the 4K webcam to deliver 8MP high quality videos without stressing your home network and saves storage space by half, which is of exceptional importance for 4K security camera systems.
#3. 2160p Security Camera Lens
Attention: 8MP security camera sensors do not always deliver high quality video. The video quality of some 4K CCTV cameras is limited by the quality of the lens rather than the resolution of the sensor.
A real 4K surveillance camera has high quality lenses that can get more in the frame with higher clarity. The focal length of the 4K IP camera lens is also relevant: wide-angle lenses can cover more distant areas.
So, for example, if your priority is recording car license plates, then a lens with a longer focal length, with the camera specifically pointing to the road or driveway, is more appropriate.
Also read this post to get more insights on security camera lens selection.
#4. 4K IP Security Camera Viewing Angle
While a 4K security camera does provide a wider range of view, you still need to check its viewing angle to make sure the 4K IP CCTV camera could cover your desired monitoring area, like the front door, driveway, porch or garage.
Usually, a 4K video security camera could go around 100° horizontally. To cover more areas, say 360° endless monitoring, you might choose the 4K HD security camera with PTZ function.
For more information about the selection of wide angle IP security cameras, check this post.
#5. 4K Security Camera Performances in Adverse Conditions
Not all 4K IP security cameras could truly provide high quality images, especially in adverse conditions.
For example, you might have seen part of an image taken by some 8MP or 2160p security cameras is extremely dark but another part is so bright that you can't see any detail.
An easy way to fix the problem is to get WDR security cameras (learn what WDR is here).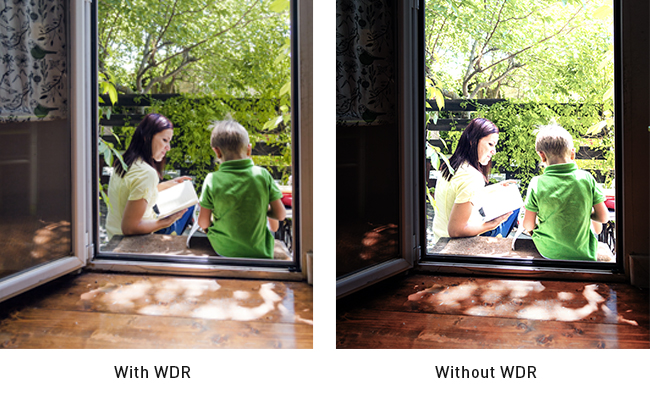 #6. 8MP Surveillance Camera Video Fluency
You might have come across the abbreviation FPS in the product page or in the forum when people talk about the 4K IP security cameras. What does 4K security camera 30FPS mean?
Pay attention. The FPS (frames per second) has much to do with the video fluency.
Generally speaking, 4K security camera with 30FPS or 20FPS could record a fluent video. If it's possible, you'd better ask for a video demo from the manufacturer or search for some 8MP test video footage from other users in the YouTube to have a check.
#7. 8MP Security Cameras Night Vision
The 4K security camera has brilliant image quality in the daytime as you could see and imagine: clear images, vivid color and great performance even in glare.
But that's far from enough, since the night vision is totally a different thing. The 4K or 2160p cameras have more to deal with in the darkness, like the noise problems and the balance of bright.
Some 4K night vision security cameras use 3D DNR technology to achieve the best long range night vision. So don't forget to check the night vision video also during your research after wowing at the excellent 8MP daytime images.
If the super night vision is what you want, you may also take a look at the starlight cameras.
Note: Some 4K night vision cameras claim to offer color night vision, but please attention that it may not work as the way you want: the color night vision needs enough ambient light and they will still change to black and white night vision in the total darkness.
#8. 4K CCTV Camera Support
A perfect camera will lose its edges without a responsive support team. I've seen quite a lot 4K CCTV camera users asking for help in the forum and use all the zigzagging ways to fix their 4K IP security camera problems – a lot of time and energy wasted.
So why not choose a 4K surveillance camera manufacturer with responsive support team in the first place? Some cameras producers including Reolink promise one-on-one support to instruct you in installation and help you settle any problem that may occur.
And also read 4K security camera reviews if you are not in a rush to learn what the real users like and dislike about the 8MP security cameras.
#9. 8MP Security Camera Warranty Time
The warranty is always an easy-to-forget but important point, especially when you are purchasing from some retailers or camera agents. A long time warranty like two years warranty will surely add more value to the 8MP security camera itself.
There are always people buying brand new security cameras from agents without noticing that the warranty time has already been eaten out by half. The safest way is to purchase 8MP cameras directly from the manufacturer on the Amazon or their official website.
#10. 4K Security Camera Compatibility Issues
Ask yourself 2 questions here to pick out the right 4K CCTV camera without compatibility issues:
Is the 4K IP CCTV camera compatible with the innovative app, like Reolink App, to play its full functions or has to be used in the third party software with limited access to camera features?
Is the 8MP security camera compatible with the NVR to store the camera footage? This is very important if you are considering a 4K security camera system, and want to add more cameras in the future.
Reolink has done a great job on both, and the popular 16 channel megapixel security camera system is a good example which allows you to add all Reolink 4MP and 5MP PoE and wireless cameras.
Reolink RLK16-410B8
16-Channel PoE Security System
8 pcs 5MP/4MP Security Cameras; 3TB HDD 16-Channel NVR for 24/7 Reliable Recording; Plug & Play; 2 Network Solutions.
Where to Place 8MP Security Cameras for the Best Use
4K home security cameras could be put in anywhere you want to monitor, outdoors and indoors, especially the PoE 4K security cameras with plug and play installation.
However, there are some places you may consider first to get armed with the 4K ultra HD IP cameras if your budget is limited and want to greatly improve your home overall security.
#1. Put 4K Outdoor Security Cameras in the Front Door
Do you know that 34% of burglars will choose to break into your home from the front door, which is higher than any other secret entrances?
4K outdoor security cameras with sound will be the best choice for front door, since they can not only record any events clearly but also collect the audio messages from your visitors or the delivery man.
#2. Use 8MP Home Security Cameras to Monitor Your Yard or Garden
With a wide angle of view, a single 8MP security camera could cover the whole area of your front yard, back yard or your garden, and provides you spectacular view and details at the same time.
#3. Put 4K Webcams on Second Floor or High Ceilings of Your Home
If you want to install the bullet or dome 4K security cameras in high places that are out of the burglars reach or easy to run wires, like in the second floor or under the ceiling and eaves, you will need a 4K surveillance camera which allows you to zoom in to see the far away objects clearly.
#4. Use 8MP Security Camera System as Airport/Supermarket/Tourist Sits Cam
4K security camera systems, as the industry leading products with nothing to complain but relatively high cost, has long been used in public places, like the airport, supermarket, tourist sites, etc.
And now, with the more affordable price, 4K home security cameras are also widely used for home security.
For more ideas about how to How to plan, choose, position and protect 4K outdoor security cameras, you may read this guide.
Top 4 Concerns for 4K Security Cameras
As a cautious buyer, you might have more concerns about the 8MP or 2160p security cameras, like the storage and bandwidth problems, compatibility issues, and most importantly, the cost – as 4K CCTV camera users of Samsung, Sony, Bosch, Hikvision and other brands often talked about.
Actually, they are not that serious than you think, and there are some good ways you can try to get over all these "inconvenience" of 4K IP CCTV cameras.
#1. 4K CCTV Cameras Come with Higher Price
It's true that 4K surveillance cameras price will be twice higher than the lower level ones.
If you have a tight budget for 4K IP security camera or want to save money on it, then it's important to choose the right affordable brand like Reolink or grasp the 4K security camera holiday sale opportunities.
And the 4K video security cameras is actually more budget friendly if you are looking for a cost-effective solution instead of the cheapest one: The 8MP security cameras could cover more areas with wider range of view, which saves your extra money in getting more cameras.
#2. 4K Security Cameras Consume WiFi Bandwidth Greatly
WiFi bandwidth is always a problem when it comes to high megapixel security cameras, especially 4K wireless security cameras.
But no worries, the high efficiency video coding (HEVC), namely H.265 codec, adopted by 4K security cameras will cut the files sizes by half without losing 8MP video quality. (You may also calculate the 4K WiFi security camera bandwidth following steps in this post.)
And some quality security cameras, like Reolink cameras, will also offer camera resolution choices to make sure your network could handle the 4K security camera bandwidth need whether it is busy or not.
#3. 4K Home Security Systems Take up More Storage Space
Worry about the insufficient storage space of the 4K IP security cameras, especially the 4K CCTV systems? Worry not. How could the 4K security cameras engineers miss that out?
Cameras that shoot 4K will adopt H.265 codec which save the storage space by half. So what you might though as insufficient will become adequate with the advanced compression technology. And the 4K security camera NVR will usually provide larger storage space to settle your recording needs.
#4. 8MP Surveillance Cameras Might Have Compatibility Issues
Most 4K cameras and systems will use NVRs (instead of 4K security camera DVRs, click here to check their differences) for video storage. So you might have to upgrade your NVR altogether if you want to use it for video storage.
4K security camera NVRs usually have larger storage space allowing you to record for months without rewriting and can accommodate 8, 16, 32, even 64 cameras leaving no blind monitoring spots.
If you don't want to pay for an extra 4K security camera NVR, you could always choose to save your 8MP video footages on FTP without any subscription and monthly fee.
It's High Time to Get an 8MP Security Camera
The era for 4K video security cameras is already here.
Just like the 1080p security cameras, which took time to replace the analog security cameras and enjoy great popularity in successive years, 8MP security cameras are now taking the place of 1080p cameras, whether you have noticed or not.
So get a 4K CCTV camera NOW to enjoy all the benefits.
Where to buy the best budget or cheap 4K security cameras and systems in US, UK, Australia, Canada and other countries?
There are a lot of ways you can get and save on a 4K/2160p CCTV camera system now, like shop online in Amazon or offline in Costco or from security camera retailers.
You may choose whichever way above, but always remember to check the 4K IP CCTV cameras warranty time, since you might stand a loss on that if you are not getting it directly from the manufacturer.
For example, you may now purchase the 4K security camera system from the Reolink online official store with FREE shipping and protect your property with 4K ultra clarity day and night!
Reolink RLK8-800B4
4K 8-Channel PoE Security System
4 pcs 4K Ultra HD Security Cameras; 2TB HDD 8-Channel NVR for 24/7 Recording; Person/Vehicle Detection; Plug & Play; 2 Network Solutions.
Alternative Solutions of 4K Security Cameras
After all the analysis and reading 4K security camera reviews, if you are still not ready to get a 4K camera for security now, here are two alternative solutions you may try.
If you want the battery-powered security cameras with no wires at all, 4K IP CCTV camera would be a daydream and 1080p is the best you can get currently, since the battery power will drain very quickly when the camera produces 8MP quality images.
Reolink Argus 2
100% Wire-Free Starlight Camera
Rechargeable Battery & Solar Powered; Outdoor/Indoor Protection; 1080 Full HD; Starlight Night Vision; 2-Way Audio; Live View Anytime Anywhere.
If you want traditional cameras like the bullet or dome types, you'll need at least 4MP or 5MP cameras. You may want to take a look at the Reolink cameras which performs better than the same level competitors with good price.