In this article, you will get to know 42 home burglary stats and a list of the most stolen items in home burglaries. These 42 stats include key insights, stats by year, stats by room, burglar profile, places through which burglars break in, and characteristics of home burglaries.
To keep your home from becoming a target for burglars, also take a look at our recent article featuring 21 effective methods to secure your residence.
Note: To make the data clearer, we've also put together a PDF that presents the Home Burglary Statistics 2023. You can download the complete PDF by clicking here.
Key Home Burglary Statistics and Insight
Home Burglary Statistics By Year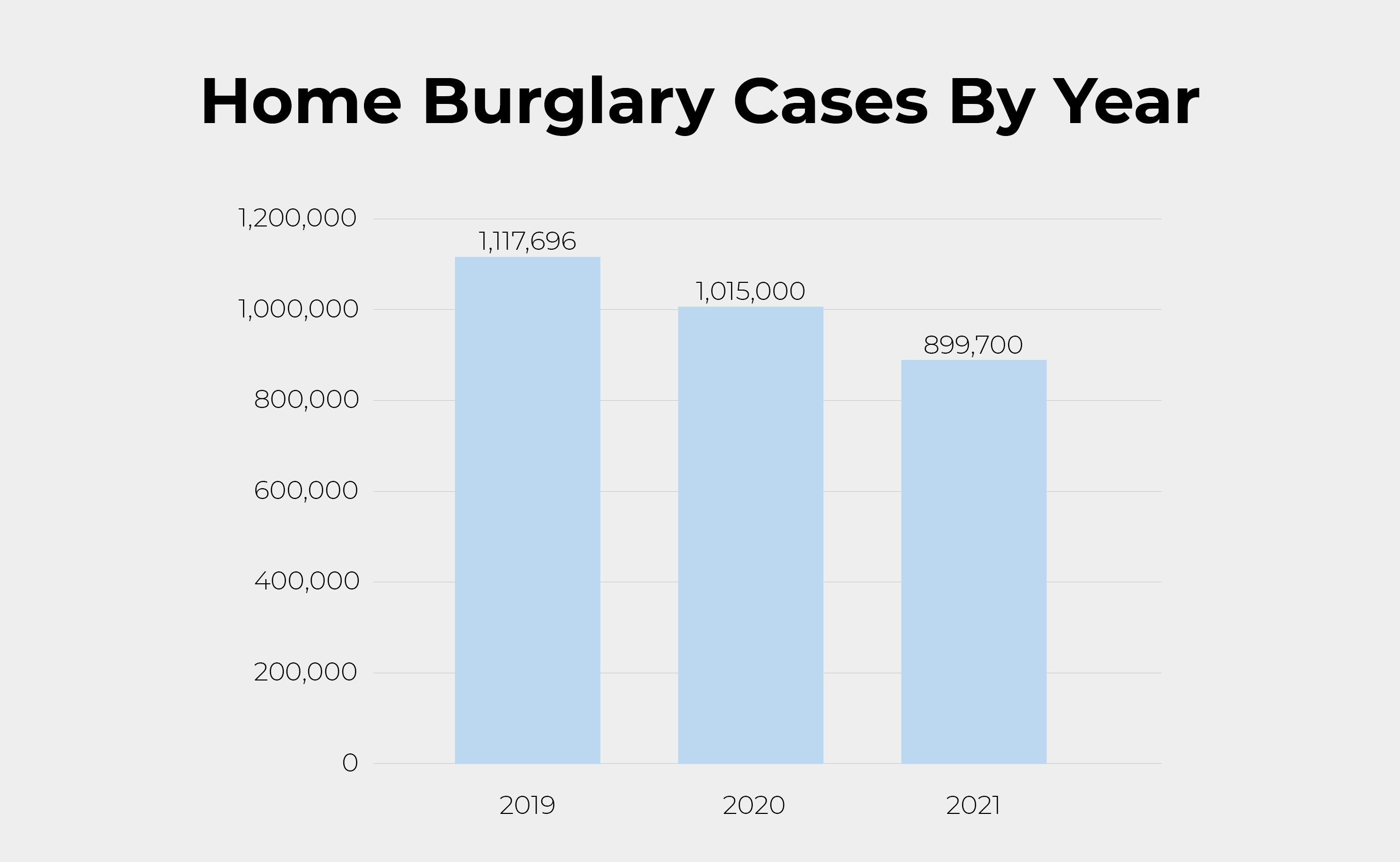 Home Burglary Statistics By Room
About 75% of burglars target the master bedroom as the first place to look for valuables.
Nearly 16% of burglars have searched a homeowner's bathroom for valuables.
26% of burglars said they would search an office or study for valuables.
19% of burglars claimed that they would check the living room first when they broke in.
Source: NBC New York
Places Where Burglars Break Into
34% of burglars enter through a front door.
23% of burglars get into a home through a first-floor window.
22% of burglars walk into a house through a back door.
9% of burglars gain entrance through the basement or garage door.
Burglars rarely use second-floor windows as an entry point, accounting for only 2% of home break-ins.
Every surveyed convicted burglar confirmed that they first knocked on the front door of a residence before proceeding to break in.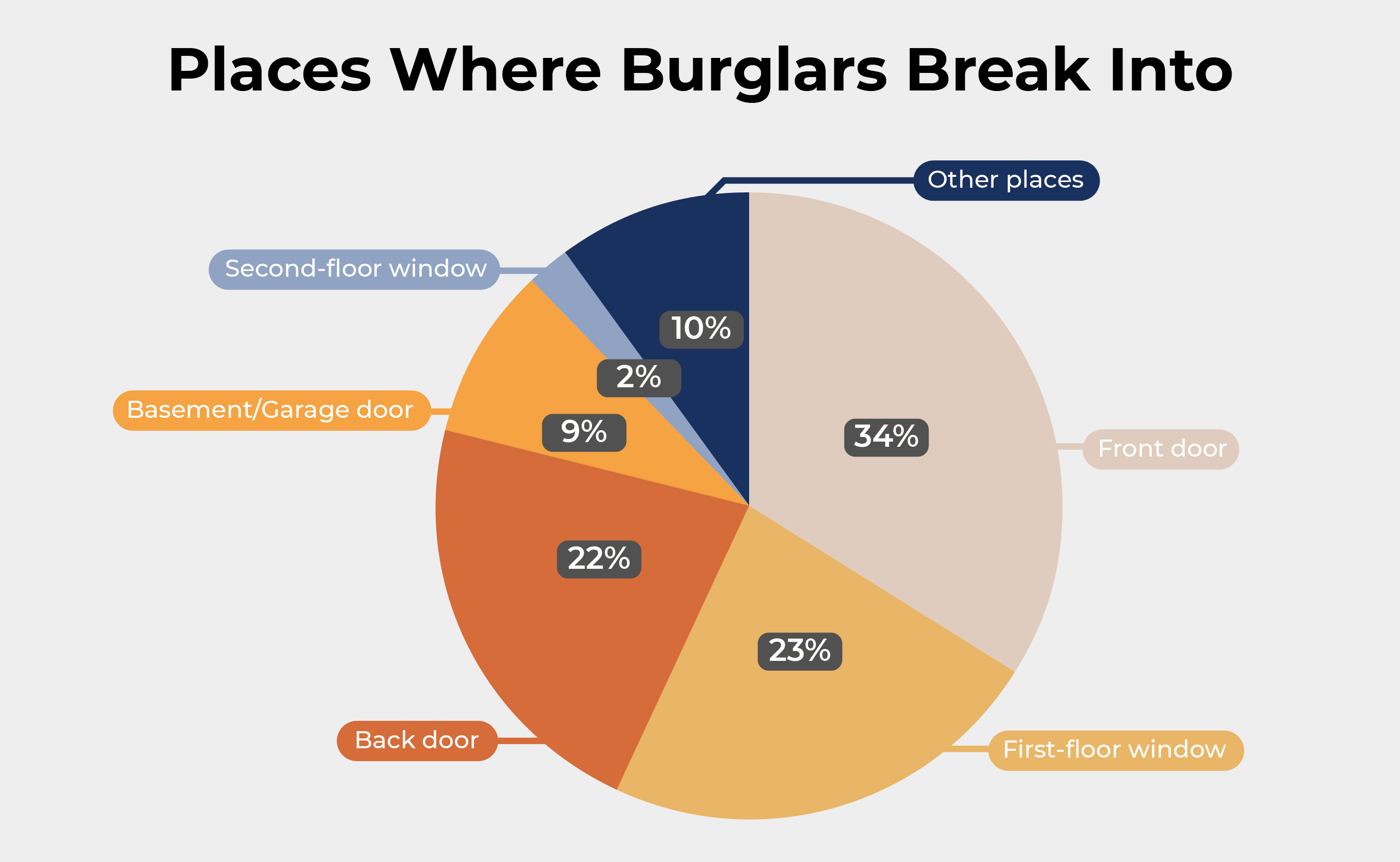 When do Most Burglaries Happen?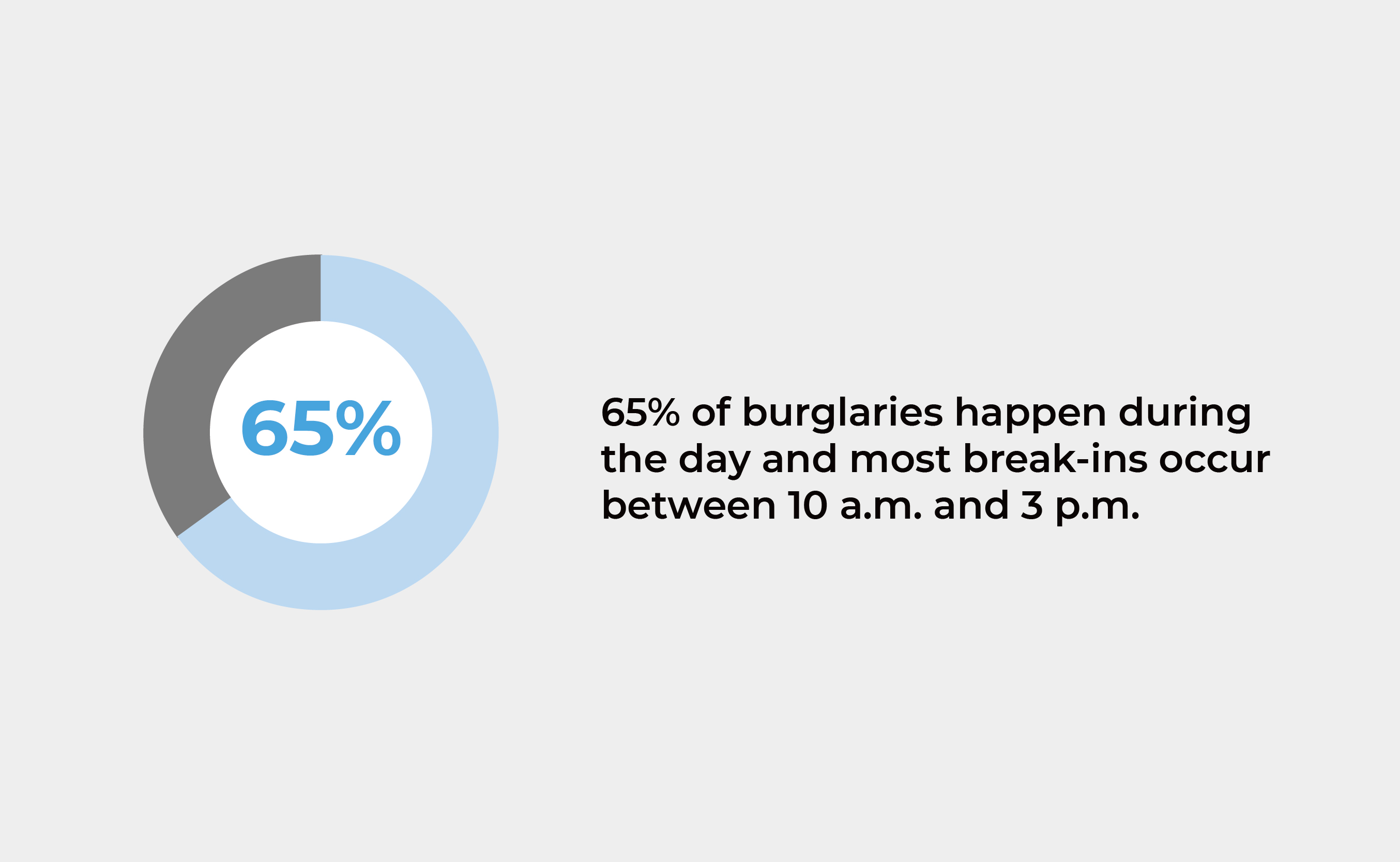 Characteristics of Home Burglaries
Profile of Burglars
A burglar doesn't show bad intentions on the face. They may look just like an ordinary person in the neighborhood and blend into the circumstances. However, burglars have some common characteristics:
Most burglars are males between 18 and 24.
About half of burglars live within 2 miles of the homes they invade, and they are likely to know the victim.
Most thieves commit home break-ins out of impulse decisions. Only about 12% of burglaries are planned ahead of time.
12% of burglars carry a firearm.
Screwdrivers, pliers, pry bars, and hammers are common tools burglars use.
Many burglars are repeat offenders and already have an arrest record.
The majority of burglars commit non-violent invasions and don't use weapons.
When confronted by the homeowner, the burglar will attack. Over half of assaults happen during home invasions.
Source: State of the USA and ADT
List of Most Stolen Items in Home Burglaries
Burglars will take every chance to take anything that may be of value. Usually, they look for small, expensive items that can easily be converted to cash and will not hinder their getaway. The most popular targets for thieves in your home are:
Cash
Laptops, iPads, Smartphones
Electronics
Gold
Jewelry
Watches
Medications
Firearms/guns
Tools
Household goods
Liquor
Your Identity
And cars, bikes, and other valuable things
FAQs
What Time of the Day Do Most Burglaries Occur?
According to FBI, 65% of home burglaries happen between 6 am to 6 pm while you are at work or at school. The most common hours for a burglary are between 10 am – 3 pm. Throughout a year, July and August are the months with the most home break-ins and burglaries, while February is the nadir.
Do Burglars Return?
Yes, house burglary facts show that 51% of homes suffered from a repeat burglary within one month of the initial offense. And even if the burglars don't return to the same house, chances are good that they will target another house in the same neighborhood. That is to say, if your neighbor's house is broken into by a burglar, it is high time you should adopt some effective tips to secure your home.
What's the Typical Profile of a Burglar?
Home invasion statistics show that most perpetrators and burglars are males under the age of 25, who live pretty close to the victims and may even be acquainted with the burglary targets.
How Long Do Burglars Take to Break into a Home?
The time required for thieves or robbers to break into a home can be far less than you think. Most criminals can burglarize a home in about 8-10 minutes.
Where Are the Common Places Burglars Search After Break-ins?
Burglars would go to the master bedroom first and search drawers, closets, and the mattress or valuables such as cash, jewelry, etc.
Conclusion
We put a lot of effort into finding all these stats. Check the statistics above and share this article with someone who may need it. If you have found other latest statistics, leave a comment below. Let's discuss together!