Safeguarding our homes, businesses, and properties has become paramount in an increasingly connected world. Traditional security measures are evolving, and the emergence of advanced technologies, such as the 4K security camera, has revolutionized surveillance.
However, as a reliable home security solution provider, Reolink has taken a giant leap forward with the advent of the 4K solar powered security camera. With the combination of 4K solar and other sophisticated features, Reolink introduces various security models to cover the different needs of its users.
Understanding the Basics of 4K Solar Powered Security Camera
4K refers to the impressive 4000 pixels of horizontal resolution these advanced reolink cameras offer. This clarity provides intricate details and makes it easier for users to identify objects and distant movements. Whether day or night, the high resolution ensures no detail goes unnoticed. Solar power is harnessed through integrated panels in these cameras. These panels capture sunlight, convert it into energy and then power the camera.
Reolink solar powered security cameras with 4K combine the clarity of 4K resolution with the sustainability of solar power. For users, these products create a formidable solution for monitoring various spaces and offer more choices to enhance their security setup.
4K Solar+: Explore Infinite Possibilities
Designed to push beyond the limitations of traditional surveillance, the Reolink 4K solar powered security cameras introduce a lineup of models that not only harness solar energy to provide unmatched image clarity but also boast additional exceptional features, ensuring a seamless and uninterrupted surveillance experience.
4K Solar+Dual-Band WiFi
Combining the power of 4K resolution, solar energy sustainability, and dual-band functionality efficiency, Reolink 4K Solar Powered+Dual-Band WiFi security camera redefines surveillance standards. With crystal-clear image quality and the ability to operate seamlessly on both 2.4GHz and 5GHz frequencies, these wireless security cameras empower you with an unmatched level of control and peace of mind.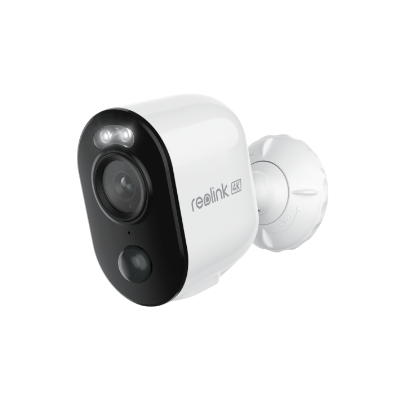 Reolink Argus 3 Ultra
4K 8MP Standalone Wire-Free Camera
4K 8MP; Smart Detection; 5/2.4GHz Dual-Band WiFi; Battery/Solar Powered; Color Night Vision; Alerts Without Subscription.
With the power of 5GHz WiFi, say goodbye to those endless waits. Now, you can enjoy a super-smooth, real-time live view that's faster and boasts stronger signals. If you need more coverage, switch over to the 2.4GHz band. It's all about your options. Dual-band WiFi connectivity offers more convenience and flexibility.
4K Solar+4G Network
For comprehensive, flexible, and independent surveillance, 4K solar+4G network blends ultra-high resolution power with solar energy's reliability and seamless 4G connectivity. These cameras can stay connected even in remote locations with built-in 4G network compatibility, making real-time monitoring and alerts via mobile devices available anytime.
Designed for ease of use, this 4K solar powered 4G standalone camera requires minimal setup and reduces installation time and effort. The application of this 4K solar-powered camera with 4G connectivity is vast and varied, from residential properties to construction sites and agricultural lands to remote installations.
4K Solar+Pan & Tilt
Capable of broadcasting at a superior resolution and offering dynamic control, 4K solar powered+Pan&Tilt security cameras transform how people perceive and utilize video technology. A 4K solar powered Pan&Tilt camera refers to a camera that can move left or right (pan), up and down (tilt) while offering 4K high resolution and solar energy options. With this unique combination, you can get a wide coverage area with detailed views of specific points of interest.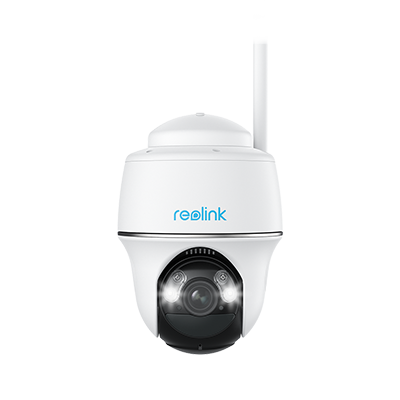 Argus PT Ultra
4k 100% Wire-Free PT Camera
4K 8MP Ultra HD; 5GHz/2.4GHz WiFi; Rechargeable Battery & Solar Powered; 355° Pan & 140° Tilt; IP65 Certified Weatherproof; Clear Night Vision; 2-Way Audio; 122° Wide Viewing Angle.
Powered by a rechargeable battery or solar energy, Reolink 4K solar+Pan & Tilt are entirely wire-free, allowing easy installation and continuous protection seamlessly. Embedded with AI algorithms, these security cameras can send you real-time alerts whenever a person, vehicle, or pet is detected.
4K Solar+Spotlight
Effective surveillance should not be limited to daylight hours. Reolink also introduces the 4K solar+Spotlight to give users peace of mind. This combination enables security cameras to capture the finest details in ultra-high resolution and illuminates the night with vivid clarity. The built-in spotlight enhances the color night vision capability of 4K solar powered security cameras. It ensures your surroundings remain safeguarded at all hours.
Applications of Solar Powered Security Camera with 4K
The versatility of 4K solar powered security cameras extends their usage beyond traditional surveillance. Some applications of these advanced models include the following.
Residential Security
For residential, 4K solar powered security cameras can act as a visible deterrent to potential intruders, burglars, and trespassers. The 4K high resolution allows homeowners to monitor and protect their property, belongings, and loved ones without missing any detail. Solar power makes these electronic devices more eco-friendly and gives residents more power options in case of emergency.
Commercial Surveillance
Commercial spaces often require the capture of intricate details for identification and analysis. 4K resolution provides an exceptional level of image clarity for surveillance cameras. As environmental sustainability gains importance, integrating solar power into surveillance systems aligns with corporate social responsibility initiatives. By utilizing renewable energy, businesses can reduce their operational expenses associated with electricity consumption.
Wildlife Observation
Solar powered security cameras with 4K are also suitable for wildlife observation. These devices bring a new dimension of wildlife monitoring for researchers, enthusiasts, and conservationists. The visual precision of 4K resolution contributes to more details in wildlife behavior, appearance, and interactions.
In most cases, researchers must monitor wildlife in remote or challenging environments with limited access to electricity. At this point, solar energy becomes optimal, ensuring continuous monitoring, especially for studying elusive or nocturnal species active during nighttime hours.
Construction Site Monitoring
4K solar powered security cameras can also be an effective security solution for construction site monitoring. High-resolution footage delivered by solar powered security cameras with 4K allows for precisely monitoring access points, equipment, and materials. This comprehensive oversight acts as a deterrent against theft, vandalism, and unauthorized entry, safeguarding valuable assets.
4K solar powered security cameras also provide construction teams with accurate documentation for project records, progress reports, and quality assurance. Furthermore, a 4K solar security camera can make remote access to the construction site possible. Project managers, stakeholders, and decision-makers can monitor progress, identify potential bottlenecks, and address issues promptly, regardless of their physical location.
Benefits of Using 4K Solar Powered Security Camera
Using 4K solar-powered security cameras presents many benefits that cater to the growing demands for enhanced performance, sustainability, and reliability in modern security systems.
Unparalleled Image Clarity
4K 8MP solar powered security cameras offer four times the resolution of 1080p security systems, allowing you to see images and videos with the highest level of detail and wide-angle monitoring. You can obtain images with distinct human facial features, license plate numbers, clothing colors, etc., from your 4K security camera. Also, most 4K security camera systems maintain crisp images even when zooming in, which is invaluable for accurate identification and analysis.
Continuous Operation
4K Solar-powered security cameras harness renewable solar energy and ensure uninterrupted operation even in areas with limited access to electricity. Moreover, 4K solar security cameras also include a battery-power option, and the battery guarantees continued operation during periods of reduced sunlight or extended cloudy conditions.
Eco-Friendly Solution
Integrating solar power into 4K security cameras aligns with environmentally conscious practices, reduces the reliance of electronic devices on conventional power sources, and minimizes carbon emissions. This eco-friendly security solution contributes to sustainability efforts.
Cost Savings
Over time, 4K solar-powered security cameras lead to lower operational costs by reducing electricity consumption and eliminating the need for external power sources. This cost-efficiency is particularly beneficial for long-term surveillance projects.
FAQs
Is 4K solar worth it for a security camera?
Yes, 4K solar is definitely worth it for a security camera. Higher resolutions like 4K provide superior image quality with finer details and enhanced clarity. Solar panels provide constant power to your security system, making it more eco-friendly and reliable.
How do 4K solar security cameras work at night?
4K solar security cameras employ advanced infrared technology to maintain clear visibility in low-light conditions. Most of reolink 4K solar-powered security cameras also come with a spotlight, which delivers color night vision and ensures reliable surveillance throughout the night.
What if my area doesn't receive abundant sunlight?
You don't have to worry about this. Even in regions with limited sunlight, 4K solar-powered security cameras often feature backup battery systems to ensure uninterrupted operation.
Do 4K solar security cameras require professional installation?
While professional installation is an option, many solar-powered security cameras with 4K are designed for easy DIY setup and can help users save money and time.
Conclusion
4K solar-powered security cameras have emerged as an innovative solution for home security. The fusion of high-resolution clarity, sustainable energy, and seamless installation empowers users to safeguard their property effectively. Whether you're a homeowner, business owner, or wildlife enthusiast, the 4K solar-powered security camera offers a versatile and powerful tool to enhance surveillance.
Would you like to install a 4K solar-powered security camera in your home? How do you like it? Tell us about your thoughts and share this article with your family and friends!