Wanna know the detailed information about IP camera bandwidth calculation, like: What are the 720p/1080p or 4MP IP camera bandwidth requirements? How many Mbps do I need for security cameras? Here you'll learn the bandwidth calculation for IP cameras as well as the insider tips to reduce bandwidth consumption. If you are also interested in the CCTV IP camera storage calculation, read this guide to check out the useful formula.
The following information is what you need to notice before reading this article:
| | |
| --- | --- |
| Influencing Factors | Resolution, FPS, etc. |
| Introduction | IP camera bandwidth calculation formula |
| Different Scenes | A wall/empty room/garage |
| Tips | Choose H.264 video compression |
IP Camera Bandwidth Calculation Formula & Example
Besides using the various IP camera network bandwidth calculators online, you can also calculate the Internet speed needed for security cameras on your own.
Below we'll introduce an easy IP camera bandwidth calculation formula and the 4 variables affecting your IP camera bandwidth usage (calculated in ideal environments).
Top 4 Elements that Affect IP Security Camera Bandwidth/Internet Speed
Resolution. Higher resolution will require more IP camera Internet bandwidth.
FPS (Frame Rate per Second). The higher the FPS is, the more IP camera bandwidth usage is required.
Video compression codec. It determines how the video is packaged and compressed before being sent over the Internet. There are 2 popular video compression format types: H.264 and MJPEG. H.264 HD IP cameras, with better compression, lower the security camera Internet speed requirements for transmitting video streaming.
The quantity of your IP security cameras. The more IP cameras you are using, the higher Internet speed is needed for your security cameras. You can see how many IP security cameras you will need for your home/business here.
The above 4 variables, determining the IP camera bitrate, interact and affect each other.

Ready. Set. Save!
Big selection, big SAVING. Get your hands on Reolink security cameras & systems before the best prices slip away!
Follow the below IP camera bandwidth calculation formula, and you can get the answer for IP camera bandwidth problems like "How much bandwidth do I need for security cameras? How much data does a security camera use?"
IP Camera Bandwidth Calculation Formula:
Bandwidth (Mbps) = Bitrate (Main) * N + Bitrate (sub) *M
*N & M represents the number of IP cameras for main stream and sub-stream.
In terms of the bitrate in this formula, you can check them in the specifications of your IP cameras or ask the security camera company staff directly.
Example: If you have one IP camera with the main stream of 6144 kbps and another with the sub stream of 1024 kbps, the required IP camera bandwidth would be
Required Bandwidth = 1 * 6144 kbps + 1 * 1024 kbps =7168 kbps = 7.168 Mbps
Since the bandwidth calculation of IP cameras would be too overwhelming, you can view the below IP camera bandwidth chart to see the overall Internet speed needed by your security IP cameras.
IP Camera Bandwidth Requirement
Resolution
H.264
MJPEG
1MP (1280*720)
2 Mbps per camera
6 Mbps per camera
2MP (1920*1080)
4 Mbps per camera
12 Mbps per camera
4MP (2560*1440)
8 Mbps per camera
24 Mbps per camera
How much data does CCTV streaming use? Does an IP camera use bandwidth all the time? Hopefully you can get the answers you want in the information provided above.
Besides the internal factors that affect the IP camera bandwidth, the external factors, such as different installation places, can also affect the IP camera data usage calculation.
For more accurate IP camera bandwidth calculation results, keep reading the following part.
Dig up Further for More Accurate Result of CCTV IP Camera Bandwidth Calculation
The above bandwidth calculation formula for IP cameras is suitable for ideal environments.
However, the IP camera bandwidth usage varies in different scenarios. Thus it is impossible for the IP camera bandwidth calculators online to show you the most accurate calculation result.
Other external factors, such as the bright or dark environments, can also affect HD IP camera bandwidth consumption or Internet usage.
Special applications, like facial recognition or license plate recognition, will eat up more IP camera bandwidth, since these applications require higher resolution and frame rate recording.
If you want more accurate IP camera bandwidth calculation result, you need to do some tests by yourself:
Test your security cameras and record the IP camera bandwidth requirements in different scenes/places.
You can place your IP cameras in different places to see how much your IP cameras will eat up the Internet data with the CCTV IP camera bandwidth calculator software online.
Below are the scenes ranging from simple to complex:
Simplest: A wall
Simple: Empty room
Medium: A well-lit room
Complex: Parking lot/garage
More complex: busy entry way
By testing in different situations, you will get more accurate results on your IP camera bandwidth usage.
According to our multiple tests, the result is that the busier places the IP cameras are installed, the higher bandwidth is needed.
If you are searching for IP camera bandwidth and storage calculators for Axis, Bosch, Dahua, Sony, Vivotek, Samsung, Pelco, Panosonic, Cisco, Honeywell, Generic, Geovision or Hikvision CCTV cameras, remember to bear the above information in mind.
With the full knowledge on IP camera bandwidth calculation above, you can certainly find the most suitable IP camera that won't use much data.
Tips to Reduce the IP Camera Bandwidth Usage
Does an IP camera use bandwidth all the time? Do IP cameras slow down network ?
Probably not!
The fact is that, the CCTV security cameras use data only when you access the cameras for live viewing or they send you instant alerts when motion events are detected.
Better yet, here are some effective tips you can try to reduce your IP camera bandwidth consumption.
Choose H.264 video compression codec instead of MJPEG.
Use the right resolution based on your needs. you can select the sub-stream type when accessing your IP cameras or recording videos.
Lower the frames per second (FPS) to reduce the IP camera bandwidth usage.
Set up motion detection recording.
Reduce the number of cameras by utilizing wide-angle PTZ security cameras.
Choose dual band WiFi security cameras and connect them to the less crowded frequency band (Find best pickes here ).
Recommended Security Cameras for Reducing Bandwidth - 4K WiFi 6 Security Cameras
4K WiFi 6 cameras reduce bandwidth by using advanced compression like H.265, which efficiently encodes high-res video. With WiFi 6 technology, data transfer is faster and more reliable, enabling smooth streaming with lower latency. These cameras also employ smart streaming, adapting video quality to available bandwidth, optimizing data usage without compromising 4K resolution benefits.
Let's see these cameras:
RLC-810WA: The RLC-810WA stands out as a premier 4K WiFi 6 surveillance camera, offering clear imagery with its 4K 8MP Ultra HD resolution. With the inclusion of Dual-Band WiFi 6, it guarantees swifter speeds and heightened stability during data transmission. Benefit from enhanced low-light visibility with Color Night Vision, and its IP67 waterproof rating ensures resilience for outdoor use.
Reolink RLC-810WA
4K WiFi 6 Surveillance Camera
4K 8MP Ultra HD, Dual-Band WiFi 6, Color Night Vision, IP67 Waterproof, Smart Detection, Two-Way Audio, Built-in Siren.
E1 Outdoor Pro: The E1 Outdoor Pro is an advanced 4K 8MP Smart PTZ WiFi Camera with Auto Tracking, offering exceptional features for comprehensive outdoor security. With Dual-Band WiFi 6 technology, it ensures fast and reliable connectivity. The 3X Optical Zoom capability allows for detailed and flexible surveillance, while the 355° Pan and 50° Tilt cover a wide range for extensive monitoring.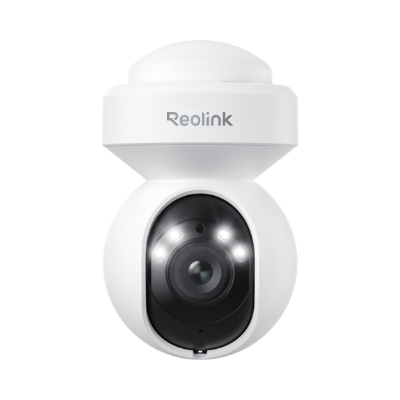 Reolink E1 Outdoor Pro
4K WiFi PTZ Camera with Auto-Tracking
4K 8MP Super HD, Smart Person/Vehicle Alerts, 355° Pan & 50° Tilt & 3X Optical Zoom, Auto Tracking, Color Night Vision.
RLK12-800WB4: The RLK12-800WB4 is an all-powerful 4K security kit with next-gen WiFi 6, ensuring top-notch connectivity. With its dual-band WiFi 6 capability, this system provides a reliable and fast connection for seamless surveillance. The 4K 8MP Ultra HD resolution guarantees clear and detailed images, while the advanced person/vehicle/animal detection feature enhances security accuracy.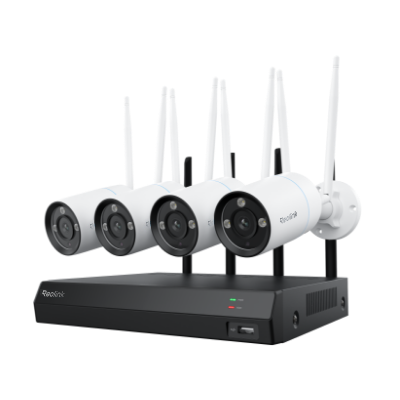 Reolink RLK12-800WB4
4K Security Kit with Next-Gen WiFi 6
4 pcs 4K Ultra HD Security Cameras; Dual-Band WiFi 6; 2TB HDD 12-Channel NVR for 24/7 Recording; Peron/Vehicle/Animal Detection; IP67 Weatherproof.
If you still have any problems or questions about your IP camera bandwidth calculation, please leave your comment below and we'll get back to you soon.