Wanna install a window security camera to add an extra protection layer for your home? A smart decision! According to the home burglary statistics, 23% of burglars break into a home through a first-floor window. The security cameras for windows would be a powerful deterrent to home thefts and burglary. Here you'll know what to look for in a window sill security camera, and if it is feasible to use a security camera through a window.
Here is the key information for you when you want to buy window security cameras:
| | |
| --- | --- |
| What for | Choose window security cameras |
| Features | Weather-resistant/vandal-proof |
| Recommended Camera | Reolink security cameras |
| Camera Types | Argus 3 Pro/RLC-511WA |
So, Can You Use a Security Camera Through a Window
First off, let's start with the questions you concern the most, like
Can you place a security camera inside or behind windows looking outside? Will the security camera motion detection work through windows? And how to prevent the security camera glare/reflection through windows?
Actually, in our prior post, we have already discussed whether home security cameras can work through windows (with solutions), and below are the quick conclusions:
For infrared security cameras behind glass windows, the IR illuminators will be reflected back from the windows into lens, leading to washed-out images.
To reduce the security camera window reflection or glare, you may choose the window security cameras that allow you to turn off the LED lights via the app, like Reolink RLC-422W, and then mount IR illuminators or automated external lights that can provide light source for the camera outside.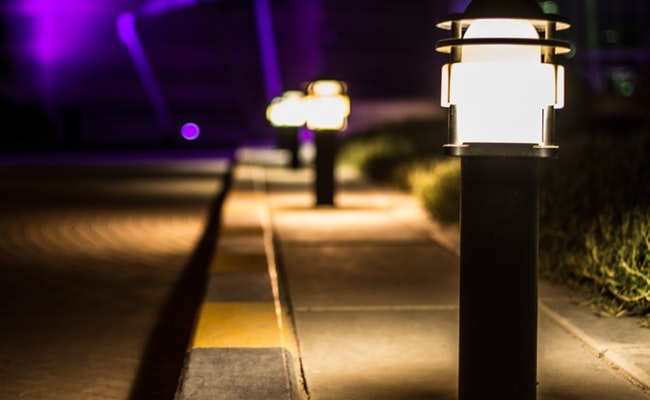 As for the motion sensor security cameras on window sills that work by comparing the changes of consecutive frames, the security camera motion detection won't be affected through a window.
But not for the window security cameras with PIR motion sensors that detect motion movement by sensing the changes of heat.
As most glass used in home windows today is insulated, it will block heat transmission which is needed for the PIR motion sensors. And that's mainly why the PIR security camera motion detection can't work through windows.
Essentially, it all comes down where you should place a window security camera for its optimal performance.
Since mounting security cameras inside windows towards outside could incur the unwanted reflection or glare, it is more sensible to install window surveillance cameras between window and screen, out 2nd story window, or hide the cameras in plants.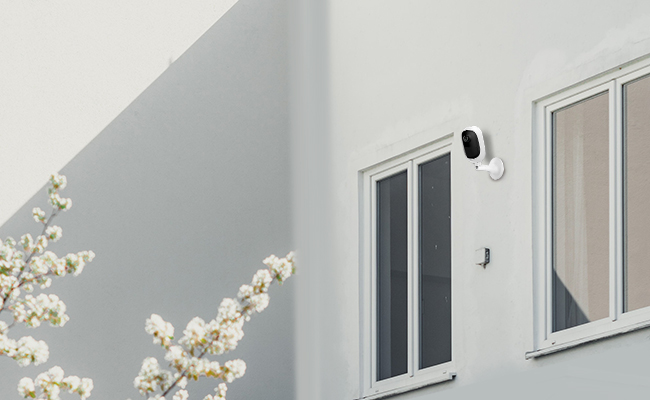 Editor's Tip: Besides installing window security cameras, check out more useful and inexpensive ways here to secure your home windows.
What to Look for in Window Security Cameras
To quickly land you on the right window security cameras, here are several factors you should consider during your selection process.
1. Weather-Resistant & Vandal-Proof Design
As mentioned above, the security cameras for windows are most recommended to be mounted outdoors to prevent glare or reflection, which means they need to be weather-resistant enough to withstand all harsh weather conditions.
If you are worried that your window security cameras might be damaged or removed by bandits, a vandal-proof window IP camera, like the Reolink RLC-422W with IK 10 vandal-proof rating would be the ideal security solution.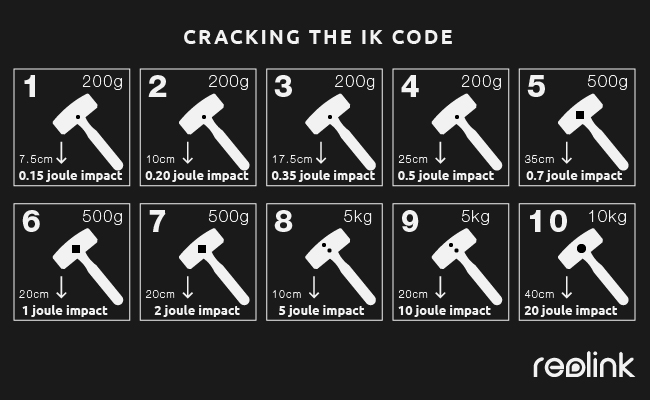 And by the time someone manages to take away your window mount wireless security camera, you would have received instant alarms and captured the face of intruders.
2. Easy Installation with Minimum Cables
To avoid the possible problems caused by security cameras behind windows, you may have to climb a ladder to install the window security cameras outside.
Any way to get rid of the complex and troublesome installation process?
Absolutely yes – the wire-free battery powered security cameras, like Reolink Argus 3 Pro, require no messy cables and no drilling holes. Simply insert the battery into the window sill security cameras and they're ready to go.
When you need to remove the battery home window security cameras to another site, you can easily take them done and reposition them in a new site as you wish.
Video Transcription
The battery powered security camera Reolink Argus 3 Pro is highly portable and can be placed anywhere you wish. It is not only suitable to be a security camera for windows, but also for your front doors, back doors, backyard, garage, farm, barns, etc.
3. Good Day & Night Vision of Window Mount Cameras
"I need a window security camera with night-vision capability to see everything in front of the house, can I do it?"
Just to emphasize again, the IR security cameras can't work through glass at night unless you turn off the built-in LED lights and mount external IR illuminators.
But that would bring you more trouble as well as higher cost.
The shortcut is to buy a security camera for windows with good day and night vision capability (at least 1080p) and mount it outside your windows.
And the most reliable way, based on thousands of buyers' experience, to tell the image quality of home window security cameras is to watch the video samples shared by real users.
For example, below is the night vision video shared by a user of the security camera, Reolink Argus 3 Pro.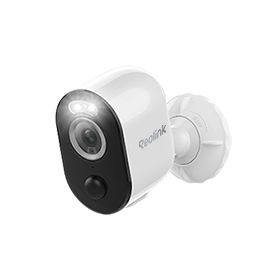 Reolink Argus 3 Pro
2K 100% Wire-Free Spotlight Camera
2K 4MP Super HD, Battery/Solar Powered, Person/Vehicle Detection, 5/2.4 GHz Dual-Band WiFi, Color Night Vision, Two-Way Audio.
4. Storage Option of Window Security Cameras
With so many security camera recorders available, you need to decide where to store the footage of your window security cameras based on your specific situations.
So, if you have mounted multiple security camera for windows, front doors, backdoors, garage, driveway, etc., the best way to manage all these security cameras simultaneously is to buy a dedicated NVR (note that some NVRs are only compatible with the cameras of the same brands.)
Or in case you'd like to save the videos of window sill security cameras onsite, the security cameras with SD card (slot) could be also a handy option. And you can also back up the footage to the cloud storage if you have enough budget.
Best Window Security Cameras for Your Options
Based on the full comparison of some top-rated window security cameras for sale, here we pick up two winners as the best security cameras for your home windows.
1. Best Wire-Free Window Security Camera – Reolink Argus 3 Pro
No other window security cameras can be comparable with Reolink Argus 3 Pro concerning the popularity and the nice features.
It is not only ideal to serve as a security camera attached to your windows, but also a good option to secure your front door, back door, garage, driveway, etc.
Why It Is Great:
100% wire-free: easy to install and relocate, involving no messy cablings.
Flexible powering options: rechargeable battery powered & solar powered, no need to worry about the short battery life.
IP65 weatherproof: this window mount wireless security camera can be placed outdoor to brave the elements.
Color night vision: improved image quality even in total darkness (up to 33ft)
Smart motion detection: send you instant push notification, emails & siren when motion is detected.
Important Note: As Reolink Argus 3 Pro detects motion movement by sensing changes of heat which will be blocked by the window glass, this security camera can't record through windows.
2. Best Wireless Security Camera for Windows – Reolink RLC-511WA
If you need a wireless waterproof security camera for windows to fight against natural disasters and human damage, the 5MP high-resolution camera Reolink RLC-511WA would be one of the best window mounted security cameras worth your money.
Why It Is Great:
Dual-band WiFi: require minimal cables and ensure stronger WiFi singals.
IP66 waterproof: capable to withstand all the severe weather conditions and intentional damage.
5X optical zoom: allow you to zoom in for more details and zoom out for a wider view.
Excellent night vision: capture sharp and clear images even at a distance (up to 100ft).
Built-in SD card slot: offer you to option to record motion detection video onsite.
Video Transcription
In this video, you can check out the enhanced image quality (5MP) of this security camera that sticks to windows, RLC-511WA, which offers a wide view of your front door.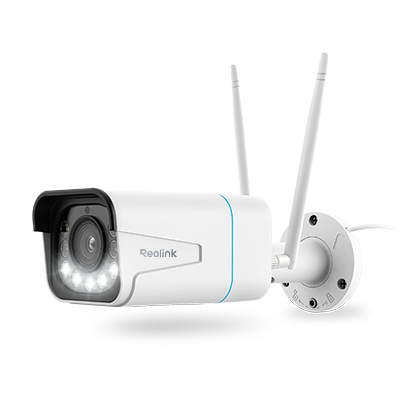 Reolink RLC-511WA
Wireless 5MP Security Camera with Spotlight
2.4/5 GHz Dual-Band WiFi, 5MP Super HD, Person/Vehicle Detection, 5X Optical Zoom, Two-Way Audio, Outdoor/Indoor Protection.
If you have any more questions about the selection of window security cameras, or you want to share your successful experience installing home security camera through windows, please feel free to leave your comment below.