Want higher security camera resolution to read license plates or identify an intruder's face? You are not alone. However, many said-to-be high definition security cameras may not offer the ideal resolution and their images even become blurry when you zoom in for more details. So, it is important to learn what is the best resolution for home security camera and how to choose security camera resolution before making a purchase.
When talking about factors contributed to crisp images, here is what you need to know:
| | |
| --- | --- |
| Resolution | 1080p/4MP/5MP/4K |
| Key Features | High resolution/night vision,etc. |
| Influencing Factors | Focal length/sensor size, etc. |
| Recommended Camera | Reolink security camera/system |
What Is Security Camera Resolution
IP security camera resolution is the total number of pixels that make up an image, which is measured by the image width and height.
For example, the width and height of a 2MP image are 1920 and 1080 respectively. By multiplying these two figures together, you will get 2,073,600, which is the total number of pixels contained in the image.
Also, the height of an image is used to symbolize the resolution and thus, you can say 1080p resolution when talking about an image with 2 million pixels.
The most common resolution for home security camera in the market includes **2MP (1080p), 4MP (1440p), 5MP (1920p)** and 8MP (4K/2160p).
Take the following security camera resolution comparison chart into account:
| | | | |
| --- | --- | --- | --- |
| Resolution | Image Size | Pixels per Images | Aspect Ratio |
| 1080p | 1920x1080 | 2,073,600 | 16:9 |
| 4MP (1440p) | 2560x1440 | 3,686,400 | 16:9 |
| 5MP (1920p) | 2560x1920 | 5,017,600 | 4:3 |
| 4K (8MP) | 3840*2160 | 8,294,400 | 16:9 |
Besides, these are the best resolution for home security cameras since such surveillance cameras can deliver stable and outstanding image quality day and night and are within the reach of virtually every budget.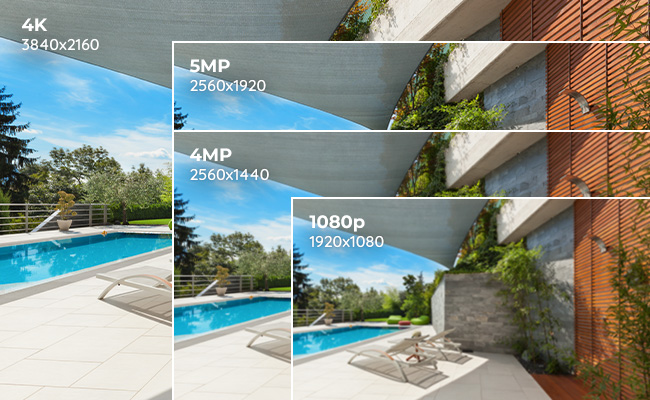 1080p vs 4MP vs 5MP, Which to Choose
In the previous posts, we have made detailed security camera resolution comparison on 4K and 1080p security cameras.
And you may take them into account when choosing the best resolution for home security cameras as well:
#1. 4K vs 1440p vs 1080p vs 720p
Now let's cut to the chase, what are the differences among 1080p, 4MP (1440p) and 5MP (1920p) security cameras?
• Image Quality: Generally speaking, a 1440p (2K) security camera can record super HD videos, which is twice good as the 1080p (1K) one.
In terms of the 1920p, as you can see from the chart above, the horizontal pixels of 1440p and 1920p are the same but the latter has more pixels vertically. So, a 1920p IP security camera can produce images with more pixels than a 1440p one.
Simply put, a security camera with 5MP resolution can deliver better image quality than that with 4MP or 1080p resolution, especially when capturing objects in the distance.
• Live Stream Resolution: Also, you can live stream a 5MP security camera in 1920p, 1440p and 1080p resolution, a 1440p CCTV camera in 1440p, 1080p and 720p resolution and a 1080p surveillance camera in 1080p and 720p resolution.
• Field of View: Generally speaking, megapixel security cameras are packed with wide-angle lenses. Compared to 1080p security cameras, 4MP and 5MP ones have a wider field of view and thus, they can cover larger areas.
• Bandwidth & Storage Consumption: Most 5MP, 4MP and 1080p security cameras apply H.264 video standard. So, under the same compression standard, security cameras with higher resolution will take more bandwidth and storage space.
Analog Security Camera Resolution
Comparing to IP security camera resolution, analog security camera resolution is measured differently by the number of horizontal and vertical television lines (TVL) displayed in an image.
Why television lines?
Because the analog video technology is derived from the television industry and the highest resolution for a traditional analog security camera is "D1", also called "4CIF", entails 704*480 pixels.
Later, new video technology called analog high definition is applied to analog security cameras, making it possible for them to produce 720p and 1080p high resolution videos.
Here is an analog security camera resolution chart for your reference:
| | |
| --- | --- |
| Resolution | Image Size |
| QCIF | 176*120 |
| CIF | 352*240 |
| D1 (4CIF) | 704*480 |
| 960H | 960*480 |
| 720p AHD | 1280*720 |
| 1080p AHD | 1920*1080 |
To help you understand the resolution offered by IP cameras and analog camera, we have made up a picture as security camera resolution examples below.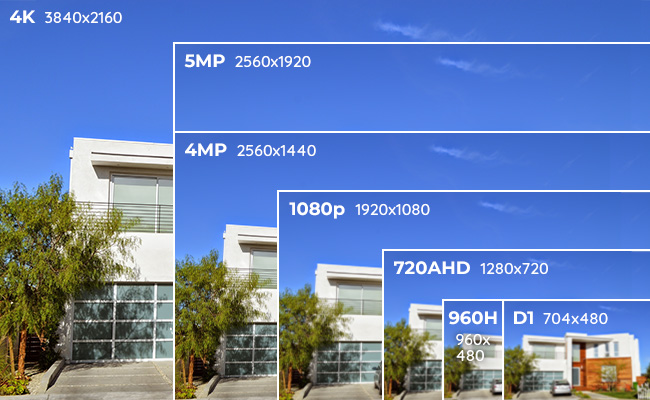 Compared to IP security camera resolution, that of analog security is too low for you to read license plates or identify intruders' faces.
Given that the price of high resolution security camera is becoming more affordable today, it is best to purchase IP cameras with sharper image quality for your home and business.
Have no idea which is the best resolution for home security cameras? Read on to learn more.
What Security Camera Resolution Do You Really Need: 5 Practical Buying Tips
You may want to purchase security cameras with the highest definition.
But what is the best resolution for home security cameras? Which security camera resolution do you really need?
That's where we come in – check out the following practical buying tips before you make a purchase.
#1. High Resolution Security Cameras Won't Cost You More
At present, more top security camera brands get a foot in the market for high definition CCTV cameras, making the price of surveillance cameras more affordable than ever before.
So, you won't break the bank to get a good resolution for home security cameras and you may even snag sweet deals and purchase high definition security cameras in the sub $100 range.
Besides, a high resolution home security camera that brings you peace of mind like Reolink RLC-510A shall offer other nice-to-have features like excellent night vision, person/vehicle detection alerts and smart home integration.
Sporting 5MP super high IP security camera resolution, this outdoor surveillance camera can capture vivid images when any suspicious event is detected around your property.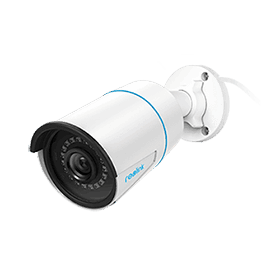 Reolink RLC-510A
5MP PoE IP Camera with Person/Vehicle Detection
Smart Person/Vehicle Alerts; 100ft Night Vision; Time Lapse; IP66 Certified Weatherproof; Audio Recording.
With IP66 waterproof design and sharp night vision, this high definition security camera can fit in almost every scene and stand guard keenly rain or shine.
Key Features:
• 5MP super high resolution
• Person/vehicle detection
• Sharp night vision (up to 100 feet)
• Wide viewing angle (80°)
• IP66 Waterproof
• Built-in Microphone
• Easy PoE Configuration
• Instant motion alerts
Want to check out the security camera resolution examples? Skip to part 4 in this paragraph.
#2. Use Multiple High Resolution Security Cameras to Cover Large Areas
To determine which security camera resolution do you really need, consider the area that you want to cover as well.
Though a high definition security camera can capture images with great details, it may not cover every corner of your house since its field of view is limited.
So, if you plan to monitor a large area like the front of your house, a parking lot or the entrance of your store, it is best to install high resolution outdoor security systems like Reolink RLK8-800B4 to monitor various spots, instead of applying a single fixed lens security camera.
Reolink RLK8-800B4
4K 8-Channel PoE Security System
4 pcs 4K Ultra HD Security Cameras; 2TB HDD 8-Channel NVR for 24/7 Recording; Person/Vehicle Detection; Plug & Play; 2 Network Solutions.
This home security kit packs with four outdoor surveillance cameras, which allows you to monitor every desired concern of your house effortlessly.
Boasting 4K ultra high security camera resolution, this CCTV camera system is capable of capturing crisp images around the clock.
Key Features:
• 4K ultra high security camera resolution
• Person/vehicle detection
• Sharp night vision (up to 100 feet)
• Wide viewing angle (97° for each IP camera)
• IP66 Waterproof
• Built-in Microphone
• Easy PoE Configuration
• Instant motion alerts
Check out the video sample below and see how clear the footage is (don't forget to choose 2160p in the video quality).
Video Transcription
Two cars crashed into each at a crossroad and one even rolled over. This horrible accident was caught on the camera. Luckily, no one is seriously injured.
#3. Operate High Resolution Security Cameras over Stable Network
Another factor to look for when considering how many megapixels do you need for security cameras is the network status.
Higher resolution IP cameras will require more bandwidth when transmitting high quality images and videos. So, if your network is not fast and stable enough, your CCTV cameras may deliver videos in lower resolution.
Hold Up: Check out this post and learn more about the bandwidth requirement for megapixel security cameras.
#4. Watch Security Camera Resolution Examples & Reviews
Another way to examine the best resolution for outdoor security cameras is to look into the reviews from top tech media or true users and of course, the video samples that they attach as well.
Since others may set up surveillance cameras in various places, you are able to check the performance of security cameras with different resolution under multiple scenes and conditions, like rain or shine, indoors and outdoors, etc. before making a purchase.
Here we will take a 5MP IP security camera, Reolink RLC-510A, as an example.
First, you may take a look at the detailed review from top tech media like ZDNet.
This is the comment made by Eileen, one of the contributors from the tech website:
"It does not need power directly to the camera and will work over an Ethernet cable. It is a great addition to your security setup."
Then you may check the video below to know more about this high definition security camera.
#5. Prepare Enough Storage Space for IP Security Cameras with High Resolution
Higher security camera resolution brings you better image quality, which on the other hand, require greater storage capacity as well.
So, to run high resolution CCTV cameras around your home, you'd better use multiple storage options to save video footage and back them up regularly.
If you neither have large storage space nor plan to enlarge the space, select security cameras with advanced compression formats and think twice before buying surveillance cameras with 4K+ ultra HD resolution.
Read More: Click here to learn how much storage space your CCTV cameras need.
Note: Security Camera Resolution Is Not the Only Contributor to Sharp Images
Believe it or not:
Security camera resolution is not the only factor that affects the videos that you finally see on a screen.
And here are some of the other factors that will make a difference to the image quality:
Focal Length:
The focal length of the lens determines how wide the viewing angle of a high resolution security camera will be. The longer focal length that your security camera has, the wider field of view you will get. However, that may end up with lesser details you will get in the longer distance.
So, if you want to monitor a large area like the front of your house, a crossroad or a parking lot, it is best to apply multiple fixed lens security cameras or a varifocal lens security camera with sharp image quality like Reolink RLC-823A.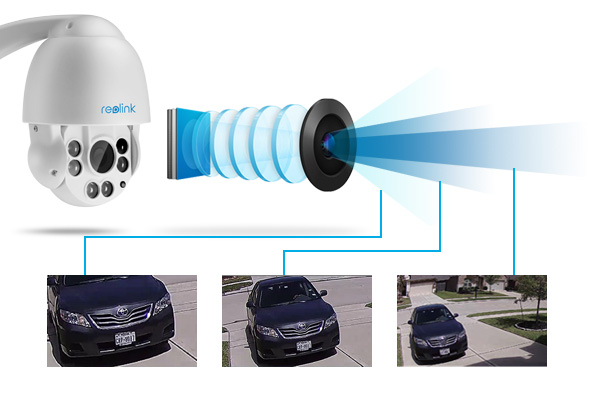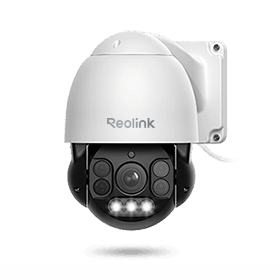 Reolink RLC-823A
Smart PTZ PoE Camera with Spotlights
4K 8MP Ultra HD, Person/Vehicle Detection, 5X Optical Zoom, Auto Tracking, Manual Pan & Tilt, Two-Way Audio, 190ft Night Vision, Live View.
Sensor Size:
You will get more details in the images by using CCTV cameras with a smaller image sensor. For example, a security camera with a 1/3'' image sensor produces a narrower field of view and images with greater details than one with a 2/3'' image sensor.
Frame Rates:
By recording your security camera footage at a higher frame rate, you will get a smoother video without any blurry images. So, chances are higher that you can recognize the license plate or intruder's face (and it may slow down your network as well).
Monitors:
The security camera resolution can be affected by the screen that you are looking at as well. In fact, most security cameras with high resolution will resize their stream display automatically to fit on a screen that doesn't support a higher resolution.
For example, you wouldn't be able to view the videos captured by a 5MP security camera on a monitor that supports 1080p only.
Installation Spots:
If you face high resolutions security cameras to the sun or any light sources directly, you will only get washed-out images without any details.
In addition, it is not a wise choice to install high resolution behind glass windows since the IR reflection may result in overexposed images, making it impossible to identify any details. (Check out this post and find the best installation spots for home security cameras.)
Hottest Questions on IP Security Camera Resolution (Answers Included)
Here are some of the most frequently asked questions on security camera resolution.
Read on to find the explicit answers in case you have the same questions.
#1. When Viewing a 4K Resolution Security Camera Remotely, Will the Videos Be Transmitted in 4K
The answer is yes, definitely.
Under most situations, the video of a 4K security camera will be transmitted into 4K when you monitor remotely under the stable network connection via your phones, PCs and even TVs & monitors, as long as they support 4K image format.
And this applies to 5MP, 4MP and 1080p CCTV cameras as well – videos can be transmitted in the highest resolution.
However, as explained earlier, if the network status is unstable, your 4K security cameras may transmit videos in lower resolution like 5MP or even 1080p.
#2. I Can't Tell Different Security Camera Resolution Apart When Viewing on My Smartphone. Why
Some complaint that when they watch CCTV footage via cellphone, videos in 1080p and 5MP resolution look alike, making it hard to tell any difference.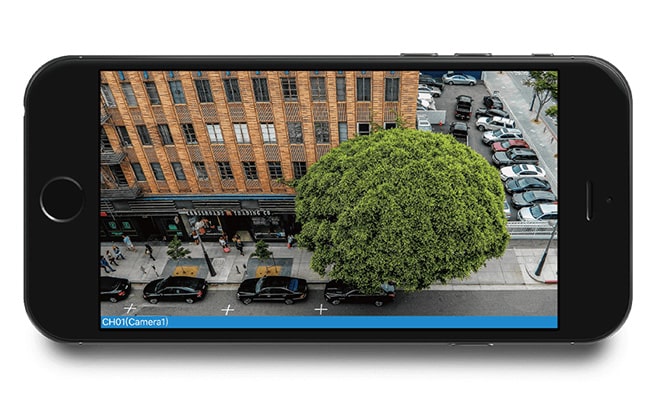 Wait…are you fooled by the 5MP security cameras?
Of course, NOT!
That's because the size of the screen may also affect the image that you finally see and screen on your smartphone is too small to show the differences in each resolution. So, you may think they are quite the same.
When you view security cameras with the different resolution on larger screens like TVs or PC monitors, you can tell the difference immediately: videos in higher resolution show more details than that with lower resolution when shown on bigger screens.
#3. Why Security Camera Resolution Is Lower Than That of Smartphones
Two major factors can explain: working time and storage.
Most security cameras record videos when they are triggered by motion or even throughout the day, while you only use the phone or camera to take photos and record videos when necessary.
So, the surveillance cameras can produce a large amount of video footage during the day, which requires a lot of storage space.
Meanwhile, the higher the resolution is, the larger the storage space a security camera needs.
With these factors combined, most users prefer security cameras with moderate and sufficient resolution at present.
Leave Your Ideas Below
What are the other things on security camera resolution that you concern the most? Do I miss anything important? Leave anything you can think of in the comment section and we will add them to the post as well!