Choosing the proper resolution can significantly impact your visual experience, whether you're working, gaming, or enjoying multimedia content. Two resolutions that have gained considerable attention in recent years are 3440 x 1440 and 4K. With their stunning clarity and immersive visuals, deciding between these options can be challenging.
In this article, we will explore the factors that make the 3440 x 1440 unique from 4K resolution, helping you make an informed decision that suits your requirements. So, let's dive into the comparison and uncover the perfect fit for you.
3440 x 1440 And 4K Basics
When comparing 3440 x 1440 and 4K resolutions, it's essential to understand the basics of each. Let's explore the critical details of both resolutions:
What is 4K?
4K refers to a display resolution of 3840 pixels wide by 2160 pixels tall, resulting in around 8.3 million pixels. It is also known as Ultra High Definition (UHD), 4K Ultra HD, and 2160p.
4K screens are typically between 24 and 27 inches, although some may reach about 32 inches.
4K displays are commonly used in televisions, monitors, and digital content such as movies, TV shows, and online streaming services.
What is 3440 x 1440?
3440 x 1440 refers to a display resolution commonly known as UltraWide Quad HD (UWQHD) or 1440p UltraWide. It means the display has a width of 3440 pixels and a height of 1440 pixels. This results in a total pixel count of approximately 4.95 million pixels.
UltraWide resolution monitors usually have monitor screen sizes of 34 or 37 inches.
UltraWide 3440 x 1440 displays are commonly used in gaming, video editing, and multimedia production, as they offer a wider field of view and more screen real estate for multitasking.
Note:
The 3440 x 1440 should not be confused with the 2560 x 1440. The UltraWide 3440 x 1440 has more pixels and a higher aspect ratio than the 2560 x 1440.
3440 x 1440 vs. 4K: What Are The Differences?
Here, we'll be discussing the features that make both resolutions different from each other.
Resolution:
While both classify as higher-quality resolutions, there is still a significant difference between them.
UltraWide resolution typically has almost 5 million pixels, while 4K has over 8 million pixels in its resolution – UltraWide resolution has approximately 60% of the pixel count of the 4K. This means that displays from 4K will be of better quality than that of 3440 x 1440.
Size and aspect ratio:
As implied in the name, the UltraWide resolution, with its 21:9 aspect ratio, is wider than the standard screen width found in 4K's 16:9.
Price:
Generally, 4K monitors tend to be cheaper than 3440 x 1440 monitors because they are widely available and because UltraWide resolutions have bigger screens.
Refresh rate:
Screens with ultra-wide resolution typically have a higher refresh rate than most, so you have a smoother screen experience when gaming or working with an ultra-wide screen.
Content compatibility:
Since not all software or games are suited for the wider aspect ratio, UltraWide monitors can occasionally cause compatibility issues with specific apps. On UltraWide panels, some programs might not scale or display content correctly. On the other hand, most contemporary applications and media content are widely supported and compatible with 4K resolution.
Immersion vs. detail:
UltraWide resolution offers a more immersive gaming and movie experience due to its wider field of view, making you feel you are in the thick of the action. On the other hand, 4K offers sharper details and vivid colors due to a higher pixel count.
Comparision List:
Below is a table that summarizes the differences between both resolutions:
3440 x 1440 vs. 4K Monitor: Which Is Better For You?
Answering this question will depend largely on what you plan to use it for.
For gaming:
You may find that the UltraWide (3440 x 1440) is better for you, especially since it offers a better refresh rate and even framerate. However, 4K screens are cheaper and show great qualities when it comes to gaming – albeit the cost of setting up a gaming rig to make the most of a 4K monitor is rather steep.
For work:
If you are looking for productivity, especially if you like multitasking with several windows on a screen, the UltraWide resolution may be a good choice. The UltraWide resolution and aspect ratio give users more screen space for spreadsheet and application management. On the other hand, if your priority is a higher resolution, then the 4K option would be better suited for you.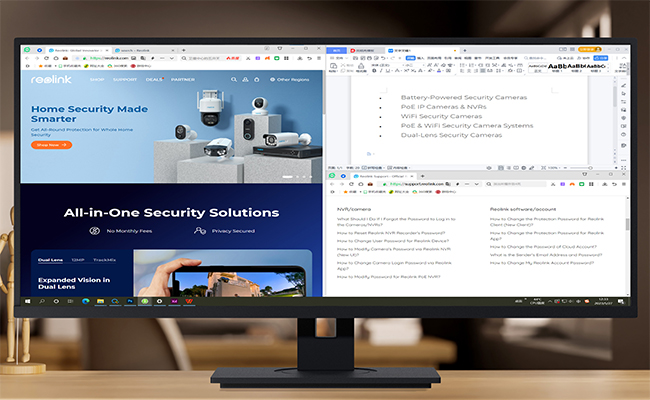 For everyday use:
Transitioning to a wider aspect ratio, like the 3440 x 1440, can take a while to adjust to. Also, remember that most content is not optimized for the 21:9 aspect ratio. So, you might have black spaces around the edges of your screen. It is also common for 4K resolution to make objects on your screen tinier due to a higher pixel density. These are just some of the cons of both resolution types.
Exploring 4K Resolution Comparisons
When it comes to choosing the right resolution for your display or camera, it's essential to understand the differences between various 4K options. These links provide valuable insights into different 4K resolution comparisons:
These resources will help you make an informed decision when selecting the 4K resolution that suits your specific requirements.
Bonus: 4K Wi-Fi 6 Surveillance Cameras Recommendation
Even though there are many 4K security cameras available, only a few have WiFi 6 technology. Security cameras with WiFi 6 provide users with the best 4K resolution, allowing smooth real-time viewing without slowing down the network. So in this part,we will recommend you a reliable option that combines the prowess of 4K resolution and WiFi 6 technology.
4K Wi-Fi 6 Surveillance Camera - RLC-810WA
RLC-810WA is a top-tier 4K WiFi 6 surveillance camera, offering faster speed and higher stability for enhanced security.
With its 4K 8MP Ultra HD resolution, RLC-810WA ensures detailed footage, providing a superior level of surveillance capability. The camera's Dual-Band WiFi 6 integration takes its performance a step further, delivering faster data transfer and heightened stability to maintain a seamless connection.
E1 Outdoor Pro is an exceptional 4K 8MP Smart PTZ WiFi Camera with Auto Tracking, providing cutting-edge features for a comprehensive surveillance experience.
With the advantage of Dual-Band WiFi 6, the E1 Outdoor Pro ensures a robust and stable connection, allowing you to stream high-quality footage seamlessly. Its 3X Optical Zoom capability provides enhanced clarity and detail, while the 355° Pan and 50° Tilt features offer extensive coverage for a comprehensive view of your surroundings.
4K security kit with Wi-Fi 6 - RLK12-800WB4
RLK12-800WB4 is an all-powerful 4K security kit equipped with next-gen WiFi 6 technology, This advanced technology ensures seamless real-time viewing and playback without compromising the overall performance of your network.
The inclusion of person/vehicle/animal detection adds an extra layer of intelligence to your surveillance system. RLK12-800WB4 can discern specific movements, allowing you to focus on what matters most and reducing false alarms.
FAQs
1.  Is 3440 x 1440 better than 4k?
The "better" resolution depends on your specific needs and priorities. If you value a wider aspect ratio and immersive experience, 3440 x 1440 may be a better choice. On the other hand, if you prioritize the highest level of detail and sharpness, 4K could be the preferred option.
2.  Is 3200 x 1440 4k?
No, 3200 x 1440 is not considered a 4K resolution. 4K refers to a resolution of 3840 x 2160 pixels, which offers four times the pixel count of Full HD (1920 x 1080). While 3200 x 1440 is a higher resolution than Full HD, it does not meet the specific pixel count required to be classified as 4K.
3.  Is 3440 x 1440 easier to run than 4K?
Yes, 3440 x 1440 (Ultrawide QHD) is generally easier to run than 4K (3840 x 2160) in terms of graphics processing requirements. The higher resolution of 4K requires more graphical power to render the increased number of pixels on the screen. This means that running games or applications at 4K resolution typically demands a more powerful graphics card and a capable system for smooth performance.
4.  What is the difference between 4K and UltraWide video editing?
The difference between 4K and UltraWide video editing lies in resolution and aspect ratio. 4K offers greater detail and clarity, while UltraWide provides a broader field of view and improved multitasking. The choice depends on personal preference and specific editing needs.
Conclusion
Both 3440 x 1440 and 4K are two popular resolutions with their own unique characteristics. When choosing between UltraWide and 4K, factors that will likely affect your choice are specific needs, use cases, and budget.
Remember, while 4K resolution excels in giving high levels of clarity and compatibility with a wide choice of content, UltraWide is better at multitasking and immersive experiences.
Hopefully, you have found this guide helpful. If you have any other questions, please comment in the space below!