Yep, you may have heard of the word "H.264" when buying security cameras.
But you may not get all the details about H.264 IP cameras simply via the several paragraphs on the product pages.
So I decide to write a complete guide to provide as many details as possible so that you can buy the best H.264 IP webcam security cameras for your specific needs.
Here you'll get deep insights on H.264 IP security cameras, their types, comparison details, step-by-step configuration guide, and more to be checked below!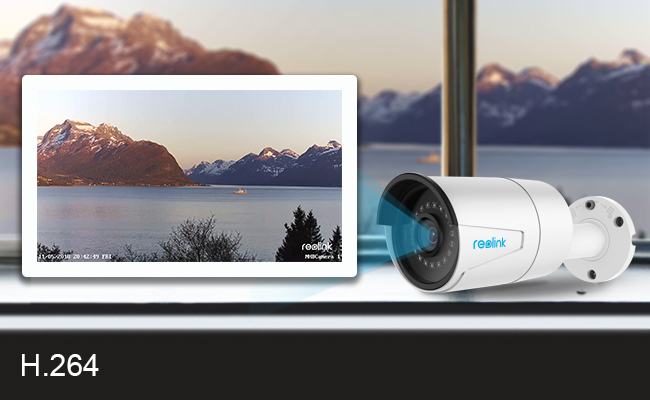 #1. What Is a H.264 IP Security Camera
H.264, namely MPEG-4 Part 10, Advanced Video Coding (MPEG-4 AVC), is the most common video compression standard among IP cameras.
The aim of creating such an advanced video compression standard is to provide good video quality with lower bitrates, compared with the previous standards, like MPEG-2, H.263, etc.
In other words, you can get clear live streaming and recorded videos without consuming too much bandwidth and storage space.
That's why those advanced security camera manufacturers opt to H.264 standard instead of other lower standard versions.
And an even more advanced standard that will be put into use extensively in the future will be H.265 video compression standard.
H.265 security cameras will reduce the bandwidth and storage space consumption by about 50% without affecting the image quality, compared with H.264 IP cameras.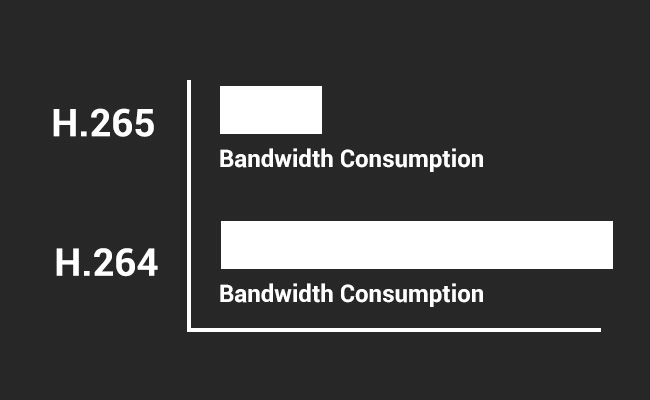 As it's said that H.265 standard has higher compression speed and smaller video file size, the tradeoff is that it takes more processing power to decode and has a higher chance of incompatibility with your older NVRs.
So currently, H.264 megapixel IP cameras would still be the mainstream video compression standard.
You can keep reading to find out H.264 video camera types to see which one is your perfect match.
#2. H.264 IP Camera Types
H.264 security cameras and systems can be divided into various types from different perspectives.
1. Classify H.264 Network Cameras via Resolution
From the perspective of resolution, there are 5 H.264 IP camera types: 720p, 1080p, 4MP, 5MP and 4K cameras.
Typically, higher megapixel security cameras will offer you clearer images when in ideal circumstances, but will require corresponding robust hardware and software.
But security cameras with low resolution, like the old-fashioned H.264 720p IP cameras, cannot help you capture the details you want, like license plates.
For identifying the details you want, you'll need at least H.264 1080p Full HD cameras.
4MP (1440p) and 5MP H.264 security cameras have become popular nowadays. You can pick these 2 types if you want to get much clearer videos, and monitor wider areas.
4K security cameras require special network video recorders (NVRs) that can be capable of handling so much video/image resolution.
In another word, you need more hard drive space to store videos recorded by 4K or higher megapixel IP cameras.
So 2MP, 4MP & 5MP h.264 surveillance cameras would be the best options considering the existing hardware and software capability.
2. Divide H.264 HD IP Cameras Based on Camera Shapes
H.264 megapixel surveillance cameras come with 3 main types: bullet, dome and PTZ security cameras.
You can check the comparison details among them here.
And some of H.264 smart home IP cameras will come in other shapes, such as cubic, capsule shape, etc.
They can be charged by USB wires, that's so-called H.264 USB cameras.
You can take a look at the below chart to check three H.264 CCTV camera type details.
Camera Type
Appearance
Camera Example
Camera Image
H.264 Bullet Security Cameras

Rifle bullet or lipstick shape
Usually come with smaller size

RLC-410
H.264 Dome IP Cameras
RLC-522
H.264 PTZ IP Cameras

Usually big size
Can rotate in all directions

RLC-423
Other Types of H.264 Home Security Cameras

Cubic
Capsule
Look like a doll and other shapes

Reolink Argus Pro
3. Sort H.264 IP Network Camera Types with Data Transmission Ways
H.264 HD IP cameras typically include PoE & WiFi IP cameras, based on data transmission methods.
H.264 PoE wired security cameras only need a Cat 5/6 cable to realize both data and power transmission.
H.264 wireless cameras rely on WiFi to transfer video streaming to your smartphones or computers.
Plug-in H.264 WiFi security cameras need to be inserted to the power outlet to get power, while WiFi security cameras that run on batteries, making them completely wireless from the top to the bottom.
#3. MJPEG VS H.264 VS H.265 IP Cameras: Pros & Cons
All of them are standards for video compression, but each of them would have their specific pros and cons.
You can check the below chart to see the advantages and disadvantages of the 3 types of video compression standards, and then you'll find out why H.264 IP cameras are still in the dominant position.
Video Compression Standard
Pros
Cons
MJPEG

High quality video
Uses little processing power to decode videos
Often cheaper than H.264 & H.265 security cameras

Consume a lot of bandwidth
Use a ton of storage space

H.264

High quality video
Consume both less bandwidth and storage space compared with MJPEG cameras
Lower latency

More expensive
Need more processing power

H.265

Consume the least bandwidth and storage space
Super clear videos
Support 4K or 8K security cameras
Support high fps

Expensive
Would not be compatible with your older NVRs
Need a lot of processing power
Considering the compatibility and cost, H.264 real-time IP camera monitor systems would be the best option.
You can take a look at the below H.264 security camera top picks for reference.
#4. H.264 IP Camera Top 2 Picks (with Free Shipping)
The below top 2 H.264 IP security cameras are quite popular among customers.
You can buy these high-quality cameras with favorable prices.
And they are both compatible with third-party software.
1. RLC-410 H.264 PoE Bullet Security Camera
The video compression speed of this camera is quite fast with H.264 standard.
You can get instant live streaming since this camera will not take up too much bandwidth.
Reolink RLC-410
PoE Bullet IP Security Camera with Audio
5MP/4MP Super HD; Outdoor/Indoor Protection; 100ft Infrared Night Vision; Audio Recording; Mobile Remote Access & Control.
This camera is designed for both outdoor and indoor use with the IP66 waterproof rating. You can take a look at the below captured by this H.264 all-in-one IP camera module.
2. RLC-522 H.264 Vandal Proof Dome IP Camera
Equipped with robust IP66 waterproof housing, this H.264 outdoor IP camera can prevent the lens from maltreatment and physical abuse, and stand firm even in extreme weather.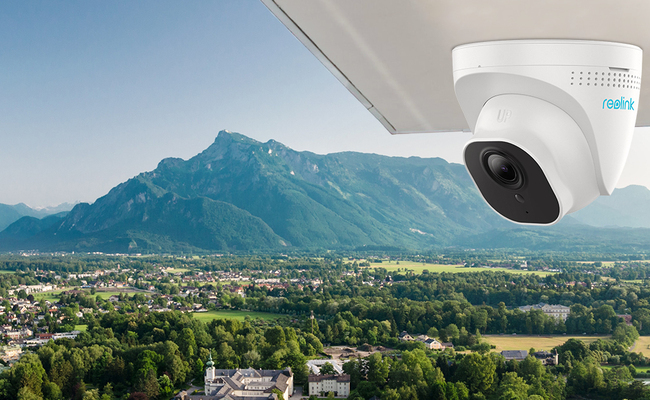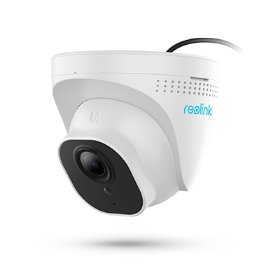 Reolink RLC-522
5MP PoE IP Camera with 3X Optical Zoom
Power over Ethernet; 3X Optical Zoom; 100ft Night Vision; IP66 Certified Weatherproof; Audio Recording; Real-Time Motion Alerts.
#5. H.264 IP Camera Setup & Installation: Step-by-Step Guide (with Video)
Thanks to the P2P technology, you can access the H.264 security cameras and systems with the app installed on your iPhone or Android smartphones, or client installed on your Windows computers/Mac.
Here we'll take RLC-410 H.264 IP camera to show you the detailed setup steps.
Step 1. Connect the camera to the router with the network cable.
Step 2. Download and install Reolink Client software to your computer or Mac to access this H.264 IP camera.
Step 3. Click Add Device >> Scan Device in LAN to scan this H.264 bitrate IP camera.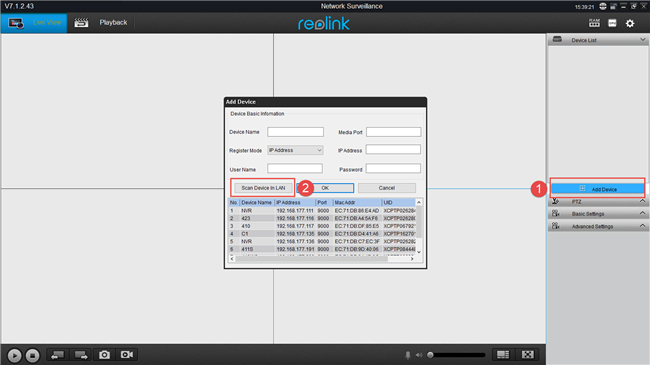 Step 4. Double click the device shown in the list and fill in the required fields to access the camera.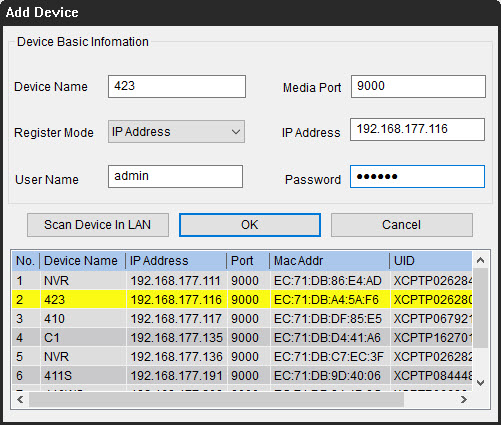 Now you can see the live streaming with the H.264 IP security camera viewer or player.
You can also check the below video to check the detailed setup steps to access H.264 IP cameras via the client software.
You can also access the H.264 IP camera with the Reolink App installed on your iPhone or Android mobile phones.
In order to use H.264 IP cameras more smoothly, please keep both of your H.264 IP camera firmware and software to the latest versions.
Thus you can keep up with the newest features and enjoy all of the excellent functions.
#6. H.264 IP Camera Knowledge Base
We make a specific knowledge base part about H.264 security cameras, so that you can get deeper insights on this type of cameras.
If you have any questions, please leave them in the comment below. We will add your questions in this list here.
Q 1: What is H.264 IP camera default IP address?
A 1: Different H.264 IP cameras have different IP addresses.
Normally, most security camera manufactures use DHCP (Dynamic Host Configuration Protocol) so you can modify your H.264 IP cameras' IP addresses.
Q 2: What is H.264 IP camera RTSP and port forwarding?
A 2: RTSP, standing for Real Time Streaming Protocol, is a kind of network protocol used for streaming the videos in real time.
Olivia, Reolink's tech editor, has shared a post about RTSP Ip cameras. You can click this post to check all the details you want.
A port forwarding is a service enabled in your router to make devices on your LAN (Local Area Network) reached by devices on the public Internet.
It's really useful for you to access your H.264 IP cameras remotely. You can check more details about IP camera port forwarding here.
Any ideas you wanna share with us? Leave them in the comment below :)