Wireless bullet cameras are most suitable to act as visible deterrents and can break the boundaries of wired solutions to monitor those hard-to-reach areas, like your garage, driveway, etc. without the need to drill holes or run data transfer cables.
To help you obtain a best wireless bullet security camera, here we have picked up some top rated ones from reputable brands and promise you'll never be a victim of ding-dong ditching again.
If you have any questions when selecting wireless bullet cameras, please feel free to leave your comment below and we'll be here to provide you with expert advice.
Note: In spite of the wireless video transmission, wireless bullet IP cameras still need to be plugged into a power source. If you want a truly wireless security camera, the battery powered security cameras or solar powered security cameras would be your best options.
Best Wireless Bullet Camera Recommendations
First off, let's cut to the chase and recommend you some of the best wireless bullet cameras that can meet your diverse needs.
1. Best Budget Wireless Bullet Cameras: Reolink RLC-410W
The budget-priced Reolink RLC-410W, a wireless bullet camera with audio and 2.4 GHz & 5GHz WiFi band, is a standout option for the wallet-conscious shoppers and includes many great features found on other higher-priced models.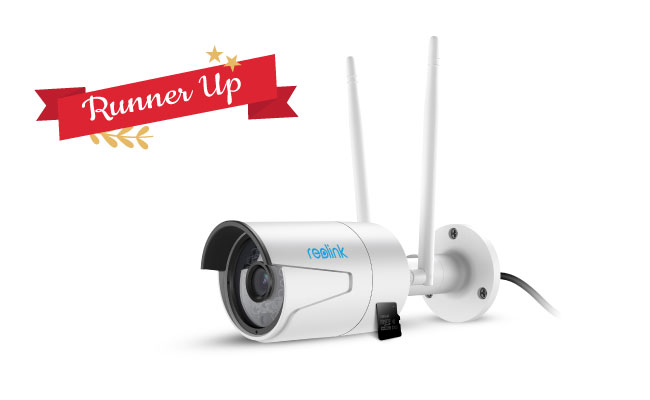 Why it's great:
Produce high quality 4MP/5MP Super HD images and videos
Build-in microphone helps you scare off thieves when necessary
Record and store motion events onsite (optional) with & without network
Dual band WiFi offers you more options and reduces possible interference
Stand guard against severe weather conditions by the IP 66 waterproof design
Amazon Customer Reviews: "We were looking for a camera that would work wirelessly without the hassle of messing with our dual band router, this is the perfect camera! We use it to keep an eye on our dog during the day and the back of the house in general. The set up was incredibly easy and the app works great!"
Price: Check it out here.
| | |
| --- | --- |
| Resolution | 4MP/5MP |
| Network Interface | Wireless 802.11a/b/g/n |
| Operating Frequency | 2.4GHz/5GHz |
| Wireless Security | WPA-PSK/WPA2-PSK |
| IR Illumination Range | 30 Meters |
| Min. Illumination | 0 Lux (Able to See in Darkness) |
| Lens | fixed Lens |
| Video Compression | H.264 |
| Storage | Micro SD Card slot |
| Weatherproof | IP 66 Waterproof |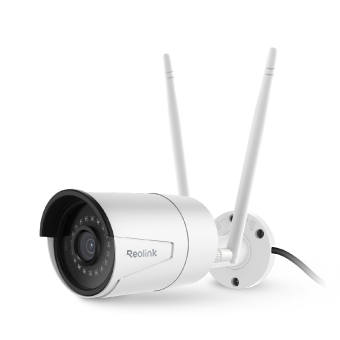 Reolink RLC-410W
Dual-Band Wireless Security Camera with Audio
5MP/4MP Super HD, Outdoor/Indoor Protection, Dual-Band WiFi 2.4 GHz and 5 GHz, Audio Recording, and SD Card Storage.
2. Best Overall Wireless Bullet Cameras: Reolink RLC-511W
As a wireless varifocal bullet camera supporting 2.4GHz and 5GHz band, Reolink RLC-511W is a superb choice if you are looking for a great combination of price, features and ease-of-use.
Why it's great:
Deliver clear and sharp 5MP high resolution images
4X optical zoom helps you identify great details from a distance
Dual band WiFi ensures stronger WiFi signals and less interference
Store motion detection videos onboard (optional) with & without network
Brave all the elements in virtue of the IP 66 waterproof design
Price: Check it out here.
| | |
| --- | --- |
| Resolution | 5MP (2560 x 1920) |
| Network Interface | Wireless 802.11a/b/g/n |
| Operating Frequency | 2.4GHz/5GHz |
| Wireless Security | WPA-PSK/WPA2-PSK |
| IR Illumination Range | 30 Meters |
| Min. Illumination | 0 Lux (Able to See in Darkness) |
| Lens | Vari-focal Lens |
| Video Compression | H.264 |
| Storage | Support SD Card Recording (Optional) |
| Weatherproof | IP 66 Waterproof |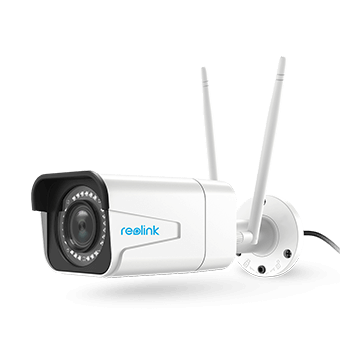 Reolink RLC-511W
5MP Dual-Band WiFi 4X Optical Zoom Camera
5-Megapixel Super HD; Outdoor/Indoor Protection; Dual-Band WiFi 2.4 GHz and 5 GHz; 4X Optical Zoom; Built-in Micro SD Card Slot.
Summary: With the wireless bullet cameras recommended above, you can expect to enjoy the following benefits and be more convinced that they are the best deals worth your investment.
Flexible and portable. The wireless bullet cameras can be placed anywhere you wish (as least within the WiFi range). You can also reposition them as your security needs change or take them with you when you need to move.
Easy to install. As wireless bullet IP cameras do not require data transmission cables, it is pretty easy and quick to get them installed and you also don't need to drill holes.
Visible and overt. With the streamlined shape, the visible wireless bullet security cameras can serve as the powerful deterrent to help keep your home off the thieves' targets.
Ideal for wide applications. In virtue of the versatility, the wireless bullet camera can be applied for a wide range of indoor & outdoor scenarios, such as your living room, garage, driveway, front door, etc.
Bonus: Read this post to explore more benefits of bullet security cameras.
What Are Essential for a Best Wireless Bullet IP Camera
On top of the recommended wireless bullet cameras listed above, we have also summed up some common highlights among the best wireless bullet surveillance cameras for your selection guidance.
#1. Wireless Bullet HD Cameras – Sharp Image Quality
Should you choose 720p, 1080p or 1440p wireless bullet cameras? Remember it always PAYS to invest in a wireless bullet HD camera to leave no window of opportunities for burglars.
And this is especially true when you need to identify some greater details from a distance, such as the license plate or the face features of potential thieves. (Read this post to learn whether 1080p security cameras are enough for identification of license plate and people.)
High resolution wireless bullet IP cameras will also provide you with improved night vision and wider field of view, so you'll need fewer cameras for monitoring large areas and reduce the required costs.
#2. Outdoor Wireless Bullet Cameras – Waterproof & Vandal-Proof
To get the most from your outdoor wireless bullet cameras, they should be at least solid enough to withstand hot/freezing cold temperature extremesand the elements.
The IP coding, consisting of two digits, is a universally adopted standard to help you judge whether the wireless bullet security cameras are weatherproof or not. Now IP-65 and IP-66 certified security cameras are both popular options among weather-resistant wireless outdoor bullet cameras.
Some high quality outdoor wireless bullet surveillance cameras are also packed with vandal-proof housings to protect against vandalism. You can consult the security camera sellers if their wireless bullet cameras are made of durable materials or not, like metal or simply plastics.
#3. Wireless Bullet IR Cameras – Great Night Vision
To make the wireless bullet camera systems do the best work in low light conditions, you may choose the wireless bullet infrared cameras with great night vision, which stand guard at night as the most reliable protectors.
But how to tell if the wireless bullet outdoor infrared cameras really have excellent night vision?
The number and type of IR LEDs for wireless bullet cameras is one standard for your reference. You can also check the infrared distance and Lux rating (0.0 Lux rating means the camera can work in total darkness) from the product specifications to make a comparison among multiple options.
Another quick shortcut to save the trouble is to watch the videos of wireless night vision bullet cameras to see if there are any noises or trails. Reolink, for example, provides video samples submitted by its real users on each of its product page.
#4. Wireless Wide Angle Bullet Cameras – More Coverage
Want to cover as many areas as possible with one single wireless bullet camera?
As noted above, higher resolution wireless bullet IP cameras will offer you a wider field of view. In the same resolution, the wireless wide angle bullet cameras are more ideal for ultra wide viewing and superior coverage.
So the security camera lens selection will be critical for you to get a wireless bullet security camera with wide viewing you desire.Smaller lenses, also known as wide-angle lenses, can produce a greater field of view than cameras with a larger lens and are designed for large area monitoring.
Solve All Your Questions About Wireless Bullet Cameras
Not knowing which WiFi frequency band (2.4GHz or 5GHz) to choose for the wireless bullet cameras? Wonder if the wireless bullet IP cameras will work without Internet or when the WiFi signal is unstable? In this part we will solve all your questions about wireless bullet security cameras.
1. Which WiFi Band to Choose for Wireless Bullet Security Cameras
The wireless bullet cameras in the market generally adopt 2.4GHz WiFi band or 5GHz frequency to transmit the radio signals and videos. So what are their main differences?
To put in a simple way, 2.4GHz covers further distance but performs at slower speeds, while5GHz provides faster data rates at a shorter distance.
As many devices, such as phones and microwaves, only use the 2.4 GHz band,they can cause the overcrowding of channels and slower networkspeeds, which in turn will affect the performance of your wireless bullet IP cameras.
Instead of wasting your time on hesitating about which WiFi frequency to choose when selecting wireless bullet cameras, the dual band wireless bullet security cameras, like those recommended above, can offer you to flexible option to switch between the two bands as your need changes.
2. What's the WiFi Range of Wireless Bullet Cameras and How to Boost It
When you are not sure if the wireless bullet cameras will receive good WiFi signals in a certain location, a quick method is to test with your smart phones and check the network speed.
To get more accurate results, you may directly consult the wireless bullet camera sellers. Normally they would run tests under different scenarios, like in open areas or houses with walls, to figure out the approximate WiFi distance of their wireless bullet IP cameras.
Indeed, the location of your router can also affect the network signal of wireless bullet security cameras. Remember to keep the wireless bullet cameras close to your router and your household appliances away from the cameras to reduce possible inference.
If necessary, you can also buy a WiFi repeater or range extender toboost the wireless signal and increase the WiFi range, so that your wireless bullet camera can receive stronger WiFi signals.
3. How to Reduce the Bandwidth Usage of Wireless Bullet IP Cameras
First thing you need to know is that, your wireless bullet cameras won't eat up much of the bandwidth unless they are working (such as in live viewing mode).
With a dual band WiFi router, you can specify a band for yourdual band wireless bullet cameras, while having the other for your computer, laptops, phones, etc. This can effectively avoid WiFi bandwidth being used up by all the bullet wireless security cams, leaving your laptops and phones stranded.
Also, the wireless bullet cameras with H.264 video compression coding can reduce about 50% bandwidth consumption compared with MJPEG security cameras. So you'll be able to deliver high quality video streaming without consuming much bandwidth or affecting the performance of other online appliances.
Tip: Dual band wireless bullet IP cameras can help ensure stronger network signals, which are a handy solution available to you.
4. Can Wireless Bullet Security Cameras and Systems Work Without Internet
Despite the fact that all wireless bullet cameras require Internet connection to stream live viewing and send instant alerts, that doesn't mean they are totally USELESS without network.
When the wireless bullet IP cameras with an SD card detect any human movement, they will record the motion detection events onboard even without Internet, and you can later take out the SD card to review the footage on your computer.
For the wireless bullet security camera systems without router network, the cameras and NVR will automatically connect to each other and still allow for 24/7 recording as they do with Internet connection.
Read More: Click here to learn more solutions for wireless security cameras without Internet access.
5. How to Ensure the Wireless Bullet IP Cameras Are Secure
Worried about the unauthorized remote access to your wireless bullet cameras and other relevant security risks?
One feasible preventive measure is changing the default manufacturer's password the very first time yourwireless bullet IP cameras are turned on, and then continuing to change the password on a regular basis.
Besides, choosing the wireless bullet cameras with the highest security level, such as Reolink security products, can also free you from the possible feed leakage risks.
6. What to Do If Wireless Bullet Cameras Failed to Connect to the WiFi
There could be multiple reasons responsible for the WiFi connection failure of wireless bullet security cameras, such as the out-of-date camera firmware and weak WiFi signals.
To troubleshoot this problem, you can check if you have entered the right WiFi login password and make sure your wireless bullet cameras are not positioned far from the router. Also, keep yourself in the habit of upgrading firmware regularly. The new firmware version can not only help solve the possible WiFi connection issues, but also offer you more useful features.
Bonus: Learn more handy tips to solve the problem of your IP camera WiFi not working.
7. What If the Wireless Bullet Security Cameras Deliver Frozen Images
The slow Internet connection speed may be a main contributor to your wireless bullet camera freeze. As mentioned above, the wireless bullet security cameras with H.264 video compression can reduce 50% bandwidth usage and deliver more fluent videos.
And if you watch live viewing of your wireless bullet cameras on the web browsers, the plug-ins used to handle the video streams can also affect the image quality.
It is more recommended to stream security camera live feed via the seller's customized App or Client, so that you won't meet with any compatibility issues and obtain the best user experience.
If you have any new questions when selecting or using the wireless bullet cameras, don't hesitate to leave your comment below and we'll offer the best assistance as we can. Your problems may be included in this post to help more users in similar situations.