Tired of being tied to a long-term alarm contract and paying on-going subscription fees? Looking for security cameras that are owned and controlled by yourself? Now you have better options!
You can purchase a home security camera without subscription fees, control the devices by yourself, and reduce your monthly bills. In this article, we'll recommend some of the best cameras with no subscription for your home security. Keep reading and find the one for you.
Do All Security Cameras Require A Subscription?
No, not all security cameras require a subscription. While many modern security camera systems offer subscription plans for additional features and cloud storage, there are plenty of options available that operate without mandatory subscriptions. These cameras often provide local storage options, such as microSD cards or network-attached storage (NAS), allowing you to store footage without incurring ongoing costs.
The absence of a subscription fee doesn't mean a compromise on features. Many no-subscription cameras still offer essential functionalities like motion detection, night vision, and remote viewing through dedicated apps. Keep in mind that the lack of a subscription might limit certain advanced features such as extended cloud storage, AI-powered alerts, or professional monitoring services.
Benefits of Security Cameras without Subscription
By opting for security cameras without a subscription, you not only enjoy the immediate cost savings and increased privacy but also gain greater control over your data and the flexibility to customize storage options to suit your specific needs. Let's see the details.
No ongoing fees: You won't have to worry about recurring monthly or annual charges, making it a cost-effective solution in the long run.
Privacy: Some people are concerned about the potential privacy issues associated with cloud storage. Without a subscription, your footage remains on local storage, reducing the risk of unauthorized access.
Customization: You have more control over how and where your footage is stored. You can choose local storage options or use your own cloud storage solutions if you prefer.
No Internet dependency: Subscription-based services often require a constant internet connection for uploading footage to the cloud. Without a subscription, your system may still function even if the internet is down.
Flexible storage options: You can choose the type and size of local storage you prefer, such as SD cards, external hard drives, or Network Attached Storage (NAS).
No commitment: Without a subscription, you're not tied to a long-term commitment. You can switch cameras or systems without the need to continue paying for a service you no longer want.
Best Home Security Camera without Subscription on the Market
There are a lot of security cameras without monthly fees that can protect your family and save your budget. They have everything you need from local storage to smart detection.
Here we recommend three kinds of security cameras with key features and strong performance. You can choose the best one for your home or business.
Best wireless outdoor security camera no subscription- Argus 3 Pro
Reolink Argus 3 Pro is one of the most popular wireless cameras without a subscription. It's powered by a rechargeable battery and solar panel (purchased separately). It supports 2.4/5 GHz dual-band WiFi for communication. 100% wire-free and hassle-free!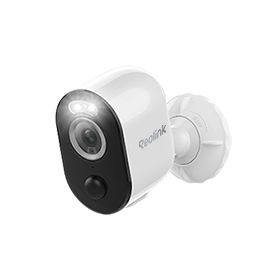 Reolink Argus 3 Pro
2K 100% Wire-Free Spotlight Camera
2K 4MP Super HD, Battery/Solar Powered, Person/Vehicle Detection, 5/2.4 GHz Dual-Band WiFi, Color Night Vision, Two-Way Audio.
The 2K (1440p) high resolution of this smart camera allows you to view everything clearly. 122° wide viewing angle means more areas can be covered. Also, with a motion-activated spotlight, you can get color night vision.
Most importantly, it has up to 128GB of local storage thanks to its microSD card slot. Or, if you want more storage, you can try Reolink's Cloud service, which is optional. The basic plan of cloud service is free! Give it a try if you don't mind.
Best PoE outdoor/indoor security camera without monthly fee - RLC-811A
If you prefer a PoE security camera requiring no contract and no messy cables, the PoE camera RLC-811A is the one for you.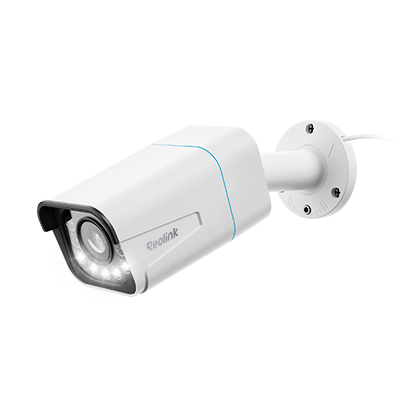 Reolink RLC-811A
4K Smart PoE Camera with 5 Spotlights
4K 8MP Ultra HD Day & Night, Person/Vehicle Alerts, 5X Optical Zoom, Two-Way Audio, Built-in Siren, Color Night Vision, Live View Anywhere.
This smart PoE security camera boasts a lot of features: 4K 8MP ultra-high resolution, person/vehicle detection, instant alerts to your mobile device, two-way audio for remote communication, etc.
It supports up to 256GB of local storage, which is enough for most people. The installation can be very easy. With one single network cable, you can charge the camera and get data transmitted. Just plug and play!
Best home security camera system without subscription - RLK8-800B4
Having your own home surveillance system is not as hard as you think. RLK8-800B4 is a powerful security camera system you can't miss.
Reolink RLK8-800B4
4K 8-Channel PoE Security System
4 pcs 4K Ultra HD Security Cameras; 2TB HDD 8-Channel NVR for 24/7 Recording; Person/Vehicle Detection; Plug & Play; 2 Network Solutions.
This surveillance kit includes an 8-channel NVR with a 2TB HDD built-in, which enables you to monitor and record 24/7. There are four 4K ultra-high definition cameras in this kit, each one embedded with person/vehicle detection. No subscription fees at all!
These cameras feature clear night vision and can see things within up to 100ft. You can view the live feed of multiple cameras on the same screen and check every corner of your property. When any motion is detected, you'll get an instant push notification and know what's happening.
This heavy-duty security camera system has a storage capacity of up to 12TB. You can put those cameras in different places and get your whole property covered. With one kit, you can monitor important areas all day long without missing a beat.
How Do Security Cameras Charge Monthly Fees?
Actual subscription fee of a security camera depends on the provider. Prices typically range between $3 and $10 monthly, while some brands offer premium packages that can set you back up to $30 monthly.
The subscription periods commonly range from one month to a year, or even a lifetime. Opting for a longer subscription duration typically results in lower monthly fees, offering users a cost-effective incentive for committing to extended periods.
When deciding between security cameras with subscription-based models and those available for one-time purchase, it's essential to assess whether the additional features provided by the former are genuinely necessary for your needs. If not, opting for the non-subscription option might be a more cost-effective choice for both you and your wallet.
Comparison between Subscription and Without Subscription
The main difference between subscriptions and no subscriptions lies in the approach to cost and service provision. With a subscription, users typically pay a recurring monthly fee for services such as cloud storage and additional features. In contrast, cameras without subscriptions often involve a higher upfront cost but eliminate ongoing monthly fees.
Here is a comparison list:
| Feature | Subscription-Based securiyt Cameras | Cameras Without Subscription |
| --- | --- | --- |
| Monthly Fees | Monthly subscription fees | No monthly fees |
| Flexible Storage Options | Limited to cloud storage options | Various local storage options(Such as SD card, NVR/DVR) |
| Privacy Concerns | Potential privacy issues | Lower risk of privacy concerns |
| Internet Dependency | Requires a constant internet connection | May function without internet |
FAQs
1. Does Reolink require a subscription?
Reolink doesn't require any subscription fees for all the security cameras and systems. You can make full use of the person/vehicle detection, local storage, and other functions for free! The only exception is the optional cloud service for Reolink's battery-powered cameras. Reolink Cloud offers multiple plans and the basic plan is free with 1GB of cloud storage. Other advanced plans require subscription fees ranging from $3.49 to $17.49 per month. You can view Reolink Cloud for more information.
2. How to cancel a security camera contract?
If you have signed a security system contract and want to get out of it, here are a few ways you can try to avoid cancellation fees.
Relocate the security system to your new residence. If you are moving to a new apartment, you can still keep the security system in most cases. But you need to review the contract to find relevant clauses or negotiate with the alarm company.
Transfer your home security system to others. You can transfer the contract to your family members and friends. Also, make sure you've made everything clear about the surveillance equipment and the remaining part of the contract.
Turn the contract into a month-to-month plan. But this depends much on the alarm company. You can call them and ask if you can make this change.
There are more solutions to help you get out of a security contract. No matter which one you choose, you must be sure that you keep all the equipment of the alarm company well and that there is no breach of the contract.
3. Can I still receive alerts without a subscription?
Yes, many cameras offer motion detection alerts without a subscription. However, advanced features like person detection may require a subscription on certain models.
Conclusion
If you're tired of signing a contract with security companies and paying ongoing monthly fees, now is the time to get your own home security cameras without a subscription. It's easy to start and the cameras you purchase have everything that a security company can offer.
Being in charge of your home security can be very meaningful and fun. You can control the cameras by yourself without worrying about privacy infringement. But still, be aware of hidden monthly fees. Remember to check the product page carefully and ask the manufacturer if you have any questions.