These airport security cameras witness catastrophes as well as beautiful views all the time, and do their job to protect our safety, provide us with useful information in weather condition and suspects' identification.
This post will show you the world in airport security's eyes by their captures and offer you important security tips in the airport.
#1. Brussels Airport Security Camera Captures ISIS Attackers
Remember the last moment in a movie when a criminal suspect was about to flee aboard and finally be caught at the airport?
That could happen in real life. The security camera of Belgian capital's attacked airport caught three suspected ISIS attackers from Brussels airport explosion. From the Brussels airport surveillance camera footage, the attack has killed dozens of people and wounded scores of others.
From the released screenshot in the airport security camera film, you can clearly see their facial characteristics. They are all pushing carts with bags on them, and two of them are wearing gloves on their left hands. The unique dressing information helped a lot in catching them.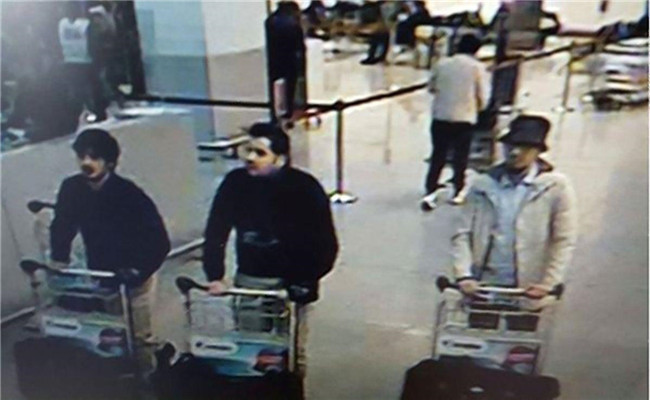 *the picture comes from Daily News
Security Tips: Do make sure the airport security cameras are high definition ones especially when they are going to be placed in the waiting room where dangers are prone to happen. To be more specific, the resolution need to be 1080p and above.
#2. Airport Security Camera Captures a Runaway Boy
A nine-year-old boy walked through airport security and flied to Las Vegas without a ticket successfully until the flight crew became suspicious. And the airport security camera tells us how he made it:
The little boy was filmed stealing a bag on the previous day by an airport surveillance camera, ordering lunch at a restaurant outside of the security checkpoints, and then slipping through a security checkpoint.
"He had to pass three levels of security. You have the TSA, the gate agents, and the flight crew and a child comes through without even a seat assignment" said Terry Trippler, an air travel expert.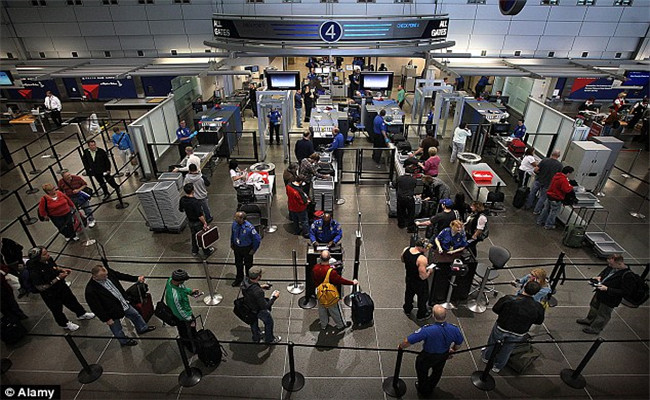 *the picture comes from 12160 forum
If it was not for the airport security camera, the major security flaw probably would never be discovered. With millions of people travel through the airports every year, you will have no idea how many similar incidents would happen without proper cameras' monitoring.
Security Tips: To leave no blind spot in the large-area monitoring, like the airport security checkpoint, it's better to use a pan & tilt security camera which allows you to adjust the monitoring angle and covers a much larger field of view.
#3. Miami Airport Security Camera Reveals Employee Theft
The airport workers are expected to keep our belongings safe, but how to make sure they are fulfilling their jobs? Have you ever lost your stuff in the airport?
The passengers at Miami International Airport may have. Inside a plane at Miami Airport, baggage handlers was going on a shopping spree with passengers' bags until they found themselves being caught by a hidden airport surveillance camera.
This incident is not alone. A CNN analysis of passenger property loss claims from 2010 to 2014 shows 30,621 claims of missing valuables, reaching a total property loss of $2.5 million.
Except for the employee theft, there could be other potential risks, such as the grope. The Denver international airport security line camera captured the alleged TSA groping which lead to the fire of the unqualified employees.
Security Tips: A hidden security camera is a good choice to keep the airport workers to behave themselves. With the help of hidden airport security cameras, you will then have a clue what happened when the property loss claims come.
#4. Auckland Airport Security Camera Captures One Direction
If you are a big fan of a pop star of movie star, the airport could mean something different to you: the place where you stand a big chance to come across your idol.
Maybe you are not lucky enough to see them in person, but the airport security camera offers you another way: Some One Direction fans hacked into Auckland security cameras and just watched Harry doing nothing.
Security Tips: Getting the security camera footage may be exciting to the band fans, but it also reveals potential security issues. To protect the information safety of all the passengers, the PoE (wired) security cameras for airports are recommended instead of the wireless ones.
#5. Airport Security Camera "Captures" the Weather
Although the weather forecast has been improved in its accuracy, it still couldn't be compared with the real time video broadcast of airport security camera.
More and more international airports, like the Heathrow Airport, are now using security cameras to check out the live weather by viewing their live streaming. These cameras could deliver current reports on the wind speed, temperature and precipitation.
More than that, many airports (like the JFK airport) have set up an airport security camera system for many other tasks, and the runway cam is one of the most useful one to us:
The motion activated airport security camera will take a picture or record a video if there is a plane taking off or landing at the airport, which means you can know whether the plane your loved ones take has been successfully taken off and see the live planes' landing by simple clicks on the Internet.
Some airport like LAX Airport even gives you free access to the airport security cameras live of the runway. The pan & tilt airport security camera allows you to follow the moving of every plane and see the airfield as a whole.
Now with more than 1,700 webcams (including Atlanta live airport cams, Guernsey airport webcams), AirportWebcams.net has become the info center of the real time flight conditions and provides the primary source for viewing airport security camera live by country, time zone, types of airport, camera speed and more.
* Airport Security Camera Captures Fart
An airport security camera video of a man farting on an airport infrared security camera has been spread through YouTube. Why this video becomes popular?
Perhaps it's the first time that people actually see what the fart looks like with the help of an airport infrared security camera.