Want to hide security cameras in plain sight creatively without anyone's notice? Today you will learn how to hide security cameras outdoors, indoors, in a window, etc. (with pictures and videos), get bonus tips on hiding security camera wires and the DVR/NVR, and find the best hidden security cameras for outdoors and home.
Please check out our comprehensive guide on Garden Camera Solutions if you are interested in learning more about them.
Reasons to Hide Security Cameras
Hiding security cameras has a lot of benefits, and here are top 3 of them you may consider:
Hidden security cameras are less likely to be spotted and disabled by burglars;
Wireless hidden outdoor security cameras will never destroy the aesthetics of your house, and the guests will be more comfortable;
WiFi hidden security cameras for home are more effective in finding out what your nanny is really doing and gathering clues to confirm your suspicions.
And many households are using both obvious and hidden security cameras: The security cameras in plain sight are used as deterrent, and the spy security cameras are hidden nearby to capture the whole thing if the obvious ones are spotted and disabled.
Moreover, you will have no legal issues with hidden security cameras in the neighborhood. ( Click here for more information).

WAIT! Check out these Special Deals before you leave:
Right now, you can get EXCLUSIVE & BIG discounts on a wide range of Reolink security cameras & systems, wire-free & plugged-in, indoors & outdoors.
How to Hide Security Cameras for Home Outdoors & Indoors: Top 8 Creative Ways
So how to build a hidden security system without anyone's suspicion? There are several things you can do to hide security cameras outdoors and indoors (Check the example pictures first and get the detailed explanation later):

Actually, the best way to hide security cameras outside and inside is to get a spy or small security camera directly. It's definitely much easier to hide a security camera if it is small with no wire at all.
And the mini battery powered security camera is an ideal model to hide. They are highly portable so you are free to hide the security camera anywhere outdoors and indoors to watch your front door, driveway, garage, porch or garden.
For example, a user of Reolink battery security cameras shows us how to hide the camera with a PVC pipe to watch the front door for him. This tiny wireless hidden camera with audio and night vision just blends in with the material seamlessly.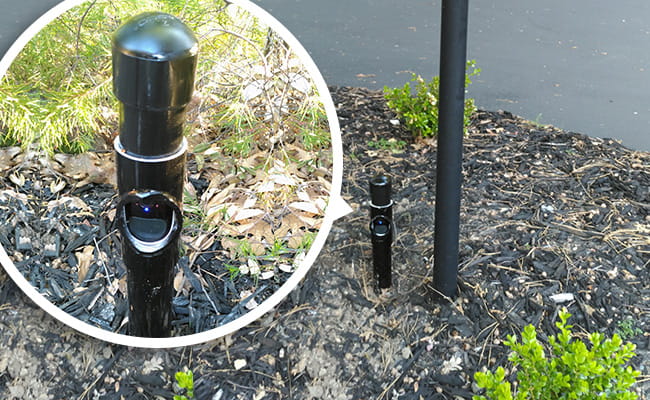 Some are inspired and creatively build a wireless hidden security camera for outdoors with the Reolink Argus 2E and solar panel: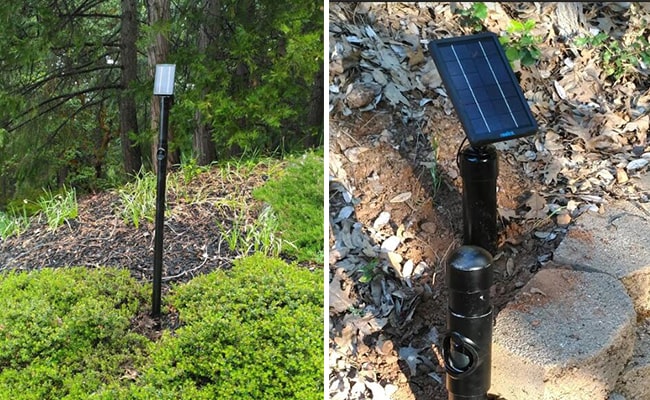 Extra tip: Whatever you do, try not to waste your best positioning for good images. In my opinion, hiding security camera isn't worth having to give up resolution of your car/front door/etc.
You may find many hidden security cameras out there designed into exterior lamps, alarm clocks or charge adapters, which needs you no extra effort to hide them. But attention, those CCTV cameras may disappoint you in their images and features.
For example, the outdoor light with motion activated camera mostly provides blurry 720p images with limited night vision, which is impossible to figure out the facial details or plate number when needed.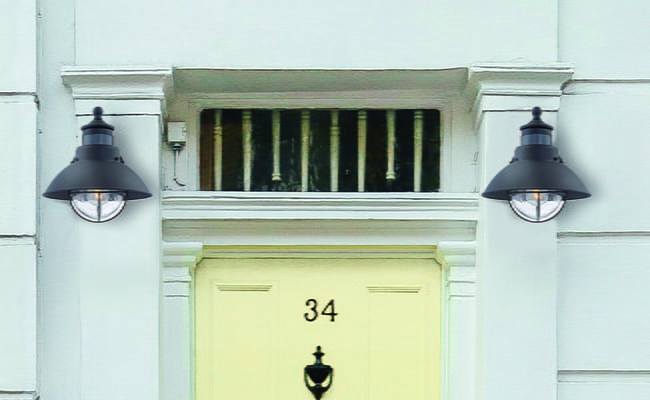 So if you are expecting hidden security cameras with higher resolution (1080p and above) night vision, Wi-Fi connection, audio, app, etc., a battery powered security camera is the way to go.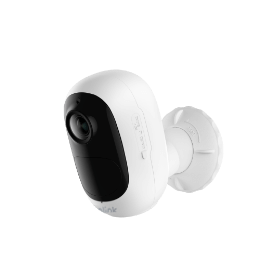 Reolink Argus 2E
Wire-Free, Battery or Solar Powered IP Camera
Rechargeable Battery & Solar Powered; 1080 Full HD; Stunning Night Vision; Built-In Siren; 120° Wide Viewing Angle; Two-Way Audio.
#2. Hide Security Cameras Under Eaves/Ceiling/Soffits
Most mini cameras are practically invisible if they are mounted under the eaves. Since the camera is small and the body cover is white, unless you really look for it, you will not see it. The hidden camera on a house from the street, like the Reolink Argus 2E, is pretty small, really. No one looks that closely. The smaller size of the security cameras, the easier it is to hide.
Here the Reolink Argus 2E user just leave it under the eaves and hardly anyone could notice from a distance. You may also dress the camera with a black skin to make it more inconspicuous.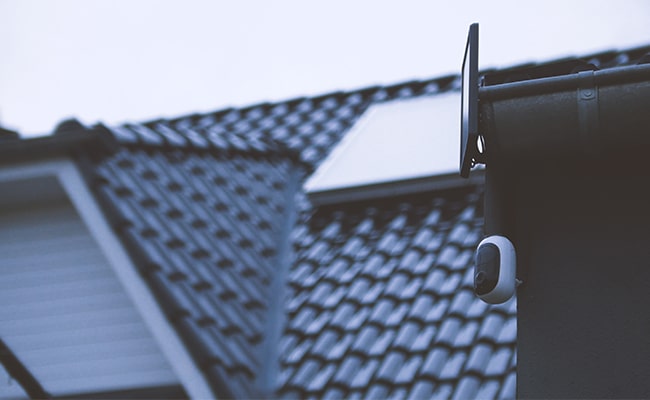 Extra tip: Install the security camera on a weekday if you can, when everyone else is at work. That way they aren't watching you hide the security camera like they would if it was a weekend. If you can get them in place without attracting too much attention, no one will really know.
#3. Disguise Outdoor Cameras in Birdhouse
The traditional bird house is a good place to hide security cameras. The enclosed style with just a small hole in the front allows the camera to capture videos outside and offers a level of security for vandalism at the same time. Here is a custom-made Reolink Argus 2E birdhouse shared by a creative user: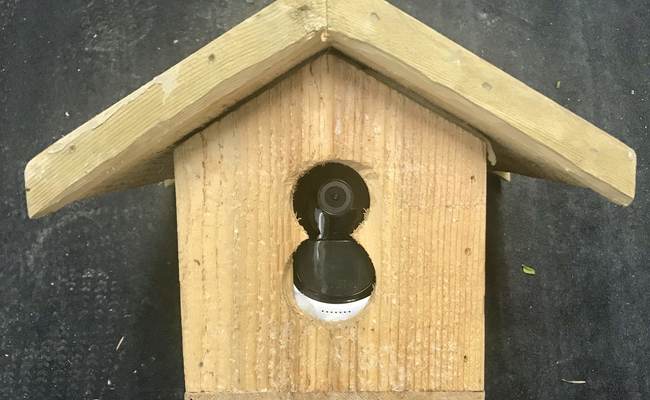 Have you noticed the tiny Reolink Argus 2E in the birdhouse? Being completely wire-free, this hidden security camera fits in well with the traditional birdhouse. Or if you are interested, just build one as one of the Reolink users did. Let's also take a look at the views from this birdhouse hidden security camera: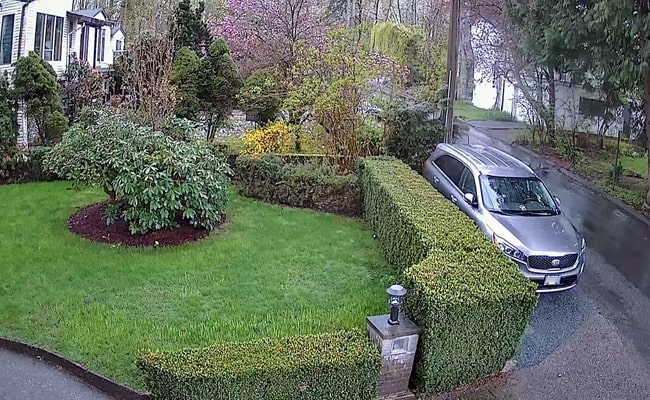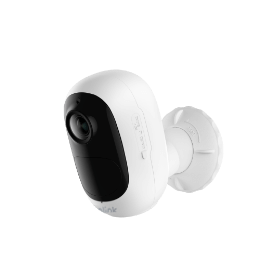 Reolink Argus 2E
Wire-Free, Battery or Solar Powered IP Camera
Rechargeable Battery & Solar Powered; 1080 Full HD; Stunning Night Vision; Built-In Siren; 120° Wide Viewing Angle; Two-Way Audio.
Note that this image has been cropped and the viewing angle of this hidden security camera could reach 120° diagonally in fact.
Note: Make sure there are no obstacles blocking the cameras' view so that the exterior hidden security camera could capture what you want.
#4. Hide Security Cameras near Trees/Bushes
The branches and leaves can be good disguises for the hidden outdoor security cameras.
To make the camera more hidden in plain view, you may even paint the camera to blend it into the surroundings. (But please note, by doing this, you will lose the camera warranty.) Let's see how our creative user Bradley do with his Reolink Argus 2E: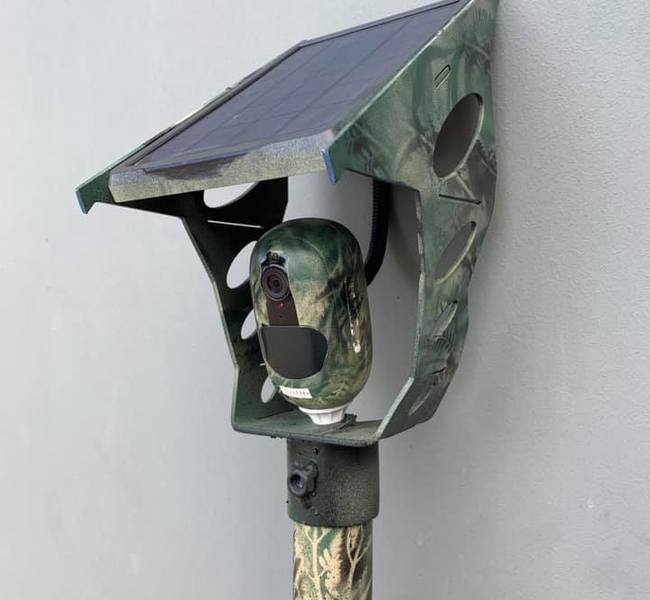 Could hardly spot the camera and solar panel (it is disguised as the top cover!) at the first sight, right?
Or you may learn from the Reolink RLC-423 user who paint the camera with camouflaged color and use it as a hunting camera.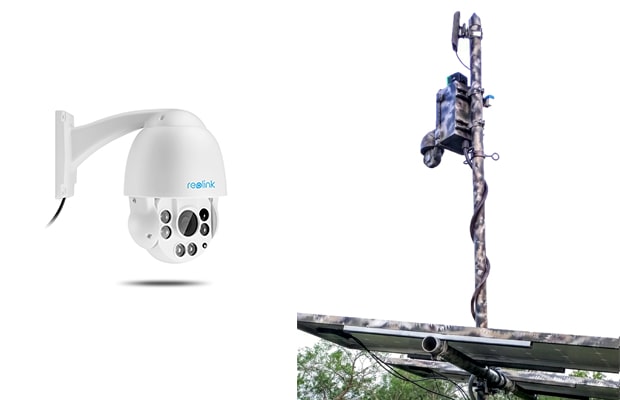 Here is a video of Reolink user showing you how to hide security cameras in the wild in steps to watch animals:
Video Content:
How to hide security camera outside? The video shows us how to build and hide the trail surveillance with Reolink cameras, how to run the wires, and how to monitor them through software. A good idea is to paint the mini white camera brown to make the camera more fit in with the environment.
(Jump to 2:20 to check out how the mini spy camera looks like in brown in the wild. I bet you could hardly find it at the first sight.)
Extra tip: If you find the wiring difficult for you, just turn to the battery wireless hidden camera instead, with no wires and camouflage skins to make it hidden easily.
This windowsill is rather covert to hide a home security camera. Even if the camera is spotted by burglars, it is hard to be disabled – at least it takes time to do so. When burglars finally get the camera, the footage and images will have been sent to your devices already.
Extra tip: Attention that using a hidden security camera for home to record through windows may affect the night vision and motion detection. I will explain how to correctly hide security cameras in a window in details ( Click here to jump to that part).
#6. Disguise Security Cameras Within Everyday Objects
Not a DIY enthusiastic and want to hide a home security camera with things you already have? Try these common items in your house that could help to hide a security camera inside and outside easily:
Book shelves
Smoke detectors
Desk plants
Tissue boxes
Stuffed teddy bears
Fake rocks
Fake hanging potted plant
Extra tip: It is advised to have more than one camera in place and set up a hidden security camera system.
Watch this video and get more ideas on how to hide security cameras:
#7. Hide Security Cameras with Camouflage Skins
How to hide a security camera in plain sight?
Camouflage skins are the best tool to help you hide security cameras even in plain sight: Just dress them with a suitable skin to make it blend in its surroundings.
For example, when you want a wireless hidden security camera for front door, just dress the camera with the white skin and place it under the eaves or ceilings. You are also free to change its skin with the black or camouflage one to make it blend into the environment. Only a really discerning eye would recognize it.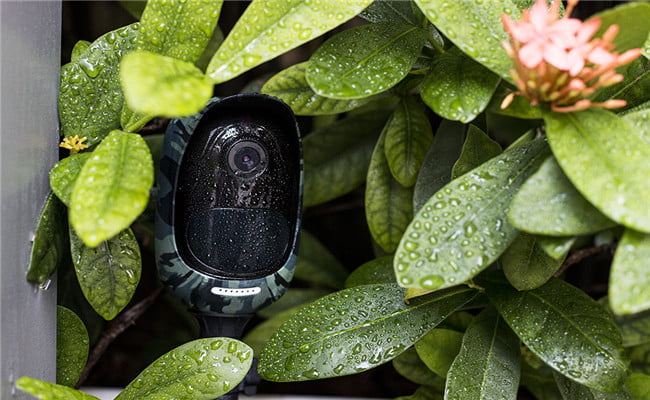 Have more questions about how to creatively make your own hidden security camera? Read the FAQs to get more insights into hiding your security cameras.
(Leave us a comment if you have anything interested to know about how to hide security cameras.)
The statistic shows that over 34% of burglars enter through the front door, and other notable locations include first-floor window (23%), back doors (22%), and garages (9%). And therefore, it should be your priority to place hidden security cameras on those spots.
Read this to get more ideas about where to place home security cameras.
#2. How to hide security camera wires outside?
The best way for hidden security camera wires arrangement is to get a wire-free hidden camera, which has no cables at all. And that will save your time. If your spy security camera does have wires, follow this detailed guide for running camera wires (BNC/power/Ethernet cables).
#3. How to hide a security camera in a window?
As I mentioned above, if you place the security camera behind a window, you will have to compromise in its motion detection (for cameras with PIR motion sensor) and night vision function.
To solve these problems, you need to get a security camera with software-based motion detection for accurate alerts and install external infrared illuminators or visible light for night vision.
What to do to successfully hide the camera in window exactly? Read these bonus tips of using security cameras through a glass window.
There are several sneaky places to hide a security camera DVR/NVR including the attic, inside the walls, the closet, the bookshelf, the possible crawlspace, etc. You may also use a DVR/NVR locker if necessary.
And remember, most of the NVRs or DVRs on the market are not waterproof so you need to avoid the rain or other pouring water when you hide them outside.
Find more tips to prevent DVR/NVR from being stolen here.
Generally speaking, you can record videos with a hidden camera for both home and outdoors. But do not record in areas where people have a reasonable expectation of privacy, like the bathroom.
Before you hide a security camera, it's advised to speak to an attorney about the specific ways you plan to use the camera and the locations you'd like it to be installed.
A right security camera will save you tons of trouble when you want to hide it.
And Reolink Argus 2E is a good try if you want high quality surveillance as well as flexibility in making it invisible.
| | |
| --- | --- |
| Installation & setup | 100% wire-free, no wires needed |
| Night vision | Stunning night vision |
| Resolution | 1080p high definition |
| Motion detection | Accurate PIR motion sensor |
| Weatherproof | IP65 weatherproof |
| Viewing angle | 120° Wide Viewing Angle |
| Battery life | 4-6 months per charge |
| Remote viewing | Live view via phone & PC |
With white, black and camouflage skins, the mini spy security camera Reolink Argus 2E could easily blend in with various surroundings like your front door, backyard and indoor environment. Hard to spot the camera on the back door at the first sight, right? (It could be more convert with the black security camera skins.)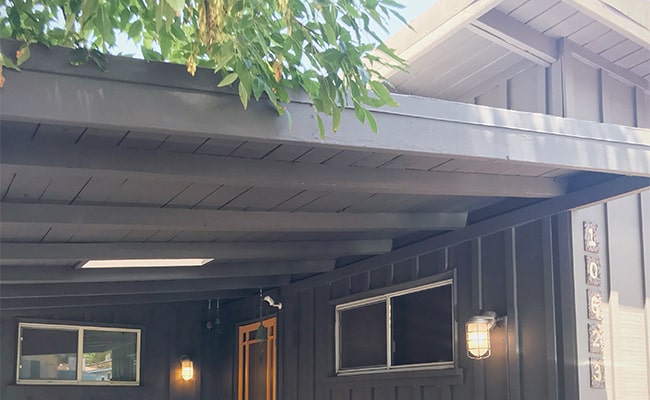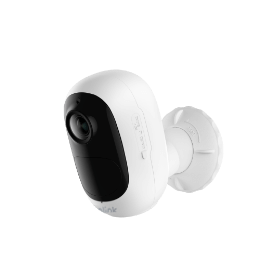 Reolink Argus 2E
Wire-Free, Battery or Solar Powered IP Camera
Rechargeable Battery & Solar Powered; 1080 Full HD; Stunning Night Vision; Built-In Siren; 120° Wide Viewing Angle; Two-Way Audio.
Tired of traveling a long way to find a quality hidden security camera at Walmart? The Reolink Argus 2E is available in the security camera online store with free shipping worldwide including US, UK, Canada, Australia, Germany, NZ, etc.