You may have spent a ton of time researching self-monitoring security systems.
However, you still scratch your head and don't know which to choose yet.
If so, you have come to the right place!
In this post, we will share the benefits of self-monitored security systems with you, offer our best picks and also FAQs on self-monitoring security systems for homes.
Content:
Why Should You Choose Self-Monitoring Security Systems
When looking for self-monitoring security systems for home or for business, many of you will encounter these two options: self-monitoring ones or monitored ones. To ease your headaches, we make a detailed comparison as follow.
Price: A self-monitored security system is an ideal choice for a small budget. You need only to pay for the cameras or the whole security systems with no monthly fees and no contracts.
In terms of monitored security systems, you are required to pay for the systems and sign contracts with vendors who charge you monthly fees ranging from $5 to $50 for monitoring services.
Ownership: After purchasing self-monitored alarm systems, you own everything of them.
For monitored security systems, once the contracts are terminated, vendors may also claim for ownership of the devices.
False Alarms: Under some circumstances, home security systems may trigger false alarms (also read this post to learn how to reduce false alerts).
With self-monitoring security systems, you will receive notifications via phones or emails once your cameras detect motions. Then you can log into the software on your phones or PCs to see captured images or watch live view and confirm whether they are false alarms or not.
For monitored alarm systems, they ring alarms and automatically dial the police once they detect motions. However, if there are false alarms, you as house owners may have to pay the fine for false call.
Sometimes there are also time lags between true alarms and the call to police for help, which will bring much inconvenience to you who are using monitored security systems.
Portability: Supposed that you have purchased self-monitored security systems, normally you enjoy the whole ownership and can install the systems on your own. Therefore, you can move your systems and install them in different rooms or your new home without informing vendors.
To draw a conclusion, self-monitoring security systems are better choices than monitored ones in terms of their price and performance.
Best Picks for Self-Monitoring Security Systems 2021
It seems like a tough task to choose the self-monitoring security systems that fit both your need and budget. We have sorted through the market and offered our best picks to you as follow.
Best Self-Monitoring Wireless Security System: Reolink Argus® 2
If you are looking for top-rated self-monitoring wireless home security systems, Reolink Argus® 2 is absolutely your choice.
Reolink Argus® 2, a top seller of self-monitoring WiFi home security systems, saves your labor to drill holes on walls and routing the cables. With the waterproof level of IP65, it is able to function well in both indoor and outdoor environment.
Following are a number of highlights of Reolink Argus® 2 for your information.
∙ High Display Resolution: 1920 x 1080 (2.0 Megapixel)
∙ Starlight Night Vision
∙ 130° Viewing Angle
∙ Smart PIR Sensor & Two-Way Audio
∙ With Rechargeable Battery
∙ Easy Installation & Use
Here is a video example shared by a Reolink Argus® 2 user, Jonnas Lee, in his Youtube Channel.
Top-tier media TechHive also reviews Reolink Argus® 2 and gives it a 4.5 out of 5.
Their verdict is as followed:
"The Argus 2 is a fantastic option if you want just the security essentials with an easy setup and an affordable price."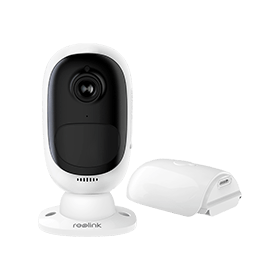 Reolink Argus 2
100% Wire-Free Starlight Camera
Rechargeable Battery & Solar Powered; Outdoor/Indoor Protection; 1080 Full HD; Starlight Night Vision; 2-Way Audio; Live View Anytime Anywhere.
Best Self-Monitoring Cellular Security System: Reolink Go
Reolink Go shall top your options among the wireless self-monitoring alarm systems that work with cellular signal.
It is a prominent self-monitoring cellular security system, which relies on 3G/4G LTE network for data transmission. Thus, it is also considered to be a good choice to apply in places without WiFi signal.
Here are more highlights of Reolink Go:
∙ High Display Resolution: 1920 x 1080 (2.0Megapixel)
∙ Starlight Night Vision
∙ Wide Viewing Angle: 110° diagonal
∙ Excellent Waterproof Level
∙ Smart PIR Sensor & Two-Way Audio
∙ with Rechargeable Battery
∙ Easy Installation & Use
Here is a video captured by the self-monitored security system Reolink Go (shared by Jens on his Youtube Channel).
Nerd Tech makes a detailed review on Reolink Go and here is their conclusion:
"For taking recordings off the grid, there are plenty of circumstances where you literally can't do better than the Reolink Go."
Best Wired Self-Monitoring Security System for Homes: Reolink RLK8-410B4
Speaking of wired self-monitoring security systems with cameras, Reolink RLK8-410B4 is a bang for the buck product.
It comes with 4 Reolink RLC-410 cameras and an RLN8-410 NVR. As an integrated non-monitored home security system, it helps protect your home more efficiently around the clock.
We have listed several Reolink RLK8-410B4 highlights for your reference.
∙ Super HD 5MP/4MP High Resolution
∙ IP66 Weatherproof
∙ 24/7 Recording & Monitoring
∙ High-Quality Night Vision
∙ Big Storage Space: Pre-Installed 2TB Hard Disk Drive
∙ Easy Setup, Even for Beginners
Security Camera Reviewer has done a review on Reolink RLK8-410B4 with great details and marked this unmonitored home security system 4 out of 5.
Their final verdict is as followed:
"I have to say that we've been pleasantly surprised at how well this system functions and what this system offers. Beyond this, there is a warranty, support, and the contents of the package include everything you need to get started and last a long time with this security system."
What to Look for in Self-Monitored Security Systems
In this section, we will show you what to look for in self-monitoring security systems and help you choose one that fits your needs and budget.
DIY Self-Monitored Security Systems with Easy Installation
You can DIY you own self-monitored security systems by integrating existing security systems with new cameras, DVRs and NVRs. This saves your labor and budget as well.
Meanwhile, a DIY self-monitored security system with easy installation and application procedures is more user-friendly compared to that with complicated steps. Reolink Argus® 2, featuring easy installation, is your ideal choice as a DIY self-monitoring security system.
Network Connection
Self-monitoring security systems normally transmit data via WiFi, cellular signal or Ethernet cables.
In an environment with strong WiFi signal coverage, you can apply WiFi self-monitoring security systems. Cellular security systems are good options under the situation where no WiFi is available.
Last but not least, you can consider about wired self-monitoring security systems if you are looking for stable data transmission and steady power supply for your security systems.
You may also read this post to know the differences between wireless and wired security camera systems.
Alerts of Self-Monitoring Alarm Systems
Brilliant no-monthly-fee self-monitoring security systems come with smart motion sensors and also intelligent alerts to inform you in time.
Smart motion sensors are sensitive and able to detect every motion or abnormal event. No strange movement will slip through without your notice.
When any motions are detected, excellent self-monitored security systems with alarms will be triggered and start recording.
More importantly, a good self-monitored alarm system sends pushes, emails and even audio sirens to you immediately. Thus, you can make in-time actions to protect your family and property.
Easy Control of Home Security Systems with Self-Monitoring
Best self-monitoring home security systems offer you easy control, which means that you can adjust settings of your systems through simple steps.
For example, you can arm the motion detections when you go to work or sleep and disarm them when you are at home.
If you want to check out the situation of your home when you are on a vacation or at work, you can get access to your self-monitoring security systems remotely through your phones or PCs.
Top self-monitored security system vendors offer free and customized software for you to view live streaming remotely via phones and PCs.
FAQs on Self-Monitored Security Systems
In this part, we will show you some FAQs on self-monitoring alarm systems and share you with our suggestions.
Question 1: Can I Add My Family Members or Friends to Monitor My House?
Answer: Yes, you can do so. Some top self-monitored security system vendors allow you to add 5 to 20 users in your system and view live stream simultaneously.
It is a wise move actually to have your family members, trusted friends or neighbors to monitor your property together. When any motions are detected, they receive notifications as well and they are able to offer their helping hands to you.
Question 2: Can I Install Individual Security Cameras Rather Than Self-Monitoring Security Systems?
Answer: Yes, this is a good option as well. As we have mentioned above, you can DIY your own self-monitored security systems by integrated existing systems with new cameras.
You can also purchase several standalone security cameras that can work independently. With apps downloaded on your phones or tablets, you are able to get access to your cameras at any time, anywhere.
Note that security cameras or systems from various brands may not be compatible with each other.
Question 3: What Shall I Do If I Want to Install Self-Monitoring Alarm Systems in Different Stories?
Answer: It will be more flexible to apply wire-free self-monitoring security systems under such a situation because they reduce your labor of routing the cables neatly on different floors.
We recommend you to place the gateway in the middle of your house so that WiFi signal is strong enough to cover security cameras in each floor.
Otherwise, you need to route the cables all around your house, which would be a tough task.
Let us know if you have any further questions in the comments below and we would love to answer!