Yesterday, our sales department announced that the sale of security cameras in Canada has, again, reached a record high in the Q3.
More than excitement, I felt it's time to write a security camera buying guide for more Canadian potential users, based on our in-depth research into the Canadian market over the years.
I know what you want and what is best for you.
If you are still searching for the best security cameras in Canada, follow up and learn the best solution to survive Canadian winters and other needs, within 5 minutes!
Jump to: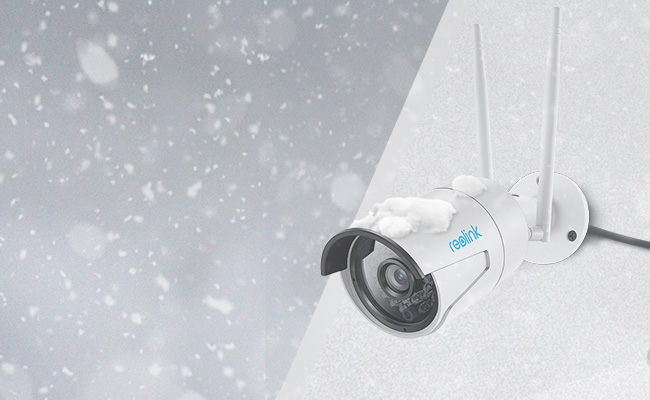 Security Camera Laws & Regulations in Canada
Some of you, as cautious homeowners, may worry about the legal issues of security cameras in Canada.
Worry NOT! You are legally right to use a security camera in Canada, actually.
As the security camera laws in Canada suggest, organizations, as well as private individuals can use security cameras where it may be reasonable to expect video surveillance to take place.
Only to mind that if you are going to use security cameras in Canadian workplaces, put up a warning note like "SECURITY CAMERAS IN USE", and avoid audio surveillance to stay away from disputes with surveillance cameras workplace laws in Canada.
For residential use of security cameras in Canada, make sure your cameras pointed at your own property. Certain surveillance camera laws in Hamilton, Ontario, and etc specify this requirement in order to protect the neighbor's privacy.
Security cameras in bathrooms are regarded inappropriate in Canada since there's "a higher expectation of privacy." (Check security camera privacy laws in Canada here.)
Security Cameras in Canada: Essential Features to Consider
Cold winter, intense rainstorms, severe snowstorms, thunderstorms, strong winds, longer nights, frequent visiting elks, eh?
How to keep your home safe from break-ins, vandalism, naughty animals and other potential dangers even in the extreme weather and long dark nights?
Here are the top features you should never miss for any security camera in Canada:
#1. IP66 Rated Security Camera
Above all, security cameras in Canada must be durable enough to survive harsh weather conditions.
The IP rating, explained in the Canadian Electrical Code, is a standard to define whether an electronic device is qualified to work in the Canadian hazardous locations, like Ontario.
IP66 & IP65, the weatherproof rating, signals the security camera could work well in the harsh environment – no natural elements like heavy rain, intensive snow or dust could intrude in!
Do not count on the security camera with IP rating lower than IP65 – the powerful storms in Canada are far beyond what they can deal with.
And there is no need for higher IP ratings than IP66, like IP67 security cameras in Canada, unless you are going to immerse your cameras in the water.
With the IP66/IP65 rating guaranteed, the extreme weather issue is done.
* Related Q&A about Security Cameras in Canada:
"Could security cameras work in Canada when the temp hit -15c even -25c in winter?"
Yes, they will work. The working temp is only required for starting, actually. Once the camera gets started and heated, it will continue working.
Attention: If you want battery-powered security cameras in Canada, the operation temp matters a lot!
Unfortunately, you could not fool the cold weather by starting the camera somewhere warmer, and make them work beyond the operation temp (-10c~+55c, generally), since they are designed to detect motion only, meaning they are not working all the time to keep themselves heated inside.
Also Read: Best Security Camera in Canada for Outdoor Extreme Cold
#2. IK10 Rated Security Camera
Look for an outdoor dome security camera in Canada? Your preferred installation place happens to be at the frontline of the heavy storms with no shield and other protections?
The IK10 security camera is here to help you out!
IK10, the highest level in IK rating, promises you that the camera enclosure is vandal-proof strong.
That's to say, if you drop a 5kg mass right above the security camera from 400mm, the camera will amazingly remain intact!
The camera that could stand the hammer will absolutely have no afraid of the tease from the snow, rain and wind – even it is Canada you are talking about.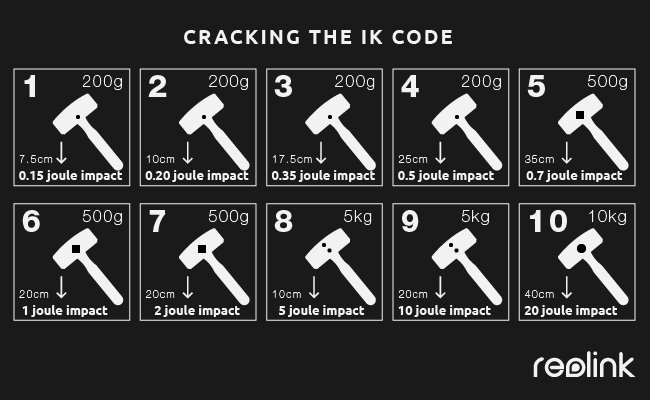 So if you get an IK10 security camera in Canada, no natural elements could ever hurt it!
#3. IR Night Vision with Infrared-Cut Filter
Where do you live in? Ottawa, Toronto, Montreal, Vancouver, Calgary or other cities?
Wherever it is, I bet you enjoy a long winter and night than most people.
So if the security cameras in Canada don't have decent night vision, you will lose big – the burglars will not stop "working" when your security cameras do.
And IR night vision is the best solution to keep your CCTV cameras in Canada vigilant 24/7:
No afraid of harsh weather: The LEDs can see through night-time fog, mist, rain, and snowfall.
No afraid of darkness: The IR enabled camera produces sharp images even in complete darkness – clear enough for facial identification and reading license plates of moving vehicles.
Editor's Note: Do make sure you get a TRUE day/night camera carrying the switchable infrared-cut filter. This small part guarantees you an integrated day/night vision with the best clarity in all conditions.
#4. Resolution, PTZ and More to Consider
There are absolutely other common features you will and should care about for your customized security camera in Canada, like the resolution, the PTZ function, and other advanced features.
They are the bonus, making your security camera not only workable in Canada but also smart and efficient! But they are totally personal and situational.
If you are going to place the camera on the second floor for a wider overview covering your front door as well as the driveway, choose a PTZ security camera in Canada;
If you are looking for a security camera for your cottage in the Muskoka, I would recommend the 4G security camera which needs NO WiFi to work – collecting the sound of nature and getting closer to it is absolutely cool.
If you are considering a smart home security camera in Canada, a battery-operated camera with 2-way audio function would be your best choice.
If you are searching for a marine security camera in Canada, a 5MP PTZ security camera would be great, plug and play with 360° endless field of view.
While whatever the situation you are dealing with, get the highest resolution you can afford – the rule of thumb. Actually, even the trendy high-end 5MP security cameras could cost less than you think, at the price under $100!
Now is the prime time to get your customized security camera in Canada, just leave what you want in the comment area!
Editor's Note: Never trust the unreliable fake security cameras, in Canada, especially. You will know it when the wind blows and snow hovers over the dummy security cameras, making your decoy strategy fail in no time.
Best Security Cameras in Canada (Reviews Inside)
So what is the best wireless security camera in Canada? What's the most cost-effective IP security camera for you as Canadian users? What's the easiest way to buy these home security cameras in Canada?
Here are the best picks for you selected by millions of Canadian users, based on our inside information.
Best Outdoor Security Cameras in Canada – Reolink RLC-522
The Reolink RLC-522 is pretty much the ideal outdoor security camera in Canada from every aspect of view:
The IP66 rated security camera housing is solid to deal with any kind of storms you could expect in Canada.
The white mini dome blending in well with your decorations makes it a great hidden security camera in Canada.
5MP & 3X optical zoom super clear images do its job well at facial and plate number identification.
PoE technology makes it a plug-and-play surveillance camera in Canada, much wiring time and energy saving.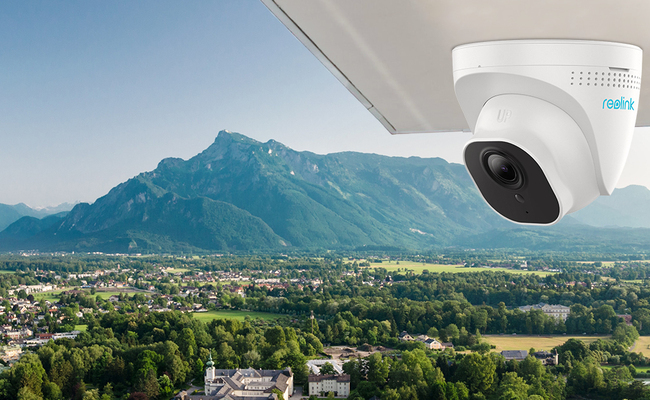 If you specifically need an optical zoom camera and want to keep the costs low, this is excellent...decent performance and a 3x optical zoom gives it an advantage over competing options.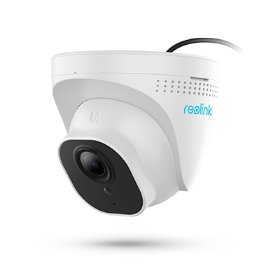 Reolink RLC-522
5MP PoE IP Camera with 3X Optical Zoom
Power over Ethernet; 3X Optical Zoom; 100ft Night Vision; IP66 Certified Weatherproof; Audio Recording; Real-Time Motion Alerts.
Want a WiFi security camera counterpart in Canada? Got you covered.
Try the 5MP Reolink RLC-511W – a wireless outdoor/home clearer version with NO monthly subscriptions, No need for high bandwidth to upload the files, and NO potential WiFi issues you may concern.
Best Home Security Camera in Canada – Reolink Argus 2
If you are searching for indoor security cameras in Canada, things will be different – with no threat of the hovering wind and snow in winter, the flexibility and simplicity come first.
Reolink Argus 2, a wire-free portable solution, allows you to set up the security camera with monitor for remote viewing in 5 minutes: download the Reolink app, scan the QR code, follow the voice instructions and see the live view right away!
And you don't need to worry about the battery problems. Powered by USB with long battery life (4-6 months), you perhaps will not be bothered with charging in the wintertime.
| | |
| --- | --- |
| Resolution | 1080p (best in the battery powered world) |
| Waterproof | IP65 Weatherproof for Outdoors |
| Night Vision | Starlight IR Night Vision |
| Battery Life | 4 – 6 Months (with solar panel optional for nonstop power) |
* Extra Note: As I mentioned before, this camera can also be used as the outdoor security camera in Canada, as long as your monitoring area could satisfy its working temp (-10c~+55c). In fact, many Canadian users are happy with the Reolink Argus 2 since it's born, and shared with us their Reolink recordings:
Best Home/Commercial Security Camera System in Canada – Reolink RLK8-410B4
Want a security camera system with DVR in Canada? Look for a cheap security camera kit in Canada to work all times of day in all conditions? Search for home depot security camera system without Internet?
The PoE security camera system RLK-410B4 can satisfy you ALL with extra bonus of the 4MP high resolution, much clearer than 1080p and 3TB built-in large storage space for 24/7 recording!
And most importantly, this surveillance camera system in Canada can work with and without the Internet!
Buy Security Cameras in Canada Online
Tired of searching IP surveillance camera in Canada online like Bestbuy, Amazon or heading for the local Costal or Walmart?
Exhausted by contacting the security cameras Canadian companies, manufacturers, distributors and suppliers for advice and services?
Got "bleeding eyes" after reading the arguable reviews of Lorex, Arlo, Swann, Night Owl, Nest, Defender, Canary, Samsung, Uniden, Netgear, Logitech, Piper, D-link, Axis, Ulo and more other brands?
We've been there also when doing the market research in order to learn all their strengths and overcome their weaknesses, but with more inside information. So I have the position to clear up some of your confusion.
Comment and talk about your problems during the purchase, I will be more than glad to help you out.
Oh, don't forget that all Reolink cameras could be ordered from our official security camera store from Canada with FREE shipment to your home!
And you may follow our Facebook or sign up our newsletter to be the first one to know when Reolink security cameras for sale in Canada.