Should I buy a 5MP security camera?
4MP vs. 5MP vs. 1080p security camera, is there any visible difference in the image?
What's the cost for a 5MP security camera system?
Take 5 minutes here to know what a 5MP security camera is, its advantages, potential problems, and the best budget consumer-level real 5MP IP cameras !
5MP Security Camera Definition
5MP (1920p) security cameras are super high definition cameras that record class-leading 5-megapixel images with enhanced camera sensors.
Typically, the 5MP CCTV camera has a high resolution of 3072 x 1728 or 2560 x1920, depending on the camera brands and types.
Every added pixel of the 5-megapixel cameras will improve the image clarity.
So the 5MP security camera is ideal to be used outdoors for clear recognition of human faces and plate number, or mounted in high positions for rich details of far-away objects.

Ready. Set. Save!
Big selection, big SAVING. Get your hands on Reolink security cameras & systems before the best prices slip away!
1080p (2MP) vs. 3MP vs. 4MP vs. 5MP Security Cameras
Some of you might be using the analog cameras or the 1080p ones and consider for an upgrade.
Or you may simply want a high definition camera to record things clearly and think about the trendy 5MP CCTV cameras.
Is the 5MP security camera worth your investment?
The answer is an absolute YES. (Actually, the 5MP IP camera is highly affordable.)
A comparison chart shows the resolution  difference between 1080p, 3MP, 4MP and 5MP security cameras:
| | | | |
| --- | --- | --- | --- |
| Security Camera | Resolution | Pixels | Video samples (More>>) |
| Analog Security camera | 720×480 | 0.4MP | – |
| 720p HD Security Camera | 1280*720 | 0.9MP | – |
| 1080p Full HD Security Camera | 1920*1080 | 2MP | 2MP video |
| 1440p Super HD Security Camera | 2560*1440 | 4MP | 4MP video |
| 5MP Security Camera | 2560*1920 | 5MP | 5MP video |
Note: The video samples you see with your own eyes may don't show much difference between the 4MP and 5MP security cameras, yet the 5MP IP cameras will definitely have a better chance to help figure out the details when you are going to shot the distant objects like 30ft away.
Update, Nov 21st: We have also covered the image quality comparison among 4K, 1440p and 1080p cameras in a post. If you want to figure out the image quality differences, don't forget to check it out here>>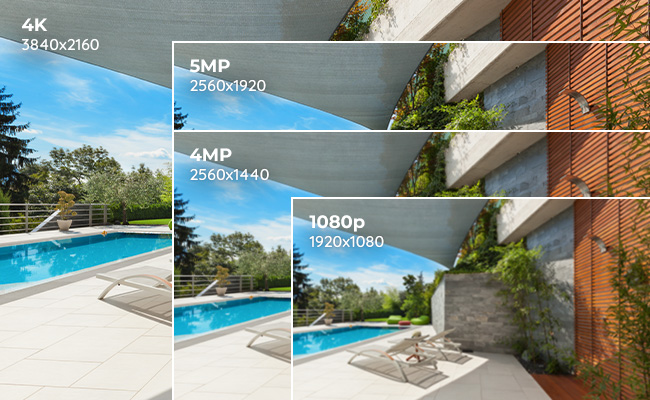 What Defines a Real 5MP IP Camera
A real 5MP security camera should record better images in both clarity and image quality in the aesthetic sense:
#1. Better Clarity
The 5MP security cameras have better clarity than the low megapixel cameras, thanks to their improved resolution. For example, the 5MP IP camera is sure to be at least twice clearer than the 2MP (1080p) ones.
#2. Better Image Quality
Not all 5MP security cameras offer 5MP quality images, and a REAL 5MP IP camera not only has better clarity but also better color purity and balance in the aesthetic sense.
The 5MP security camera image sensor and its lens play the trick.
Some 5MP security cameras improved their resolution without upgrading the sensor and matching lens, resulting in the "rubbish resolution" as some OPs complained in the CCTV forums.
Generally speaking, the 5MP IP camera should have a larger image sensor and better lens in order to produce real 5MP pictures, in both clarity and color performance.
That's why Reolink 5MP security cameras upgraded its image sensor to 1/2.9'' larger size and matching lens to guarantee real 5MP high-quality images.
Why Buy a 5MP Security Camera
Maybe you have heard of some exciting benefits of megapixel security cameras.
The 5MP security cameras carry them all in a surpassing way, and here are the top 3 reasons you should buy a 5MP CCTV camera.
5MP Security Camera Captures Much Clearer Images
Some of you may take the 5MP security camera as overkill.
I can't agree when it comes to home security.
You know the human face and license plate recognition requires extremely high resolution and a good angle to catch them. And 5MP security cameras provide you the best possibility to get what you need.
If your house was unfortunately suffered from burglars, break-ins or thefts, isn't it just a pity that the camera footage is useless? What's the point of having a security camera if it tells you nothing?
Moreover, the 5MP security camera has already become a consumer type camera these days, with an attractive price tag(Check the best budget picks).
Note: Generally, you'll need at least 1080p resolution to identify the plate number and people day and night, and the better resolution, the better clarity. Well, some higher megapixels security cameras, like 10MP IP cameras, are usually used on specialized occasions, a real overkill for home use.
5MP security camera video sample from the Reolink user:
5MP Security Camera Has Flexibility in Placement
Thanks to the super clear images, 5MP security cameras fear nothing about the distance challenge for their image quality.
Some of you could mistakenly install the security cameras in high positions in order to cover a larger monitoring area. But finally end up with a useless blurry view.
With 5MP security cameras, you are free to place it on high positions, like the second-floor level, to have it look down on the 150ft driveway or even the whole lack areas without any worry about the blurry resolution.
Better still, if the 5MP IP camera is PTZ enabled, like the WiFi security camera Reolink RLC-523WA, there will be literally NO blind spots around.
5MP Security Camera Can Zoom in for Details
Higher megapixels allow you to zoom in for rich details, even under digital zoom.
Digital zoom is criticized by some as a fake function which will result in blurry images.
But 5MP security cameras can be digitally zoomed in to some extent. In fact, if you digitally zoom in a 5MP image, you will find it still clearer than the 2MP (1080p) cameras (under 2X zooming).
Extra tip: If you want better zooming capability, it's advised to get a 5MP security camera with optical zoom function, like the Reolink RLC-511WA, with which the images will still be perfectly clear without quality degraded and destroyed.
5MP Security Camera Common Problems & Fixes
5MP security cameras could also cause some concerns, and on the top of the list are the bandwidth and the stream limit issues.
No worries. Here are some easy fixes.
#1. 5MP CCTV Camera Bandwidth Problem
"5MP security cameras are really bandwidth hogs."
The best solution to solve the problem is to get a reputable 5MP security camera with advanced configurations to fit it into any network conditions!
Take Reolink 5 megapixel CCTV cameras as an example:
You can switch between different recording modes according to your home bandwidth. The Clear mode delivers 5MP live streams for best clarity and consumes more bandwidth, and the Balanced mode will record in 1080p lower resolution and saves bandwidth.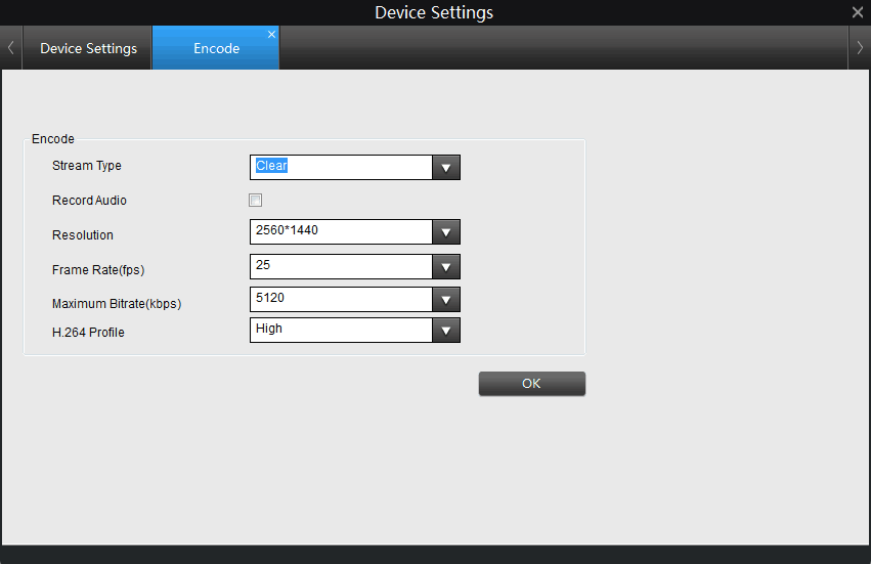 #2. Stream Limit Problem
"It has exceeded the bit stream limit, please close channel 9."
Some 5MP security camera users may be troubled by the high resolution "burden".
In that case, try to lower the FPS settings.
Generally, 15 FPS (or greater) makes a fluent 5MP security camera video, and that can be easily realized for common home networks even if you are using the 8 or 16 channel 5MP security camera system.
Extra tip: There is a simple IP camera bandwidth calculation to see how much bandwidth your 5MP security camera exactly consumes.
Best 5MP Security Cameras
Nowadays all are using 4MP & 5MP security cameras and customers are asking for high resolution cameras constantly.
So Reolink upgraded its most popular 4MP models to 5MP ones and made the 5MP security cameras affordable for everyone (Ranked top on the most popular outdoor 5MP security camera brands).
Whether you are looking for the 5MP Wi-Fi security cameras, outdoor 5MP security cameras with motion detection, or 5 megapixel CCTV dome/bullet security cameras, you can get it cheaply.
Best Wireless 5MP IP Bullet Camera – RLC-511WA
If you want to have an easy installation (plug and play), mount the security camera on the ceilings with TRUE 5MP high resolution, the Reolink RLC-511WA is right for you.
Best Budget Pick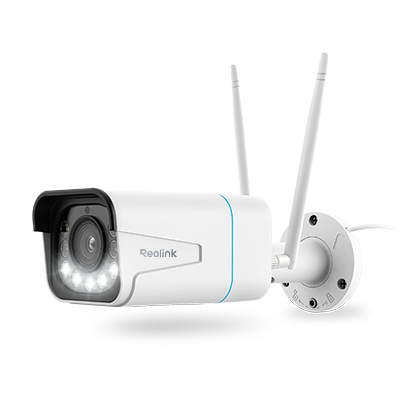 Key features:
5MP resolution captures a lot more information and a wide range.
5X optical zoom allows you to see the far-away objects clearly without getting closer and compromising in image qualities.
Dual-band WiFi signal promises you a strong network all the time.
Waterproof cover makes it solid even in harsh weather.
5MP video captured by RLC-511WA:
Best 5MP Security Camera System – RLK8-410B4
If you are looking for a high definition 5MP security camera system with a simple setup (plug and play), the Reolink RLK8-410B4 is right for you.
Moreover, this 5MP PoE security camera system is capable of connecting both Reolink 5MP cameras and 4MP ones. So you can mix and match different camera types for the best security solution.
Best Budget Pick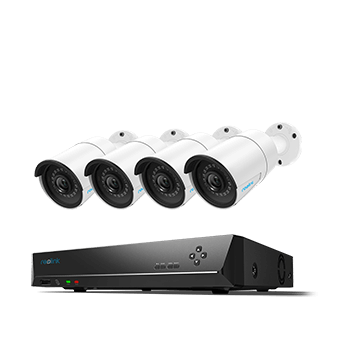 Reolink RLK8-410B4
Best 5MP IP Security Camera System
If you need an affordable security system to keep a watchful eye on a large property or business, and you need to keep lots of recorded footage for review, Reolink's NVR is highly recommended. –
TechHive Review
Check It Out
Key features:
5MP Super HD Resolution
2TB HDD for 24/7 Continuous Recording
Plug and Play; Easy to Use
Power over Ethernet
Easy Remote Access and Control
Also check out the amazing video footage from Reolink RLC-410, the exact camera model used in this 5MP home security camera system: