According to statistics, 34% of burglars enter through the front door, ranking as the most common entry point for thieves. The front door camera is absolutely a big necessity in home security. If you're interested, continue reading and I'll show you the best front door camera to match your requirements, without forcing you into subscriptions and monthly fees. You may check the recommended home front door camera for the apartment and home.
When you decide to buy a front door camera, the information below is what you need to consider:
| | |
| --- | --- |
| How to Choose | According to different needs |
| Stop Burglars | Motion activated cameras |
| Recommended Camera | Reolink security cameras |
| FAQs | Placement/installation/viewing field |
Burglar's Bane: HD Motion Activated Front Door Camera
A front door camera is proven to be the most effective way to enhance home security.
The presence of front door camera already comes as deterrence to vandals, and that's why some people choose to install fake front door cameras.
To make it more effective, the 1080p HD motion activated front door security camera can record the burglar's face and activities, send alerts to you immediately, and help with the investigation with clear evidence when needed.
Better still, if you got a front door camera with a speaker, you can warn the burglar verbally instead of doing nothing while you are miles away.
Pro tips:
Go for an HD main door camera with 1080p or higher resolution for clear identification of people's faces and the plate numbers.

And generally, the motion-activated entrance door security runs on batteries and will only wake up when the motion is detected, instead of doing 24/7 continuous recording.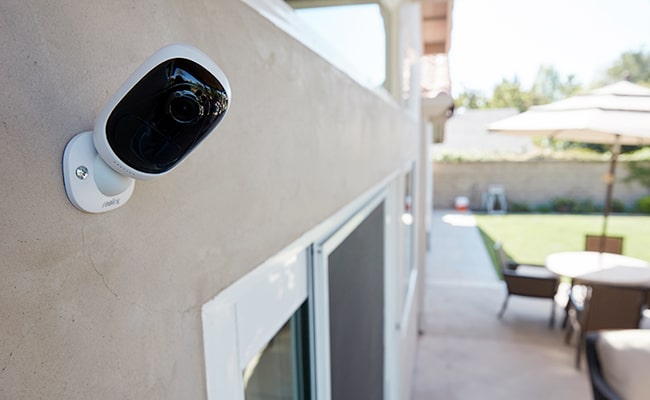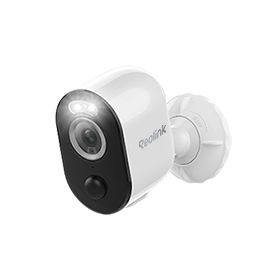 Reolink Argus 3 Pro
2K 100% Wire-Free Spotlight Camera
2K 4MP Super HD, Battery/Solar Powered, Person/Vehicle Detection, 5/2.4 GHz Dual-Band WiFi, Color Night Vision, Two-Way Audio.
Kids' Guardian: Front Door Camera with App
A front door camera for an apartment could also be useful to kids.
Do you occasionally leave your children alone at home? Picture this: A stranger comes to your house and your children could not tell who it is by a single doorbell and opens the door or make the wrong judgment by pretended voice.
If this is your concern, a smartphone front door camera with monitor will be your right choice.
With the front door camera linked to cell phone/iPad, children will be able to get the live view easily and see the visitor before answering the door.
And parents could also take good advantage of the front door camera.
After connecting your entry door camera to the phone, you can check the camera footage to learn who has dropped by and whether your kids have arrived home safely from school even when you are not at home.
Extra Tip: It's advised to choose an Andriod/iPhone front door security camera with companion software (like the Reolink camera and Reolink client) so that you can fully play all the front door security camera features without compatibility issues.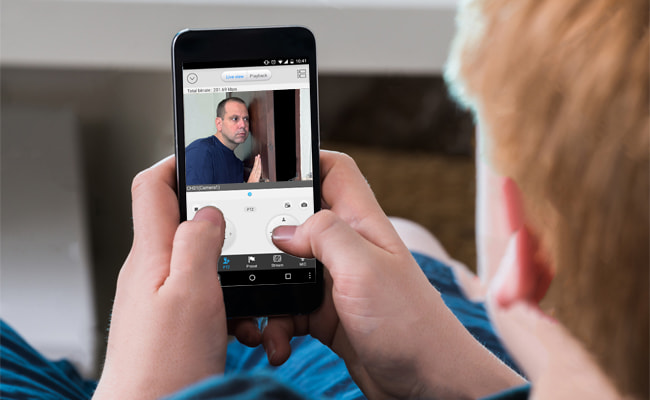 Life Manager: Front Door Camera Intercom with Monitor
The front door CCTV camera is also a good way to manage the package delivery and other services.
There could be times when the doorbell keeps ringing and you just want to sleep in. And when you struggle to open the door only to find a salesman there.
If this is your nightmare, the front door camera with monitor and speaker (two-way audio) can save your day.
The front door security camera intercom with monitor enables you to speak to the one coming up to your doors. Now, you can give instructions to the courier and send the salesman away by talking to them directly via your phone.
With the home front door camera, you will now know whether the postman cuts across your garden from next door or walks up to the doorway, wherever you are. Another piece of trifles gets off your mind.
Renter's Rescuer: WiFi Front Door Camera
Considering adding a residential front door security camera but hesitate at the second thought of the rental agreement?
Now, a completely wireless front door camera could get you out of the dilemma.
Here I'm talking about the wire-free WiFi front door cameras, powered by batteries or solar panel. This kind of wireless front door video camera needs NO wires at all to work, so there will be no wiring hassles and no drilling for the wires to come through.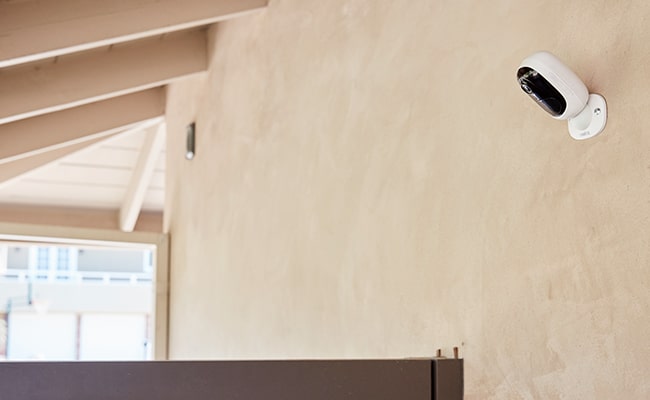 Note that the typical wireless entry door camera still needs a cable for power. So if you are renting a house and want to avoid any argument with the house owner, a wireless front door security camera with intercom is the best way to go.

Ready. Set. Save!
Big selection, big SAVING. Get your hands on Reolink security cameras & systems before the best prices slip away!
DIYer's Helper: PoE Front Door Security Camera
Have wasted a lot of time waiting for the front door camera installation due to the slow response of the security company? It's time to switch for a DIY front door security camera system.
The PoE front door camera is plug and play and easy to install even for beginners.
Compared with analog cameras, the PoE front door viewer camera can extend to a long distance like 240 feet before the signal gets down.
Compared with non-PoE cameras, the PoE front door CCTV only needs one cable to work for both power supply and data transmission.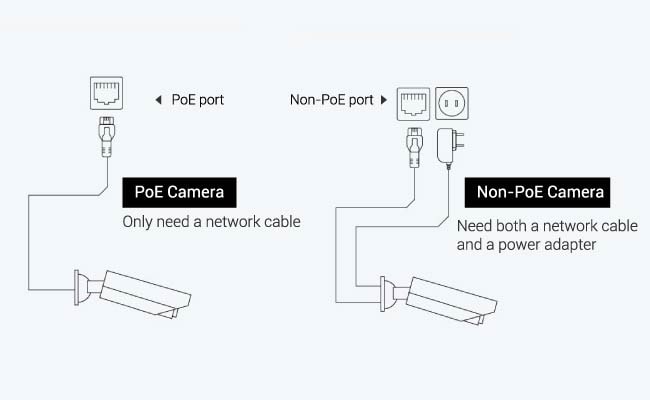 For example, Reolink RLC-810A is the one that allows you to DIY your own security solution in a simple & efficient way.
Or you may just turn to the battery-powered front door webcams with NO cable at all.
Best Front Door Security Cameras Recommendation
Want to have all the conveniences of CCTV front door in one camera?
Here are top 3 front door camera options for you to deter and catch burglars, keep an eye on your kids, manage your life, and give you real peace of mind.
Don't miss out the front of house camera for sale in the US, UK, Canada, Australia, Singapore and other countries here (the list will keep updating).
Battery Operated Front Door Camera: Reolink Argus 3 Pro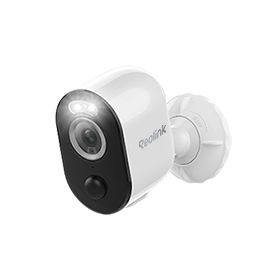 Reolink Argus 3 Pro
2K 100% Wire-Free Spotlight Camera
2K 4MP Super HD, Battery/Solar Powered, Person/Vehicle Detection, 5/2.4 GHz Dual-Band WiFi, Color Night Vision, Two-Way Audio.
Compared with the traditional wireless front door video camera, the wire-free Reolink Argus 3 Pro goes a step further with NO wires at all.
You can never find a front door security camera that is easier to use and install.
Having a camera above front door like Reolink Argus 3 Pro gives you a 122° wide viewing angle with 16X digital zoom so you can monitor the whole front door area with close details.
And another bonus of this camera at front door is that it works with Google Home Hub, so you can literally ask Google to show the front door camera on living room TV!
(Learn how to connect the Google front door camera to TV with instructions here)
| | |
| --- | --- |
| Resolution | 2K 4MP (best in the battery-powered camera world) |
| Smart detection | Distinguish person/vehicle from other things |
| Audio | Two-way audio allowing you to speak directly to the postman and visitors |
| Remote access | Front door camera with Android phone & iPhone access via a free app |
| Weatherproof | IP65 weatherproof rating, suitable for outdoor use to stand rain, snow, heat & cold |
| Flexibility | Battery-powered with no wires at all, free to move it anywhere |
| Installation | No drilling holes, no wires, and no configuration |
The video below shows the incredible clear 2K images of this over-the-door security camera:
The front door entrance camera is featured in many top-tier tech media, like ZDNet and PCMag, with great comments:
"The Argus 3 Pro has an upgraded 4MP lens with 2560 x 1440px resolutions. This gives greater detail to images, allowing you to zoom in for closer inspection." – ZDNet Reolink Argus 3 Pro front door camera review
If you are looking for an unnoticeable front door camera, the Reolink Argus 3 Pro is also a good choice. You may also DIY your own discreet front door camera like the user shared: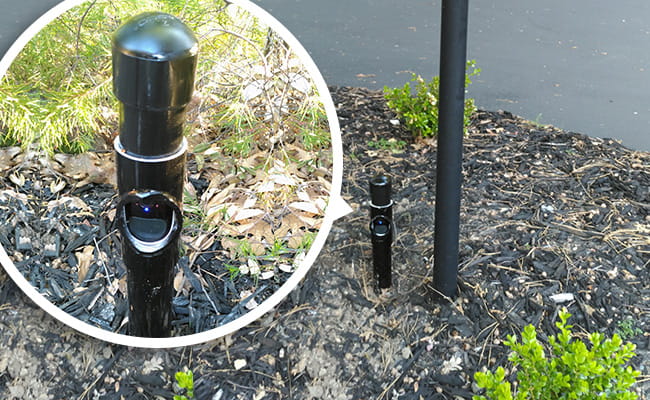 Front Door WiFi Camera Alternative: Reolink Go Plus
The battery camera would be the best front door camera for recording the apartment door.
But what if there is weak or NO WiFi in your front door area, or you just want to save the bandwidth of front door IP security camera?
The 4G front door home security camera is here for you.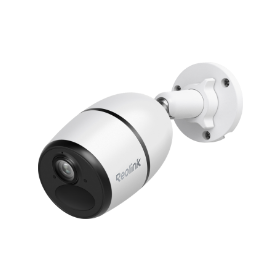 Reolink Go Plus
Smart Wireless 4G Battery Camera
Rechargeable Battery/Solar Powered, Person/Vehicle Detection, 2K 4MP Super HD, Two-Way Audio, High-Quality Night Vision, Live View Anytime.
Running on the cellular data, just like your phone, Reolink Go Plus cellular security camera can work independently and save your network bandwidth at the same time.
If you want to go with the wired solution, meaning no WiFi issues involved and 100% stable connection, the camera near the front door RLC-810A is the best pick.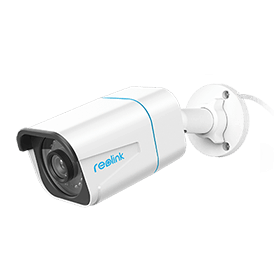 Reolink RLC-810A
4K PoE IP Camera with Person/Vehicle Detection
Smart Person/Vehicle Alerts; 4K UHD Day & Night; 100ft Night Vision; Time Lapse; IP66 Certified Weatherproof; Audio Recording.
But don't worry too much about the installation. The PoE camera has made the installation much easier to just plug and play.
Bonus: This outdoor front door security camera is 3rd-party compatible, meaning you can run this front door security camera with audio on the 3rd party software like the Blue Iris or iSpy together with other brands.
Video sample:
Front Door Camera for Peephole & Front Doorbell Camera
During your research on front door cameras, you'll find various kinds of front doorbell cameras that are installed on the door just like a peephole, or the front door camera light that disguised as an outdoor light.
These front door peephole cameras allow you to see and talk to who is behind the door, and notify you when on the phone when someone approaches.
If you are interested in purchasing a front doorbell camera, make sure to check out their installation requirement. For example, the Ring video front door spy hole camera will require existing doorbell wiring.
And some doorbell security camera requires monthly subscription on top of the initial setup to save the camera recordings to the cloud. So do your research to find the best peephole front door hidden camera and plan that works for your needs.
If your condo doesn't have wring for an electronic wireless front doorbell camera or you are looking for a more affordable front door camera to phone (without cloud subscription), you may check out the professional front door security camera that can do the same thing with no brainer installation.
Hottest Questions About Front Door Cameras
You could have other concerns before buying a front door smart cameras. Check out the frequently asked questions about the front door entry camera and get quick answers here:
#1. Front Door Camera Placement
So what's the best front door camera position that can view the front door activity with best clarity and prevent it from being tampered with at the same time?
Typically it's suggested to put the camera above the door or window frame, facing downward so that it covers the area a few feet in front of the opening.
And the door entry camera height of 9 feet above the ground is enough to stop a person of around 6 feet (1.82 meters) tall or less from bashing a camera – a front door window camera is a good choice.
To learn more about the best location for front door camera and where to place front door security camera systems around your home, continue to read this post.
#2. Front Door Camera Installation
The residential front door security camera installation steps vary among different camera types. Some involve pre-wiring and some only require simple screwing.
Here I'll show you how to install the portable front door camera Reolink Argus 3 Pro in minutes:
Step 1. Screw the security mount into the wall
Step 2. Screw the camera over front door into the security mount.
Step 3. Adjust the camera direction and tighten the knob to fix it.
This could be the best outdoor front door camera if you are looking for easy installation, since you don't need to deal with the confusing wiring for power and connection to the front door camera recorder (it saves to the SD card on board).
If you prefer the wired front door mini camera, check out this post for detailed wiring instructions.
#3. Front Door Camera Viewing Field
The front door cameras for apartment (hidden or not) are generally come with fixed lens, meaning it will target a specific space, offering like 80° to 130° field of view.
Note that most of the front door dome camera also uses a fixed camera lens with a similar angle of view as others. A front door fisheye camera may offer you even wider range of view but notice that the image will get distorted under the fisheye view.
#4. Front Door Camera Connected to TV
Connecting your home front door camera to TV allows you to monitor what's going on directly from the big screen.
We've talked about the easiest way to connect security cameras to TV in our previous post, be sure to check it out before you try other confusing methods.
And another idea to have your front door camera connected to TV is by using the front door camera that works with google home, like the Argus 3 Pro. That way, you can speak to Google to stream the camera live on TV after you enable the smart home feature in simple steps.
A discreet front door camera can be comfortable for your visitors and help you capture the evidence without being noticed.
And you don't need to compromise on the video quality and other advanced features to buy a covert front door camera like those peephole mini front door camera.
You can build have a front door secret camera with these simple DIY tricks.