Looking for a security camera that connects to phone? Or having trouble connecting it to your mobile device?
In this article, we will introduce the top 3 security cameras that connect to phone easily and show you the easiest way to connect them to your Android phone/iPhone. And we'll talk about the basic lines to choose the best security camera that connects to phone and answer the hottest questions you may also have.
How to Connect Security Camera to Phone: Top 3 Easiest Ways to Go
The majority of security camera manufacturers nowadays develop apps for their users, so that they can make use of all the great features easily in the palm of their hands. It's recommended to use the manufacturer's app because users won't worry about compatibility issues.
Meanwhile, there are many other third-party platforms like Blue Iris allowing users to manage their surveillance cameras. But you'd better make sure the camera you use is compatible with the software.
The following part will introduce you to how to connect a security camera to phone in minutes, whether there is WiFi/Internet or not.
1. How to Connect Security Camera to Android/iOS with WiFi or Internet
If you have WiFi or Internet, connecting a security camera to your mobile phone will be as easy as a breeze. Here we take a Reolink camera as an example.
Download and lauch the App (i.e, Reolink App) on your phone.
Add the security camera to the Reolink app by scanning the QR code or entering the UID.
Complete the initial setup of the camera, including the user name and password. After you finish this step, your camera is successfully connected to your phone.
Configure the camera's settings like recording schedule, motion detection sensitivity, notifications, privacy zones, etc, according to your preferences (Optional)**.
This video demonstrates how to set up motion detection via the phone app:
2. How to Connect Security Camera to Phone without WiFi
Is it possible to use a security camera without WiFi? Definitely yes. WiFi network is important, but not necessary. You can remotely access and control the camera on your property without WiFi. The simple trick is to get a 4G LTE mobile security camera that runs on cellular data.
But before you connect a 4G security camera to your phone, there are some preparations to be done.
Check whether your SIM card camera has a pre-installed SIM card. If yes, make sure with the sales team that it's activated. If not, you need to purchase a SIM card and a data plan for it.
Insert the SIM card into the camera. In most cases, a SIM card is activated once you insert it in place. But some SIM cards may require APN imported to work. Click to learn how to import APN information to Reolink 4G cameras.
Now your camera and mobile phone are on the Network. You can follow the steps above to connect the 4G camera to your phone and access the camera from anywhere.
3. How to Connect Wireless Camera to Phone without Internet
Is it even possible to have a wireless camera linked to phone without WiFi or Internet? Yes, but in a limited way. There are two methods for you. One is to connect the security camera to a router (no need for an active Internet connection), and then you can access the camera on your phone without Internet as long as the camera and phone are on the same local network (LAN).
This method only works when the camera and your cell phone are within the range of your router network. When you are away, the camera will disconnect from your phone.
The other method is to create a WiFi network for your wireless WiFi camera with your phone's hotspot. You can follow the steps below.
Go to the settings of your mobile phone and turn on the "hotspot" function. Set a password for the hotspot connection.
When you configure the WiFi for the camera during the initial setup process, enter the SSID and password of your phone's hotspot.
Now the WiFi camera is connected to your phone's hotspot, and you can use it normally because your smartphone enables the camera to transmit data.
This method requires that the wireless camera is always within the range of your phone's hotspot. And it doesn't apply to all wireless WiFi cameras because some of them can't work with hotspot devices. For Reolink, only battery-powered WiFi cameras like Argus 3 Pro can use this method.
Security Camera That Connects to Phone: Best Picks
Security cameras from many brands can be connected to mobile phones and the difference lies in the apps and features coming with them.
As a professional security camera and solution provider, Reolink has designed a free App with many practical functions. Actually, Reolink cameras have already covered users from over 200 countries, with proven smooth and clear videos on both iPhone and Android phones.
Here we pick 3 of the best security cameras that connect to phone easily from this reputable brand.
Best Outdoor Security Camera Connects to Phone: E1 Outdoor Pro
If you are looking for a wireless security camera that connects to phone, you can't go wrong with Reolink's powerful WiFi camera E1 Outdoor.
This dual-band WiFi camera features a compact design and 4K 8MP super HD for crystal-clear pictures and videos. What's more impressive is its pan-tilt-zoom function, which means this security camera can rotate 355° horizontally and 50° vertically. You can manually adjust the camera's angle via Reolink App from your smartphone and zoom in to check whatever you want.
More than that, this wireless security camera can track a moving person or car automatically. When any intruder tries to sneak into the house, the camera will always focus on him/her and leave him/her nowhere to hide. Put it at your front door or backyard and enjoy enhanced home security day and night.
Best Wireless Camera that Connects to Phone: Argus 3 Pro
Featured in the top-tier review platforms including PCMag, digitaltrends, TechHive, and awarded as one of the "Best Solar Security Cameras" by Forbes Home, Reolink Argus 3 Pro is a perfect choice for those who want a wire-free security camera. The best part of this smartphone compatible security camera is that it works without wire hassles at all. It can be powered by a rechargeable battery or solar power and works on a 2.4/5 GHz WiFi network. You can put it anywhere, indoors and outdoors, for reliable surveillance and security.
This 2K battery-powered camera offers precise detection with intelligent AI detection technology. It has a built-in mic and speaker for you to listen and talk freely. Furthermore, it works well with Google Assistant and Alexa, allowing homeowners to voice control the camera.
Best PoE Security Camera that Connects to Phone - RLC-811A
As the most popular wired security camera connected to phone, Reolink RLC-811A will definitely not let you down with rich features and an attractive price tag. This wired security camera comes with 4K 8MP ultra HD and 5X optical zoom, which allows you to see every detail clearly from the mobile phone. With onboard detecting technology, RLC-811A can smartly distinguish a person, vehicle, or pet dog from other objects and thus offer accurate alerts.
It's quite convenient to use the two-way audio on Reolink App. You can talk with your family, greet visitors, and ask strangers to leave. When any motion is detected, you'll receive an Even when you're away from home, you can get everything under control.
Advantages of Connecting Security Cameras to Phone
While it's important to have a security camera or system to protect your home or valuables, knowing how to make full use of it is more essential. More and more people hope to access their security cameras at any time and keep an eye on their properties when they're away from home. Luckily, you can make it true by connecting the security camera to a phone.
1. Watch live feed/playback at any time
Getting real-time access and control of your security camera is one of the biggest benefits of connecting the camera to your mobile phone.
Whether you want to check what's going on around your property or you want to check kids and pets, just pick up your phone and launch the App to view the live footage no matter where you are. Also, you can play back the recordings to see whether there is an event.
For people who don't spend the whole day at home, using a mobile phone to access their security cameras gives them much relief and peace of mind. Even when you're away, you can keep an eye on your property, family, and valuables. Real-time viewing and playback never let you miss any important matter.
2. Real-time alerts for quicker action
Most modern security cameras are equipped with motion detection, and the advanced ones have smart detection. When a smart camera detects a person, vehicle, or other events, it can send an alarm instantly to alert the homeowner. The real-time alert is essential to prevent home break-ins and crimes.
When you are busy with work or enjoying the vacation, a real-time alert that pops up on your phone can save everything. You will immediately know what's happening and take quick actions, for example, deter the intruder via two-way audio, call the police, or ask neighbors for help. Even if you can't go back home first, you can minimize the risk of property damage and personal injury.
3. Customize all the features
As long as you add the camera to your mobile phone, you can make full use of all its features and configure settings as you like.
You can customize the schedule for the camera to record, sound a siren, and send push notifications. For example, if you usually stay at home during weekends and don't want the camera to sound a bothering siren, you can disable the siren in advance on your phone.
Also, you can adjust the sensitivity of the camera in case it's too sensitive to send many false alarms. Additionally, for private areas or places that don't need surveillance, you can mask it so as to reduce unnecessary alerts.
4. Multiple management at the same time
A quality security camera allows for multiple user access at the same time. It means you and your families and friends can view the same camera on your phones.
This could be very useful because other people can help keep tabs on your house now and then. Besides, all the family members can check the elderly, children, and pets on their phones at any time.
However, not all manufacturers support multiple user access, or they limit the number of users who can access the camera simultaneously. For Reolink, up to 12 people with the same account can view live feeds at the same time.
Choosing Security Camera that Connects to Phone: 5 Features to Consider
Connecting your security camera to the phone allow you to see the burglar's face clearly on your phone and catch him or her. It is also possible for you to see what's going on in your home and talk to your loved ones directly via the camera. Consider the following features when choosing a quality security camera linked to phone.
1. High resolution
The image quality of a security camera is the prominent factor that affects your experience when watching live views. Do you know that the resolution of human eyes is 576 megapixels (but really only about 7 megapixels matter)? So how could a security camera keep an "eye" on your property without high definition?
High-resolution security cameras connected to phones offer you a better user experience both in remote live viewing and playback. You can see the faces of everyone passing by clearly, which can be a clue when you find illegal dumping on your lawn. More importantly, the clear images captured by high-definition security cameras can be very effective when prosecution is needed.
To protect your property, you need a security camera that could at least identify the human face and license plate number. It needs to be 1080p and above resolution. The higher, the better.
2. Night vision capability
A security camera with excellent night vision can help you a lot if you want to see what's going on outside your home in the dark night or have a look at your little ones in their sleep at your fingertips on the phone. With IR security cameras connected to your phone, you can check the monitoring place even in the dark. Before purchasing, take a special look at the number of IR LEDs that determine the night vision distance and clarity. The more IR LEDs, the better the night vision quality.
For better night vision quality, you can also search for security cameras with spotlights. The motion-activated spotlights can illuminate the monitoring area and enable the camera to capture clear and full-color images in low-light conditions. Don't worry if you want color night vision but only have an IR security camera. You can invest in a floodlight and put it near the camera. The floodlight can shed light on your front door or backyard. And they are more powerful than spotlights with higher lumens.
3. Smart detection & instant alerts
An instant alert before a crime happens is so much essential. It can help homeowners deter intruders and take quick action to call the police. In this way, they can protect the valuables and avoid injuries as soon as possible. That's why you should choose a smart security camera connected to phone and bring your home security to a new height.
Most security cameras can detect motions, but the smart ones can recognize people, vehicles, or even pets and packages. A security camera with motion detection can reduce false alarms to a great extent and allow you to focus on events that really matter.
Another important factor is the instant alert, which can appear in various ways such as push notifications, emails, etc. After you connect the camera to phone, you can get an alert as soon as the camera detects an event. This gives you precious time to handle the issue and save everything.
4. Two-way audio
Whether for remote communication or for home security, security cameras with two-way audio can make a big difference. You can warn the uninvited visitors verbally and ask them to leave through the camera's built-in microphone. Wherever you are, you can stop theft or vandalism before any damage is caused.
Actually, security cameras with two-way audio can do far more than protect your property. For example, you can also listen to what's going on around your house and keep the company of your loved ones by talking to them, even when you are miles away. Besides, you can manage your package in the cafe with the two-way audio security cameras linked to your mobile phone.
5. Security camera phone app with easy navigation
An easily navigated security camera phone app (both for iPhones and Android phones) can save you a lot of trouble. And it is of exceptional importance for the elders and children who need special protection but could get puzzled by the complex configurations. If all the monitoring can be easily handled, you will rest assured when your parents and children are left alone at home.
For example, Reolink has tried every effort to make its mobile app easy to use and friendly to people of all ages. You will only need three simple steps to link Reolink security cameras to your phone: Install the free Reolink App on your phone, launch the app, and then add the camera to phone and get a live view.
There are instructions on the app for every step. With a clear interface and full functions, Reolink App helps you monitor your home and property remotely in a comfortable way.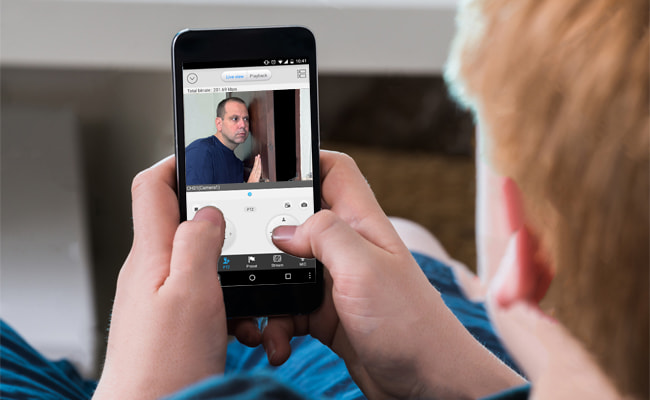 FAQs
1. Can I connect my security camera to my phone without WiFi?
Yes. Not all security cameras need WiFi to work. The most simple way is to choose a 4G cellular camera that can works in any place without WiFi. With an activated SIM card, the 4G camera can work perfectly and connect to your mobile phone easily. You can get a live view from anywhere.
For some wireless WiFi security cameras like Reolink Argus 3 Pro, you can enable your mobile phone's hotspot and provide a WiFi network to the camera. And then you can add the camera to the phone app easily.
2. What if I fail to connect my camera to phone?
Here are some common troubleshooting tips if you are unable to connect the camera to phone or view live streams:
Check the security camera network and power connection
Make sure the network connection is stable by testing with other network devices.
Reboot the security camera to fix issues
Reset the security camera to Its factory default
If none of the above tips works, you can ask the manufacturer's support for help. There are some other tips for you: Security Camera Won't Work – Top 10 Solutions to Fix.
3. Will hackers control my security camera connected to phone?
You may be concerned about safety issues after you connect the camera to phone. Is it possible for hackers to control the camera on your phone.
The short answer is NO, at least not for Reolink with the private safety protocol. No one can access the camera without your permission and the right password. The easiest way to prevent your security camera from being hacked is to change the default password and don't make it too simple.
4. Are there cheap security cameras that connect to your phone?
Absolutely! There ae many affordable security cameras that connect to your phone. Whether you're on a budget or simply looking for a cost-effective solution, there are options available that provide the convenience of connecting to your phone for easy monitoring and control.
Conclusion
Nowadays most cameras are accessible through cell phones and tablets, which provides us with great convenience in monitoring home security in real time and helps us make the most out of the camera.
Connecting the security camera to phone can make it a lot more useful and the process is painless. If you have any ideas to share or have any questions about security camera that connects to phones, leave a comment below and we'll reply as soon as possible.