Ceiling security cameras, being mounted specially to the high position, provide you with an extended view to the front door as well as the long driveway, and a real-time monitoring to your overall business.
While dome security cameras is a habitual and primary choice to be installed on the ceiling, ceiling security cameras do not necessarily mean the dome types, thanks to the various kinds of ceiling mount.
And therefore, it's much more practical to know the essential features needed for ceiling security cameras, and then you can easily install the security camera of your choice to the ceiling, under our complete and easy-to-follow guidance below of course.
Ceiling Security Cameras Highlights
Before introducing the highlights, it's important to know how dome cameras work and clear up the difference between "dome" and "PTZ". Dome cameras are just regular cameras that are in a dome enclosure and do not move, enjoying a similar field of view other types.
While many kinds of security cameras can be mounted on the ceiling technically, several of them do the job better than the rest. Here are the must-have features for any qualified ceiling security camera.
#1. High Definition Images with Optical Zoom Function
While the normal ceiling height is 8-10 feet for a home, that can reach up to 16-20 feet for larger business. Either situation adds challenges to ceiling mounted security cameras in providing high definition images, especially when you need to identify the details.
If you choose the megapixel security cameras with optical zoom function, you will have no worries concerning the image quality, even if your security cameras are placed upon the ceiling.
Optical zoom function enables you to zoom in to get whatever detailed information you need without sacrificing the image quality, compared with digital zoom that many ceiling surveillance cameras carry with.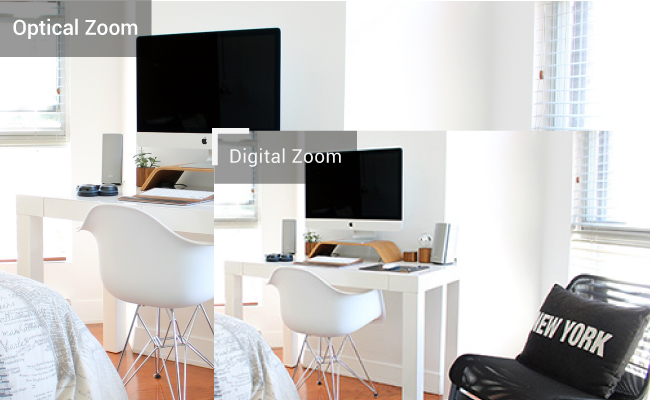 However, if the captured image is blurry, there is no way that optical zoom function could help with. Megapixel security cameras, with millions of pixels' advantage in image, capture every object in real color, and provide you with detailed information you will need when you zoom in the picture.
To get an integrated high quality image day and night, you may also consider the IR night vision function.
#2. Translucent Housing with Small Size
One of the disasters in setting up the ceiling security cameras is the damage of the aesthetics of your former deco. Especially for home use, you will never want to make it a "big brother" on the white wall, and run the gusts off.
The "hidden" ceiling mounted dome security cameras can get you out of the embarrassing situation. The security camera in ceiling fan is one try, but a better choice with less cost and more flexibility is a translucent small ceiling surveillance camera.
With translucent white and mini security camera housing, some dome small ceiling cameras do pretty well in fashionable design as well as blending in with their surroundings.
Reolink RLC-420
PoE Dome Security Camera with Audio
5MP/4MP Super HD; Outdoor/Indoor Protection; 100ft Infrared Night Vision; Audio Recording; Smartphone Remote Access & Control.
#3. Solid Covers with High IR & IP Rating
Ceiling security cameras, like outdoor dome security cameras, being frequently mounted under the eaves to protect your front door and porch, the covers are prone to suffer from terrible weather and vandalism.
Remember the two standards below to choose the right outdoor ceiling security cameras:
#4. Easy Installation
It's definitely not easy to install a security camera on the ceiling, but you could reduce your workload if you know the following tricks in choosing the right ceiling camera.
Choose PoE Ceiling Security Cameras
If you prefer the wired solution which is more stable in signal and less interference from other devices, PoE ceiling security cameras is the best choice with only one cable to handle.
I'd strongly suggest PoE IP cameras for commercial use where you may suffer from great loss if the WiFi signal is unstable in critical times, like the dark night when no one is on duty.
Reolink RLC-422
PoE Vandal Resistant Security Camera
5MP Super HD; IK10 Vandal Resistant; 4X Optical Zoom; Outdoor/Indoor Protection; 100ft Infrared Night Vision; Remote Live View & Control.
Choose Wireless Ceiling Security Cameras
For home use, another good option would be wireless ceiling security cameras if the WiFi is reliable.
One cable solution is the wireless security camera for the ceilings with adjustable viewing angle, under which situation you will need to connect the camera to an electric outlet for power supply.
To cut off all the annoying wires, the wire-free ceiling camera, with its 360° security camera drop ceiling mount (using magnet technology), enables you to stick the battery security camera on the ceiling and twist in any direction you want, even upside down.
Note: Never mind the image will be upside-down if your security camera App could turn it over and make things right for you.
2 Installation Solutions Covering All Ceiling Security Cameras
With the above mentioned security cameras at hand, you can easily mount it on either the low ceiling of the home and retail stores, or the high ceiling of the warehouse and supermarket.
#1. Install Security Cameras on Low Ceilings
It's relatively easy to mount security camera to the drop ceiling of your home.
For PoE ceiling security cameras, you need to connect it to a router (via a PoE injector/switch in most cases); for WiFi ceiling surveillance cameras, find an electric outlet instead; for wire-free ceiling mounted security cameras, just screw the magnet mount to the ceiling and snap on your camera, that's it.
In practice, there are 2 ways you can mount your security cameras on the ceiling:
Way 1: Just screw the ceiling security cameras into the ceiling tiles using drywall anchors if the cameras are light weighted, like the dome security cameras without metal covers.
For a more solid hold, you may replace the screws with longer ones fitted with a wing nut or the toggle bolts so you can screw it snug to the opposite side of the ceiling.
Way 2: Get a square piece of plywood on top of the tile and drill a hole for the wires if the security camera gains some weight, like the solid covered PTZs and vandal domes. Fender washers are also helpful in spreading the weight on the tile.
This way allows for easy removal of the tile down the road. It seems to be an overkill for a security camera installation, but you have to take the cleaning or servicing the camera time into account.
The last thing is to get enough cables (power extension cable for WiFi ceiling mounted security cameras and network cables for PoE ones).
#2. Install Security Cameras on High Ceilings
If your ceiling is high and difficult to reach, or there are other obstacles getting in the way, you may suspend your ceiling security camera from conduit or horizontal beam. There is an easy-to-follow instruction for you by steps.
Step1. Find a suitable place in conduit and get a junction box.

Step2. Pull your wires through the access hole on the back of the junction box.

Step3. Mount the junction box to the wall.

Step4. (Only if necessary) Drill a hole in the box cover to get your camera cables through.

Step5. Connect the camera to the power by connecting the wires.

Step6. Screw the cover on to the junction box.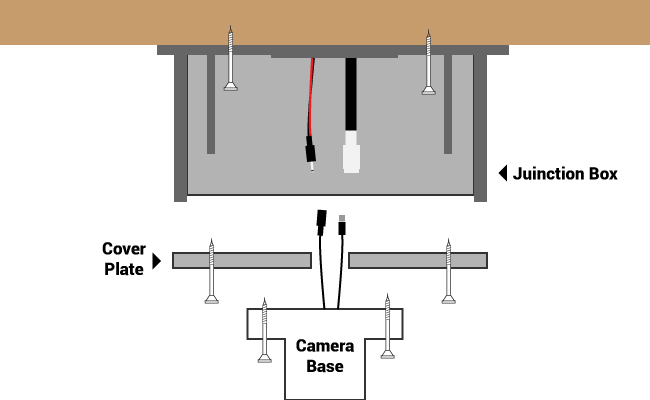 If all these ways fail to be of assistance in your situation or if you have come across any problems during the installation process, you may comment on this blog and there will surely be a resolution for you.
Final Thoughts
With the knowledge above, you may have a clear idea about the ceiling security cameras of your desire.
But if you do not want to see only the tops of people's heads, do not go for the panoramic security cameras. Instead, the wide angle dome security cameras will be much better, with the advantage of no distortion and wide field of view.
Fake ceiling security cameras are also not recommended, since they are easily identifiable as well as other 5 major flaws. As a matter of fact, why should anyone bother to buy a fake one when there are excellent real security cameras under $100 are on your reach?