Many posters on forums need recommendations of best PoE dome IP security cameras/systems, so we decide to write this post to offer some useful information on this type of security cameras.
If you are one of the active posters, you'll get what you need here.
You are gonna know what PoE dome Internet cameras are, why PoE dome cameras overshadow other types of security cameras in some ways, and the best PoE dome security camera recommendations.
1. What PoE Dome Outdoor/Indoor Cameras Are
2. Unique Features of PoE Dome IP Security Cameras
3. Hard-to-Beat PoE Dome IP Surveillance Cameras
4. Troubleshoot PoE Dome Camera Issues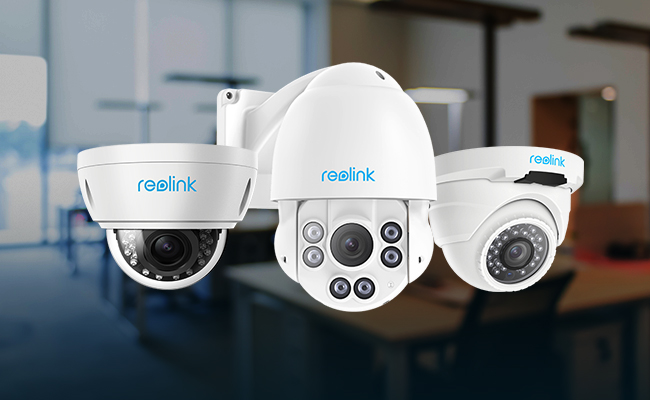 #1. Introduction to PoE CCTV Dome Surveillance Cameras
According to Wikipedia, PoE (Power over Ethernet) describes several standard or ad-hoc systems that pass electric power and data via the twisted pair Ethernet cable. PoE security cameras allow a single wire to provide both power and data transmission.
Dome security cameras are named for their rounded "dome" shape. Outdoor/indoor dome security cameras are commonly used in casinos, retails stores, restaurants, receptions, etc.
PoE dome cameras only need one Cat 5/6 PoE cable to get power and data connection, which offers you easier installation and wiring compared with traditional hardwired security cameras.
Why 5MP, 4MP (1440p) and 2MP (1080p) PoE dome security cameras are becoming more and more popular in the market? What are some specific features of PoE dome IP security cameras? Find the answers below↓
#2. Unique Features You Will Love in PoE Dome IP Security Cameras
PoE dome cameras overshadow other types of security cameras, like bullet security cameras, in the below ways.
1. Suitable for Almost Every Installation Environment
With the unique dome shape and PoE design, you can mount this type of security cameras to the ceiling or wall, eave, attic, and other places. All you need is just a power to connect the PoE dome camera to your home router.
2. Hard-to-Beat Concealment Feature
Compared with those hardwired bullet security cameras, PoE dome cameras, especially mini dome (turret) IP security cameras, are less visibly intrusive.
Your visitors or friends will not feel like entering a surveillance state with discrete PoE dome security cameras installed inside your home. The PoE dome security cameras are more elegant and fit better with your current décor.
Another important feature of PoE dome cameras is that people are not able to tell where the cameras are pointing at.
3. Unique Vandal-Proof Design
Vandal-proof PoE dome security cameras win the durability test by a landslide. The vandal proof casing can stand anything right from shaking to vandalism.
For example, PoE dome security cameras with IK10 vandal proof are able to sustain up to 20 joules external mechanical impact.
You can check this post to know more about vandal-proof security cameras.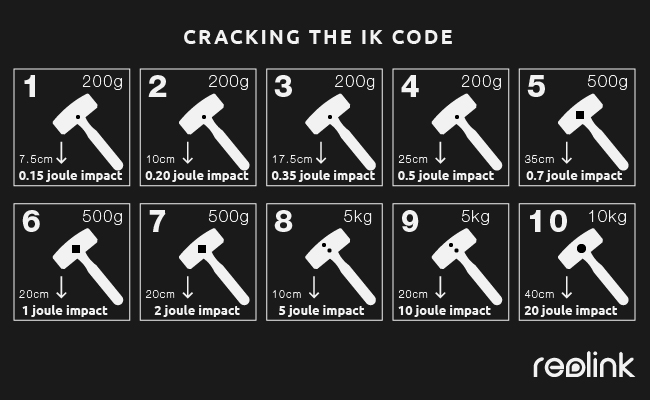 The higher the number goes, the better vandal proof the camera is.
After viewing the exceptional features of PoE dome security cameras, it's time to check top picks of PoE dome security cameras/systems.
#3. Best PoE Dome IP Security Camera & System Reviews/Ratings
It's important to be sure that you will get the right PoE dome security camera model. Now let's take a look at 3 of the best PoE dome cameras & systems.
This camera is one of the best versatile PoE dome security cameras on the market. The IK10 vandal proof can protect the lens from being tempered with. Nobody other than you will know where the camera is pointing at.
If you are looking for unnoticeable (1080p and higher definition) PoE dome IP security cameras with high definition and optical zoom function, RLC-422 is the way to go.
Why RLC-422 is great:
IK10 vandal proof
4X optical zoom
1440p Super HD
100ft night vision
IP66 waterproof
Local and remote access
Reolink RLC-422
PoE Vandal Resistant Security Camera
5MP Super HD; IK10 Vandal Resistant; 4X Optical Zoom; Outdoor/Indoor Protection; 100ft Infrared Night Vision; Remote Live View & Control.
RLC-420 doesn't come with the same plastic protection casing as the camera covered above. However, this PoE dome security camera offers you high quality day/night images with its 1440p Super HD and 100ft night vision.
If you want a PoE dome security camera with sound, you are gonna love this exceptional PoE dome IP camera. It's smaller compared with other PoE dome sisters. When you place it in your family room, it would not stick out too much.
Why RLC-420 is great:
1440p Super HD
100ft night vision
Audio recording
Local & remote access
IP66 waterproof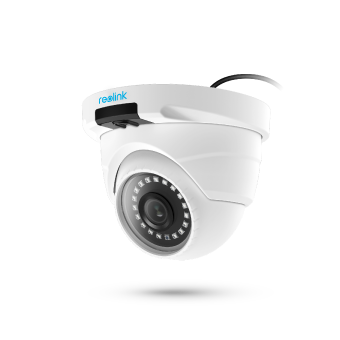 Reolink RLC-420
PoE Dome Security Camera with Audio
5MP/4MP Super HD; Outdoor/Indoor Protection; 100ft Infrared Night Vision; Audio Recording; Smartphone Remote Access & Control.
Tip: If you want to buy PoE dome cameras with two-way audio, it would be a little difficult since few security camera companies developed such home security camera type. The general issue is that making a working microphone and speaker without compromising the waterproof qualities of the camera is very hard.
If you are looking for IP PoE PTZ dome cameras to cover your property, such as the pool areas, RLC-423 is your best option. The 360° pan and 90° tilt make every angle covered.
This PoE high speed dome camera enables you to patrol wide areas of your home via the PTZ control button on your smartphone app or computer client. The 190ft excellent night vision distance is hard to beat.
If you want a PoE PTZ security camera with excellent day/night vision, remote viewing, and other smart features, RLC-423 is a smart choice.
Why RLC-423 is great:
Endless pan tilt control
4X optical zoom
190ft long night vision
1440p Super HD
IP66 waterproof
Local & remote access
Some of you may ask, "Can anyone recommend an outdoor PTZ 4MP PoE IP camera with at least 10X to 20X zoom?" Well, in fact, you don't need such high zoom PoE dome cameras when installing for your home. The above 4X optical zoom PoE camera is enough for you to read license plate and recognize people's faces from a long distance.
All the above top picks of PoE dome IP (PTZ) cameras can be accessed via your PC, iPhone and Android smartphones, so you can access your cameras wherever you are. With the IP66 waterproof design, these PoE dome cameras can work well under extreme conditions, including rains or snows.
Hope you've got what you need in the above PoE dome camera and system recommendations. If you have other requirements, don't hesitate to share with us in the comment!
Sometimes, you might encounter some PoE dome camera issues. You can check the below solutions to troubleshoot the issues of your PoE dome IP security cameras/systems.
#4. Troubleshoot PoE Dome Camera Issues
1. My PoE dome camera seems to power up but never connect via data!
Solution 1: Make sure that your PoE adapter is in good condition.
Solution 2: Changes another PoE cable to see whether it's the cable problem.
Solution 3: Reboot the PoE dome security cameras and systems to the factory settings.
2. Why does my PoE PTZ camera images keep showing upside down?
If you mount your PoE dome camera to the ceiling, sometimes you can see that the images will be upside down. You can set up the "Mirror" in the OSD page to horizontally reverse the orientation of the image.
3. How to install PoE dome camera with outside conduit?
The key installation step is to connect your PoE dome cameras to your home router.
You can bury the Cat 5/6 PoE cables in the ground to snake the PoE wires between the cameras and the router. Besides, you might need to drill holes if necessary.
Here is a post that offers detailed steps to run security camera wires: How to Run Security Camera Wires.