What does a turret camera mean? What is a turret dome camera? What are the differences among bullet, dome and turret CCTV IP security cameras? Can I mount a turret IP security camera to a vertical wall?
You'll get the detailed answers to the above turret camera questions.
#1. What Is a Turret Camera
A turret camera, also known as a mini dome, eyeball or flat-faced dome camera, has a ball-and-socket type of design. It is like a sliced sphere, which can be easily swiveled around in its "socket" once the base has been mounted.
Most outdoor and indoor turret surveillance cameras in the market now are PoE type, since it's quite challenging to add external antennas to make this type of security cameras wireless due to its unique structure.
The night vision used in turret security cameras usually includes 2 types: infrared (IR) and EXIR night vision.
EXIR vs. IR in turret security cameras: EXIR technology makes the illumination pattern rectangular and more evenly dispersed. EXIR turret security cameras can offer higher illuminant efficiency and longer night vision distance than infrared cameras. The price of this type of security cameras typically is much higher.
Infrared technology is the most popular night vision technology used in security cameras for its affordability and high quality. You can still get clear night vision images with infrared security cameras even in utter darkness.
Turret security cameras are becoming more popular than dome and bullet security cameras when used outdoors, including your doorway, backyard, front driveway, soffit, eave, etc. They don't have the spider web attracting qualities of a bullet style, not the reflection issues of a dome type.
The easy angle adjustment also makes turret security cameras overshadow bullet and dome cameras. Unlike dome security cameras with the glass housing, the lack of dome shell makes turret cameras free from glare effects. The price of turret security cameras is much more favorable than dome and PTZ security camera types.
When compared with bullet security cameras, turret cameras are less aggressive and intrusive.
You can get the details on turret vs. dome vs. PTZ vs. bullet security cameras in the next part.
#2. Turret vs. Dome vs. PTZ vs. Bullet CCTV Security IP Cameras
You can see the points where turret security cameras outsmart dome, PTZ and bullet security cameras.
• Turret vs. dome security cameras: Turret CCTV security cameras typically have better night vision image quality compared with dome security cameras. Turret security cameras will not be influenced by the glare effects. The cost of turret cameras is also much more favorable.
Note: As you may know, turret cameras and dome cameras look almost the same. Here is a tip to help you distinguish them — if the security camera's lens and the IR LEDs are not behind the glass, it's a turret style IP camera. Otherwise, it's a dome type.
• Turret vs. PTZ (pan tilt zoom) CCTV IP cameras: PTZ security cameras are a kind of dome cameras. The turret security cameras are less intrusive and smaller compared with PTZ type. PTZ security cameras tend to be much expensive for their powerful PTZ control, preset, patrol and other advanced features.
• Turret vs. bullet video surveillance cameras: Outdoor and indoor turret dome security cameras outweigh bullet security cameras in the below ways. Turret network cameras provide better IR coverage and are less likely to be knocked out of view. And the turret network cameras are less conspicuous.
If you want to know more about bullet, dome and PTZ security cameras, you can read this post written by Amanda, the Reolink's senior tech editor. She's been in home security field for over 10 years.
All of the security cameras types mentioned above have their own pros and cons. You can check the advantages and disadvantages of turret, dome, PTZ and bullet security cameras respectively in the below table.
| | | | | |
| --- | --- | --- | --- | --- |
| Security Camera Type | Turret Cameras | Dome Cameras | PTZ Cameras | Bullet Cameras |
| Pros | 1. Easy angle adjustment after installation 2. Insect-proof 3. No IR bounce 4. Can be installed both vertically and horizontally. 5. Less intrusive than PTZ & bullet cameras | 1. Good vandal-proof design 2. Less intrusive than turret, PTZ and bullet cameras | 1. Powerful and easy pan tilt zoom control 2. Can cover a wide range of areas. 3. With advanced features, such as preset, patrol, etc. | 1. Typically more favorable 2. Ideal for theft deterrent |
| Cons | 1. Lack of vandal proof 2. Larger than dome type | 1. Prone to IR bounce 2. Water droplets may blur the lens when mounted vertically. | 1. Typically come with big size 2. More challenging to install | 1. The viewing angle cannot be adjusted easily after installation. 2. More intrusive compared with turret and dome cameras. 3. Limited monitoring angle |
As you can see above, all of the security camera types have their strengths and drawbacks. Choosing the right one should be based on the individual scenario and environment requirements.
You can take a look at the below turret-style security camera best pick so that you don't have to spend extra time on searching the best turret cameras (awesome videos included).
#3. Best Turret Security Camera for Your Choice
You can check the below best-valued turret-mounted IP camera with the easiest installation.
1. RLC-520 — Your Outdoor & Indoor Turret IP Camera Top Pick
RLC-520 is a nice option when you are searching for a turret security camera. Its 4MP Super HD offers extremely clear images and videos. Another highlight of this camera is that it supports audio recording.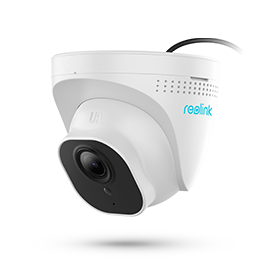 Reolink RLC-520
PoE Dome Security Camera with Audio
5MP Super HD; Outdoor/Indoor Protection; 100ft Infrared Night Vision; Audio Recording; Smartphone Remote Access & Control.
You can watch the below video about RLC-520 turret camera installation and day and night image quality. The video is shared by a customer.
2. RLC-522 — Best Outdoor Dome Security Camera with Optical Zoom
If you want to buy a dome security camera with optical zoom feature, RLC-4=522 with its exceptional 5MP resolution and 3x optical zoom is definitely one of the best picks.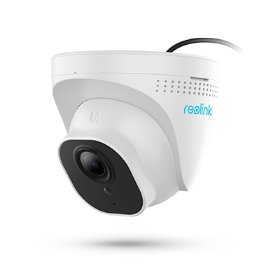 Reolink RLC-522
5MP PoE IP Camera with 3X Optical Zoom
Power over Ethernet; 3X Optical Zoom; 100ft Night Vision; IP66 Certified Weatherproof; Audio Recording; Real-Time Motion Alerts.
One of the appealing points of this camera is its 3X optical zoom, which enables you to zoom in or out to view more image details or get a wider viewing of angle without image quality degradation.
#4. How to Install Turret IP Security Cameras
Turret security cameras can be installed or mounted almost in any orientation. For example, you can mount the DIY ball turret cameras to the ceiling or on a slanted eave.
When you install a turret security camera outdoors, remember to mount it high, making it hard to be accessible.
When you mount a PoE turret security camera, you only need a Cat 5 or 6 cable to connect the camera to your home router for both power and data transmission. If your turret camera is far away from your router, you can add an Ethernet extender to extend the connection distance between your camera and the router.
You can read this security camera installation guide written by Amanda (Reolink's senior editor), which help you install your camera step by step.
Bonus: Some of you may ask for turret camera picture troubleshooting. You can check this post to get 10 effective ways to fix security camera picture problems.
If you have any questions or any thoughts you wanna share about turret cameras, please leave them in the comment below!