Traveling with family in the RV is amazing. While you are enjoying your liberating, exciting and relaxing vacation with family on your travel trailer, it's wise to take some precautions while you park your fancy RV in RV parks and camping sites and campgrounds.
Potential Security Risks for RVs, Motorhomes & Travel Trailers
Your recreational vehicle (RV), whether they are motorhome (classes A, B, B+, or C), caravan, travel trailer, fifth wheel trailer, toy hauler, popup trailer, or slide-in camper, as your place for sleep and stay, is valuable.
However, your fancy RV and your valuables or personal possessions could face potential security threats, such as theft, break-in, vandalism or any possible unanticipated incidents.
There are many security measures you could take, for example, you could change or reinforce your RV locks, install RV security cameras/systems, install door/window sensor, and get adequate RV property theft insurance.
Best Security Camera for RV, Motorhome, Travel Trailers
Choosing the best and suitable RV security cameras and system goes a long way to protect what you cherish and give real peace of mind.
1. Reolink Go – 3G/4G LTE Cellular Security Camera for RV & Motorhome
Reolink Go, a 3G/4G security camera, works extremely well for those who are always on the road and looking for a mobile and portable monitoring solution that works in areas with limited or no WiFi or power.
It runs on 3G/4G LTE wireless networks provided by wireless network providers like AT&T (US), T-Mobile (US & Germany), EE Limited (UK), Vodafone (UK, Germany & Italy), O2 (UK & Germany), Three UK, Wind Tre (Italy), and it's powered by the rechargeable battery or a weatherproof solar panel.
Simply hook it up on the roof or side of the RV, motorhome, truck, camper, you can view the live videos right on the apps. Get instant motion alerts, listen in to what's going on, send a voice alert, watch it at night, you get it!
Key features:
3G/4G LTE network connectivity
Rechargeable battery or solar-powered
PIR Motion detection & alerts to phone/email
Siren & alarm (2-way audio with mic & speaker)
Motion recording to a local SD card
1080p HD video quality & 33ft night vision
2. Reolink Argus 2 – Rechargeable Battery &Solar-Powered Security Camera for RV & Motorhome
Reolink Argus 2 is an ideal wireless security camera for RV, motorhome, camper, caravan, travel trailer, fifth wheel trailer, toy hauler, popup trailer, or slide-in camper — weatherproof, wire-free, portable and super easy to set up
You can just attach the camera to the side your RV and connect it to the WiFi (2.4GHz) or phone hotspots without any cables and view video feeds on your mobile devices anytime anywhere.
Or you just set it up and leave it inside or outside your motorhome. It still works to detect motion and record to SD card even without the internet.
It also acts as a great alternative to the RV burglar alarm security system as it's also packed with sensitive PIR motion sensor, loud siren, and starlight night vision.
Reolink Argus 2 is proven effective to deter burglary, theft or break-in and watch your RV, fifth wheel, coach parked on the campground, campsite, beach or holiday resort, front door or backyard day and night.
It also makes a great wireless backup camera and rearview camera for RV, truck, mobile home, trailer, van, or bus. With some add-on and mounting brackets, RVers could mount it to the tree, walls, rear, RV exterior, roof, campsite areas, or other places. It's extremely helpful to monitor areas with limited or no access to the power supply.
Key features:
2.4GHz wireless connection
Rechargeable battery or solar-powered
PIR Motion detection & alerts to phone/email
Siren & alarm (2-way audio with mic & speaker)
Motion recording to a local SD card
1080p HD video quality & 33ft night vision
IP 65 Weatherproof, outdoor use
3. Reolink E1 Pro – Wireless Indoor Security Camera for RV
Reolink E1 Pro can be connected both via WiFi (2.4/5 GHz) or Ethernet cable. You can plug it into your power outlet via included 12V AC power adapter and it will be up and running in a minute.
Streaming 1440p HD videos, Reolink E1 Pro is even capable of changing pointing angle (355° horizontal pan &50° vertical tilt) with one tap on the apps to see more details. Plus, it comes with night vision and 2-way audio.
You could either put it in your motorhome, truck, trailer, fifth wheel, coach, or through glass window or windshield. Please do make sure it's close to the window as much as possible to reduce IR glare at night.
Better yet, it's only priced at $49.99.
Key features:
2.4/5 GHz dual-band wireless connection
355° pan & 50° tilt controllable via apps
Motion detection & motion alerts to phone/email
Viewable on phone, PC, and laptop
2-way audio with mic & speaker
Movement recording to a local SD card
1080p HD & 40ft night vision
5. Best 12 Volt RV Security Cameras
Most RVs, trailers, trucks, or motorhome come with a 12-volt electrical system that could power the security cameras running on 12volt power.
For example, some of the most popular 12V cameras RLC-422, RLC-420 are awesome rearview cameras for RVs, trailers, trucks, or caravans.
Below is the video captured by Reolink RLC-420 security camera attached to the RV (shared by Jake and Danielle who started their RV trip from home and you can click here to learn more about the Wanderlusting with Reolink series to enjoy their exciting van life).
12 Volt wireless security cameras like RLC-410W and RLC-422W are great rear and front RV backup cameras as they can be hooked up to the roof, back, and the front part of your RV wirelessly.
6. Best 12 Volt RV Security Camera Systems for RV & Fifth Wheel
Home security camera systems like Reolink RLK-410B4 PoE camera system could act as trailer backup camera systems, monitoring the front, side, and rear of your vehicles, van, motorhome on your Smartphone, computer or TV.
Users could also hook also it up to your TV or other monitors via HDMI port on network video recorders (NVR) so that you could keep these 12 Volt RV security cameras continuously to monitor and record what's going on the campground, parking site, camping site or even on the road.
RV Security Cameras/Systems – What Features to Consider
Using security cameras and alarm systems are proving to be effective and economical, while it's important to take a bit of effort to fully understand them in advance and learn RV & motorhome security cameras & system 101.
RV owners don't necessarily have to shell out on RV security cameras/systems or RV alarm systems to keep an eye on your fifth wheel. Reasonable-priced and solid RV security camera setup, such as Reolink wireless RV camera Reolink Argus 2 is available on at $129.99.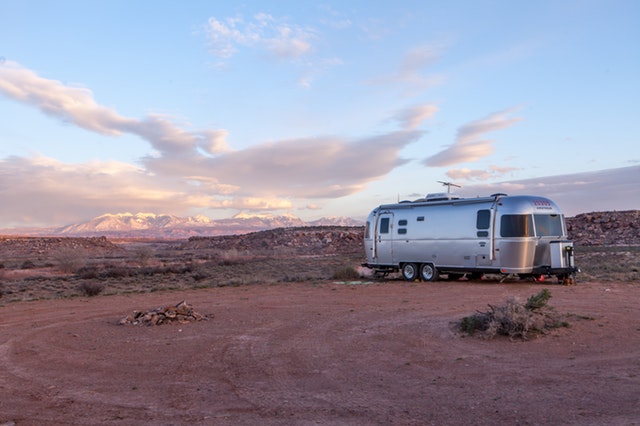 1. Easy to Install
Many always want a security camera or system for the RV, motorhome but quite not sure how much work will a camera setup will take.
Truth is that they are many simple camera setup solutions for RV security, for example, plug-and-play home security cameras such as wireless security camera Reolink E1 Pro, battery-powered WiFi security camera Reolink Argus 2, solar-powered security camera Reolink Go is the best fit for RVs or travel trailers, motorhomes, camper, and vans.
All RV owners need to do is to can simply plug the camera into the power outlet and connect it to the network. No serious installation, no hole-drilling, no wiring hassles.
2. Remote Monitoring via Phone
Mobile viewing is essential but only available when there is internet access (satellite, WiFi, cellular data).
By connecting the security camera to either WiFi network around parking areas like Mo McDonalds, RV Parks, Libraries, Rest Stops, Starbucks, satellite (disk) or Cell Phone Networks like Verizon, AT&T, Sprint, owners are able to view live video feeds.
For example, with a 4G security camera, you can know what's going on even when you are out there surfing or watching the sunset on a secluded lake.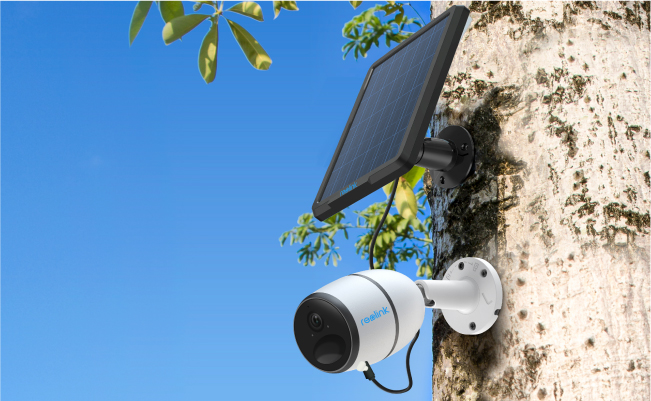 This is particularly useful if your RV is parked on RV parking areas or campgrounds where petty theft is likely to happen.
Learn more about data or bandwidth consumption of home security cameras & systems.
3. Motion Detection & Alerts
This is a must feature for RV owners, keeping tabs on your RV inside or out help give you a real sense of security and peace of mind. Instant push notification or email alert keep you informed even miles away from where your mobile home or RV is parked.
4. Night Vision
Infrared night vision security camera is crucial for getting good quality night shots and monitoring inside and out when parking your RV in a poor-lit area. A true IR cut filter helps to produce true color images during the day and high-quality images at night.
5. Alarm/Siren is A Nice-To-Have
A camping security system equipped with a loud chime or alarm is a great deterrence. When someone is approaching your parked RV, RV alarm, either sitting inside your RV or mounting outside the RV, produce a high-decibel alarm, which could deter or scare them off.
6. Footage Storage
Having 24/7 continuous recording on the perimeter is nice and you can retrieve old footage when you need, even footage of weeks old. That footage also serves as a great family memory.
Cloud storage is a nice-to-have feature while traveling around as long as the network allows. And the SD card security cameras also come in handy to record motion and backup significant moments even without WiFi or cellular connection.
7. Power Supply
Meanwhile, installing a security camera or security camera system for RV, you also need to pay attention to the RV power supply; many security cameras run off 12V AC/DC power and can work to plug into a power outlet. Security cameras/systems won't draw a lot of electricity. (See how much power security cameras use)
If there is no or limited power supply, solar-powered outdoor security cameras and battery security cameras are proven helpful, as well as trail cams.
Final Thoughts
While you are relaxing and soaking in the summer sun, it's nice to have an extra pair of eyes keeping tabs on your mobile home or travel trailer.
Apart from security cameras, other security measures are needed to protect your motorhome or travel trailers from theft like RV door alarms, door sensors, RV security locks, and window security film could also help protect your motorhome.