"Restaurant security cameras are absolutely the best investment ever!!! It paid for itself on the very first day!!" A Mexican restaurant owner in Astorga said on his Facebook.
Restaurant security cameras and systems have long proven to be a wise investment by millions of bar, subway restaurant, and chophouse owners.
And rest assured the restaurant CCTV cameras, whether hidden or visible, are generally legal as long as you don't place them in restrooms or locker rooms where people may have a reasonable expectation of privacy. But do mind that the audio recording could be a problem in some region, though.
Now follow up to see what you can do with restaurant security cameras and the best-valued ones.
Top Reasons to Get a Restaurant Security Camera
It is absolutely not easy to run a successful restaurant business. With a restaurant security camera, you will never be annoyed by the following troubles:
An employee loafing on his/her job or stealing things;
A customer leaving before paying or taking things off the table like dinnerware;
A dispute (even fight) without a clue of what happened;
Property (like cash) missing with no signs you can catch;
Burglary, break-ins or vandalism;
More than that, restaurant security cameras and systems can make your business easier with extra benefits below:
Remote control over multiple eateries via your phone or computer;
More diligent workers and better eating environment with proper monitoring;
Improved working efficiency with more dedicated employees;
Can't wait to get a security camera for restaurant and enjoy all its benefits? Here are top 4 solutions of your choice:
Top 5 Restaurant Security Camera Solutions
The security camera or system is a wise investment only if you choose the right one. Below list some restaurant CCTV cameras that will make your business much easier.
Solution1: Restaurant Security System
A restaurant security camera system can set up a solid defense against potential dangers (both employee theft and break-ins) with comprehensive monitoring.
With up to 16 channels and large storage space (usually over 2TB), a security system for restaurant can get all the following critical places covered with weeks' videos:
The kitchen: The kitchen is the busiest place in the eatery. With a restaurant security camera, you can monitor the whole cooking process and therefore guarantee the food quality. You may also display what is going on in your kitchen to prove that the food you provide is absolutely clean & healthy.
The dining area: As what I have mentioned above, the eating area is very prone to disputes and other issues especially for the small restaurants and fast food restaurants. A security camera for restaurant could save you a lot of troubles.
The cashier's: Most bills on the restaurant are still paid in cash. A missing note or two is hard to find out when you do the account checking. A restaurant security camera pointing at the cashier desk can prevent employee theft and fraud.
The entries: If your restaurant locates in a busy street where pubs and nightclubs are around, it's necessary to have a front door security camera to protect your property from drunkards and thieves.
The parking lot: The parking lot is a place where all kinds of incidents are prone to happen. If you provide parking space for customers, it's your responsibility to make it safe. For the upper level restaurants that most customers will drive to, a security camera is indispensable.
Best Restaurant Security Systems – 8ch RLK8-410B4
Reolink RLK8-410B4
8-Channel PoE Security System
4 pcs 5MP/4MP Security Cameras; 2TB HDD 8-Channel NVR for 24/7 Reliable Recording; Plug & Play; 2 Network Solutions.
Just install the pre-configured Reolink restaurant surveillance system in 2 simple steps – plug and pay, literally, you can watch current live streaming and recorded video via desktop, PC, and smartphone.
With pre-installed 2TB HDD, the restaurant video security system is capable of recording weeks' long videos with or without Internet (learn how to realize it here), and its storage can be expanded to 8TB if you want to record even longer at 1440p super HD resolution (check it via the video feedback):
Note: This security system for restaurant allows you to able or disable audio recording according to your local laws for restaurant video surveillance.
For an in-depth view of this restaurant security camera system, check the chart below:
| | |
| --- | --- |
| What you need for a restaurant CCTV system | What's Reolink RLK8-410B4 |
| Locate on real events and evidence quickly | Quick search with timer axis & all channel simultaneous playback |
| Watch restaurant cameras live at once | Remote access on phone, tablet, TV, and computer |
| Advanced motion detection configuration | Motion areas, sensitivity and time settings |
| Expand to larger restaurant camera systems | Compatible with all security camera types |
| Easy installation & wiring | Plug and play (Step to step wiring guide) |
Security Bros, a professional tech review platform in the security industry, give high praises on Reolink RLK8-410B4 in terms of its competitive price (USD 479.99), great compatibility, huge data storage, super resolution, and easy connectivity.
"People who are looking for a more affordable surveillance system that rivals high-end expensive models in terms of quality and reliability could gain the upper hand with Reolink's security package."
Continue to read the restaurant security camera system review >>
Want more cameras and larger coverage? Check out the 16 channel restaurant CCTV system Reolink RLK16-410B8, or add more restaurant surveillance cameras, like the top 3 popular ones listed below:
Solution2: PTZ Restaurant Surveillance Cameras
The eating area is the largest section of a restaurant where arguments and other conflicts are likely to occur, and this is especially true for subway cafes and bars where there is a high customer flow.
And a common bullet restaurant security camera usually fails to cover all the spots.
Here is a solution: Get a PTZ security camera for restaurant with more flexibility. The PT (pan & tilt) function allows you to adjust its viewing angle freely. Also, you may set its cruise path and let the restaurant security camera rotate automatically to get a complete picture of the eating place.
Superior to PT cameras, PTZ restaurant surveillance cameras add extra zooming functionality. You will find it useful when you need to identify a specific employee who loafs on his/her job. Note that optical zoom (no damage in image quality) is preferable compared with digital zoom (degraded resolution).
Best PTZ Restaurant Security Camera – Reolink RLC-423
This PTZ security camera for restaurant provides 360° endless view, like the video below shows, which could secure the entry, the dining area, and the cashier at the same time.
Also, check the restaurant security camera review from the top-tier reviewer VueVille:
"I am very excited that Reolink has launched such a highly PTZ camera at such an affordable price point. This is the first affordable PTZ IP camera that I can recommend without any reservations."
Continue to read the full review of Reolink RLC-423.
With PTZ function, 1440p high definition, excellent night vision, free & easy remote access, and quick installation, RLC-423 keeps your restaurant safe in a simple and economical way.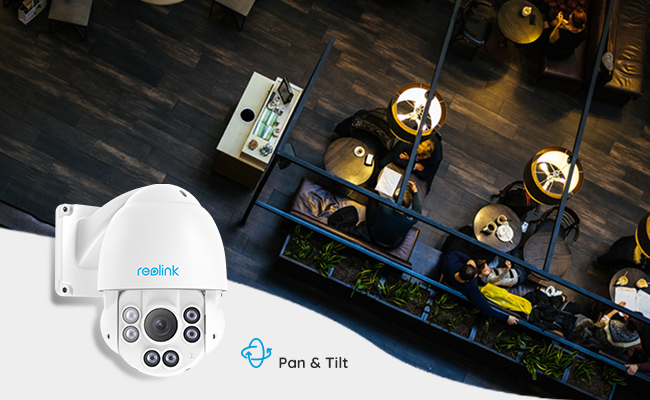 Solution 3: Hidden Cameras for Restaurants
Having a hidden camera for restaurant is generally legal even without employees or customers knowing, as long as it is not in places where people have a reasonable expectation of privacy, as I have put it.
To spy and get actual evidence of people taking things from the stock room, you need a mini restaurant camera that is easy to hide under the ceiling or somewhere dimly lit, and also captures rich and identifiable details, just as clear as the video below.
Reolink Argus® 2 is a very good "sneaker" with a mini body to blend in with your restaurant or bar decorations. If you hide the camera into the ceilings, human eyes can't see it unless you look really hard, and know what you're looking for.
With no wires at all and camouflage skins, you can easily hide the Reolink Argus® 2 in the table plant indoors or on the main entries, and it's rechargeable via solar panel so that you won't be troubled by the quick battery drain due to the frequent restaurant customers even in the peak dining time.
Solution 4: Remote Accessible Restaurant Security Cameras
Do not take it for granted that you can rest on your office chair and see the live stream videos on the screen with whatever kind of restaurant security cameras in place.
That is possible only when the restaurant security camera is remote viewing enabled. So check whether the camera can be remotely accessed first if the following is what you want:
See the camera live stream video on your phone or computer;
Keep tabs on the whole chain of eating houses in one device;
Check the restaurants' conditions during the off-hours.
In a nutshell, the security cameras for restaurant with remote viewing capability allow you to get connected via the mobile device, computer or web browser.
A point you may miss out: If you can see which customer is in need behind a screen, you can reduce the service response time and there will be less unattended customers. This is very helpful during busy hours and can greatly improve the customers' satisfaction.
Solution 5: Restaurant Security Cameras with Stable Signal
Unlike the indoor surveillance cameras, a quality business surveillance camera for restaurant gains its advantages in the stable signal.
Therefore, non-rechargeable battery-powered security cameras should be ruled out since they are commonly used as motion detection cameras. That's to say, the camera will only wake up when motion (like human movement) is detected. The battery could drain very quickly due to the high customer flow of the restaurant industry.
But the rechargeable battery powered security camera is an exception, which provides non-stop power supply, like Reolink Argus® 2.
As for signal stability, you'd better avoid the wireless security cameras for restaurant which are easily affected by network conditions. When the network is poor, you could only hope that no accidents will happen.
So another good choice, except for Reolink Argus® 2, is the PoE restaurant security camera which uses cable (only one) for power supply and data transmission instead of WiFi and that guarantees a stable signal on whatever network situations.
Conclusion
Whether you are running a buffet, bar or subway restaurant, a security camera will be very helpful. Get a restaurant security camera now and you can benefit from it forever.
If budget is your concern, you may follow us on Facebook or sign up to our newsletter, and you will be informed of Reolink latest sales and get the best deals.