Do you need Internet access to use a WiFi surveillance security camera? The answer could be "YES" and "NO", because that depends on how you "use" that WiFi security camera.
You may not have Internet network in your area, or you do have network but never want the WiFi cam to use up too much data of your network (in many cases you find the WiFi cameras are eating up the bandwidth). Anyway, using wireless security cameras without Internet access can be easily achieved.
Once you don't need remote viewing on mobile phones, tablets or computers, which means the recording video doesn't need to be sent over the network, you don't need an Internet connection at all to use a wireless WiFi security camera or a wired IP camera.
In the table below are key points on how to solve the problem of no network link for security cameras.
| Item | Specificaion |
| --- | --- |
| Camera Type: | 4G security camera, WiFi camera |
| WiFi Frequency: | 2.4 GHz Band or 5GHz Band |
| Solution 1: | NVR with a wireless security camera system |
| Solution 2 : | Wireless Security IP Camera |
Solution 1. No Internet/Network Connection? Try a Wireless Security Camera System
You have no Internet or network in your house (or grandfather's old house), in your long range farm, at the workshop, at the warehouse, etc. and you need surveillance & monitoring at that place. Okay, and that can be done easily with wireless video cameras with no Internet connection.
All you need to do is to get a wireless security camera system, which comes with an NVR (Network Video Recorder) and several WiFi surveillance cams.
Such wireless surveillance camera system kits enable you to do 24/7 surveillance and video recording without accessing the Internet. Power on the NVR and the cameras. The NVR and the cameras will automatically connect to each other on its own proprietary network and start to communicate with each other without Internet access (without connecting to your router). Connect the NVR to an HD TV or a monitor, and you can start 24/7 monitoring.
And this is how you can make the IP camera set-up without the Internet.
Those wireless security camera video systems have built-in WiFi modules with frequency from Channel 9 of 2.4 GHz (of course you can change the channel by yourself within the WLAN channels ), so that it won't mess with your router bands (if you have router networks).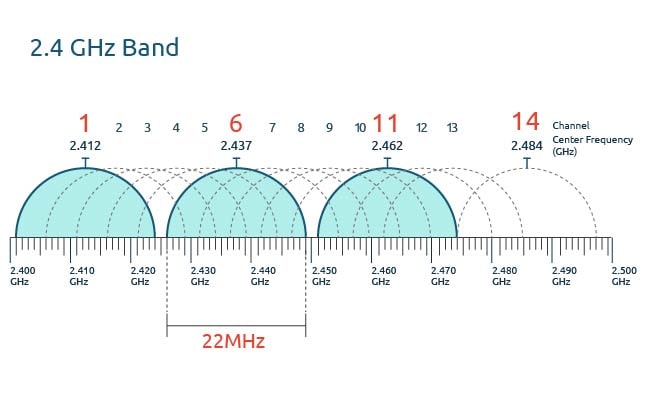 Remember that you need to connect the system to a router if you need remote viewing, and monition detection alerts (emails or push notifications sent to your mobile phone).
Tips: Buy a WiFi surveillance camera system with 2T2R MIMO antennas, which guarantee stronger signal reception and no signal loss.
Updated (July 11, 2018): You can also try a wired security camera kit if your monitoring place has no Internet. Take the PoE camera kit RLK8-800B4 as an example. It works like the wireless security camera system mentioned above. The only difference lies in that the data transmission in this PoE kit is via cables (watch its video sample below).
Solution 2. Have Internet Connection? Try a Wireless Security IP Camera
Having Internet connection but you don't want the WiFi camera to use the data because it could eat up the bandwidth? Try a wireless security IP camera. Let me explain more details.
Choose a weatherproof or waterproof wireless security IP camera ( Reolink Argus 3 Pro for example). You can put this wire-free camera outside or inside your house. Use its free software on your mobile phone to set up the camera and connect it to your router wirelessly - don't get me wrong – connecting it to your router doesn't mean the camera will use your network when it's at work (see problems and solutions of connecting an IP camera to network ).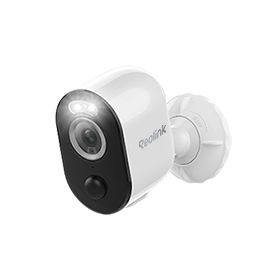 Reolink Argus 3 Pro
2K 100% Wire-Free Spotlight Camera
2K 4MP Super HD, Battery/Solar Powered, Person/Vehicle Detection, 5/2.4 GHz Dual-Band WiFi, Color Night Vision, Two-Way Audio.
Remember to make sure the motion detection alerts (yeah the WiFi camera is using the Internet but it's just for a while) are enabled if you want to get informed on your phone. And DONE!
The camera will start to work – it will capture video to the SD card you insert into the camera, and be a deterrence of burglars.
And most importantly, the wireless security IP camera won't get your Internet access unless you use your phone to connect to it and get live streaming remotely, or unless it detects burglars and sends video or images to you. In a nutshell, the WiFi surveillance battery camera uses your Internet only when it's necessary, so it won't "eat up" your data. (PS: it's rechargeable battery powered and also can be solar-powered.)
An alternative to use little Internet network is to try the WiFi security camera RLC-511WA. It will watch over your home 24/7, record videos to the SD card (requires a separate purchase) and only use your network when you remotely access the camera to get live view or when person/vehicle/motion alerts are sent to you.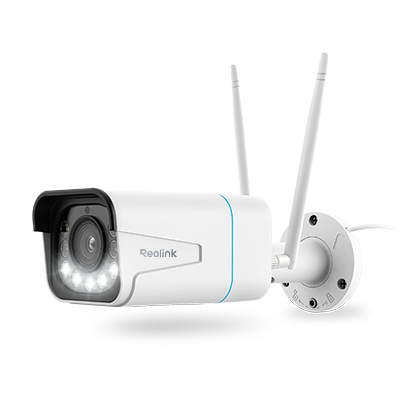 Reolink RLC-511WA
Wireless 5MP Security Camera with Spotlight
2.4/5 GHz Dual-Band WiFi, 5MP Super HD, Person/Vehicle Detection, 5X Optical Zoom, Two-Way Audio, Outdoor/Indoor Protection.
Infographic
Read this infographic about the solutions for security cameras without Internet.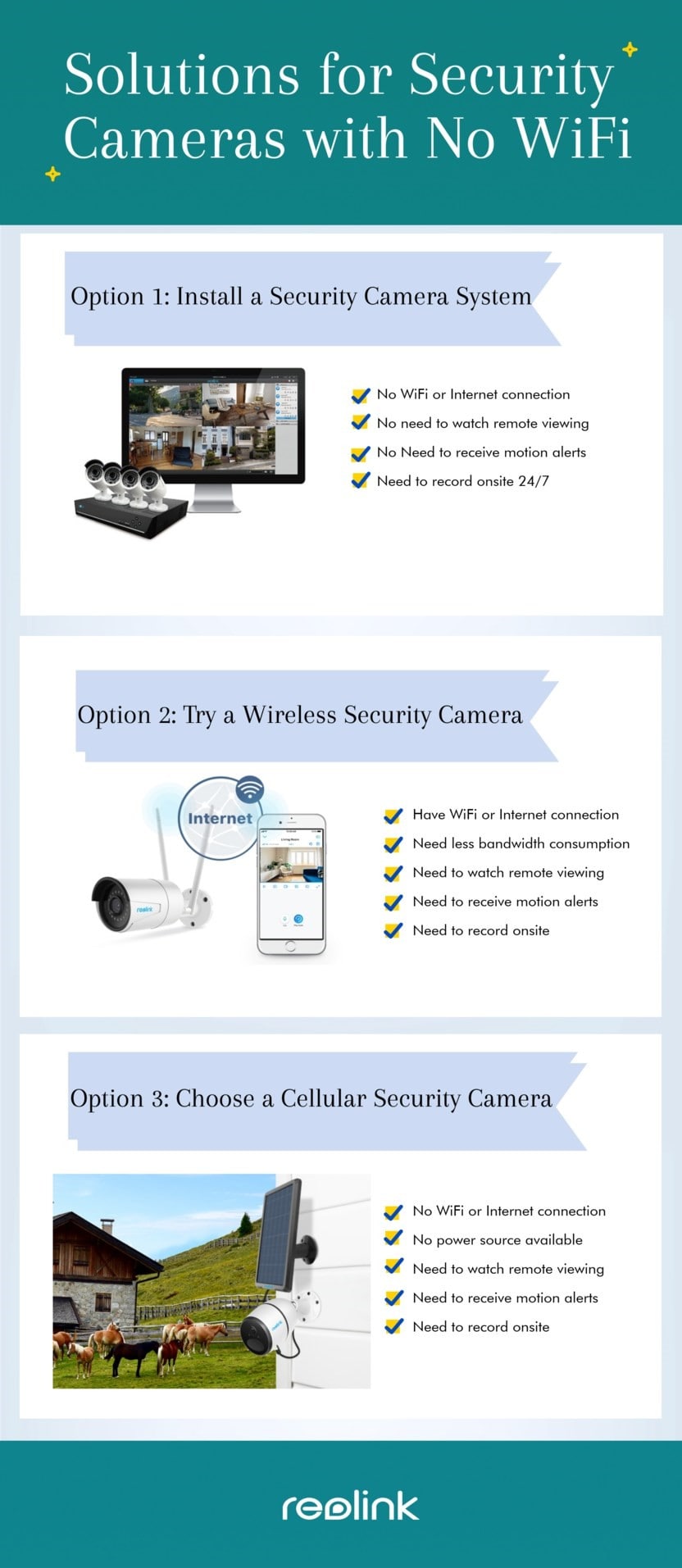 Security Cameras That Don't Need Internet? And You Want Remote Viewing
(Updated on July 7, 2022)
Your old house needs surveillance cameras but you don't want to add network there, and you have to remotely get live streaming or get burglar motion detection alerts? Well, that would be a big big big headache to the security industry.
Luckily, now Reolink has worked out the solution.
Networks include many, like the traditional 2.4Ghz WiFi, 5Ghz WiFi, the wired (cable) network, the cellular mobile networks (like 4G-LTE), etc.
So if your monitoring place has no traditional networks covered, you can try the 3G or 4G-LTE network. That's how Reolink makes its upgraded 4G security camera work.
All you need is a SIM card with a cellular data plan to go with the product. (Read this post if you want to know how much data this security camera that can work without Internet requires and how to maximize your data consumption.)
Based on the cellular data network, it can start up, and work with all the features (live view on your phone from anywhere, send notification alerts once detecting something wrong, record the events to its SD card or to the Cloud, etc.)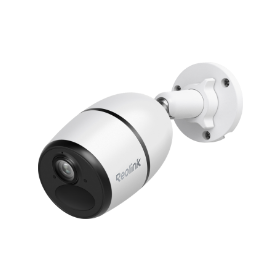 Reolink Go Plus
Smart Wireless 4G Battery Camera
Rechargeable Battery/Solar Powered, Person/Vehicle Detection, 2K 4MP Super HD, Two-Way Audio, High-Quality Night Vision, Live View Anytime.
Another pro that Reolink adds to it, is that it can be solar powered. So get a solar panel with it and you can just leave it there to work (no need to recharge the battery manually by yourself).
Here is a video shared by a real user Jens on his Youtube channel.
If you prefer Reolink Go Plus, buy now.
Frequently Asked Questions and Answers for Security Cameras without Internet (WiFi)
We try best to answer all questions asked about security camera solutions without network and sum up the most asked ones in this part, so that you can get answers quickly without pulling down the comments. Leave yours and we will answer as soon as possible and will add it to this part.
Q1. No WiFi and need recording on a monitor. Any outdoor camera security system available?
"I need an outdoor camera security system. WiFi is not available. I don't need to check it on phones but need recording on a monitor."
Answer: RLK8-800B4 is absolutely what you need. This non-WiFi outdoor camera security system works without network and does 24/7 recording. You can connect the system to a monitor to see streaming and recording.
Q2. Can wireless cameras use a mobile hot spot to work?
"I have a mobile hot spot with no router on a jobsite. What wireless camera can use this? and give me remote viewing?"
Answer: Actually you do have network. Turning a mobile data network into a hot spot is making the network into 2.4GHz WiFi or 5GHz WiFi. Generally speaking, it would be 2.4GHz by default. Things can be easier with network. You can try the wire-free 2.4/5 GHz WiFi battery powered camera Reolink Argus 3 Pro, or the plugged-in 2.4 or 5 GHz WiFi camera RLC-511WA. Both can connect to your mobile hot spot.
Q3. Any security camera available that doesn't need wifi but my PC's Ethernet internet?
"I want a security camera that doesn't need wifi but uses my PC's Ethernet Internet connection."
Answer: You can choose an IP security camera and use the same internet connection with your PC and watch the live viewing via your PC. Or you may also buy a security camera system and connect your PC displayer to the NVR for live streaming.
A wide range of high-quality wireless and wired security cameras and systems are available. Choose one you like in the security camera online store. If you want a recommendation, try RLC-810A. And you may refer to the installation steps in the post: 5 Solutions to Connect IP Cameras to Computer.
Q4. Can I access the camera with my mobile phone data network?
"I wish to monitor my boat at the pontoon beside my house - 30m away. I would place the surveillance camera at the house where there is internet, and wish to do the monitoring when we are away in areas without internet access. I wish to use my mobile phone for access"
Answer: Definitely yes! As long as the camera is connecting to the internet, you can access the camera anytime and anywhere. Remote access is available via phone's 3G/4G/5G data network.
Q5. No WiFi and no electricity? Any security camera available?
"I need to get security cameras at my ranch, but there is no Wi-Fi and I don't have electricity over there. Is there any way to get security cameras?"
Answer: As mentioned above, Reolink Go Plus is the solution for you. It does not require WiFi network and it runs on its rechargeable battery (the battery could be charged by Reolink Solar Panel).
Reolink Argus 3 Pro is another choice for you. It's battery powered and can work without network and without electricity. But it does need a WiFi network to get started. You can turn your phone's mobile network into a hot spot to get it up.
As mentioned above, you need to use its free software ( Reolink App ) on your mobile phone with network to set up the camera. After that, no network is needed. It will do recording to the SD card (you need to buy one to insert into it) whenever it detects an event. Pls note that you won't get live view and alerts if there is no network.
Q6. No WiFi and no cellular? Any security camera options to store data onsite without subscription fees?
"I'm looking for a night vision security camera that can store data locally - no wires or separate storage device. Would need to cover a decent distance with the field of view. Needs to be battery operated. No WiFi or cellular. We would manually download and review footage."
Answer: If you need a security camera for off-grid sites without WiFi and cellular service, the best option is go for the battery security cameras that support local recording to an SD card, like Argus 3 Pro. And then you can take the SD card out of the camera to review footage on your computer.
Note that WiFi connection is required for the initial setup of Argus 3 Pro (or you may use your phone hotspot). After that, you are free to place the camera anywhere you wish.