Security cameras can be catagorized into different types by their shapes, such as dome, bullet and PTZ cameras. Their shapes are important when you try to choose the right camera model for home. Anyone new to the video surveillance field may wonder the differences between them. And you'll figure out all these issues in this passage.
Dome vs. Bullet Camera: A Quick Visualization
Dome and bullet cameras have different characteristics and use cases. The main differnce among them lies in thier shapes and design: dome cameras have a dome-shaped casing that conceals the direction the camera is pointing; bullet cameras have a long and cylindrical shape.
Take a quick look at the comparison table below:
| Criteria | Bullet cameras | Dome cameras |
| --- | --- | --- |
| Shape | Camera with dome-shaped casing | Long and cylindrical shape |
| Installation location | On the wall | Under the ceilings, eaves |
| Camera view | 70°-100° | 70°-100° |
| Night vision | About 100ft | About 100ft |
| Visibility (size) | 2-8 inches | About 4 inches |
| Indoor or outdoor | Mostly outdoors | Indoors or outdoors |
Bullet vs. Dome vs. PTZ Camera: Key Differences Explained
Bullet cameras, dome cameras, and PTZ security cameras can all be applied in home and business surveillance, and support similar features like IR night vision, remote viewing, motion detection, waterproof design for outdoors, etc.
However, they still have differences. And the major differences between bullet camera and dome camera (including the PTZ speed dome cameras) mainly lie in the installation, mounting location, view range, night vision, visibility and more.
Location
The installation location plays a center role in the dome camera vs. bullet camera battle. Compared with bullet cameras, dome cameras are more commonly used for indoor purposes because they are sleek and not extremely intrusive. They fit in with most decors and have more of an aesthetic appeal.
However, some high-IP-rated (IP66 or above) and vandal-proof dome security cameras, are also very popular for outdoor uses, since it's hard to tell their direction and they can be well protected from the natural elements, spider webs and vandalism.
A bullet type would be the best choice for the outdoor use. Most bullet video cameras are weatherproof and have a better range, which makes them better for things like large backyards or parking lots.
PTZ security cameras are typically used outdoors or in very large indoor areas since they do much better at catching a wide field of vision than other cameras. They can be put in house front yards, backyards, living rooms, offices and etc.
Field of View
These three types of security cameras also differ in the field of view. Typically, PTZ cameras are made to view larger areas, since they support 360 degrees of horizontal and 90 degrees, or even 180 degrees of vertical rotation. And generally, the bullet cameras and dome cameras have a fixed field of view of about 80°.
Actually, the range and view of dome camera, bullet camera and PTZ camera result from many factors, including sensor chips, type of lens, resolution, and more. So it's advised to refer to the camera specifics to learn the accurate viewing field.
Camera Visibility
The visibility of these cameras is also different and comparing the size of the dome, bullet and PTZ CCTV cameras may give you a clue. Common bullet cameras are about 2 to 8 inches; dome cameras are about 4 inches; and PTZ cameras are bigger, about 8 inches.
Generally, bullet cameras are the most visible and obvious to people walking by, which is better if you are looking to discourage thieves or vandals. But note that they can be damaged by burglars once they are determined to invade your home.
So it's advised to place bullet cameras out of reach, and generally, 9 feet above the ground is sufficient to stop a person of around 6 feet (1.82 meters) tall or less from bashing a camera.
Dome cameras are a little harder to see and makes them a better option if you are trying to keep people from noticing them. PTZ cameras are usually larger in size and placed high so they get a larger view. So they are usually out of other people's reach or notice.
Night Vision Capability
Another difference between dome and bullet IP cameras is the night vision. Although most bullet, dome and PTZ surveillance cameras have infrared LEDs or additional LED spotlights to create their own light when there is none. Bullet and dome cameras usually have a night vision range up to 100ft.
Compared with bullet and other dome cameras, PTZ cameras are exceptional in doing long range night vision, with more LED lights.
Installation
Bullet and PTZ cameras are easy to install. They usually come with a mounting handle and bracket, helping attach them to the wall. Once installed, they can be moved to cover any area you need them to.
Dome cameras are generally a lot more work to install than a bullet camera. You can first of all unscrew the camera from the mounting house, place the housing on the wall, and lastly screw the dome camera in the wall. But some high quality dome security cameras have made the installation as painless as they come with the self-holding screws and the dome being linked to the camera base.
Bullet, Dome & PTZ Cameras Definition
Before we dive into the differences between dome, bullet, and PTZ cameras, let's make it clear about what a dome camera, bullet camera and PTZ camera is, and their own advantages in home and business monitoring.
What Is a Bullet Camera?
A bullet camera is a type of video surveillance camera with the shape of a rifle bullet. Bullet security cameras are usually small (2 to 8 inches long) and the smaller ones are oftentimes referred to as lipstick cameras specially. Bullet IP cameras have a fixed or variable focal length lens with a strong point for specific spaces.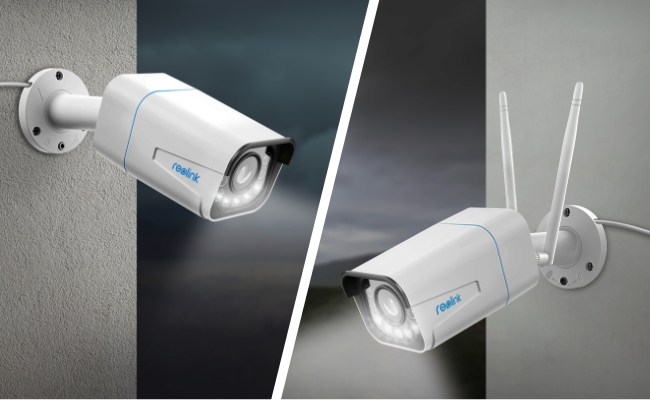 Major Benefits of Bullet Cameras:
Cheaper in general
Obvious at where it is pointing (sometimes you want this)
Easy to install (Plug and play)
What is a Dome Camera?
Dome cameras are named for its dome shape. A dome camera is usually mounted on the ceiling, under the eaves or the soffit, indoors and outdoors. A vandal proof dome security camera usually has a solid metal base and poly-carbonate plastic cover to protect it from vandalism or tampering.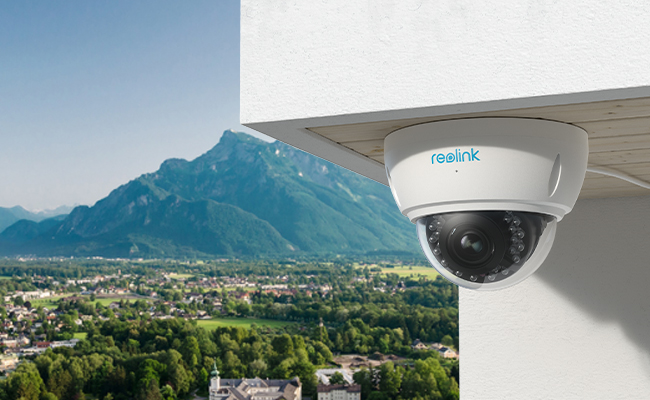 Major Advantages of Dome Cameras:
Lower-profile
Can't be redirected
FOV unknown from a distance
Vandal resistant
Check out our other blog post for a complete guide to dome cameras, including benefits, types, comparisons, and best options.
What is a PTZ Camera?
A PTZ camera (pan-tilt-zoom camera) is a speed dome camera that is capable of remote directional and zoom control. PTZ security cameras can pan left and right, tilt up and down, and zoom in and out. The PTZ dome cameras are usually larger in size for outdoor uses with super high resolution.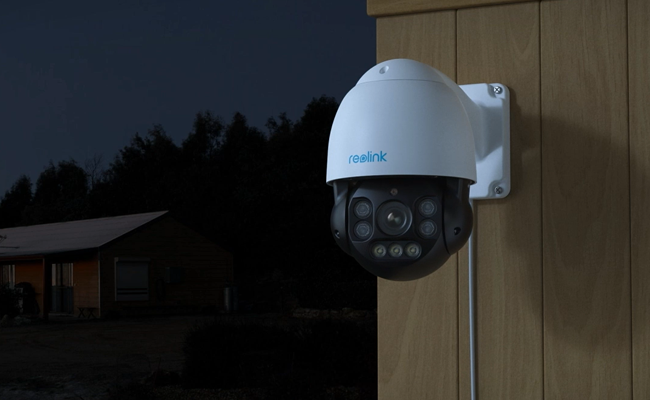 Major Advantages of PTZ Cameras:
360° pan, 0°~90° tilt to provide a larger field of view
Optical zoom to see far-away objects clearly
Most PTZ dome cameras capture high quality images
How to Choose Between Bullet, Dome and PTZ Cameras
Choosing between dome, bullet, and PTZ cameras involves considering many factors. Here are some of them.
Purpose of Surveillance
The first thing you need to consider is your purpose of surveillance. Dome security cameras are ideal for discreet indoor surveillance, such as in homes, offices, or retail stores where aesthetics and subtlety are essential. Bullet security cameras are more suitable in areas where visibility is a deterrent and long-range monitoring is required. The application of PTZ cameras is versatile for scenarios that require active monitoring, tracking moving objects and changing the field of view.
Location and Environment
Consider where you want to install the camera. Dome security cameras are best for indoor or sheltered outdoor areas with less exposure to harsh weather conditions. Bullet security cameras are designed for outdoor use, as they are typically weatherproof and built to withstand varying weather conditions. PTZ cameras are suitable for indoor and outdoor use, but they must be protected from extreme weather conditions.
Zoom and Focus Needs
If you want to focus on a particular object and zoom in for more details, you must also pick the right camera lens. Dome cameras often have fixed and wide-angle lenses. They are suitable for open-space surveillance but may not offer optical zoom capabilities. Most bullet cameras offer optical zoom, which is excellent for long-range surveillance. PTZ cameras are the best if you have specific focus or zoom-in requirements. They have motorized zoom lenses for precise control over the level of zoom.
Remote Monitoring and Control
Most IP cameras allow you to monitor and control them remotely via a smartphone or PC app. Many manufacturers have their proprietary app, which works well with dome, bullet, or PTZ cameras. However, the pan, tilt, and zoom-in functions of PTZ cameras can be configured remotely. Users can turn the camera's field of view to any angle they want to monitor.
Best Dome, Bullet and PTZ Camera Recommendations
After seeing the differences between bullet cameras, dome cameras and PTZ cameras, you may ask what is best, a dome camera or bullet. You can choose the most appropriate type depending on your needs.
As one of the best selling cameras, the mini bullet camera Reolink RLC-811A is the top choice if you want to mount it on the wall to watch your front door, backyard, garage or the driveway area.
Key features:
4K 8MP Ultra HD
Excellent IR night vision and color night vision to capture thieves in low-light night vision
Smart motion detection alerts you if anything happens
Easy to install (plug and play)
IP67 waterproof rating for outdoor uses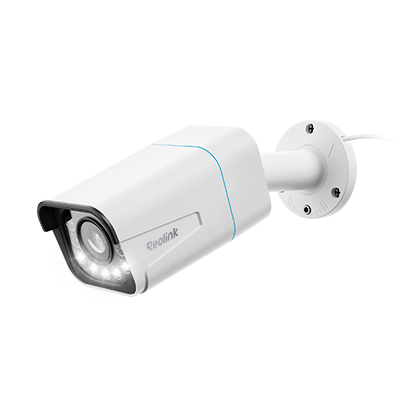 Reolink RLC-811A
4K Smart PoE Camera with 5 Spotlights
4K 8MP Ultra HD Day & Night, Person/Vehicle Alerts, 5X Optical Zoom, Two-Way Audio, Built-in Siren, Color Night Vision, Live View Anywhere.
If you prefer a less obvious video monitoring indoors and outdoors, the dome camera RLC-842A may suit you better.
Key features:
4K 8MP Ultra HD images to capture sharp videos
IK10 vandal proof
Painless installation with self-holding screws
IP66 waterproof rating for outdoor uses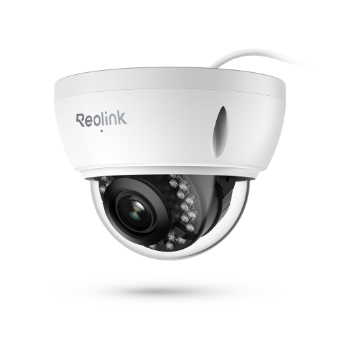 Reolink RLC-842A
4K PoE IP Camera with Intelligent Detection
4K 8MP Ultra HD, Person/Vehicle Alerts, 5X Optical Zoom, IK10 Vandal Proof, Audio Recording, Live View Anytime, IP66 Certified Weatherproof.
Featured in many top tier media, including the VueViell, Androidpit, SecurityBros, etc., the Reolink RLC-823A has got recommendations from them all as an affordable and quality PTZ camera.
Key features:
8MP resolution offers the best chance to see every image details
360° endless pan and 90° tilt
5X optical zoom to see far-away objects clearly
Color night vision
IP66 waterproof rating for outdoor uses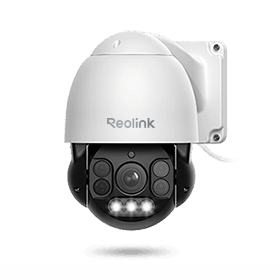 Reolink RLC-823A
Smart PTZ PoE Camera with Spotlights
4K 8MP Ultra HD, Person/Vehicle Detection, 5X Optical Zoom, Auto Tracking, Manual Pan & Tilt, Two-Way Audio, 190ft Night Vision, Live View.
FAQs
What is the main difference between dome and bullet security cameras?
The main difference between dome and bullet security cameras lies in their design. Dome cameras are characterized by their dome-shaped casings, which conceal the direction the camera is pointing. Bullet cameras have a long, cylindrical shape and are easily noticeable.
Are bullet cameras better?
Bullet cameras are better for long-range surveillance because they offer optical zoom. But PTZ cameras are the better if you have specific focus or zoom-in requirements.
Can dome cameras be used outside?
The answer is yes. You can check the camera's IP rating before using it in outdoor spaces. IP ratings like IP66 or higher is recommended.
Conclusion
The choice between dome, bullet and PTZ cameras ultimately depends on your unique security requirements. Consider the location, purpose, visibility, and control you need, along with your budget and maintenance capacity.
Which one do you use? How do you like it? Share your thoughts in the comment section below and let's talk together!