Burglaries and break-ins are now on the rise and the surveillance systems have transitioned from being a mere luxury to a big necessity. In the previous post, we have explained a list of reasons why you need a home security camera.
Got a wireless security camera or PoE security camera ? Good for you. It helps ward off burglars and intruders to protect your home while you are not around.
Do not have one? Everyone knows that it costs quite a fortune to install a highly sophisticated surveillance system in your home. But not to worry, you can set up an effective but cheap webcam security camera by yourself.
Here is how to turn a webcam into a security camera, and you will learn the detailed steps to set up home surveillance with a USB-connected webcam or built-in PC/Mac webcam to protect your home when you are not there.
Free/Premium Webcam Security Camera Software
How to use the webcam as a CCTV camera? Can I use a laptop camera as an IP camera?
To turn a webcam into a security camera, the first thing you need is the webcam security camera software.
Through the particular software to use a webcam as CCTV, you can view and record live videos detected by a webcam. The webcam security cameras also enable motion detection, sending email alerts and uploading videos to FTP. When you are out, you can remotely access the webcam security camera to stay informed about your home and loved ones.
In the following, I list some of the most widely-used webcam security camera software to help you turn a webcam into an IP camera easily and quickly.
iSpy turns webcam into security camera to detect sound or movement to provide home surveillance. This webcam security camera app is free to use, but some of its features are premium, such as remote viewing. Recently iSpy only works with Microsoft operating system (Windows 7, 8, 10, etc), and some users say the video quality is horrible.
Yawcam is Windows webcam security camera software, letting you view everything happening in your home and office. Its motion detection is great, and it also supports FTP upload. Yawcam has limited features, but it is free to turn webcam into security camera.
SecuritySpy allows you to use webcam as security camera on Mac. It will intelligently detect any events and send you alerts. It is not free software to use webcam as CCTV and usually costs£30-£80 depending on the number of webcams you connect to it.

Ready. Set. Save!
Big selection, big SAVING. Get your hands on Reolink security cameras & systems before the best prices slip away!
How to Turn a Webcam into a Security Camera: A Detailed Guide
So how to turn webcam into security camera with the proper software listed above?
The following part shows you the detailed steps to set up security camera with webcam.
Note: To use iSpy for video surveillance, you have to keep your laptop running all the time. So you should turn off your computer's sleep function to make sure it is always on.
Step 1: Put your webcam in a place where needs video surveillance, like the front door, back door, etc. You can also use computer cameras to monitor your kids and pets.
Step 2: Prepare a long USB cable and connect your webcam to your computer.
Step 3: Install the webcam security camera software on your Windows or Mac computer. Here I take iSpy as an example.
Step 4: Add a local webcam security camera to the software, and name it. Also check the Camera Active box to turn on your webcam CCTV camera. After connecting the camera, you can begin to adjust and readjust their positions until you are satisfied with the views.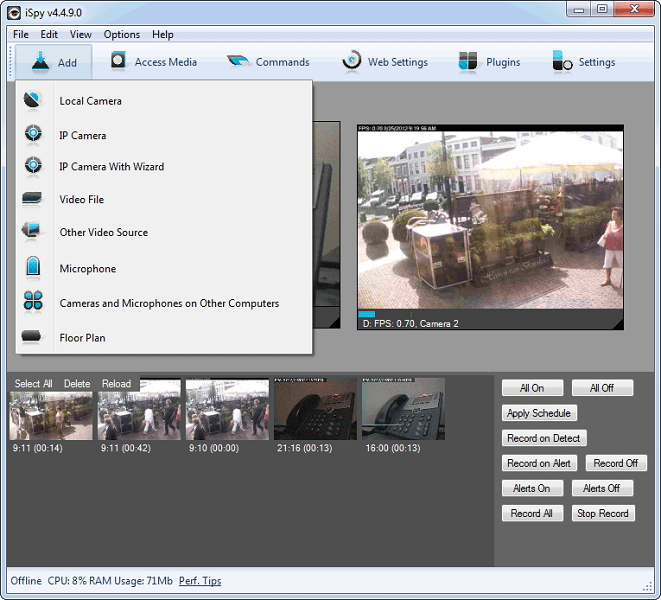 Step 5: Under the Edit Camera section, you get six options to configure the webcam security camera, including Motion Detection, Alerts, Recording, PTZ, Save Frames/FTP, YouTube, and Scheduling. You only need to select the ones you want and set them up according to your needs.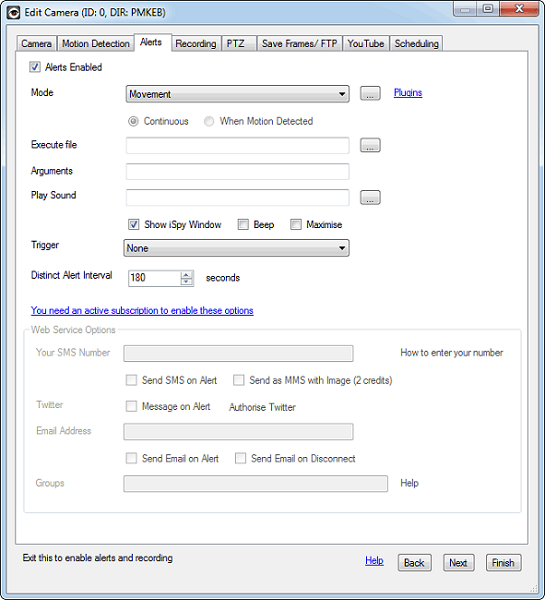 You can configure the kind of alert and notification that suits you. Moreover, there will always be motion you can opt for periodical alerts. If you are going to monitor the activities of your kids with the webcam security camera, it is better to set the alert interval – say every 15 minutes.
In Camera tab, you can also set up the Microphone and activate the built-in mic of your laptop webcam security camera.
Step 6: Go back to home screen and turn on your camera. Done! Then you can view the live videos and the captured pictures are shown at the bottom of the screen.
And that's it!
Pros & Cons of Using Webcams as CCTV
A webcam security system is usually the best choice for people who have home security concerns but don't want to spend more on an IP camera.
To turn a webcam into a security camera, all you need is a PC, a webcam and very good surveillance software. Once you get all these, you are set. DIY enthusiasts can feel free to turn their laptop into a security camera. The cheap do-it-yourself feature makes webcam security cameras stand out.
But meanwhile, making your webcam a security camera has its downsides, compared to using IP security cameras.
Images and videos captured by webcam security cameras are a little fuzzy than that captured by IP cameras. Meanwhile, some top CCTV camera brands offer surveillance equipment with an ultra 5MP resolution, which can capture every single detail.
IP webcam home security cameras usually lack some features, like night vision, so you can't monitor what happens when it gets dark, unless you keep a light on.
You have to leave your PC running all the time if you convert a webcam into an IP camera for video surveillance.
Webcam security cameras are limited to their monitoring locations since, generally, they are not designed for outdoor surveillance with the USB cable limitation. Some of you may consider placing the webcam security camera at the windowsill to watch the driveway for you, and that may cause some potential image issues.
Using a computer camera as surveillance may increase the risk of getting hacked. Your daily life can be exposed to the public when you don't even realize it. (Tip: click here to learn how to tell your security camera is hacked.)
Webcam Security Camera Alternatives
A DIY wired or wireless webcam security camera does provide video surveillance for your home to some extent.
Check this post to shop the best webcam security cameras.
Well, if you are serious about home and business security, a more professional security camera is highly suggested, for providing much clearer 4MP/5MP images to identify faces or plate number and real night vision for 24/7 monitoring.
Actually, other than turning webcams into surveillance cameras, the webcam security camera software, like iSpy, is also capable of connecting to the 3rd-party compatible IP cameras. So, you can build a centralized security camera system and take the best advantage of it.
Many users choose to mix the webcam security cameras and the much more effective yet affordable IP cameras (used at places like front doors where 34% of break-ins happen, according to the statistics ) to reduce the overall cost for home security.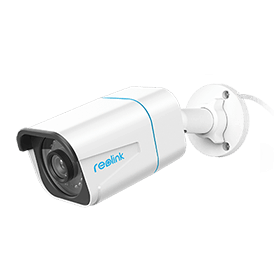 Reolink RLC-810A
4K PoE IP Camera with Person/Vehicle Detection
Smart Person/Vehicle Alerts; 4K UHD Day & Night; 100ft Night Vision; Time Lapse; IP66 Certified Weatherproof; Audio Recording.
If you want a more portable solution, say no wires so that you can place and replace it anywhere indoors and outdoors, a mini wire-free battery security camera may suit you better with easy installation.
Final Thoughts About Webcam Security Camera
To sum up, turning your laptop camera into a security camera helps monitor your home and office. But if you want more, like, a long term peace of mind, try a professional and reliable IP camera. And actually, they are highly affordable these days.
If you have any questions concerning making webcam security cameras, you may leave a comment down below.