"Can my security camera be hacked?" Maybe few of you have ever considered this. However, a group of hackers have gained access to live feeds of 150,000 surveillance cameras inside companies, hospitals and so on, which sounds the alarm. In order to avoid the threat, here come several ways for you to tell if your security camera has been hacked, and some tips to prevent such things from happening.
In regards to security cameras being hacked, here is what you need to know:
| | |
| --- | --- |
| Problem | Security cameras get hacked |
| Find out | Check out strange noises, etc. |
| Prevent | Buy cameras with encryption |
| Encryption | WPA2-AES/SSL |
How to Find Out If Your Security Camera Has Been Hacked
Your security cameras can be hacked in several ways. Lack of elementary security features, using default settings and simple passwords, and security camera hack apps all result in cameras and baby monitors, webcams getting hacked.
Unfortunately, it's not always possible to know if your home video surveillance camera, webcam have been in the unsecured IP camera list.
Pay attention to the 6 telltale signs, and check if your security camera is hacked.
1. Check Out Strange Noises from Your IP Camera, Baby Monitor
Signs that your IP camera has been hacked can mostly be difficult to detect. But there is an obvious one. If you hear a strange voice coming from your security camera, no doubt that your security camera has been hijacked, and someone is spying on your through the camera.
Baby monitor hacked news and videos show that hackers interact with your kids through the hacked security camera remotely, listen to your conversations, and more. Terrifying, isn't it?
2. See If Your Security Camera Rotates Abnormally
If you find out that your home security camera is following your movement, your camera has more than likely been hacked. Someone hacks your pan-tilt camera and control over it on his side. Your hacked security camera or baby monitor may rotate by itself, or point to a different position than usual.
3. Check If the Security Settings Have Been Changed
How do you see if your surveillance camera has been hacked?
It is a necessary step to check if the security settings have been changed and password has been set to default. The person hacks into your security camera may leave some information on the settings. There are some pride security camera hackers who even change the camera names to something like "Upgrade Firmware"to show off their hacking talents.
4. Find Out If There's a Blinking LED Light
You can also check if your webcam security camera has been hacked by a randomly blinking LED light.
If you see that the LED light is blinking randomly, your security camera is probably being hacked. In that case, reboot your computer. If the light flashes again after 10 minutes or so, open up your Task Manager, click on the "processes" tab and search for "winlogon.exe." Upon doing that, if you see more than one copy of the program, disconnect your computer from the Internet and use an anti-virus program to run a full system scan to ensure your computer has not been infected with a Trojan.
5. Pay Attention to an Illuminated LED Light
If you notice that the LED light is turned on, but you didn't enable it, that's a telltale sign that your security camera has been hacked and accessed.
When someone hacks your security camera, they have the ability to control it, which includes turning it on and off. If that LED light is on and you know for sure you haven't turned your camera on, follow the steps above to tell whether your security system has been hacked or not.
6. Check the Data Flow of Your Security Camera
How can you detect if your security camera has been hacked? You can also track the data flow on your network, and on your video surveillance camera. Pay special attention to sudden spikes in your network traffic, which reveals something unusual invalid login in your video feed.
How to Prevent Your Security Cameras from Being Hacked
No signs of your security camera getting hacked are found? That's good news. Have confirmed some hacked security cameras in your home? It's good to find out too!
In fact, there are many things you can and should do initiatively to prevent your security cameras from being hacked, or being hacked again in the future.
And the following 5 tips are what suggested most by the security expert, Daniel, who had more than 5 years experience in dealing with security camera hacking issues:
#1. Buy Security Cameras with Advanced Encryption
In order to keep yourself, your loved ones and your valuables from prying eyes, it is essential to pick out a security camera from a trusted source.
If a security camera is produced without necessary security encryption features, it can be easily hacked even if you've secured your passwords, the router, or anything else mentioned to prevent your security cameras from being hacked.
And the best scenario is to get an IP camera from the top CCTV camera brand that enables all the advanced security features, including SSL/TLS encryption, WPA2-AES encryption, which keep most of the CCTV camera hackers away.
#2. Secure Your Security Camera Passwords
Security cameras with default passwords and username have much higher chances of getting hacked. Do you know that most security cameras hacked websites just ping every device on the net and try if one of common default passwords works?
So don't let your security cameras fall into this simple trap.
Make sure you use a powerful password that would be difficult for someone to figure out. For example, use the password that is 6 characters or longer with a combination of lower-case and upper-case letters, as well as numbers and special characters. Also, make sure you change the password frequently.
The video below shows you how to change the login password for your camera quickly. Hope it can help you.
#3. Secure the Home Network Router
Sometimes, your security camera just gets hacked by chance. For example, your neighbor may access your router for free Internet, and hack your CCTV camera by accident. So if you use WiFi for your security system, remember to keep it protected with a powerful password as well.
Another pro tip to secure your security camera from hacking is to build a subnet for your home security camera system with an NVR.
Once you connected the cameras to the NVR (network video recorder), the cameras will record and save to the NVR without accessing your home router network. No one can hack into the private camera subnet.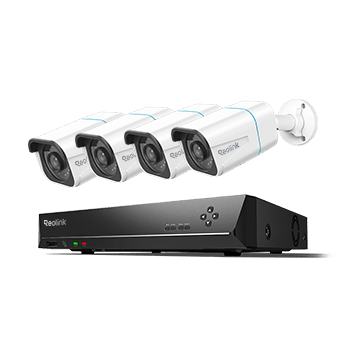 Reolink RLK8-810B4-A
Smart 4K 8-Channel PoE Security System
4 pcs 4K Ultral HD Security Cameras with Person/Vehicle Detection; 2TB HDD 8-Channel NVR for 24/7 Recording; Plug & Play.
#4. Limit Devices to Access Your Home Network
Limit the number of devices that can be used to access your security system, making sure your personal laptop, smartphone and desktop are the only devices that can login to the system. You may use a virtual private network (VPN) to regulate which of your devices will be able to access the network to prevent possible hackers.
#5. Upgrade CCTV Camera Firmware
Check fixes and improvements of your security camera firmware upgrade. Download the latest firmware to fix some bugs and keep up-to-date features.
There is usually a page that provides the firmware download links, so you can always find the latest versions available and get your camera protected. Don't buy those cheap cameras without technical support to update the firmware regularly.
#6. Install Firewalls and Antivirus Software
The firewalls help protect your security camera against hacking, and the antivirus software help protects it against viruses and malware, like the online security cameras hacking software.
Here is a checklist you may save to your phone album so that you can easily go through all the essential points to find out whether your security camera has been hacked and get it secured.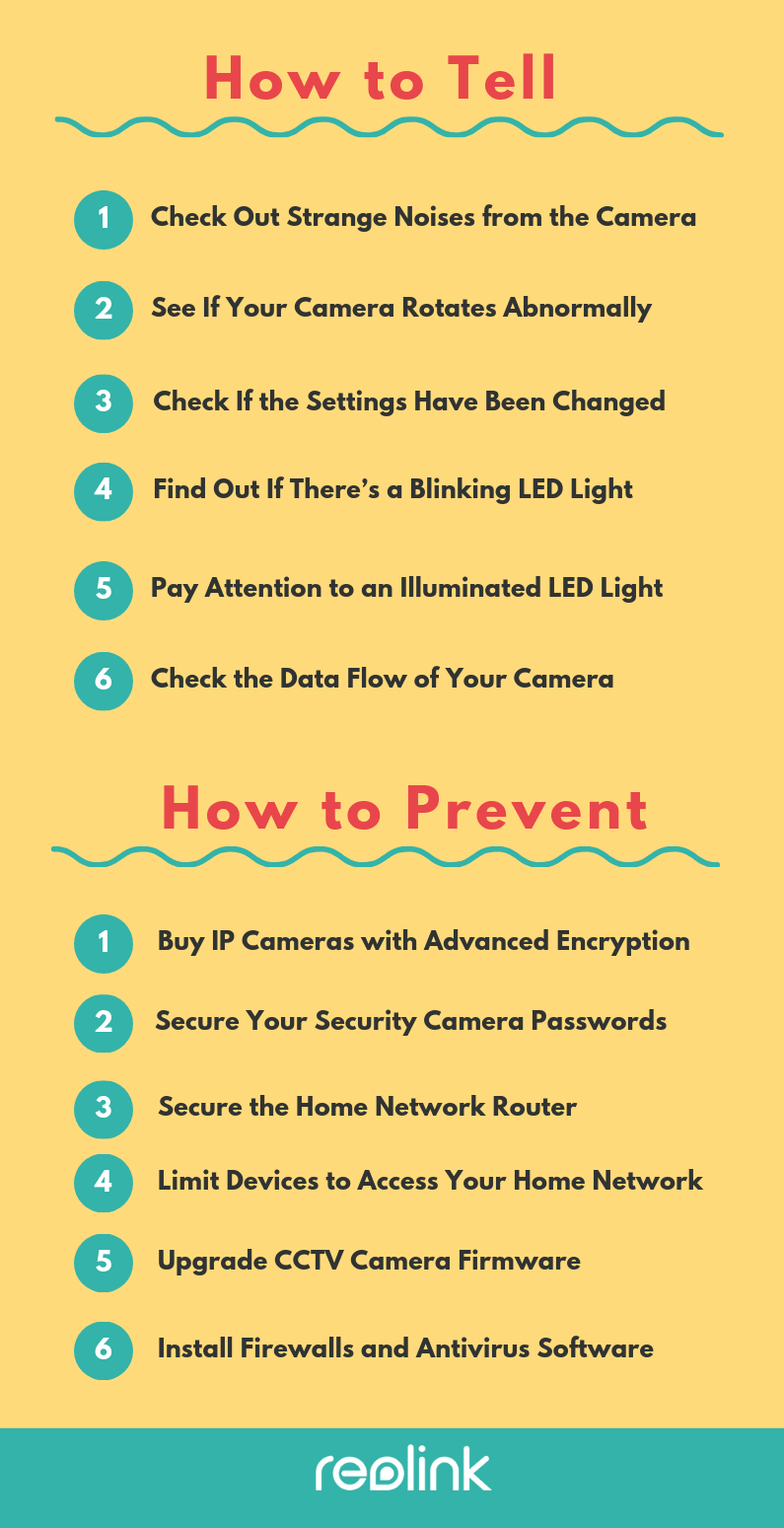 What to Do If Security Camera Has Been Hacked
So what should you do if your security cameras are hacked, unfortunately?
Check the 5 essentials above to see if there is anything you have missed, which gives the hacker chances to access and hack your security cameras:
Is your hacked security camera featured with necessary encryption?
Have you changed the security camera default password?
Have you secured your home router with a stronger password and/or VPN?
Have you installed the latest firmware before your security camera get hacked?
If your answer is YES to all the above questions, report your problems to the security camera manufacturer immediately so that they can correct the problem and secure the vulnerability.
Why Security Cameras Are Hacked
It's important to be aware of why and how your security camera can be hacked so that you can better protect the surveillance systems from prying eyes.
As for the reasons for home security cameras being hacked, some are after the private information of others, some may be indulging in watching hacked security cameras, and some proud hackers are just hacking for fun.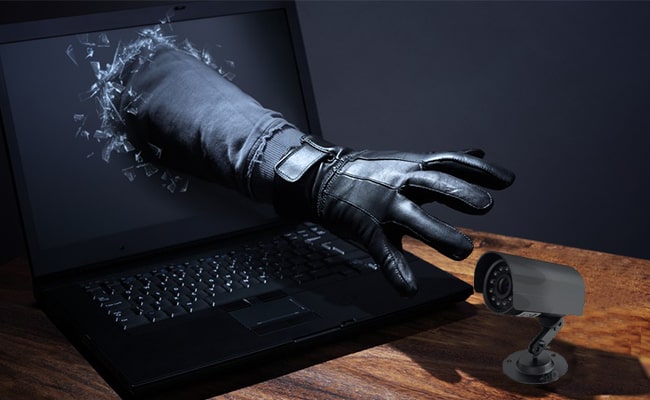 How Do Security Cameras Get Hacked
How are security cameras hacked? Generally, your CCTV cameras can be hacked either locally or remotely.
#1. Local Hacks
"The router and modem have also been used to gain access to my network and my CCTV cameras were to be the victims."
Like the OP says, the hacker obtains access to the wireless network and hacks the security camera attached to it. They may simply try some common default passwords to it, or spoof the wireless network and jam the actual one with some network tricks.
Many wireless security cameras get hacked this way.
Note: You don't need to worry too much about this form of hacking. The WPA2-AES encryption, adopted by Reolink and some other quality producers, is there to solve this problem. It is by far the most secure WiFi security mode.
#2. Remote Hacks
This happens when the camera transmits videos over the Internet. Security camera hackers may take the advantage of the data breach or unsecured passwords to hack into security cameras.
That's why many security cameras live get hacked. And that's why the wired security cameras can also be hacked.
Note: There is also technology to greatly reduce the security camera remote hack risks. For example, Reolink uses SSL (HTTPS) encryption to secure the remote browsing and SSL/TLS protocol to secure data transmission over the Internet.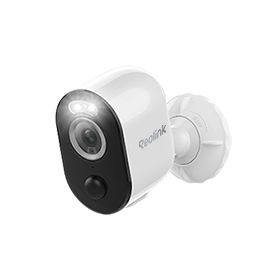 Reolink Argus 3 Pro
2K 100% Wire-Free Spotlight Camera
2K 4MP Super HD, Battery/Solar Powered, Person/Vehicle Detection, 5/2.4 GHz Dual-Band WiFi, Color Night Vision, Two-Way Audio.