Off-the-self webcam security cameras are commonly known as IP CCTV cameras, which are almost the easiest web based security camera system type.
This type of Internet home security camera systems is accessed directly over a network connection, which can be linked directly to your mobile phone, PC, Mac, etc. thanks to the P2P technology.
Another type of network based security cameras is turning the computer webcam into a video surveillance camera with the third-party software.
If you wanna keep tab on your kids, pets, or front porch, garage, etc. from afar with the plug-and-play Internet security cameras, you'll get top 3 picks here. And if you are a DIY lover, you can turn your laptop or computer webcam into a security camera with the step-by-step guide here.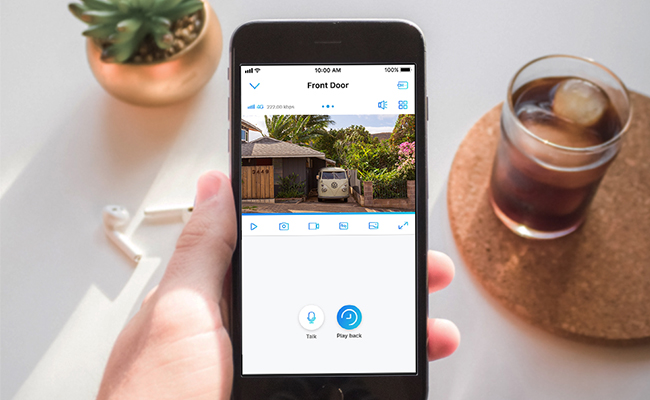 #1. Plug-and-Play Webcam Security Camera Top 3 Picks for Your Home & Business
Webcam security cameras typically include 3 main types: wire-free battery powered webcam monitors, traditional WiFi webcams, & PoE webcam surveillance CCTV cameras.
You can check the 3 best webcam security camera systems for your home and business security. All of them are under $130 with no any subscription fees and with free shipping.
The recommended 3 types of webcam security cameras are extremely easy to install and set up. They all come with free software for you to access the remote online web-controlled security cameras with your PC, Mac, iPhone or Android mobile phones.
1. Reolink Argus® 2 Battery Powered Webcam Security Camera
Reolink Argus® 2 home IP webcam security camera detects motion events with the sensitive PIR motion sensor. You'll get much more accurate motion alerts compared with other types of motion activated webcam IP security cameras.
Reolink Argus 2
100% Wire-Free Starlight Camera
Rechargeable Battery & Solar Powered; Outdoor/Indoor Protection; 1080 Full HD; Starlight Night Vision; 2-Way Audio; Live View Anytime Anywhere.
Some wireless web-enabled security cameras may need you to connect the WiFi multiple times before functioning. This camera, however, will connect to your home router automatically after the initial setup. The Internet connection is fast and smoothly, so you don't need to worry about the connection failure.
You can check the high definition video captured by this wireless home surveillance web camera (shared by a customer).
You can view more smart features of Reolink Argus® 2 wireless webcam security camera in the below chart.
| | |
| --- | --- |
| Product | Reolink Argus® 2 |
| Definition | 1080p (2MP) Full HD |
| Audio | Two-Way Audio with the Built-in Mic & Speaker |
| Night Vision | Starlight Night Vision (Up to 33ft) |
| IP Rating | IP65 (Can Be Used Both Outdoors & Indoors) |
Reolink Argus® series got featured in over 40+ top-tier media, and was praised by the editors who've tested, and got a lot of "4 stars" or "5 stars" reviews from people for its innovative design and outstanding features.
When in CES 2018, a lot of attendees showed great interests in Reolink Argus® 2. And the representative of Indiegogo awarded this camera as the "Innovative Product 2018".
2. RLC-410 PoE Webcam CCTV Security Camera
RLC-410 webcam security camera can be plugged directly into your home router with a Cat 5 or 6 PoE cable. You can access the motion detection webcam security camera with your PC, Mac, iPhone or Android smartphones both locally and remotely.
Reolink RLC-410
PoE Bullet IP Security Camera with Audio
5MP/4MP Super HD; Outdoor/Indoor Protection; 100ft Infrared Night Vision; Audio Recording; Mobile Remote Access & Control.
This webcam surveillance monitor can be connected to an NVR for 24/7 video recording. You can locate the motion videos or fast forward/rewind the recorded videos when connecting the NVR to a TV or your PC.
You can view the video of this web-accessible security camera (shared by a customer).
You can discover more features of the web-enabled surveillance camera below.
| | |
| --- | --- |
| Product | RLC-410 |
| Definition | 1440p (4MP) Super HD |
| Audio | Support Audio Recording |
| Night Vision | Up to 100ft |
| IP Rating | IP66 (Can Be Used Both Outdoors & Indoors) |
A customer who bought this RLC-410 webcam IP security camera posted a review on Amazon, stating as below:
This camera has paid for itself. We were burglarized and thanks to footage from this camera the local police department caught the guy that did it. Got my PS4 back! Thanks Reolink for a solid product at an amazing price. The officer said it was the best video footage they had every received and it was instrumental in catching the guy.
3. RLC-422W Wireless Remote Webcam Security Camera
RLC-422W is one of the best wireless Internet webcam security cameras. The dual-band WiFi design, 5MP high definition and other smart features make this WiFi webcam security outperform its rivals.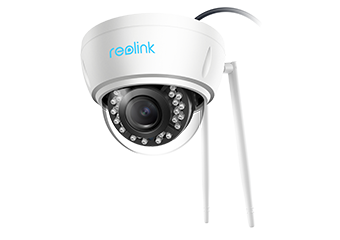 Reolink RLC-422W
Dual-Band WiFi Vandal Resistant Security Camera
5-Megapixel Super HD; 2.4/5GHz Dual-Band WiFi; IK10 Vandal Resistant; 4X Optical Zoom; Outdoor/Indoor Protection; Built-in SD Card Slot.
You can simply make the wireless motion-capture web security camera work by powering it. You can just access the outdoor & indoor webcam IP camera with 3 simple steps: install the client or app, scan the QR code of the camera, and get live streaming.
You would be spoiled by the 5MP high definition! Watch the below video captured by this wireless web-based security recording camera (shared by a customer).
You can also check more excellent features of this WiFi webcam security camera in the below chart.
| | |
| --- | --- |
| Product | RLC-422W |
| Definition | 5MP High Definition |
| Night Vision | Up to 100ft |
| Dual Band WiFi | 2.4/5 GHz |
| Zoom | 4X Optical Zoom |
| IP Rating | IP66 (Can Be Used Both Outdoors & Indoors) |
#2. Dig Further into Internet Webcam Security Cameras
Internet-accessible security cameras are a kind of video cameras that transmits data over the LAN or the Internet. Web-enabled security cameras allow you to connect to the Internet via a broadband network and view live streaming remotely with your smart devices.
Some home web surveillance cameras require a physical cable to work, while others are wireless and transmit the data over WiFi or radio frequency.
Webcam IP security cameras normally come with free client and smartphone app, which enables you to configure the cameras on your PC, Mac, mobile phones, etc.
In terms of computer built-in or external webcam video cameras, you need the third-party software to set up the cameras to make them function. The setup process would be much more complicated than the IP surveillance camera type. (You'll get the DIY steps to turn your computer webcam into a security camera in the next part.)
There are 3 main types of Internet security cameras that are popular in the market.
• Wired network security cameras: The wired security cameras connects to the broadband modem or router via a RJ45 or Ethernet cable. This connection way is almost the fastest and most stable way, removing the chances of signal interference.
• Wireless webcam security cameras: This type of wireless security cameras sends and receives the data over WiFi, without using a physical wire to connect to the router. These cameras are much easier to install and re-locate compared with the wired type.
• 4G webcam security cameras: This type of security cameras is undoubtedly the easiest Internet security camera type. The cameras are equipped with cellular transmitters themselves, typically operating over the 3G/4G cellular data. They don't even need the router to be in place. In other words, you can access the cameras remotely even without Internet connection.
#3. How to Use Your PC or Laptop Webcam as a Security IP Camera
You can turn your computer webcam into a security camera with the suitable webcam surveillance software.
When you DIY a CCTV surveillance camera with your computer webcam, you need to keep your Windows PC or Mac running all the time.
You can download the below popular free web camera software for your laptop, Windows or Mac computer to DIY a webcam security camera.
• iSpy
• Yawcam
• SecuritySpy
You can check more free or paid webcam software here.
Now please follow the below steps to convert your webcam into a security camera with premium or free software (here we take iSpy software as an example).
Step 1. Place the USB or wireless webcam in the place you want to monitor. If you use a USB webcam, make sure that the cable is long enough to connect your webcam to your computer.
Step 2. Download and install the iSpy web-based security camera software to your Windows or Mac computer.
Step 3. Add the local webcam to this monitoring software, and name the camera. Remember to check the Camera Active box to turn on the laptop or computer webcam.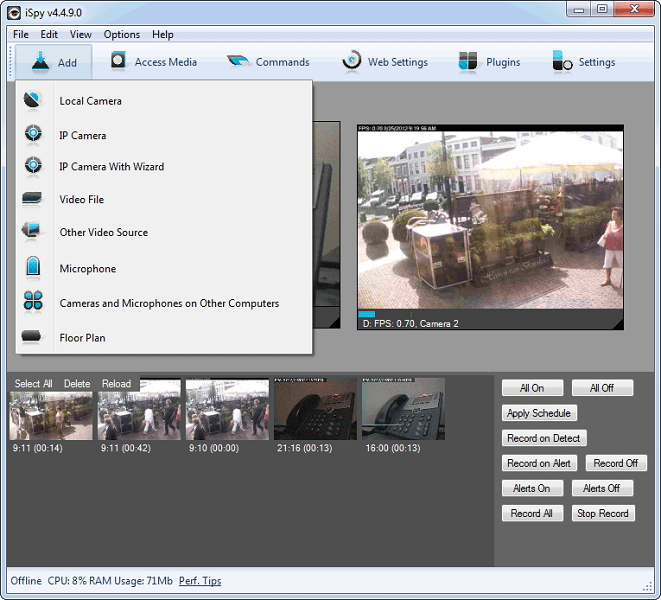 Step 4. In Edit Camera menu, you are gonna see 6 options in this panel. You can enable the functions you want based on your specific needs.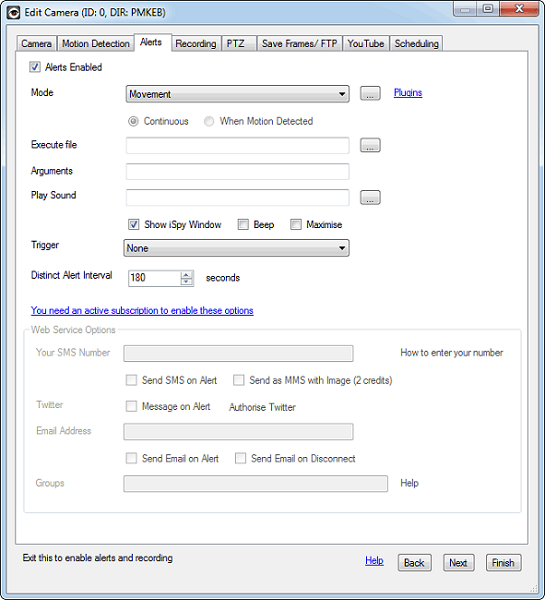 Step 5. Go back to the home screen, and turn on your camera. Now you can view the live streaming!
We've got a post the covers every detail about making a security camera with a webcam. This post is written by Reolink senior tech editor, who is also a DIY lover. You can check this post here.
Please note that the software you use to turn the webcam into the surveillance camera is free to use, but some of its advanced features, such as remote monitoring, are premium. You need to pay monthly fees for more advanced functions, which would be a great budget in a long run.
With the same money, you can buy a professional and high-quality easy-to-use wired or wireless webcam security camera system.
Another big issue of webcam is the privacy issue. You can learn more about webcam spy in the below part.
#4. Webcam Spy & Hacking: Linked to Our Daily Life
Can people really spy on me through my laptop or smartphone camera?
The answer will surprise and worry you.
Webcam spy is a serious issue. Victims of webcam hacks have seen images and videos of themselves – regularly in states of undress or in compromising situations. Those malicious hackers even publicize the victims' images and videos on the Internet.
Those hackers typically use the Trojan horse malware to hack into your webcam to spy on you. This malicious code is hidden within seemingly innocent files. Once you download the file, you open your door to the hackers.
You should secure your laptop or computer webcam by running some solid anti-virus software. If you are using an external USB or wireless webcam, the easiest way for you to prevent webcam spying and hacking is to simply unplug it.
In terms of webcam IP security cameras, they are also at a risk of being hacked. Hackers can gain access your home network security cameras with multiple ways, such as guessing the security passphrase, or spoofing the networking. Some of hackers can even access the unsecured video feeds with the default logins.
That's the main reason why you need to change the default login information upon you install the web-enabled security cameras.
Bump: You can check this post to see if your security camera has been hacked.
You can try the below tips to prevent your webcam security cameras being hacked:
• Secure passwords.
• Secure the router.
• Limit devices.
• Upgrade firmware.
Compared with your computer webcam, plug-and-play web-based security cameras that are secured by multi-level encryptions would be a better choice.
Webcam security cameras can be used directly once you power them. And innovative security camera companies will secure their outdoor and indoor Internet security cameras with encrypted protocols, and provide constant firmware/software update to keep those awful hackers at bay to the greatest extent.
For example, the above recommended webcam security cameras are secured by SSL, WPA2-AES, and SSL-TLS-enabled encryptions. With the multi-level secured encryptions, these security cameras are almost impossible to be hacked. You don't need to worry about that your webcam videos are intercepted and invaded by crackers.
If you worry about your budget, you can check the best cheap webcam security cameras with high quality here.
Please note that "Cheap" doesn't necessarily means low quality. Those advanced and innovative security camera companies always keep improving their technology and make these Internet security cameras and systems affordable for everyone.
If you have any questions about webcam security cameras, or any ideas you want to share with us, please leave them in the comment below!