Garden cameras are what advised most, by both gardening experts, if you want to keep an eye on your garden grow and watch wildlife. No matter whether your garden has power, WiFi coverage and light or not, there is a garden camera solution for you! Read on to find the best camera for garden that everyone can afford.
Night Vision Garden Cameras for Watching Plants
Want to capture the elusive peak of your garden grow?
One of the best things you can do with the garden camera is to watch the plants growing or flowers opening. A garden camera can give you a "face on film" so that you will not miss anything, like the exciting moment of the peony blossoming.
Unlike like the dedicated garden time lapse camera which stitches images together to make time-lapse videos, a garden security camera can keep record of the REAL TIME plant growing 24/7/365. Or you may simply speed up the video to see your garden glow during a week or month period.
Here is a time-lapse video captured by the Reolink RLC-810A. Place it on your garden, and you will know why your plants and vegetables look messy after a sun shower:
In fact, the video captured by professional garden security camera has much higher quality, and it costs you less than a lower resolution time lapse garden video camera.
Garden Camera for Live Animal Broadcast
More excitedly, if you got a garden camera with remote viewing, which is a basic function of Reolink CCTV for garden, you can live the hedgehog, raccoon or any other garden animal's house life.
Just download a free Reolink app, connect the wildlife CCTV camera with your phone, and then you'll receive the garden camera live streams. This is what a time lapse purposed garden video camera can't do.
Here a Reolink user shares his raccoon friends' garden camera.
Click here to see what's happening to the raccoons now on Twitter.
Editors Note: Mind that the camera in garden is better to gain 1080p at least if you want to get a very clear shot and make out details like the worms hiding in the leaves. But no worries, there are affordable 5MP, even 4K cameras for garden now with a resolution comparable to a sophisticated digital camera.
So besides the garden wildlife camera review, also remember to check the garden CCTV video sample.
Garden Nature Cameras for Wildlife Night-Time Visits
Trying to find what animal is visiting your garden? Looking for an inexpensive way to record night-time visits to your back patio? Garden nature camera is the answer.
The garden nature camera can help you pick up wildlife in the garden or even in the woods beyond at night easily. And they are not that expensive even if you want a garden nature wildlife camera system, as long as you choose the right wildlife CCTV camera and brand.
Many quality garden motion cameras, including Reolink Argus 3 Pro, can not only detect the wildlife accurately with PIR motion sensor, wake up and record in less than 1 second, capture high quality photos and videos day and night, but also offer remote viewing so that you can actually see the live of your garden visitors directly on your phone, like the above mentioned Den Cam Live on Twitter.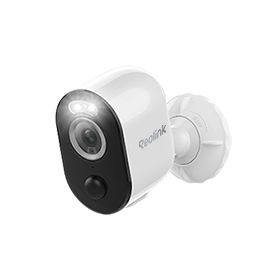 Reolink Argus 3 Pro
2K 100% Wire-Free Spotlight Camera
2K 4MP Super HD, Battery/Solar Powered, Person/Vehicle Detection, 5/2.4 GHz Dual-Band WiFi, Color Night Vision, Two-Way Audio.
Extra tips: Ensure you have a genuine night camera for your garden, especially for nighttime visitors. Infrared garden cameras with IR lights provide clear wildlife visibility in darkness. The starlight night vision garden camera stands out as the top choice.
Also, prioritize the motion sensor in wildlife CCTV cameras, particularly battery-powered ones. Excessive false alarms can drain the battery quickly. Look for garden wildlife cameras with PIR motion sensors capable of distinguishing wildlife from natural elements.
Best Garden Cameras Recommendation (Wireless, Systems & More)
Garden security cameras are quite affordable these days with multiple functions like preventing garden theft and vandalism, watching wildlife, live animal broadcasting, stopping home break-ins, etc.
And here are several popular garden cameras models of your choice, according to your specific situations.
Reolink Argus 3 Pro is the best selling WiFi garden camera, recommended by numerous top tie tech media (PCMag, Techhive, Makeuseof, etc.) as an affordable, quality, and easy to install mini security camera.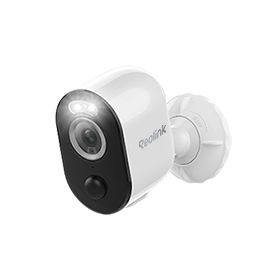 This battery rechargeable WiFi garden camera needs no nearby power outlets to work and supports solar power so that you can extend its battery life like forever if there is enough sunshine in your garden.
Key features:
2K 4MP super HD resolution, capture the thieves with facial details
Smart person/vehicle detection reduces false alarms
Infrared garden camera tells you what happened in full color even at night
100% wire-free, no cables and electrical outlets needed, easy to install
Here's a video sample captured by Reolink Argus 3 Pro:
Other than that, the small Reolink Argus 3 Pro could also become a garden spy camera, with camouflage skins available. There is a user creatively hiding the Reolink Argus 3 Pro in a PVC tube to watch his front door area as well as the garden: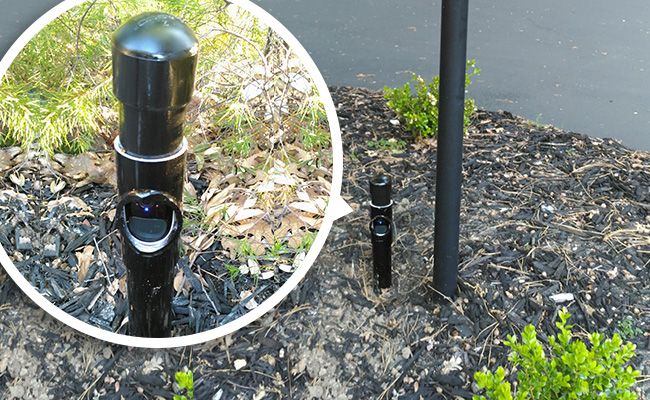 Have no WiFi coverage in your garden? No worries. You can also use wireless garden cameras.
Note that by mentioning wireless garden camera, here I mean there is No wire needed for the installation as well as the wireless data transmission. So the Reolink Go PT Ultra goes a step further from the "wireless" to totally "wire-free", just as the Reolink Argus 3 Pro.
A cellular garden camera that runs on 4G data will work well in rural areas with NO WiFi signal at all. As for the data use, it'll vary according to the activities in your monitoring area. But generally, 2GB a month would be adequate since all cellular garden security cameras only record when there is motion.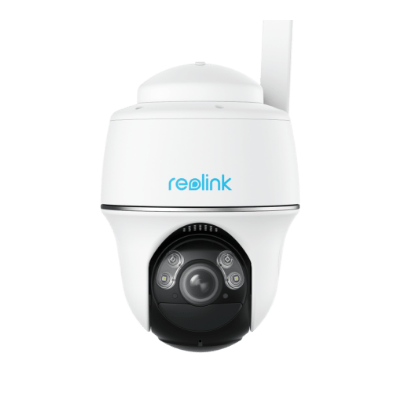 Reolink Go PT Ultra
4K 8MP Wire-Free 4G LTE PT Battery Camera
4K 8MP; Smart Detection; 355° Pan & 140° Tilt; Battery/Solar Powered; Color Night Vision; Smart Real-Time Alert.
Or if you happen to require multiple garden cameras to cover the whole place, the WiFi problem is solved – a garden camera system, whether it is wired or wireless, can work without Internet. Just power on the NVR and the cameras, the garden CCTV camera will start to record and save on the NVR, and you can start monitoring via a TV or a monitor if you connect it to the NVR. ( Here is why )
Best night camera for garden wildlife - CX410
Reolink CX410 is your ideal companion to capture wildlife in your garden at night. This cutting-edge 2K PoE ColorX night vision security camera is designed to excel in low-light conditions. With its impressive F1.0 aperture, it outshines traditional F2.0 apertures by capturing four times more light, resulting in remarkably brighter and clearer images.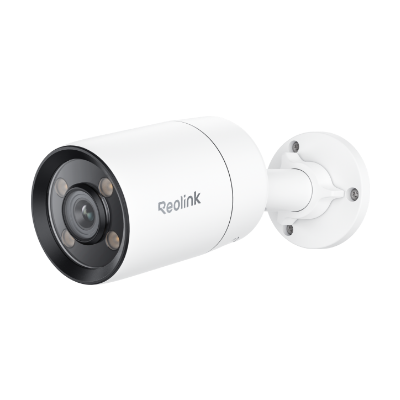 Reolink CX410
2K PoE ColorX Night Vision Camera
2K 4MP; F1.0 Super Aperture; ColorX True Full Color Night Vision; 3000K Adjustable Warm Light; Advanced 1/1.8'' Sensor; 2-Way Audio.
Conclusion
If you're passionate about the wonders of nature unfolding in your garden, these top garden camera solutions offer a front-row seat to the captivating drama of wildlife and plant life. Whether you're monitoring the growth of your cherished flora or seeking to catch glimpses of elusive creatures, these advanced garden cameras provide an unparalleled opportunity for discovery.
If you like this article and find it helpful, share it with your friends. Got something to say about garden cameras? Make sure you leave a comment below!