"I'd personally go with a security camera WITH alarms rather than alarm systems. These will all record and alert you to movement."
"I suppose it would be nice to use the wireless security cameras with audio alarms, i.e: when a camera detects motion, not only it triggers email with camera details, but also siren sound and GSM text/phone composing."
Security cameras with alarms, by sending real-time alerts and recording crucial snapshots or videos of invaders, offer superior protection for your property.
In this blog, you will figure out how wired and wireless security cameras with alarms work, what alert options are, best picks of security cameras with alarms and how to avoid false alarms.
Content:
How Security Cameras with Alarms Work
Security cameras with alarms, in light of different motion detection sensors equipped with them, can be divided into two types.
The first type of security cameras with built-in alarms relies on software-based motion sensors. They detect motion by comparing a sequence of frames and counting the number of different pixels.
When pixel changes between successive frames, the software inside home security cameras with alarms will count it as a motion event and set off the alarms.
Reolink RLC-410 surveillance camera with alarms belongs to this type. And its working process is showed in the following illustration.

The second type of IP security cameras with alarms is PIR (Passive infrared) movement sensor cameras that passively receive and detect infrared radiation from the surrounding.
Once a foreign body like a burglar trespasses, the PIR sensor would identify the differences of radiation and alarms ensue.
Take Reolink Argus® 2, a PIR outdoor security camera with alarms, as an example. As showed in the following video, Argus 2 detects the appearance of the courier, and informs you immediately.
Note:If you want to know more about the differences between security cameras with alarms and burglar alarms, click here.
What the Common Alert Options of Security Cameras with Alarms Are
So what are the alert options in security cameras with alarms?
In general, when motion is detected, outdoor and indoor security cameras with alarms can inform you through push notifications in App, emails attached with snapshots or videos and texts. And then you can replay video clips in App to check the actual circumstance.
Besides these alert options, some high-end wired and wireless security cameras are equipped with audible alarms, like Reolink Argus® 2.
The built-in siren of security cameras with alarm system will sound automatically when a burglar enters the monitoring zone. It would induce vigilance from neighbors or the police, which is definitely a powerful deterrent for crime.
Apart from self-monitored alert options mentioned above, some CCTV cameras with alarms, when there are motion events, can ring a call center. Staffs there then call you to make sure the alarm is not tripped by accident.
Once the call center qualifies it as a legitimate alarm from your home security cameras with alarms, they either call the police or a security company to do a wellness check of your home.
Sounds great?
But this kind of security camera with remote alarms requires highly-stunning extra service fees per month with the average of 50 dollars. And because staff at the call center are not familiar with your house and its surroundings, it is troublesome in fact for you to confirm the real situation.
Actually, you can completely save a pile of money and a lot of trouble.
With the help of the security cameras with motion alarms, which can send push notifications or emails that show you video clips of real situation, you can totally get hold of your home by yourself for free.
Sometimes, you would worry about missing the alerts from your surveillance cameras with alarms. Access to your security cameras with remote alarms by more than one people can relieve the concerns.
When you are working or driving, your family member can also receive alerts of surveillance cameras with alarm and take response actions.
If a postman delivers mails when you are at home, it is for sure that you do not want to receive numerous false alarms. You can enable or disable these alarm options in your wireless security cameras with audio alarms.
Recommended Security Cameras with Alarms
Here we pick up three types of security cameras with alarms respectively for your choice.
1. Reolink Argus® 2 – PIR Wireless Security Camera with Audio Alarms
Reolink Argus® 2 wireless security camera with audio alarm is equipped with a highly sensitive PIR motion sensor. This sensor and 130° wide angle make it possible for Argus 2 to capture every human movement.
When motion events are detected, Argus 2 would wake up at once to send push notifications and emails posted with snapshots of key moments. Also, in Reolink App, you can replay videos recording the WHOLE movement process to confirm exact circumstance.
In the meanwhile, the built-in siren sounds in 75db until the burglars flee away, which is an effective warning for burglars.
With the built-in microphone and speaker, Reolink Argus® 2 is a two-way audio surveillance camera with alarms. You can warn verbally and scare off the uninvited even when you're thousands of miles away.
It also comes with a micro SD card slot for local storage. You can insert an SD card with storage space up to 64GB to record motion images and videos.
And no worries about the footage at all. In our test, a 64GB SD card can record thousands of events, and when it is full, it will continue to record events by automatically overwriting the old files. Learn more about storage in security cameras with alarms.
As one of the best security cameras with alarms, Argus 2 allows up to 8 of your family members (the ones with your permissions) to stream live video.
For example, you and your family members in different places can track trespass of the thieves or arrivals and departures of your children simultaneously, which is a huge benefit.
Watch video below shared by a Reolink Argus® 2 user.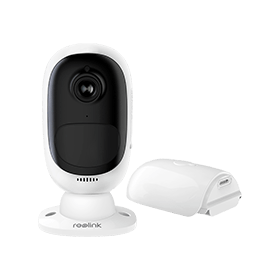 Reolink Argus® 2
100% Wire-Free Starlight Camera
Rechargeable Battery & Solar Powered; Outdoor/Indoor Protection; 1080 Full HD; Starlight Night Vision; 2-Way Audio; Live View Anytime Anywhere.
2. Reolink Go – PIR Wire-free Security Camera with Customized Audio Alarms
There are many common points between Reolink Argus 2 and Reolink Go, such as siren alarm, push notifications, email delivery, PIR motion sensor, two-way audio, an SD card socket and multiple access.
The most unique feature for Reolink Go is that you can customize verbal alerts as you need.
For example, when the motion events are detected, it can sound "Get out of my house!" That is a tremendous shock for the unwanted.
Besides, Reolink Go IP security camera with alarms operates on 3G/4G-LTE network. Through various alert options, it offers ideal protection in remote places where WiFi or power is out of range.
Watch the high quality video captured by a test user of the security camera with alarms Reolink Go.
3. Reolink RLC-410 – Security Camera with Motion Alarms
Reolink RLC-410 is an IP camera alarms system with a software-based motion sensor. Whenever a danger is detected, this IP surveillance camera will trigger alerts by immediately pushing notifications and sending emails attached with images and 30-second video clips.
This indoor/outdoor security cameras with alarm comes with an SD card slot for onsite motion recording. Moreover, RLC-410 can upload and save captured images or videos to an FTP server.
Also, the RLC-410 surveillance camera with alarms allows multiple users (up to 12 people) to replay or live camera video on different devices like mobile phones, iPad or computers simultaneously.
Watch the following video clip recorded by a Reolink RLC-410 user.
How to Avoid Security Camera False Alarms
Security cameras with alarms offer better protection to your home, however, false alarms are annoying. Some practical measures can be applied to dramatically lessen this problem.
1. Configure your security cam with alarms. You can set motion detection sensitivity and detected zone so that it can match perfectly with your situation.
2. Make sure that batteries are fully-charged. If your home security cameras with alarms are powered by batteries, sometimes low voltage would lead to erratic operation.
You can prevent this type of security camera false alarms by replacing the backup battery periodically.
Replacement bothers you? Reolink Argus® 2, a wireless security camera with audio alarms, comes with a rechargeable battery and it can even connect to the solar panel to get non-stop power all day and all night.
3. Place your security cameras with audio alarm system in proper locations. It is suggested that PoE and WiFi security cameras with alarms should be away from heating or cooling vents.
Entry points such as doors and windows on the first floor are ideal places to install. And it is better for indoor and outdoor security cameras with alarms to be mounted in a wall or in a corner about 5-8 feet height.
4. Choose dual-tech security cameras with motion alarms. Dual-tech security cameras with motion alarms combine multiple sensing technology such as PIR and microwave sensors into one detector, which can reduce security camera false alarms.
5. Properly teach all users of your home the ways security cam with alarms work. Show them how these cameras work and how alerts are activated to avoid security camera false alarms of human errors.
FAQs on Security Cameras with Alarms
The following are several hot questions on security cameras with alarms. And if you have other problems, please leave your comments below.
1.Can I turn the alarm off but have the PIR working and the camera recording
Yes, you can enable or disable alert options of your IP security cameras with alarms in App or Client settings.
For instance, if you have a Reolink Argus® 2 wireless security camera with audio alarms, you can launch Reolink App, go to "Device Settings", and tap "PIR Settings". Then you can enable or disable audio warnings, push notifications, emails by taping the button respectively.
2.Can I receive IP security camera push notifications when my phone is asleep or the App is in the background
It depends on the phone and the IP camera App with push notifications you are using.
For example, Reolink can still send security camera push notifications to your phones when your phone is asleep or the App is not running nonstop.
But for some phone manufacturers that don't support this feature, you may fail to receive the IP camera motion detection push notifications in these circumstances.
3.My cat would sometimes trigger false alarms. Any tips
To avoid security camera false alarms caused by your cat, you can set motion detection zones or sensitivity to your needs. Or you can put your security cameras with motion alarms outside the cat's range of activities.