Security camera recorders are a key component of your home security, acting as the indispensable devices to save the footage of your CCTV cameras and systems.
So what are the common IP camera recorders available? How can you store the CCTV camera videos via the security camera recorder software? And which is the best and inexpensive security camera recorder?
Now, let's dive deeper into the world of security camera video recorders.
Content:
What Are the Popular Security Camera Recorders
In general, there are 5 types of security camera recorders for you to choose from, that is, security camera DVR or NVR recorders, security camera SD card recorders, PCs or laptops, the FTP server and security camera recording to Cloud.
1. Security Camera DVR/NVR Recorders
The security camera DVR/NVR recoderes with hard drives are the most reliable way to do 24-hour recording of your Analog security cameras (for DVRs) or IP cameras (for NVRs).
Depending on the channels you choose, a single security camera DVR/NVR recoder can manage multiple CCTV cameras simultaneously. For example, a 16-channel security camera DVR/NVR can support up to 16 cameras installed into the system.
Can a security camera DVR recorder work without a hard drive?
Yes, but the security camera DVR recorders without a hard drive won't record any videos for your later view or playback, which actually, would defeat the original purpose of the security camera DVR systems.
Now most security camera DVR/NVR recorders include a built-in hard disk drive, and you may also add an external HDD to expand the storage space (Also learn How Long Do Security Cameras Record).
One thing you need to note is that, the security camera DVR/NVR recorders normally only support the cameras of the same brand.
So, to avoid compatibility issues, it's more recommended to buy a security camera recording system with IP cameras included.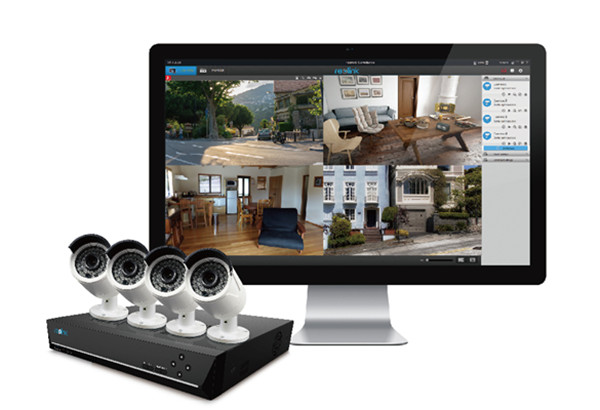 2. Security Camera SD Card Recorders
As the name suggests, security camera SD card recorders are designed to save motion detection videos to a Micro SD card locally. So this type of video recording is also called local or onsite storage.
Though some security cameras may come with a built-in micro SD card, in other situations, you're expected to make a separate purchase on your own (for cameras with SD card slot).
Before you buy a security camera memory card recorder, consult the security camera sellers first about the required capacity, read and write speed as well as the format of supported SD cards, so that you won't go wrong on the SD card selection.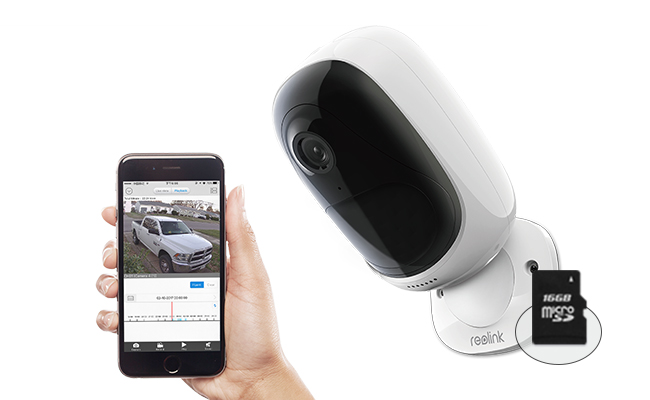 3. Security Camera Recording to PC/Laptop
If you happen to have a spare PC or laptop at hand, it is absolutely the cheapest way to use them as standalone security camera recorders for your video storage.
In virtue of the free security camera recorder software (like free Reolink Client), you can select the recording path as your computer and then save the security camera motion activated recordings or 24-hour recordings to your PC and laptop.
The downside, however, is that you have to keep your PC/lap running all the time as a surveillance camera recorder. And the footage may take up a large portion of your computer's storage space.
4. Security Camera Recording to an FTP Server
The FTP server also comes as a free security camera recorder for the motion activated recordings and 24-hour recordings.
This IP camera recorder enables you to have easy access to your files from anywhere, eliminating the need to be on site for playback or file downloading purposes.
Now many security cameras, like the ones sold by Reolink (except the battery cameras), can upload and store captured images and videos to an FTP server without needing a DVR/NVR.
5. Security Camera Recording to Cloud
Security camera recording to Cloud has grown in popularity these days as a pay-to-use camera storage solution.
IP camera cloud storage not only provides an extra level of security by allowing off-site backup of your sensitive and important files, but also allow you to access them wherever and whenever you need it.
Reolink, for example, has launched its cloud service now for the battery cameras. Then you may store your security camera recordings both locally and off-site for double insurance.
Note: For the detailed steps about how to use the above 5 security camera recorders to save the video footage, please refer to this expert guide by our edit-in-chief Yolanda.
Recommendations of Reliable Security Camera Recorders
Not knowing which security camera DVR/NVR recorders to choose? Or looking for reliable and high-quality security cameras with SD card recorders? Here we've rounded up some well-received security cameras and recorders for your reference.
1. Best Value 5MP/4MP 8-Channel Security Camera NVR Recorder – RLN8-410
Among the 8-channel security camera DVR/NVR recorders, RLN8-410 stands out with the easy configuration, large storage space, rock solid design and budget-friendly price.
Tech Specs:
4MP/5MP high resolution supported
2TB built-in HDD & allow for an external one (up to 4TB)
Power over Ethernet (easy to set up and install)
Support up to 8 cameras
24/7 recording with & without Internet
Easy live viewing & playback on phone & PC
What the security camera NVR recorder reviews say:

"Not only will you get a comprehensive security solution at a fraction of what you'd pay for a CCTV surveillance system, you'll also save money and headache on the installation. That's a bargain at any price."
– From Techhive
Below is a video shared by a user of the security camera NVR system Reolink RLK8-410B4 (a homeless man was wandering down the street).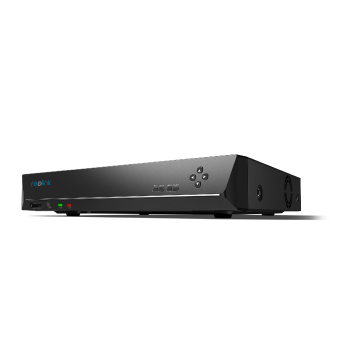 Reolink RLN8-410
8-Channel PoE Security NVR
2TB Built-in HDD, Work with All Reolink 5MP/4MP Cameras for 24/7 Video Recording, Monitoring, and Management; Plug and Play.
2. Best Overall Security Camera Supporting SD Card Recorder – Reolink Argus® 2
When it comes to most popular wire free security cameras that support SD card recording, the winner definitely goes to Reolink Argus 2, which is highly rated by a host of top-tier media, including Techhive, PC Mag, Tom's Guide, Techradar, Zdnet, etc.
Tech Specs:
100% wire-free (easy to install, portable & flexible)
Rechargeable battery powered & solar powered (optional)
1080p full HD & starlight night vision (up to 33ft)
Support SD card recording and cloud storage
IP65 certificated weatherproof
Built-in microphone & speaker
What the security camera reviews say:
| | | |
| --- | --- | --- |
| Site | Comment | Score |
| Techhive | "The Argus 2 improves on the original Argus in all the right ways." | 4.5/5 |
| Lifehacker | "A reasonable price for a camera that can record at the quality the Argus 2 delivers." | 5/5 |
| PC Mag | "Easy installation, sharp day and night video quality, and local recording make the Reolink Argus 2 a solid choice for a wireless indoor/outdoor home surveillance camera." | 4/5 |
Watch the high-quality video below shared by one user of Reolink Argus® 2 (last minute Halloween costume).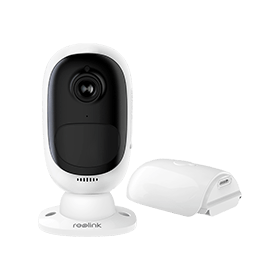 Reolink Argus 2
100% Wire-Free Starlight Camera
Rechargeable Battery & Solar Powered; Outdoor/Indoor Protection; 1080 Full HD; Starlight Night Vision; 2-Way Audio; Live View Anytime Anywhere.
Which Security Camera Recorder Should You Choose
Now many of you may ask, "Which security camera recorder should I buy?"
Simple: the best security camera recorder is definitely the one that fits your needs.
This may sound cliché but it is the truth. To help you land on the right IP camera recorders, consider the following factors before you take the plunge.
1. What's Your Desired Recording Mode
The selection of security camera recorders firstly depends on your preferred recording modes.
As the storage capacity of the home security camera recorders differ from each other, you may choose the best security camera recorders based on the following scenarios:
Security camera motion activated recording: suitable for all of the 5 motion activated security camera recorders.
Security camera continuous recording: ideal for security camera DVR/NVR recorders & security camera recording to Cloud.
2. What's the Price You Can Afford for a Security Camera Recorder
The cost of these security camera recorders could range from zero to over $300 USD.
Below are the average prices for the IP camera recorders, so that you can strike a balance between your recording needs and your budget.
| | |
| --- | --- |
| Security Camera Recorder Types | Average Price |
| Security camera SD card recorder | $6.95-$29.99 |
| Security camera DVR/NVR recorder | $52.99-$329.99 |
| PC/Laptop | $0.00 (if you have a spare one) |
| FTP server | $0.00 |
| Security camera recording to Cloud | $0.00 for basic plans, starting from $10 a month for advanced plans |
3. How Many CCTV Cameras Do You Have for the IP Camera Recorders
If you only have one or two security cameras installed, security camera SD card recorders and your PC/laptop would be enough for the security camera motion activated recordings.
When it comes to multi-camera management, the security camera DVR/NVR systems, like the Reolink 8-channel security camera NVR system, stand out among the other security camera recorder options (watch the video below).
However, both the security camera DVR/NVR recorders and security camera Cloud recording service can only work with the CCTV cameras of the same brand.
So, these two types of standalone security camera recorders won't apply for you, if you have security cameras of different brands and want to manage them at the same time.
4. Do You Have Internet Where the Security Camera Recorder Systems Are Installed
Your selection of security camera recorders can also be limited by the Internet connection and network speed.
For the security camera SD card recorders and the security cameras with DVRs/NVRs for home, they can continue recording the videos even without Internet.
But NOT for the security camera recording to your PC/laptop, FTP servers and Cloud.
These three types of home security camera recorders are highly dependent on the Internet for video transmission, and your network speed will also determine how fast you can upload the files.
5. Do You Prefer Scalability of Security Camera Recorders
The scalability of security camera recorders matters when you need to add more IP cameras and increase storage space.
Both the security camera DVR/NVR recorders and security camera recording to Cloud offer great flexibility and scalability for data storage.
As mentioned above, most security camera DVR/NVR systems allow you to add an external HDD for storage expansion. And you are free to add more IP cameras as you wish with no additional licenses needed.
For security camera Cloud recording, you can simply choose the storage plan with your desired capacities and pay for what you need.
FAQs About Security Camera Recorders
To deepen your understanding of security camera video recorders, here we've rounded up the hottest questions about IP camera recorders.
1. How to Continue Recording When the Security Camera SD Card Recorder or DVR/NVR Hard Drive Is Full
When the security camera SD card recorders or DVR/NVR hard drives get full, the older files will be automatically overwritten by the new videos.
Or you can also manually remove the micro SD card and transfer the videos to your computer.
To avoid that you miss some important files without your conscious, it's a safer choice to back up the important files on a regular basis.
2. Does a Security Camera DVR/NVR Recorder Stop Recording If I Turn Off the WiFi Network
Absolutely not!
As mentioned earlier, the security cameras and recorders work on their proprietary network for video transmission, so they can still record without Internet or if the Internet connection is lost.
Neither would the security camera DVR/NVR recorders eat up your network bandwidth, unless you access the security camera DVR/NVR kit for remote viewing or they send you alerts upon motion detection events.
3. I'm Going to Record in 720p and Want to Get 30+ Days of Recording, What's the Required Storage Space for IP Camera Recorders
The storage space of security camera recorders is determined by multiple factors, including bitrate, resolution, video compression, etc.
To work out the rough required storage space or your security camera recording time, you may refer to the CCTV camera storage calculation formula.
4. In Case Someone Breaks into My House, How Can I Protect the Security Camera DVR/NVR Recorders from Stolen or Damage
Placing your security camera DVR/NVR recorders in some unnoticeable places is absolutely the most effective way, like in a locker, safe box or on an attic or ceilings.
Besides, you can hide the wires of your security camera DVR/NVR recorder systems, so the thieves cannot track down the cables to snatch standalone security camera recorders.
Bonus: Read this post to learn more effective ways to protect the security camera DVR/NVR kit from being stolen.
Troubleshooting Tips for Security Cameras Not Recording
"One on my HD Cameras isn't recording to the security camera DVR hard drive at all. All my other 4 cameras are recording on motion. What do I do?"
"My security camera is on but not recording, any tips?"
Here are some practical tips you may employ for your security cameras not recording (including security cameras from Reolink, Swann, Samsung, Arlo, Defender, Uniden, etc.).
Make sure that motion is enabled and the "Record Channel" is selected for your security camera.
Confirm that the security camera Micro SD card or security camera DVR/NVR hard drive has been recognized through the device settings.
Format the security camera SD card recorder or the DVR/NVR hard drive.
Reboot your security camera DVR/NVR system to see if it works.
If your security cameras still display no recordings after trying the above methods, contact the support team of the camera sellers for professional advice.
Knowledge Base: Security Camera Video & Audio Recording Laws
Before you utilize the security camera recorders for video and audio recording, you should firstly learn about the related laws to figure out the legality.
Broadly speaking, you have the total freedom to decide where to fix your security cameras when it comes to your own home.
But your family members, guests or those working at your home have reasonable expectations of privacy in certain places, like the bathrooms, bedrooms, toilets, etc.
Besides, if your security camera covers a wide area and happen to capture your neighbor's front yard, you normally won't face legal trouble since that area is in plain view.
Yet, things are different if you deliberately point your security cameras at your neighbors' property, especially for places where they deserve expectations of privacy. In such cases, they could sue you in civil court and hold you liable for money damages.
The security camera audio recording laws are even more strict. For the security cameras with voice recorders, it is generally illegal to record a conversation without the permission of at least one participant.
Each state has a different set of laws when it comes to audio surveillance. And it is best to check out your state laws before you install a security camera with audio recording.