New users of security camera system will have to decide where to place/hide the security camera network video recorder (NVR) or digital video recorder (DVR), and figure out how to prevent the CCTV DVR or NVR from being stolen.
Today we share some awesome tips to help homeowners decide where to place/hide their DVR/NVR, how to secure the NVR/DVR and prevent them from being stolen.
Where Should You Place/Hide a DVR and NVR to Prevent Theft
Video recording devices like NVR or DVR storage boxes are significant in storing footage and act as a surveillance hub. Many intruders or thieves target on NVR/DVR because they want to destroy the evidence criminating them.
Finding a good place to hide and secure your CCTV DVR or NVR is important.
So where's the best place to put a DVR/ NVR system ? Where can you hide NVR or DVR to prevent them from being stolen?
Some users suggest getting an NVR/DVR lockbox or lock the NVR/DVR inside a server cabinet. While when it comes to the NVR/DVR or lockbox placement, there are some factors users need to pay attention to.
Find a spot that is easy to get the wires/cables in or out
Make sure the place for DVR/NVR is well-ventilated
Stay away from inflammable materials
There are some common spots for storing standalone NVR, CCTV DVR, NVR lockbox, or NVR safe, such as the attic, walls, closet, TV cabinet, or more discreet places to hide them from the intentional perpetrators.
1. Hide DVR or NVR in a Locker or Safe Box
A CCTV DVR or NVR safe box or locker can lock the device up in a safer box that is molded with gauge steel and hinge to withstand brutal force or mishandling. For example this NVR locker.
Fixing the DVR lockbox or NVR security box to the wall or hiding them in secret places will prevent surveillance system recorders from being damaged, destroyed or stolen.
2. Put DVR or NVR on an Attic or Ceiling
One possible spot is to put the CCTV DVR/NVR in a drop ceiling or even an attic that is out of intruders' reach. The wiring could be a tricky part unless your attic is wired, find professionals or friends help to set them up.
For example, one user puts his Reolink NVR up at a hard-to-access spot which requires a ladder to get to, see more on the following video.
https://youtu.be/mI5eCSMLGM4
It's important to keep the attic where you put the DVR recorder or network video recorder in ventilated with fans or a box equipped with fans, especially during possible temperature spikes in summer.
3. Hide Them Inside Walls
Fake walls or even a locked safe inside of a wall that can be covered by a picture frame is helpful to hide where the video recording device like DVR or NVR is hidden.
This might entail some remodeling on your house but can be done with an extra bit of help.
Disguising DVR or NVR in a covert place minimizes risks of being stolen and losing all your precious recording or videos that might assist police investigation and substantiate break-in or other illegal activities.
Having a complete security system with alarm systems will deter possible break-in or intrusion in the first place, consequently eliminate further concerns.
4. Place Them In a Closet
Hiding the security digital video recorder or NVR in an uninteresting closet, for example, on a high shelf with some clothing or boxes in front of it, will make your security video recorder much safer.
Another possible solution would be decorating your real CCTV DVR and NVR with some tablecloth or decorative artificial flowers, concealing them from the sight of intruders or burglars.
5. Hide the DVR or NVR in a Bookshelf
Putting NVR home surveillance systems in the bookshelf could help cover the device up with piles of books, which normally will be the last place that thieves are targeting due to the common belief that physical books are bulky and heavy to carry unless your books are highly valuable for example the first edition of A Confederacy of Duncesor or The Hobbit.
6. Or Possibly Crawlspace
A user suggests an interesting but possible solution, hiding home DVR under his house' crawlspace.
"No burglar is going to take the time to crawl on his knees in a dark, dirty crawlspace; Looks like you could screw it to the side of a floor joist in the crawlspace."
7. Better Yet, DIY Your Own Lockers
If you are a DIY enthusiast, building a self-designed NVR or DVR safe box or case can be a rewarding experience. Search for some ideas and inspirations on DIY websites. But be sure not to undermine the signal transmission especially for Wi-Fi NVR or DVR.
How Can You Better Secure the NVR and DVR & Prevent Theft
1. Get a Wi-Fi NVR or DVR
A standalone Wi-Fi video recorder is flexible and movable to accommodate different monitoring needs, for example, outdoor surveillance, indoor monitoring, driveway or basement checking.
A Wi-Fi NVR kit can easily be stashed against petty thieves. Some wireless video recorders are not entirely wire-free and still need to be powered by one cable. Alternatively, a backup or battery NVR can offer power supply uninterrupted when power is off.
No more grappling with running cables through walls or troublesome rewiring to the router, a Wi-Fi NVR won't be easily accessed by thieves.
2. Secure the Wires
Thieves are likely to track down cables to snatch the standalone surveillance video recorder.
Nevertheless, it's important to hide the cables to your surveillance hub. Before threading your wires, get familiar with the wall layout, you can call professionals to run the wiring and secure cables to the wall or baseboards with a staple gun.
3. Use Dummy NVRs or DVRs
Deceiving the thieves or invaders requires you to go extra miles. But the extra inventive solutions will pay off considering the importance of your home security system.
One possible solution to trick the thieves is to put out a dummy DVR or NVR that look similar or identical to the real device in an obvious spot while hiding your real DVR recorder or NVR. You can get some used DVRs from hardware stores or online market.
How to Back Up Security Footage from DVR or NVR
Some customers asked about how to retrieve lost data stored in stolen NVR or DVR. The truth is there is a small chance that you could recover the stolen files unless you take back the stolen devices or backup them beforehand.
Therefore, think ahead and figure out a way to save and back up security footage to a separate storage device before unfortunate strikes.
1. Backup Videos to an FTP Server
In some scenarios, unless you have your footage backup to a storage service, then you are likely to be worried that a bad guy tries to cover his tracks by stealing your computer or DVR (possible).
Therefore, backing up your storage on FTP server delivers a greater sense of safety if your FTP account is secured.
To find out more about how to back up recordings to an FTP server, read this detailed step-by-step guide.
2. Backup Videos to an SD Card
Normally, IP security cameras with built-in SD card (slots) can store motion-triggered recorded videos or images but not 24/7 video. For example, Some IP PoE security cameras or Wi-Fi surveillance cameras are outfitted with a 16GB Micro SD card.
3. Backup Footage to a Network Attached Storage(NAS)
Data storage NAS devices like Synology, QNAP can also be used to store video recording for a longer period of time. Many Reolink security cameras are compatible with Synology NAS, for example, RLC-823A, RLC-822A, RLC-810A and more.
Here is one video example of using Reolink security cameras with Synology and QNAP NAS.
Alternatively, you could get a PC-based NVR like Xprotect or BlueIris, then you can set up many different ways to backup or replicate the data, like to your computer.
Best DVR or NVR Security Camera System
NVR security camera systems with 8 channels or 16 channels provide 24/7 continuous recording and monitoring if you have multiple cameras monitoring your home, simultaneously streaming live video and recording videos, viewing live videos or playing back recorded video locally and remotely.
PoE HD NVR security camera system Reolink Reolink RLK8-810B4-A is one of the most popular home security systems among homeowners. It's great value for the money.
Here is one hands-on review video of this NVR camera system.
The superior 8-channel IP HD NVR even features flexible recording (motion-triggered) and playback capability, a user-friendly graphical user interface (GUI), smart motion detection, and up to 12TB storage capacity.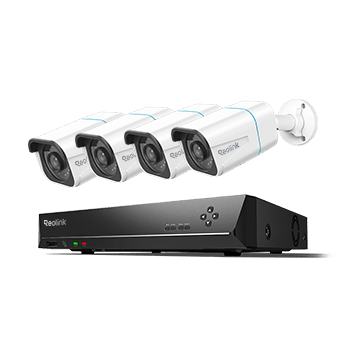 Reolink RLK8-810B4-A
Smart 4K 8-Channel PoE Security System
4 pcs 4K Ultral HD Security Cameras with Person/Vehicle Detection; 2TB HDD 8-Channel NVR for 24/7 Recording; Plug & Play.