When choosing outdoor security cameras, you may think of these features: waterproof, vandal proof and even insect proof.
PoE outdoor dome cameras shall top your list and meet all the requirements above.
So why do PoE dome cameras outshine other security cameras when it comes to outdoor use?
Continue reading and find out the reasons and top 3 PoE outdoor dome camera recommendations below. If you need some help in installation, follow the step-by-step guide to install on your own!
Content:
Unique Advantages of PoE Outdoor Dome Cameras
Why PoE outdoor dome cameras are more preferable? Look through the 3 major advantages as followed and you will reach a conclusion.
Advantage 1: Easy Cabling
PoE security cameras for indoor or outdoor use require only one Ethernet network cable for data transmission and power supply.
Applying this type of cameras helps eliminate tangled cords and simplify cable routing in your houses or business environment.
Note that various outdoor PoE dome cameras may require different Ethernet network cables, such as Cat 5, Cat 5e or Cat 6 (read this post to learn differences between Cat 5 and Cat 6 security cameras).
Advantage 2: Wider Field of View
Most common dome cameras come with fixed lens but some top-rated outdoor PoE dome cameras, like Reolink RLC-420, allow you to adjust the direction of the cameras manually.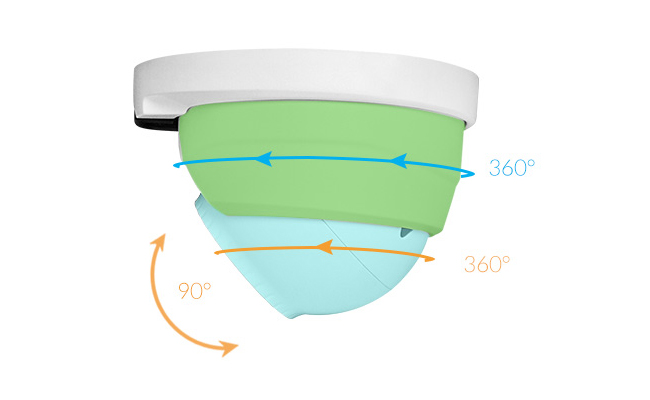 In other words, PoE dome-style outdoor cameras that allow direction adjustment offer you chances to see from wider FOV (field of view) and help capture images from every wanted angle.
Advantage 3: Low Profile
Thanks to their unique shape, PoE dome security cameras installed in outdoor environment are more low profile, making them vandal proof, weatherproof and even insect proof.
Most outdoor dome-shaped PoE security cameras are mounted to soffit, which are visually invisible to intruders. Due to the dome shape, it is harder for perpetrators to cover the lens with cloth or other materials.
Some of you may worry that the infrared light of security cameras may attract insects when the infrared LEDs are on. In fact, it is almost impossible for insects like spiders to make webs on PoE outdoor dome-style security cameras.
Quite similar to the spider web, not much snow will be left on the surface of dome outdoor PoE cameras, which is also a great benefit.
You can also read this post to learn more reasons to buy and use dome-style security cameras.
PoE Outdoor Dome Security Camera Recommendations
To help you pick the PoE outdoor dome IP cameras that meet your need, we've made a list of our top 3 picks. Keep reading and get the camera that works best for you.
Bang for the Buck Outdoor PoE Dome Camera: Reolink RLC-420
For a budget under $70, Reolink RLC-420 with PoE outdoor dome security camera multiple features is one of the best value choices.
Best Pick 1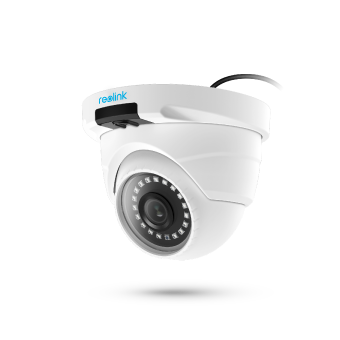 Reolink RLC-420
PoE Dome Security IP Camera
• IP66 Waterproof Rating
• 5MP Super HD
• 100 Feet Night Vision
• Built-In Microphone
Shop Now
Mark has done a comprehensive review on RLC-420 on improdia.com.
Below is his verdict to this PoE outdoor dome camera:
"Excellent software for setup and configuration and higher resolution than standard 1080p HD, but night vision image is noisy."
Varifocal PoE Outdoor Dome Camera: Reolink RLC-422
If you are looking for a vandal proof PoE dome outdoor camera, Reolink RLC-422 is a strong contender that withstands external mechanical impact and works perfectly even in bad weather.
Best Pick 2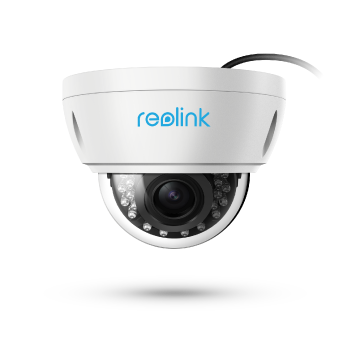 Reolink RLC-422
PoE Security IP Camera
• 4X Optical Zoom
• 5MP Super HD
• IP66 Waterproof Rating
• 100 Feet Night Vision
• IK 10 Vandal Resistant Rating
Shop Now
Here is a video sample captured by Reolink RLC-422.
A detailed review of Reolink RLC-422 is on VueVille.com and the reviewer gives it an 8.3 out of 10.
His verdict is as followed:
"The RLC-422 is a very affordable 5MP dome camera with optical zoom that is capable of stand-alone operation due to its built-in NVR feature."
Reolink RLC-423, a solid option for outdoor PoE PTZ dome cameras, offers you no-blind-spot monitoring to secure your home and business.
Best Pick 3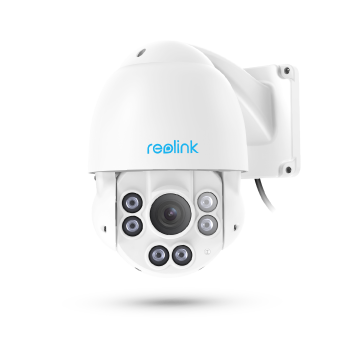 Reolink RLC-423
High Speed Dome PoE Security IP Camera
• 4X Optical Zoom
• 5MP Super HD
• 360° Endless Pan & 90° Tilt
• 190 Feet Night Vision
• IP66 Waterproof Rating
Shop Now
Here is a video sample recorded by Reolink RLC-423.
Reviewer of VueVille.com has done an all-rounded review on this PoE dome camera and score it 8.3 out of 10.
He prizes the RLC-423 as the best affordable outdoor PTZ IP dome camera.
Step-by-Step Guide to Install Outdoor PoE Dome IP Cameras
Mounting PoE outdoor dome cameras can be a headache for green hands. With detailed installation steps listed as followed, you can do it yourself and enjoy the installation!
Step 1. Find Installation Places Where Cameras Get Clear Views and Stable Power Supply
When you are choosing installation spots for outdoor PoE dome cameras, adopt these tips to find the ideal sites:
#1. Choose high and safe spots that provide clear view and no-easy reach of intruders or naughty kids.
#2. Install your cameras near security cameras power supply source, which saves your effort from complicated cabling.
#3. Do not face your PoE outdoor dome cameras directly to any light source. Otherwise, images or videos captured by the cameras will be overexposed without details.
Step 2. Route the Cables for PoE Outdoor Dome-Style IP Cameras
With installation position decided, it is time for you to plan the wires before mounting outdoor PoE dome cameras.
You are suggested to make up a wire plan to figure out the most effective and shortest route in your house or business environment (read this post to learn how to run security camera wires).
Step 3. Mount Outdoor PoE Dome Cameras to Wall, Ceiling or Soffit
When the two steps above are done, it will be an easy task to install PoE outdoor dome security cameras to specific places.
Some top security camera manufacturers provide you an all-included package with mounting brackets, hole template, and screws to make installation easier.
Step 4. Connect and Supply Power to Outdoor Dome PoE Cameras
After mounting outdoor PoE dome-style cameras, the next step is to connect the cameras to electricity source and check if them receive stable power supply.
If your router supports PoE feature, you need only to connect your cameras to the router through Ethernet cables.
Supposed that your router does not support PoE feature, you are recommended to prepare a PoE injector (for connection of one camera) or a PoE switch (for connection of multiple cameras) in advance.
Next, link your cameras to the injector or switch with network cables before connecting the latter to the router.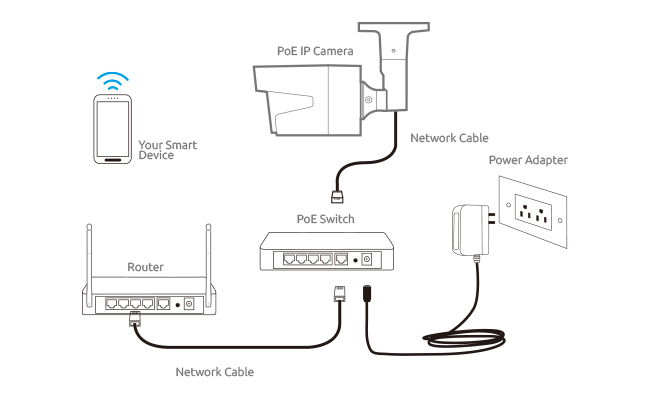 Step 5. Download Software and Set Up Your PoE Dome Cameras for Outdoor Use
The last step of installing PoE outdoor dome CCTV camera is to download app on your phones or Client on PCs and bind your cameras to the software.
With the steps above done, you are able to watch live view and adjust camera settings, such as motion detection sensitivity and zones.
Editor's Tips: Given that the majority of outdoor dome IP cameras come with high water-resistant IP rating, you can mount your cameras under eave or soffit to reduce the impact from extreme weather.
In addition, you can also add a junction box to protect the wires of your outdoor dome PoE cameras.
Follow the steps in this video uploaded by a Reolink user, Mark, on his YouTube channel and learn how to add a junction box to your cameras.
FAQs on Outdoor PoE Dome IP Cameras
Aside from recommendations and installation tips, we also collect some most often asked questions on dome-style PoE outdoor cameras and offer our solutions to you.
Question 1: How Far Can I Run PoE Outdoor Dome CCTV Cameras?
The distance that you run outdoor PoE dome cameras mainly depends on your cameras and cables. Put in other words, qualified cameras and cables contribute to longer camera run.
Suggested maximum length for PoE outdoor dome-style cameras is around 300 feet, which is around 91 meters.
Keep in mind that too long run, especially through non-shielded wires, may lead to signal degrade or even voltage changes which may harm your cameras.
Question 2: My PoE Outdoor Dome Cameras Deliver Foggy Images at Night, Any Tips?
Foggy images of PoE outdoor dome cameras at night time are mainly caused by loose sponge ring, IR reflection of nearby objects and dirty dome cover.
First you can clean the dome cover frequently. If this does not solve your problem, you are suggested remove the dome cover and ensure whether sponge ring is firmly pressed against the dome or not.
If the foggy problem remains, check if there are any nearby objects that reflect infrared light and remove these objects.
Question 3: Can I Connect My Outdoor PoE Dome Cameras to NVR?
Of course you can do so!
By connecting PoE dome cameras installed outside your home or company to an NVR, you can manage all your cameras together, with plus benefits of 24/7 continuous recording and more image and video storage.
Note that some outdoor dome PoE cameras only work with NVRs from the same brand. So when you are looking for NVRs, remember to choose one that works with your PoE cameras.
Let us know if you have any ideas or questions in the comment below and we would love to hear!