What's a Cat 5 or Cat 6 security camera? Can I use Cat 5 cable for CCTV cameras? How to wire CCTV cameras with Cat 5 cable? How to wire IP PoE cameras? How to run Cat 5/6 cables. In this article, we shed light on these questions and help you choose Cat 5/Cat 6 security cameras/systems wisely.
Here is the information that you may need to know before reading the article:
| | |
| --- | --- |
| Ethernet Cables | Cat 5/Cat 6 |
| Cat 5 Cable | 18/30 meters |
| Recommended Camera | Reolink security cameras/systems |
| Without Wire | Battery-powered security cameras |
What's Cat 5/Cat 6 Cable
Category 5 cable, also known as Cat 5, is a type of Ethernet network cable used to transmit video signal and supply power to network IP cameras. Cat 5, Cat 5e, and Cat 6 are different Ethernet cable standards supporting different internet speed, bandwidth and transmitting distance.
Despite the differences, all Ethernet cables Cat 5 and Cat 6 are plugged into the same network port.
What are Cat 5/Cat 6 Security Cameras/Systems
Cat 5 or Cat 6 security cameras are commonly known as PoE IP cameras (power over Ethernet cameras), or Ethernet security cameras, which only need single Ethernet network cable (Cat 5 or Cat 6 cable) to transmit data and power to cameras/systems.
Cat 5/Cat 6 PoE cameras are first plugged into a PoE switch/PoE injector or network video recorder (NVR) with PoE ports and a network router, and then the security camera will be up and running.
To get a better idea, the Ethernet IP security camera wiring diagram is shown below.
PoE cameras/systems are the plug-and-play type with minimal wiring hassles as they can transmit data and power with ONE single Ethernet cable, eliminating tangled cords and simplifying wiring around the house.
How to Choose Cat 5/Cat 6 Ethernet Cables for IP Cameras
People who are new to Cat 5/Cat 6 security cameras always grapple with issues like how to choose Ethernet cable for PoE security camera? How far can Cat 5 or Cat 6 cable run? Should I use Cat 6 or Cat 5e cable for my IP security cameras? Any good recommendation for a good Cat 5 or Cat 6 cable?
Basically, many PoE security cameras come with some Ethernet cables (Cat 5 or Cat 6). For example, Reolink RLC-810A, one of the most popular PoE security cameras is supplied with one meter long Cat 5 cable. And users can purchase additional Ethernet cable for Reolink PoE security cameras, like 18 meters long or 30 meters long Cat 5 cable right on the Reolink website.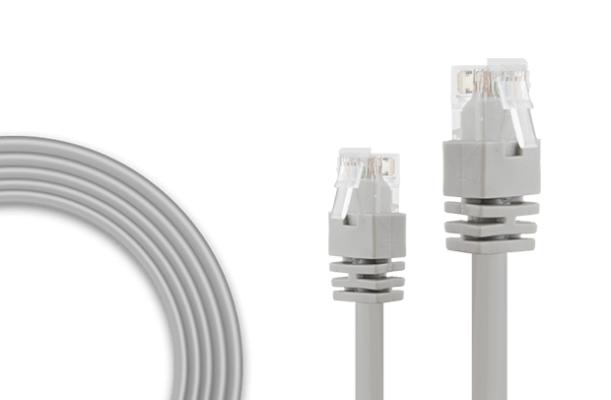 If you are hoping to get a longer cable for the installation, it's always a good idea to consult the manufacturers first.
Many PoE camera users agree that the Cat 5 Ethernet cable is sufficient enough to power the majority of IP security cameras. Of course, Cat 6 Ethernet cable is the much more future-proof and would be more advanced than Cat 5 or Cat 5e in terms of stability and speed.
Then here comes another question. Should you go for unshielded twisted pair (UTP) cable or twisted pair cable for CCTV or IP cameras? Well. The UTP cable is more commonly used in PoE security cameras thanks to its lower cost and flexibility.
How to Wire Cat 5/Cat 6 Security Cameras
There are some important details needed to attend to when it comes to running cables and wires for security cameras. If you are thinking about running the Cat 5/Cat 6 over 300 feet in length, it's a good idea to check their specifications for transmitting distance as well as IP camera cable distance, which is always listed on the product label.
The longer the cable goes, the more signal will be compromised accordingly. To reduce video signal loss, you can use a network switch/PoE switch to act as a signal repeater in the middle of the line, find more on this awesome community. Or you can make your long run with fiber optic cable.
Besides, if you are running Cat 5/Cat 6 cables outside the house, keep in mind that you need to bury/protect them properly by using PVC conduit or metal conduit in line with your actual needs.
Cat 5/6 Security Cameras/System Reviews & Recommendations
We list out some best-rated PoE Cat 5 security camera system, and Cat 6 security cameras/systems.
Reolink RLC-810A – Best IP PoE Cat 5 Security Camera
RLC-810A 4K 8MP IP camera is a versatile PoE outdoor/indoor security camera. It is powered by a single Cat5/6 Ethernet cable and can be installed outdoors/indoors.
Reolink RLC-810A is one of the most popular Cat 5/Cat 6 security cameras for home and business thanks to its 4K Super HD quality and affordable price tag.
Reolink RLC-823A - Cat 5/6 PTZ IP Security Camera
Powered by single Ethernet cable (Cat 5 & Cat 6) for power & video signal, Reolink RLC-823A is a plug-and-play security camera, which works simply by plugging into a PoE switch/injector.
Capable of rotating 360˚ horizontally and tilt 90˚ vertically, Reolink RLC-823A PTZ cameras can keep an eye on larger areas, leaving zero blind spots.
RLK8-800B4 – Cat 5/Cat 6 Security Camera System
It's a complete PoE IP camera system (kit) and one of most popular Cat5/6 security camera kit with a spool of 18 meters long Cat 5 cables. All four HD PoE cameras can be powered by one single Cat5/6 Ethernet network cable.
Reolink RLK8-800B4 is a do-it-yourself (DIY) home security system and plug-and-play home security system as well as best bang for the buck IP 4 camera system, priced at $529.99. (See Amazon reviews).
Reolink RLK8-800B4
4K 8-Channel PoE Security System
4 pcs 4K Ultra HD Security Cameras; 2TB HDD 8-Channel NVR for 24/7 Recording; Person/Vehicle Detection; Plug & Play; 2 Network Solutions.
Other alternatives: Wire-Free Security Cameras
If you don't want to run cables (Cat 5/Cat 6 network cable or power cable) around the house to get the security camera up and running, simply go for wireless battery-powered security cameras like Reolink Argus 3 Pro, one of the most popular wire-free security cameras available on the market.
Here is one detailed hands-on review.
How to Wire CCTV Cameras over Cat 5 Cables
In sharp contrast to IP security camera over Cat 5/Cat 6, analog CCTV cameras/systems are powered by separate cables (coaxial BNC cable & DC power cable) for electricity and video signal transmission, which increases troubles of running different cables around the house.
Because of advancement of PoE Ethernet technology, more traditional CCTV analog security cameras can be powered by the Ethernet Cat5/Cat 6 cables, which enable it to run cables even in long distance and reduce wiring hassles.
Benefits of wiring CCTV cameras over Cat 5/6 Ethernet
Single Ethernet cable to minimize wiring hassles
Extend video transmission distance
Extend video transmission distance
Easy to integrate with existing Cat5 Ethernet infrastructure
Future–proof
To connect Cat5 Ethernet cable to CCTV security cameras, CCTV video baluns, an electrical device converting balanced/unbalanced signal, are needed to transmit CCTV video signal over Cat 5, known as Unshielded Twisted-Pair(UTP) as well, for example, this passive video balun with the power connector and RJ45 Cat 5 data transmitter.
There are some videos detailing how to wire and install CCTV cameras over Ethernet Cat 5/6 cables. For example, one video explains how to connect Cat 5 cable to CCTV security camera using a balun. Another video shows using Cat 5 cable and baluns to connect a CCTV camera to the DVR.