"I am looking for a panoramic or fisheye security camera that can record 360 degrees at once, so it can cover the sides of my house and cars on the street simultaneously."
The 360° or 180° fisheye security cameras, compared with traditional fixed filed-of-view surveillance cameras, feature wider coverage and leave no blind spots of your monitoring zones.
If you also need a panoramic security camera or a fisheye CCTV IP camera, read this post for all-round information.
What Is a Panoramic Fisheye Security Camera
A panoramic fisheye security camera is the IP surveillance camera that enables you to simultaneously monitor an area overview from a fisheye model (or from a fisheye camera lens), offering you a wider field of view, up to 360 degrees.
Now the outdoor fisheye security cameras come with various types, using either a combination of multiple image sensors or a single fisheye (ultra-wide angle) lens.
In terms of the angle of panoramic view, there are 180 degree panoramic security cameras and 360 degree fisheye IP cameras.
A 360-degree fisheye and panoramic security camera enables 360° surround view without blind spots, ideal for surveillance applications that require wide area coverage in a single view.
As for the 180 panoramic security cameras, they can provide full situational awareness when installed on a wall, in corridors or reception areas.
Thanks to the advent of fisheye and panoramic IP security cameras, they offer not only a new breed of security camera systems, but also another cost-effective option for comprehensive security.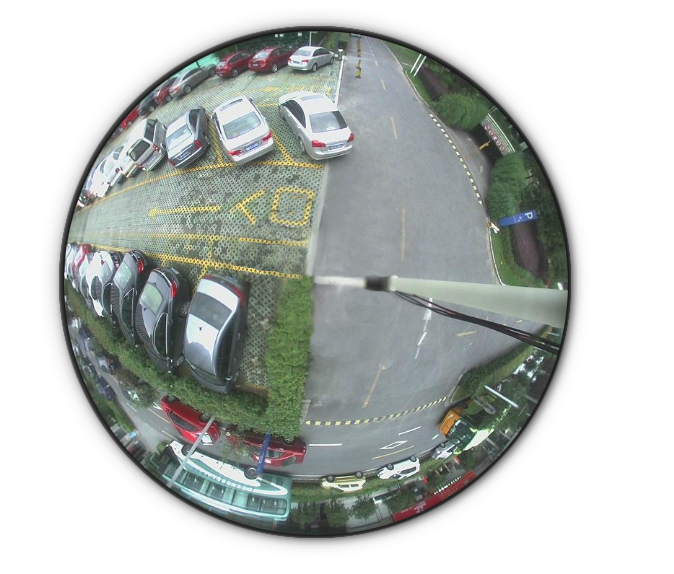 How Do Panoramic Security Cameras Work
A panoramic fisheye surveillance camera works a little differently from a fixed bullet IP camera or a fixed dome IP camera.
The fisheye global view and a speed dome camera accomplish a 360-dgree seamless surveillance solution, and the fisheye security camera's global view is used as the "command" unit to detect events across an entire area.
A panoramic security camera, or a fisheye CCTV IP camera, can be used to detect activities in a large area, like a crossroad, a house front yard, a home back yard, a dining room, a living room, an office, a retail store, warehouses, parking lots, stadiums, museums, concert halls, and ports.
What Are the Advantages of Panoramic Fisheye Security Cameras
So, why should you choose the panoramic or fisheye security cameras? The following benefits of fisheye panoramic IP cameras will be the best answers.
1. 360 Degree Fisheye Security Cameras Feature Ultra-Wide Coverage
A panoramic fisheye security camera boasts of 180 degree or 360 degree field of view. That's to say, it can replace multiple traditional fixed-lens security cameras to cover wide areas without blind spots.
2. Panoramic Security Cameras Can Greatly Reduce Your Cost
As a single outdoor panoramic surveillance camera can do effective monitoring of large areas, you don't need to pay more money installing multiple IP cameras. (Read this to learn how many security cameras you need.)
Better yet, using fisheye home security cameras can also reduce your cost on security camera accessories such as protective skins, wirings, power cables, etc., and save you the installation time as well as follow-up maintenance.
3. Fisheye Panoramic IP Cameras Feature Reliable Performance
The panoramic and fisheye security cameras are capable to deliver 360° panorama view without image distortion, ensuing no single details would slip away without your notice.
If you want to monitor outside your house and stop break-ins, try an outdoor panoramic fisheye security camera. Do remember to select one that is waterproof and that has a good night vision.
Tips on the Installation of Fisheye Security Cameras
The panoramic fisheye security cameras, in virtue of the compact and non-intrusive design, are easy to blend into the surroundings and suitable for a seamless 360-degree panoramic monitoring setup.
To take full advantage of the fisheye CCTV cameras, check out the following installation tips below before you start off.
Avoid placing a 360 fisheye security camera in or near a corner, as the walls will hinder its panoramic view and thus the lens couldn't be made full use of.
If you plan to install a panoramic fisheye IP camera to the ceilings, make sure the camera is located in the center of the monitoring zone, otherwise the images will be reshaped.
Keep the panoramic security cameras away from the air conditioner vents and electric entrance doors.
Make sure the fisheye CCTV IP cameras are not near to the ceiling lamps or indicator light, which will interfere in the image signal and affect the camera's image quality.
Stable the 180 degree or 360 degree fisheye security camera with expansion screws to prevent it from falling down over a long period of time.
Where to Buy a Panoramic and Fisheye Security Camera
You can buy a panoramic security camera in a retail store located in your area, or from online stores at Amazon, Best buy, eBay, etc. A variety of fisheye security camera models are now available for indoor and outdoor security.
But note that a panoramic video security camera can be a bit expensive. Check your budget before your head to the store.
In fact, if you're on a tight budget, there are also many good alternatives of those panoramic fisheye security cameras, which are cost effective and can do almost all the same things as a panoramic security camera – 360-degree horizontally panoramically or 180-degree panoramically monitor an area without blind spots in real time.
Cost-Effective Alternatives of 360-Degree Panoramic & Fisheye Security Cameras
Choosing an alternative of panoramic or fisheye security cameras is a wise choice.
Why?
With a more respectable & affordable price, you'll get what a 180 degree or 360 degree fisheye IP security camera can do – clear images with vivid details and full area coverage with a speed dome PTZ camera.
The Reolink RLC-423 4X optical zoom PTZ security camera, based on our market research, is a good alternative of the panoramic fisheye security cameras. It enables you to see and monitor an area with a wider view, up to 360 degrees horizontally and 90 degrees vertically.
Key Features of This Fisheye Security Camera Alternative
• Monitor larges areas with a wide viewing angle, 360 degrees horizontally and 90 degrees vertically
• 5MP high resolution to record crystal clear and sharp images
• 4X optical zoom in and out
• Smart motion detection and intelligent alerts
• PoE for easy installation
• IP66 waterproof for both outdoor and indoor use
• 6PCS of LED lights for excellent night vision (up to 190ft)
Below is a video shared by a user of the PTZ security camera Reolink RLC-423.
Reolink RLC-423
PoE Waterproof PTZ Security Camera
5-Megapixel Super HD; 360° Pan & 90° Tilt ; 4X Optical Zoom; 190ft Infrared Night Vision; Smart Motion Detection; Remote Live View & Control.
For any other questions about the fisheye security cameras, please leave them down in the comment.