If the surveillance cameras, some or all of them, suddenly stop working, showing video loss or signal loss on the monitor or screen intermittently, then you might find this article rather helpful. We look into common reasons for video loss problem on CCTV security cameras and systems, DVRs camera systems, and provide tips to fix CCTV security camera video loss.
The following information is the focus of this article:
| | |
| --- | --- |
| Problem | Security camera video loss |
| Reasons | Insufficient power supply, etc. |
| Quick Fixes | Check power connections, etc. |
| Recommended Camera | Reolink Go |
What's Video Loss on Security Cameras
Video loss on security cameras comes in different forms and shapes.
For instance, a CCTV surveillance system loses video feeds on one or all cameras, displaying video loss at the same time.
CCTV camera gets a loose connection, goes black at night, or gets no video with surveillance camera showing a black screen.
Sometimes, the camera video flickers on and off, showing lines on the screen and monitor. Or the H.264 DVR gets no picture, camera not working and etc.
If you have encountered other problems when using security cameras, check out these posts for feasible solutions:
#1. Security Cameras Won't Work: Top 10 Quick Fixes
#2. IP Camera WiFi Issues: Top 9 Tips

WAIT! Check out these Special Deals before you leave:
Right now, you can get EXCLUSIVE & BIG discounts on a wide range of Reolink security cameras & systems, wire-free & plugged-in, indoors & outdoors.
Why Does Camera Video Loss Happen
We have heard many users complaining about video loss problems on Swann Pro series CCTV cameras, Night Owl cameras, Zmodo cameras, Lorex surveillance camera, Amcrest camera or other cameras, Qsee cameras or CCTV/IP cameras of other brands.
So why does video loss happen?
In general, the issue of "video loss" on CCTV security cameras or DVR/NVR, in many cases, comes down to several factors: insufficient power supply, unstable network, wiring problems, hardware (cameras, NVR/DVR or monitor) failures, inefficient camera software and IP address conflicts.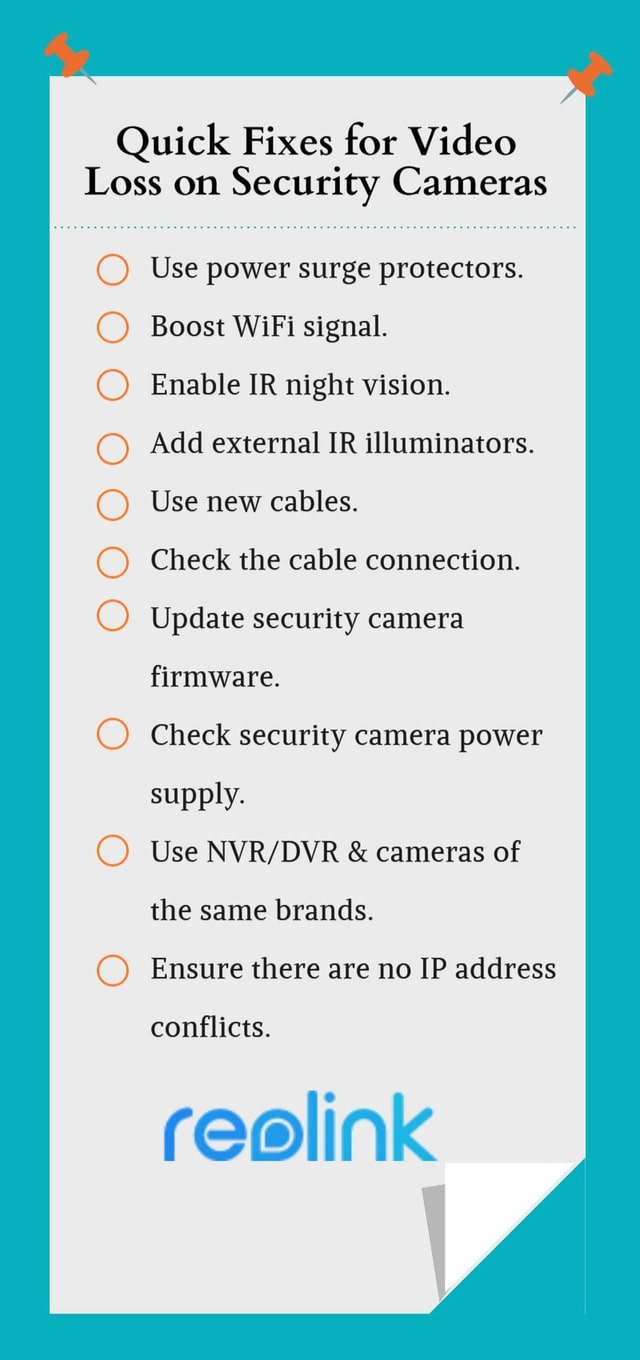 Security Cameras Video Loss – Possible Reasons & Troubleshooting
Many users tried and used different ways to solve the video loss but in no luck. Today we share some of the best practices to deal with security camera video loss.
Video Loss Reason 1: Insufficient Power Supply
The insufficient power supply is, very often, the culprit of the video loss on one or all security cameras, CCTV video loss at night, video signal loss on screen, camera going black at night, or camera video flickering on and off.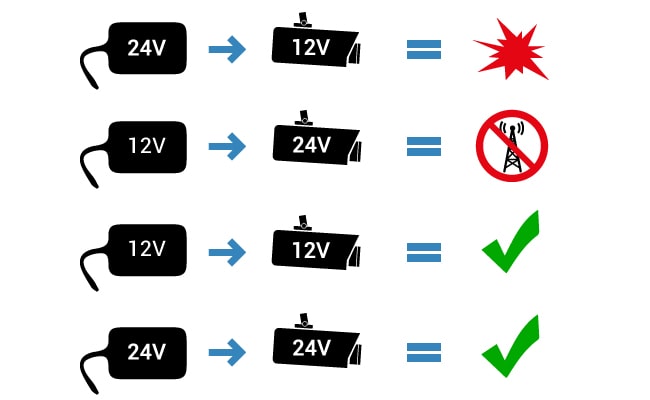 Here are some common reasons for insufficient power supply to CCTV cameras:
• Loose cable connection
• PoE switch or PoE injector
• Cable is too long, or one cable is supplying too many cameras at once
• Faulty power cables (old, damaged, degraded or cut)
Loose cable connection, for example, between DVR/NVR with cameras, between CCTV cameras and monitor or screen, power adapter, or any possible loose connection in camera power supply could cause video loss.
Quick Fixes:
Double-check all power connections, power splitters, cable connectors, and etc. to exclude connection issues. Switch ports to make sure the DVR/NVR port is providing power to the cameras.
Connect the IP cameras directly to the NVR (if there is any) instead of via a PoE switch because the PoE switch could potentially not supply insufficient power to the IP cameras.
Especially the PTZ IP cameras or night vision IR security cameras, which draw more electricity than those don't come with PTZ or night vision (click here to learn more about security camera power consumption).
If PoE switches or PoE injectors are necessary, make sure you choose PoE switches or injectors properly.
Besides, try using shorter BNC or Ethernet cables to power surveillance cameras system and avoid using low-quality extension cables or extension cords.
If you are using battery-powered security cameras, for instance, Reolink Argus 3 Pro and Reolink Go Plus, make sure the battery is not dead or charged either via power adapter or solar panel.
Video Loss Reason 2: Power Spike & Interference
Another horrendous hazard is power spike.
It is likely to cause sudden video loss on security cameras, all CCTV cameras black screen, a camera with the electrified surface, the camera with a vertical/horizontal line, or serious damage to the camera circuit board or other components.
Here are some common reasons for power spike & interference:
• Mounting security camera to a metal/conductive surface
• Lightning strikes
• Strong electrical currents interference from nearby electrical equipment
Quick Fixes:
To resolve such issue, try using power surge protectors or lightning surge protectors to protect your CCTV cameras from a lightning strike.
UPS (Uninterruptible Power Supplies) units will ensure power supply for all cameras when there is a power outage, mitigating concerns for camera power-off.
Besides, if it's hard not to mount your camera to anything other than a metal/conductive surface, add a block of wood in between.
Video Loss Reason 3: Weak WiFi Connection or Low Bandwidth
Video loss or weak video signal among WiFi security cameras and systems could be caused by unstable network connections, weak WiFi connection or low internet bandwidth.
Here are common reasons for network-induced video loss:
• Long distances between wireless security cameras and home routers
• Too many barriers between your camera & WiFi router
• WiFi signal interruption & interference
• Insufficient bandwidth via PoE switch or NVR
• The loose connection between BNC connector and security cameras or H.264 DVR
BNC connector, which is commonly used on thin Ethernet network cables and network cards to transmit signals, however, unexpectedly and frequently, explains the constant signal loss and video loss on PoE home surveillance cameras or H.264 DVR.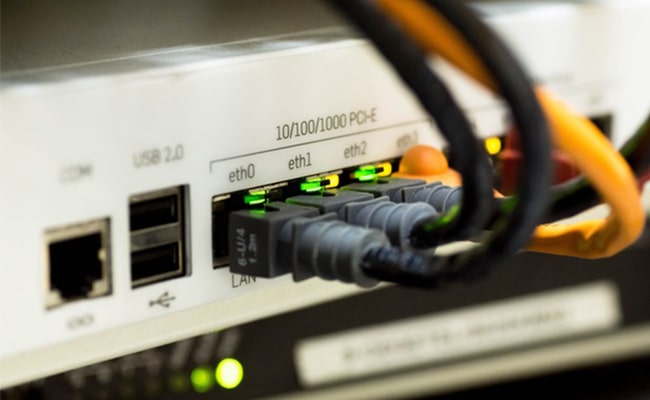 Some users set up their home surveillance system by connecting the cameras to multiple PoE switches before connecting it to the NVR or other network storage like NAS.
In such cases, video loss or camera not recording is likely to occur due to the bandwidth and network traffic.
In addition, a PoE switch or injector, if being loose or cut, also results in signal transmission disruption and video loss in the process.
If you happen to have wireless security cameras installed, camera video loss displaying during live view could be the result of WiFi signal interruption, be it as a signal drop or signal loss.
Once the wireless cameras' connection with video recorders was severed, it's impossible to upload or stream video feed on any devices.
Quick Fixes:
Check home routers and PoE switches and get your security cameras closer to your home router.
Reconnect BNC connector and unplug PoE switch or injector to troubleshoot the video loss on analog and IP PoE security cameras.
For wireless security cameras, it's advised to examine network and possible network interruption by checking router and channels (click here to learn how to boost WiFi signals).
If you are using cellular security cameras like Reolink Go Plus, make sure the SIM card is properly inserted, not loose, or the data is not maxed out.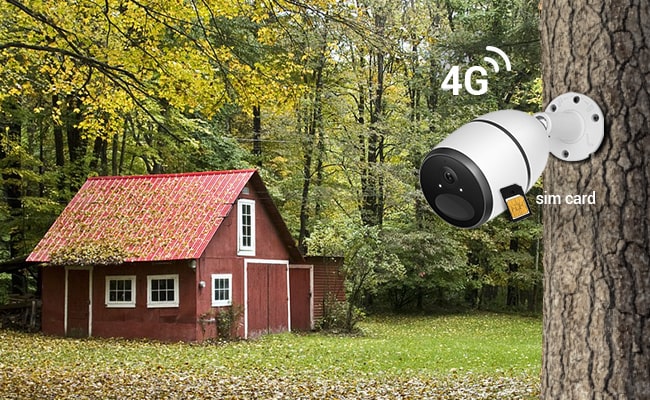 Video Loss Reason 4: IR Cut Filter & Faulty IR Night Vision
Some users experience CCTV camera black screen or video going black at night, it's likely that the camera lacks infrared night vision, or the IR night vision camera doesn't have an IR cut filter or a faulty IR sensor, or you simply forget to turn the IR on.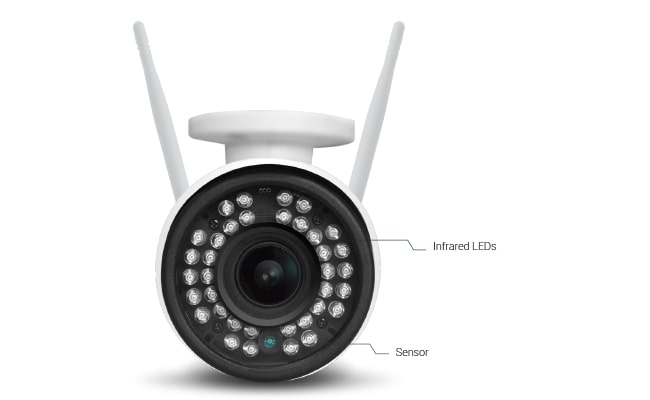 Quick Fixes:
Check camera settings to make sure the IR is on. To see if the IR LEDs are working, bring in the camera and put them in a low-light environment to see if the IR LEDs is on.
If your outdoor security cameras don't come with IR night vision or defective IR LEDs, use external IR illuminators or floodlight when necessary.
Video Loss Reason 5: Signal Type & Compatibility
Sometimes, your DVR or NVR shows video loss or no video, it's possible that your NVR/DVR is not capable of decoding the video stream, especially when you apply security cameras from different brands.
Or cameras with a higher resolution like 5MP or 4MP can't be decoded or compatible with NVRs/DVRs that are designed to decode 1080p camera.
In some rare cases, the DVR is not able to understand a signal type that the CCTV camera is using, especially among some old CCTV cameras.
Quick Fixes:
Consult the support team of security camera brands on the technical details.
Make sure to eliminate all possible hiccups before returning them for good since many problems will resolve itself if giving them time, and give yourself some time as well before throwing them away.
Remember to use the same brand of NVR/DVR and cameras and make sure the DVR/NVR is able to decode the video stream.
Video Loss Reason 6: Problems in Cables or Wires
BNC Cables or Ethernet network cables, to some extent, could have an impact on the functionality of surveillance cameras, especially analog CCTV cameras which could suffer a greater risk of video loss or signal loss than PoE cameras.
In such a context, hardwired surveillance cameras will be more likely to encounter with wiring-related glitches, such as video loss on analog CCTV cameras and PoE security cameras.
Twisted or bent cables particularly link to signal loss or weak signal passing through to the hub. In some common cases, video feed loss or failures in video streaming will occur.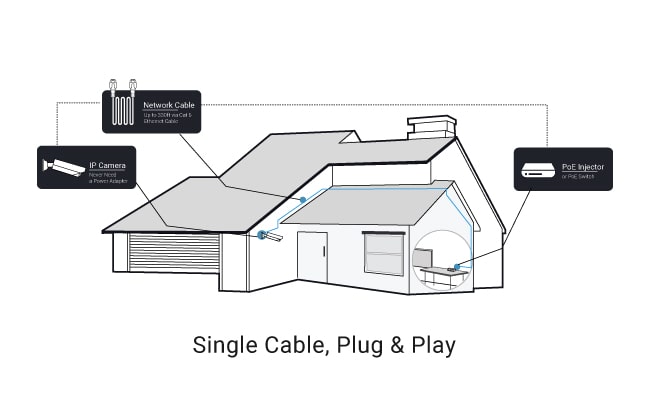 Quick Fixes:
Check the wiring around your house and every inch of them until you are 100% sure about all wires are firmly connected and fine without any degradation or impairment.
Examine all cables, especially cables through crawl space or attic, to see if the cable is chewed, bent, cut or damaged.
Try powering the CCTV cameras or IP cameras with new cables if necessary.
Video Loss Reason 7: Hardware & Firmware Problem
If you rule out power disruption, connection problems, BNC connector, or cable issue, but still fail to get the bottom of video loss on the cameras, it may be, just maybe comes down to the very fact that your NVR/DVR or surveillance cameras are in a shabby state.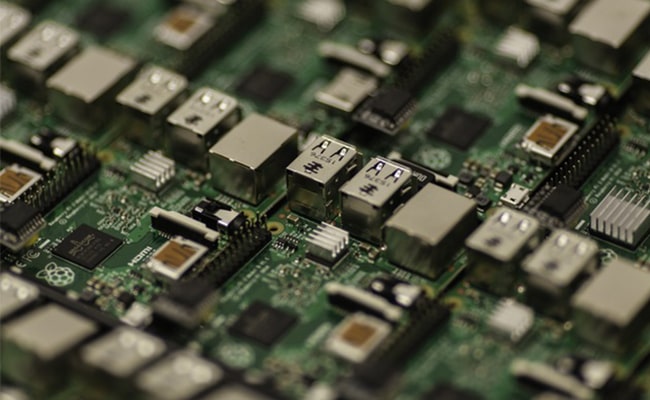 Sometimes, video loss problem could also happen because of the old or bug-ridden firmware that has been upsetting your nerves all along.
The possible solution would be to have a quick check on the update info and consider a firmware update to get better performance but not with certainty.
Quick Fixes:
Some users suggest updating firmware does help resolve this problem. Caution is warranted before updating and thorough understanding of the update is needed.
When the CCTV cameras, NVRs, or H.264 DVRs go wrong and constantly suffer from video loss, black screen, or no video, it's time to buy new and quality security cameras and systems.
Video Loss Reason 8: IP Address Conflicts
If you can't solve video loss on security cameras even after checking the power supply and network connection, it is possible that there are IP address conflicts that stop you from viewing the security cameras.
Quick Fixes:
Examine the IP address of your security cameras in Client or third-party viewers to see if there are any conflicts, for example, duplicated IP address.
Follow this detailed tutorial to set up IP camera local and remote viewing with the right IP addresses.
Quality & Reliable Security Cameras & Systems Recommendation
Reliable camera system goes a long way to giving you real peace of mind.
Low-quality products will constantly experience problems in image, videos, NVR and tons of other problems, while high-quality and trusted video surveillance cameras system not only provide you with reliable products but also long-term stability and reassurance.
Wire-Free Solar-Powered 4G Security Camera - Reolink Go Plus
Reolink Go Plus connects to the nationwide 4G cellular mobile network instead of WiFi, which is very often the cause of video loss or signal loss problems.
For locations where WiFi or bandwidth network is not available, this wire-free 4G-LTE camera is a perfect solution, reducing hassles of video loss, running wires, weak signals, or black-out.
Thanks to Reolink Cloud Storage, the motion footage or important details are securely stored in the cloud.
The video sample below is recorded by this 4G cellular solar-powered camera in an off-grid stable.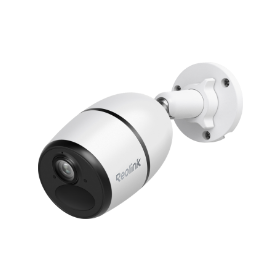 Reolink Go Plus
Smart Wireless 4G Battery Camera
Rechargeable Battery/Solar Powered, Person/Vehicle Detection, 2K 4MP Super HD, Two-Way Audio, High-Quality Night Vision, Live View Anytime.
If you prefer WiFi battery-powered security cameras, take a look at Reolink Argus 3 Pro.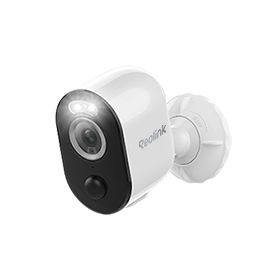 Reolink Argus 3 Pro
2K 100% Wire-Free Spotlight Camera
2K 4MP Super HD, Battery/Solar Powered, Person/Vehicle Detection, 5/2.4 GHz Dual-Band WiFi, Color Night Vision, Two-Way Audio.
Reliable Dual-Band WiFi Security Cameras – RLC-511WA
If you want to get rid of security camera WiFi interference problems, go for dual-band WiFi security cameras like Reolink RLC-511WA.
Such wireless security cameras are able to work with two WiFi channels, 2.4 and 5 GHz, which ensures their performance when one frequency band is crowded or there is signal interference.
Check the following video captured by this dual-band WiFi security camera: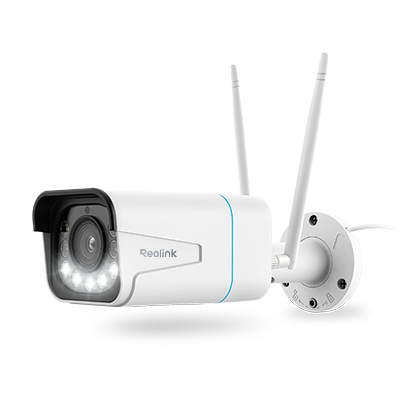 Reolink RLC-511WA
Wireless 5MP Security Camera with Spotlight
2.4/5 GHz Dual-Band WiFi, 5MP Super HD, Person/Vehicle Detection, 5X Optical Zoom, Two-Way Audio, Outdoor/Indoor Protection.
Best PoE Outdoor Security Camera System – RLK8-810B4-A
The PoE security system Reolink RLK8-810B4-A allows you to record videos via 4 PoE IP RLC-810A cameras and store them to an 8-channel NVR. Also, all data transmission of this system is done via Ethernet cables, simple and stable.
This security system can record and store video footage to the NVR when there is no Internet available, which makes it popular with users looking for a reliable and complete security system.
The following video footage bee house is recorded by this outdoor security system.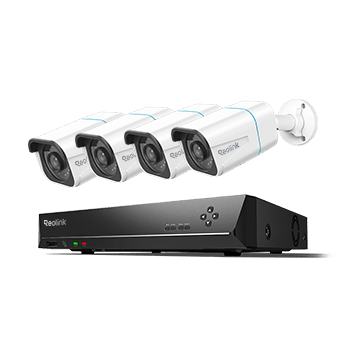 Reolink RLK8-810B4-A
Smart 4K 8-Channel PoE Security System
4 pcs 4K Ultral HD Security Cameras with Person/Vehicle Detection; 2TB HDD 8-Channel NVR for 24/7 Recording; Plug & Play.
Note:
Check this guide if you need a reliable 4K resolution security camera.
Best Color Night Vision Security Camera - Reolink CX410
CX410 is a 2K PoE Color Night Vision security camera. CX410 is equipped with Reolink's latest ColorX night vision technology. With a 1/1.8'' sensor and an F1.0 aperture, it absorbs more light, enabling it to capture clear videos in low-light areas. The added benefit of Person, Vehicle, and Pet Detection enhances its functionality for comprehensive surveillance.
If you want a higher resolution color night vision security camera,The CX810, launching in 2024, is a top choice. It builds on the CX410's features with 4K resolution, ensuring sharper images even in low light. You may know the details of CX810 at Reolink 2024 CES.
How to Avoid Video Loss on Security Cameras and CCTV Cameras
Video loss occurs in various circumstances and forms such as video loss on all cameras, video loss on one CCTV camera, camera video going black at night, CCTV no video signal, camera with black screen, cameras stopping recording, cameras going on and off, camera not working or cameras showing vertical or horizontal lines.
To avoid such hassles in the first place, it's always advised to regularly check your security camera system and take some necessary precautions to stomp out video loss on CCTV cameras and home security camera.
1: Check All Possible Connection Regularly
Echoing what we have discussed earlier about possible reasons for video loss, you should conduct a thorough examination of all power and network connection regularly, such as power cord, power adapter, Ethernet cable, BNC connector, BNC cable and so on to make sure they are well attached and functioning.
2: Use Original and Shorter Cables
Word of advice, try to use shorter BNC or Ethernet cables to power surveillance cameras system; and don't easily switch original cables to other non-professional grade cables, or avoid using low-quality extension cables or extension cords.
3: Use Power Surge Protector and UPS
Lightning surge protectors will stop voltage spikes and surges by blocking voltage levels exceeding specific thresholds and channeling extra voltage into the outlet's ground line.
UPS units will ensure power supply for all cameras when experiencing a power outage, mitigating concerns for camera power-off.
4: Choose Reliable Cameras System Brands
Expensive products don't necessarily come with solid products, but well-received security camera brands among customers could signal that the products are up to scratch.
Helpful and responsive teams within the corporation no doubt help customers troubleshoot problems in their camera system in a timely and effective manner.
Meanwhile, try buying security cameras and DVR/NVR from same manufacturers to avoid compatibility issue.