Doorbell cameras are becoming increasingly popular for home security as they provide an extra layer of protection against intruders. With a doorbell camera, you can keep an eye on movement around your porch.
Worry about expensive subscription fees or complicated installation processes? This article is for you. We'll go through some of the best doorbell cameras without a subscription, including their common features and benefits. Read on to make informed decisions when choosing one for your home.
How Subscriptions Work in Doorbell Cameras
Doorbell cameras are an effective and convenient security option to monitor the exterior of your home. Some brands, however, lock access to the full features of the doorbell cameras behind subscription paywalls.
Such subscription plans usually come with features like cloud-based storage, push rich notifications, and face analysis. You can stay connected to your property from anywhere with cloud-based storage. With a subscription plan, you can save video footage in the cloud for up to 30 days and review recordings as needed - even when you're away. Enjoy the freedom of feeling secure with cloud-based storage.
Rich notifications are a feature of some doorbell cameras that are available on a subscription plan. When motion is detected, you will receive an alert and a snapshot of the camera feed will be delivered directly to your Android or iOS device via push notification. These notifications give you more than just plain words when motion is detected in your camera's view-field. Instead, you get push notifications with snapshots so you can quickly understand what happened.
When choosing between subscription-based cameras and one-time buy cameras, you should consider whether you need the extra features offered by the former. If not, it would perhaps be better for you (and your wallet) to opt for the non-subscription option.
Subscriptions vs. No Subscription: Cost Comparison
Actual subscription cost of a wireless doorbell camera depends on the provider. Prices typically range between $3 and $10 monthly, while some brands offer premium packages that can set you back up to $25 monthly.
On the other hand, doorbell cameras without a subscription generally cost between $50-$300 and offer basically the same features as those with a subscription. Once you buy them, you get all the features free and for life, saving you a high cost over time.
This is not to say subscription-based doorbell cams aren't worth it. They usually have extra perks that users may find worthwhile. For example, some Ring Protect payment plans offer extended warranties for devices and automatically contact emergency responders when the cameras detect suspicious activity.
Let's briefly examine the subscription fees of several popular video doorbells.
Product
Product Type
Subscription Plans & Fees (USD)
Subscription Services
Ring Video Doorbell 4 ($219.99)
Battery-powered WiFi doorbell
Ring Protect Basic: $3.99/mo

Ring Protect Plus: $10/mo

Ring Protect Pro: $20/mo
Basic
60-day video history; video saving and sharing; snapshot capture; person alerts; rich notifications...

Plus
All services in the Basic plan + extended warranties and online discounts

Pro
All benefits in the Plus plan + alarm cellular backup, 24/7 professional monitoring, 24/7 backup Internet, Alexa Guard Plus, digital security by eero Secure, and home insurance discounts
Google Nest Doorbell ($149.99)
Battery-powered WiFi doorbell
Nest Aware: $6/mo

Nest Aware Plus: $12/mo
Nest Aware
30-day event video history; intelligent alerts; e911…

Nest Aware Plus
60-day event video history; intelligent alerts; e911; 24/7 video history…
Arlo Essential Wired Video Doorbell ($149.99)
Wired WiFi doorbell
Arlo Secure:
$9.99/mo for unlimited cameras;
$2.99/mo for a single camera

Arlo Secure Plus:
$14.99/mo for unlimited camera
Arlo Secure
Video history; activity zones; object detection; animated preview…

Arlo Secure Plus
All Arlo Secure services + 24/7 emergency response, 4K video cloud storage, interactive alerts, and access to priority support
Key Features of Best Doorbell Cameras Without Subscription
Video doorbells without subscription usually have some advanced features and can bring a lot of benefits. Here are some of them.
Local Storage Capability
Some doorbell cameras without subscription commonly have an SD card that stores footage locally, allowing you to access and view the video on the camera or another device.
Some doorbell camera brands, for example, Reolink, also allow their users to add the doorbell cameras to their NVRs for local video storage and better surveillance experience.
Smart Detection
Even without subscription, advanced doorbell cameras can detect movements by people or pets in their field of vision and notify users when certain movement is detected.
Night Vision
Doorbell cameras that work on WiFi frequently offer night vision capabilities, providing clear footage even during low-light conditions.
High-Quality Video
Most wireless doorbell cameras come with 2K, 4K, or higher resolution video streaming capabilities, ensuring they can capture clear pictures and videos of subjects even from a distance.
Ability to work with other cameras
You can consider its ability to work with other cameras. Linking multiple cameras together provides increased coverage and protection for your home and property.
An NVR (Network Video Recorder) can be incorporated into the mix to give users the option to record footage locally without needing cloud storage or subscription services.
Remote Access
The cameras can be conveniently controlled from other devices. For instance, you could view motion alerts and see who is at the door from your phone or PC.
Compatibility with Third-Party Platforms
Compatibility with third-party platforms means that the doorbell camera can be connected to other devices or services to enhance its functionality.
Third-party platforms include Home Assistant, Apple HomeKit, and Amazon Alexa. These platforms, for example, allow users to control their doorbell camera with voice commands.
Doorbell cameras without subscriptions typically have the same capabilities as those with subscriptions. However, in some cases, each type may offer features not present in the other – it depends on the camera brand.
Best Doorbell Cameras Without Subscription on the Market
If you want to purchase a doorbell camera without subscription, you can check the following list.
1. Reolink Video Doorbell WiFi
This is one device in the market that currently offers the best value for your money.
First, its 5MP camera resolution is ahead of the market standard. It has built-in microphones and a speaker for two-way audio. Its smart detection system can distinguish between human and inanimate movement to deliver relevant notifications. The camera can record footage round the clock and has an expansive SD card limit (256GB) to store all its footage.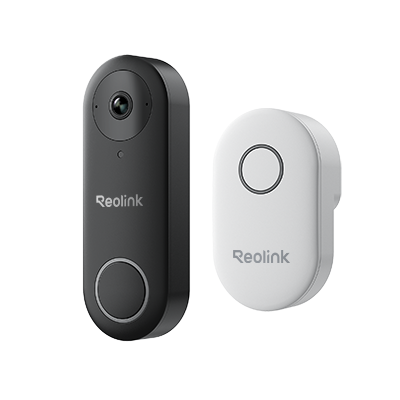 Reolink Video Doorbell (WiFi)
Smart 5MP Video Doorbell with Chime
5MP Super HD Day & Night, Person Detection, 2.4/5 GHz Dual-Band WiFi, 180° Diagonal Viewing Angle, Two-Way Audio, Rich Notification.
2. Arlo Audio Doorbell
When you compare its price to its features, the Arlo Audio Doorbell is a steal.
Although you get notified when the device detects motion, and you can talk through it, the Arlo audio doorbell is technically not a doorbell camera. It has no built-in camera, so you can't get a live video feed unless you buy a separate Arlo cam.
What makes this option less than great is the fact that it needs additional pricey accessories for it to function like a regular doorbell camera.
3. Google Nest Doorbell 2nd Gen
This solid option boasts live video feeds, two-way audio, and alert notifications, asides from basic security cam features. You can get up to three hours of event recording without a subscription. However, the 1.3MP resolution it offers limits the device compared to its competition.
4. Eufy Video Doorbell Dual
What makes this camera special is its dual cameras; one frontward-facing camera and another downward-facing one for monitoring packages. It is battery-powered, capable of lasting up to six months between charges. The 4MP resolution is market standard, but many consider its 16GB storage limit a major drawback.
5. Blink Video Doorbell + Sync Module 2
Blink devices are popular among buyers due to their affordability and ease to set up. It offers roughly 2MP resolution, has dual power options, and is capable of two-way audio. While it's the best budget wireless doorbell camera, it can't compete against other products on this list.
Each of the products listed above has its strong points. The Eufy Video Doorbell Dual provides an additional visual range with its downward-facing camera, while the Arlo and Blink are incredibly budget-friendly.
Reolink and Eufy lead in terms of resolution; however, Eufy is severely limited in terms of the maximum SD card memory it supports.
The Google Nest is more of an all-rounder, but Reolink's video doorbell is the most balanced device that offers great value for its cost.
FAQs
Which doorbell camera does not need subscription?
Many doorbell camera options in the market did not require a subscription for basic functionality. For example, Reolink Video Doorbell, Eufy Video Doorbell, Arlo Essential Video Doorbell, Ring Video Doorbell, etc.
How can I record my doorbell video without subscription?
Some doorbell cameras allow you to save video recordings locally, typically on a microSD card or a network-attached storage (NAS) device. Some doorbell camera manufacturers may offer limited free cloud storage for a certain period (e.g., a few days) or may provide free cloud storage for motion-triggered events.
If your doorbell camera has a mobile app or a web interface, you can use screen recording software or apps on your smartphone, tablet, or computer to capture video footage as it is displayed on your screen. This is not the most efficient method, and the quality may not be as high as direct recordings, but it can work as a workaround.
Do doorbell cameras record without WiFi?
Most doorbell cameras require a Wi-Fi connection to function properly and record video. Wi-Fi provides the necessary connectivity for the doorbell camera to send video footage to cloud storage or to a local network-attached storage (NAS) device. Without a Wi-Fi connection, these cameras may not be able to perform their primary functions, such as live streaming, motion detection, and video recording.
Conclusion
As more brands begin to move to subscription-based services for their wireless doorbell cameras, it can be challenging for buyers to find one-time payment cameras. Using doorbell cameras without a subscription is an economical way of ensuring home security as you don't have to pay any fees over time, unlike the subscription-based counterparts.
Luckily, you can still find reliable doorbell cameras without a subscription in the market today, and we've discussed some quality options above.
Have you ever used one of these devices? Share your thoughts in the comments, and don't forget to share this with your friends and family who might be looking for an affordable home security solution!