Doorbell cameras are becoming a staple for homes due to their contribution to home security systems. These cameras are mounted on or near the front door, capturing footage of activity around the doorstep.
One common feature of modern doorbell cameras is their compatibility with voice assistants like Alexa. With Alexa-compatible doorbell cameras, you can use voice commands to control doorbell functions hands-free. This can be especially helpful when your hands are full, and you need to answer the door.
In this article, we'll explore the benefits of using doorbell cameras for Alexa, the best video doorbells for Alexa, how to link doorbell cameras to Alexa, and more.
What Doorbell Cameras are Compatible with Alexa - Understanding the Conditions for Compatibility
If you plan to integrate your doorbell camera with your Alexa-enabled device, it's important to ensure they are compatible.
Many security cameras work with Alexa, including Ring Spotlight Cam, Logitech Circle 2, and Reolink Argus 3 Pro. And the list goes on.
To determine compatibility, you should check the specifications and product details for both the doorbell camera and your Alexa-enabled device.
In general, doorbell cameras compatible with Alexa will have a dedicated Alexa skill or integration, allowing you to control and view the camera feed remotely through your Alexa devices.You can also choose a Alexa-compatible doorbell camera without subscription.
Advantages of Alexa-Compatible Doorbell Cameras for Home Security
Here are some of the benefits you can expect when using Alexa-compatible doorbell cameras:
Monitor your property via Alexa-enabled screens: These doorbell cameras allow you to monitor your front door and surrounding areas from Alexa-assisted devices in real time, providing an extra layer of security to deter potential intruders.
Two-way audio: Alexa-compatible doorbell cameras also often provide two-way audio, allowing you to communicate with visitors or delivery personnel even when you're not at the door.
Hands-free control: Alexa integration allows for voice control, enabling you to check the camera feed or react to notifications hands-free.
Integration with other smart home devices: Doorbell cameras compatible with Alexa can integrate with other smart home devices, such as smart locks, sensors, and thermostats, to create a seamless and convenient home security system.
Top 5 Doorbell Cameras for Alexa
If you're looking for a doorbell camera compatible with Alexa, many options are available. Here are five of the best doorbell cameras for Alexa:
Reolink Video Doorbell WiFi: This doorbell camera features 2K video capture with a 180-degree field of view. It also has a built-in microphone and speaker for two-way communication and night vision.
Ring Video Doorbell 4: The Ring Video Doorbell 4 has 1080p HD video, two-way audio, and customizable motion detection. It has a slightly smaller FoV than Reolink, offering just 160 degrees.
Nest Doorbell: This compact camera is similar to other cameras on the list feature-wise, although its 1.3MP resolution is lower than others. Still, it has standout features (accessible with a subscription) like 24/7 recording and the ability to recognize faces. It also has wired and wireless options.
Arlo Video Doorbell: This also has the same basic features as the Ring and Reolink products, and its 1.5MP resolution puts it just above Nest. Its major downsides are that it has to be hardwired into your home and lacks local storage.
Eufy Video Doorbell Dual: This smart doorbell camera uses two cameras and two motion sensors for enhanced people and package detection. It features a 2K resolution video, two-way audio, and advanced AI technology.
Best Pick - Reolink Video Doorbell Review
Reolink Video Doorbell WiFi is a smart, wired doorbell with chime that provides incredible clarity with its 2K+ (5MP) resolution. This resolution is clearer than the 2MP (1080p), meaning subjects in the footage will have clearer details.
The doorbell camera supports 2.4GHz and 5GHz WiFi bands for a more stable connection and includes a 15° wedge to adjust the horizontal angle.
Additionally, the camera's smart detection system accurately differentiates between human and non-human movement, making its alert more relevant.
The infrared LED of the Reolink Video Doorbell WiFi allows the camera to work in low-light conditions.
Push notifications with snapshots are available for Reolink Cloud users, letting them know what happened at a glimpse instead of mere words.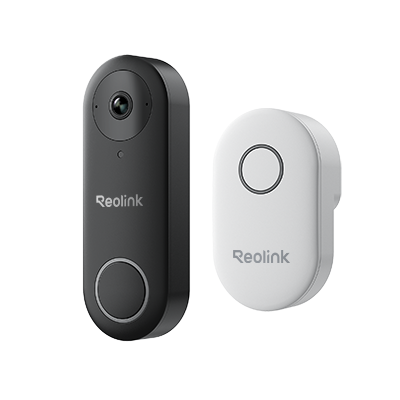 Reolink Video Doorbell (WiFi)
Smart 5MP Video Doorbell with Chime
5MP Super HD Day & Night, Person Detection, 2.4/5 GHz Dual-Band WiFi, 180° Diagonal Viewing Angle, Two-Way Audio, Rich Notification.
The Reolink Video Doorbell WiFi also has built-in mics and a speaker, allowing you to communicate with those outside the door.
Users can also customize their voice messages and have the doorbell play automatic responses for times when they are not available to answer the door.
Even better, the doorbell camera can be easily controlled with Google Assistant or Alexa via voice commands.
Reolink Video Doorbell WiFi supports flexible storage options, saving recordings locally to a Micro SD card (up to 256GB) or a Reolink NVR.
If you would rather store footage in the cloud, you can choose any of the optional subscription plans.
At just over US$100, Reolink Video Doorbell WiFi offers great value for its price compared to most cameras.
How to Set Up Your Doorbell Camera for Alexa
Setting up your doorbell camera for Alexa can vary depending on your specific device. The guide below is for Reolink cameras:
On your Reolink App, find the Smart Home option.
Next, select the device you want to add to Amazon Alexa.
Launch the Amazon Alexa App and tap on Devices in the bottom right corner.
Select Your Smart Home Skills and tap Enable Smart Home Skills. Tap the Search icon in the top right corner and search Reolink Smart Home.
Tap Enable to Use and log in to your Reolink account on the next screen. After logging in successfully, the App will remind you that Reolink Smart Home has been successfully linked. Tap CLOSE to proceed.
Tap on Discover Devices. Alexa will scan and show the devices linked to your Reolink account. Select the doorbell camera.
Tap on Set up Device, and make your preferred adjustments. Tap on Continue to finish the setup.
Remember, the specific steps for setting up your doorbell camera with Alexa may vary depending on the manufacturer and device you have.
If you are not using a Reolink doorbell camera, refer to the manufacturer's instructions for more information.
Tips and Tricks for Using Your Doorbell Camera with Alexa
Here are some simple tips and tricks for using your doorbell camera with Alexa effectively:
Voice Commands for Controlling Doorbell Functions
"Alexa, show me the front door" - This will display the live feed from your doorbell camera on your Alexa-enabled device.
"Alexa, answer the front door" - This will allow you to communicate with the person at the door through the doorbell.
"Alexa, turn off/on the motion detection for the front door" - This will enable or disable motion detection for your doorbell camera.
These are just a few examples of the many commands you can use with your doorbell camera and Alexa. Read your manual for more information.
Viewing Camera Feed on Alexa-enabled Devices
If you have an Alexa-enabled device with a screen, such as the Amazon Echo Show or Fire TV, you can view the live feed from your doorbell camera on the device's screen. To view the camera feed, say, "Alexa, show me the front door."
Integrating with Other Smart Home Devices
One of the biggest benefits of using a doorbell camera with Alexa is its ability to integrate with other smart home devices. For example, you can create routines that turn on your smart lights when the doorbell detects motion or play a specific song when someone rings the doorbell. You can also use Alexa to lock or unlock your smart door locks.
To set up these integrations, you must use the Alexa app and enable the appropriate skills for your other smart home devices.
Here are some tips for optimizing performance and connectivity:
Make sure your doorbell camera is positioned correctly and has a clear line of sight to your WiFi router.
Apply a WiFi network with stronger signal to avoid connectivity issues and buffering.
Regularly clean the lens of your doorbell camera to prevent dirt or debris from obstructing the view.
Ensure your doorbell camera is running the latest firmware updates to maintain optimal performance.
By following these tips, you can ensure your doorbell camera works effectively to keep your home secure.
Common Issues and Troubleshooting Tips
If you encounter any issues with your doorbell camera and Alexa integration, there are a few things you can try:
Ensure your doorbell camera is properly set up and connected to your WiFi network.
Check that your Alexa-enabled device is properly connected to the same WiFi network as your doorbell camera.
Restart your doorbell camera and Alexa-enabled device.
Check for any firmware updates for your doorbell camera and update if necessary.
Check for any Alexa app updates and update if necessary.
Contact customer support for your doorbell camera or Alexa if you need further assistance.
Problems with Using Doorbell Cameras
For all its benefits, you should take the following items into consideration when using doorbell cameras with Alexa.
One common challenge is the monthly subscription fees many doorbell camera services charge for access to advanced features, such as cloud storage.
However, it's worth noting that not all doorbell cameras require a subscription. For instance, all Reolink doorbell camera features are available without a subscription. This can save you some money in the long run.
Another challenge to consider with doorbell cameras is privacy concerns. Some individuals may feel uncomfortable being recorded or monitored by a camera, even on your property.
Additionally, the audio and video captured by the cameras could potentially be accessed by hackers or other unauthorized individuals.
Finally, the cameras are prone to internet connectivity issues. While wireless options may be more convenient, WiFi cameras are more likely to suffer connectivity issues, especially if the camera is far from the router.
In contrast, a Power over Ethernet (PoE) version of the Reolink doorbell camera can be a more stable option, as it's connected directly to the router via an Ethernet cable.
Conclusion
Video doorbells are great for your home security system and are even better when integrated with Alexa. With so many options on the market, it's essential to consider factors like video quality, ease of installation, and compatibility with Alexa.
By doing so, you can choose the best video doorbell for your needs and enjoy the convenience of controlling your security system with your voice.
If you have any questions or comments about video doorbells or Alexa integration, please leave them below. And don't forget to share this article with others who might find it helpful.