As a home security solution, video doorbells have become increasingly popular among homeowners due to the ability to monitor and log activity remotely via the phone app. However, not every homeowner is interested in connecting the doorbell to the Internet; some people prefer not to expose their personal Wi-Fi networks to potential attack vectors, some prefer not to use cloud storage, and some users may not have reliable Wi-Fi at home.
If you have any of these concerns, there are still video doorbell options for you. In this article, we'll look at some best video doorbell options that work without Wi-Fi.
Connectivity Options for Doorbell Cameras Without Wi-Fi
If possible, video doorbells should be connected to the Internet one way or another for the most functionality. Although video doorbells will still function as traditional doorbells would without a connection, many of the smart features that make it such a valuable addition to home security will be unavailable.
Wi-Fi is not necessarily essential for the cameras, though. You could choose to use a mobile hotspot if you prefer to have a wireless connection, or you could use a wired connection.
1. Power over Ethernet (PoE) enablement allows internet connectivity without relying on Wi-Fi
Some cameras, like the Reolink Doorbell PoE or Ring Elite, can utilize ethernet rather than wireless networks. This is an advantage for homeowners.
Ethernet connections also tend to be faster and more resistant to interference. Another advantage of ethernet connectivity is that it allows you to use the smart features of your video doorbell, which is generally not supported when the camera is offline.
2. The video doorbell should have local storage
If you're concerned about the cloud and prefer that your footage does not traverse the web, there are some video doorbells that allow you to store your video locally for a limited time. And these doorbells may not require any subscription.
For example, the Google Nest video doorbell has a small SD card available for local storage; however, it's important that you regularly (and frequently) review and move the footage to another storage location so that it isn't overwritten.
Note that the Google Nest doorbell almost certainly will require a subscription package. However, other options, such as the Reolink Argus 3 Pro or the Reolink Video Doorbell PoE, do not require any subscription.
If you're more concerned about your data being stored in the cloud, Reolink cameras support both PoE and local storage.
This brand's video doorbells typically allow you to use a micro-SD card with a storage capacity of up to 128 GB, and you can still use the smart features, such as live monitoring and activity alerts, through the ethernet connection.
This prevents your data from being stored in the cloud without forcing you to sacrifice important features included with your video doorbell, and it's a much more secure solution than either a traditional doorbell or a video doorbell connected to Wi-Fi.
Pros and Cons of Using a Video Doorbell Without Wi-Fi
It's important to note that using a video doorbell without Wi-Fi is absolutely possible (and could be appropriate for your needs), but this may limit the functionality substantially. Here are some factors to consider:
PoE Video Doorbells
Completely eliminating internet connection will result in a limited access to doorbell functionality.
You will not be notified when you're away from home of any suspicious activity, people approaching your house, or movement detection.
Most cameras will not be able to support two-way communication without an internet connection, and you will not be able to access your camera's live feed remotely.
If you're interested in eliminating Wi-Fi but not internet connection, a PoE-enabled video doorbell could be the solution. There are a few pros and cons for this type of doorbell.
Pros:
PoE video doorbells retain connectivity without risking your network security or relying on spotty connections, meaning your doorbell will still work as intended without Wi-Fi.
Ethernet connections are more secure than your home's Wi-Fi as it is much more difficult for attackers to use your camera as a way into your network. 
Smart devices are easy targets for hacking, but a hacker can't remotely access an ethernet connection, which gives you a lot of extra protection.
Cons:
Ethernet is a great option for security and reliability; however, it does require you to have a PoE setup available in your home. 
If you don't have one available, there may be additional costs incurred for installation and equipment.
Ethernet connectivity is not as easy to install, and you won't be able to conveniently move your video doorbell once you've installed it without disrupting your connection.
Local Storage Video Doorbells
Some homeowners are concerned about storing video of their personal properties online. Most video doorbells automatically upload data to the cloud, which is not something everyone wants. If you want to avoid Wi-Fi for this reason, here are some pros and cons for this type of camera:
Pros:
Many cameras will still record footage and store it locally when not connected to the Internet.
If your video doorbell isn't connected to the cloud, the odds of someone stealing your data is virtually zero.
Cons:
You will have to review this data regularly as your local storage will eventually run out of space.
This local storage option sometimes has sneaky fees or subscription costs attached. Be sure to look for a camera that does not have these if you aren't willing to pay the extra cost.
If someone steals your video doorbell, you'll lose all the video data stored on the card, and there is no way to get that back. If your camera is damaged by extreme weather or an attempted theft, the data may also be lost.
Non-WiFi Video Doorbells That Support PoE
If you're looking for the best doorbell that supports a wide variety of functions while being reliable and secure, there are a few options.
Finding a video doorbell that has PoE capability will allow you to keep your data more private while also enabling you to get the most out of your security solution. Here are some great options:
Reolink Video Doorbell PoE. This video doorbell connects to the web through ethernet. It features 5MP HD video, two-way audio for speaking to people ringing your doorbell, and its camera functions well at night. 
It has person-detection, a micro-SD slot for cards up to 256 GB, and provides visit notifications.

Ring Video Doorbell Elite. While significantly more expensive than the Reolink (over $300 for the Ring versus around $100 for the Reolink at the time of this writing), the Ring has similar functions and specs. 
It connects to other Amazon devices like Alexa, but it does not offer free local storage.

Hikvision DS-HD1. This video doorbell features PoE connectivity, 1080p HD video, and two-way audio. It also includes advanced motion detection and night vision. 
It has convenient access controls and a maximum of 128 GB of local storage.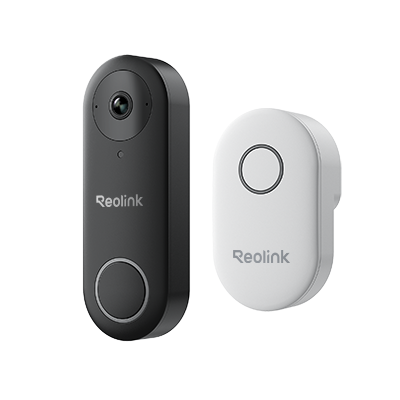 Reolink Video Doorbell (PoE)
Smart 5MP Video Doorbell with Chime
5MP Super HD, Person Detection, Power over Ethernet, 180° Diagonal Viewing Angle, Two-Way Audio, High-Quality Night Vision.
These are just a few examples; there are plenty of other options out there that could work for you.
Be sure to consider your personal priorities while shopping, and look carefully at the specifications outlined for every doorbell that you view. Look for the power source, range, OS compatibility, potential installation costs, and storage options (cloud or local), as well as any costs you might incur on top of the video doorbell itself.
Balancing Security and Connectivity
Ultimately, if you want to prioritize your privacy and security without sacrificing many of the security functions provided by a video doorbell, a PoE doorbell is likely the best option for you.
Options like the Reolink PoE doorbell will provide local storage without a hefty fee, help you protect your privacy, and give you peace of mind when you leave your home.
Remember that more security often means less convenience (both for you and any potential attackers). So, you will need to check your local storage frequently to make sure your camera is functioning properly, and you will want to clean out your SD card regularly to make space for continued recording.
While ethernet connections are much more secure than Wi-Fi connections, not every home is equipped with ethernet connectivity, so it's important to know whether you will need to have any extra wiring services completed in your home before you can set up your video doorbell.
FAQs
Is there a doorbell camera that works without Wi-Fi?
Yes. PoE doorbell cameras can work without WiFi and local recording doorbell cameras can still record video locally to a memory card (e.g., microSD card) or a network-attached storage (NAS) device when the internet connection is unavailable. But remember that doorbell cameras typically rely on Wi-Fi for their primary functionality, including live streaming, motion detection, and remote access.
Do I have to pay monthly for doorbell cameras?
No. Some doorbell camera manufacturers offer basic functionality with no monthly fees. This typically includes features like live video streaming, two-way audio communication, motion detection, and alerts.
Are doorbell cameras always recording?
Doorbell cameras do not always record video continuously. Instead, they typically employ a motion-activated recording mechanism. When motion is detected within the camera's field of view, it triggers the camera to start recording a video clip. The duration of the recording can vary from a few seconds to a couple of minutes, depending on the camera's settings and the specific manufacturer.
Conclusion
We hope this article has been helpful in guiding you towards the best video doorbell option for your needs. If you have any comments or additional insights on this topic, please feel free to share them with us in the comments section below.
Was this article useful? If so, please don't forget to share it with others who may benefit from it.