Ensuring the security of your home is paramount, but not everyone has the budget for a top-tier doorbell camera. Fortunately, within the realm of smart home technology, a range of affordable doorbell cameras strike a harmonious balance between cost and reliability. These budget-friendly options offer real-time monitoring capabilities, providing homeowners a sense of security without burning holes in their pockets.
In this post, we will delve into cheap doorbell cameras, all priced below $100, unveiling how these economical choices can effectively safeguard your home.
Cheap Doorbell Cameras Don't Mean Poor Quality
Let's set the record straight: Affordable doorbell cameras do not equate to low-quality performance. In fact, you can get some of the best budget-friendly doorbell cameras for under $100!
You may be looking for a budget-friendly doorbell camera that meets your home security needs without a subscription.
Opting for low-cost doorbell cameras equipped with features like motion recording and the ability to capture clear images of human faces could be precisely what you need.
When faced with various choices offering similar functionalities, you might lean towards the top-performing yet affordable doorbell cameras and systems to ensure your budget remains intact while still enjoying reliable security features.
Best Cheap Doorbell Cameras Recommendation
This part will point you toward some budget-friendly doorbell camera options that won't compromise on quality.
Reolink Video Doorbell PoE is a fantastic choice if you're looking for a cheap but high-quality video doorbell (Only $75.99). With its sharp 2K+ (5MP) HD video resolution, you'll get a clear view of your doorstep. The Power over Ethernet (PoE) feature ensures a reliable and stable connection, and it's a great convenience for installation.
The person detection capability provides you with smart alerts and minimizes false notifications. Additionally, its compatibility with Reolink NVRs adds a layer of versatility to your home security system.
Moreover, it seamlessly integrates with Google Assistant and Alexa, adding voice control convenience to your home security.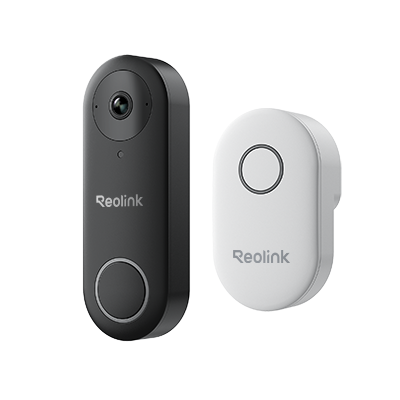 Reolink Video Doorbell (PoE)
Smart 5MP Video Doorbell with Chime
5MP Super HD, Person Detection, Power over Ethernet, 180° Diagonal Viewing Angle, Two-Way Audio, High-Quality Night Vision.
Reolink Video Doorbell WiFi is equipped with a 2K+ (5MP) HD video resolution, providing you with sharp and detailed footage of your doorstep. The dual-band WiFi support (2.4/5GHz) ensures a stable and fast connection for seamless video streaming.
One notable feature is the intelligent Person Detection capability, which helps filter out unnecessary alerts and only notifies you when a person is detected, reducing false alarms. This ensures that you are alerted to relevant events, enhancing the efficiency of your home security.
Moreover, the integration with Google Assistant and Alexa allows you to control and monitor your doorbell conveniently using voice commands. This adds an extra layer of convenience to your smart home setup.
The included Chime enhances the functionality of the doorbell by providing audible alerts inside your home, ensuring that you never miss a visitor, even if your phone is not within reach.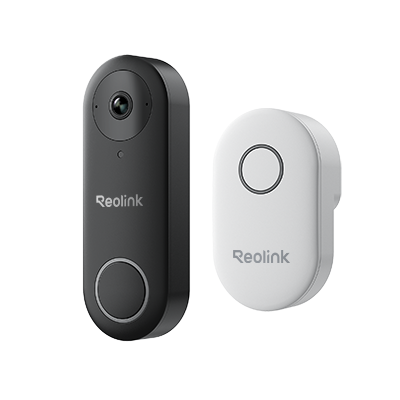 Reolink Video Doorbell (WiFi)
Smart 5MP Video Doorbell with Chime
5MP Super HD Day & Night, Person Detection, 2.4/5 GHz Dual-Band WiFi, 180° Diagonal Viewing Angle, Two-Way Audio, Rich Notification.
What Should You Considerate When Picking a Cheap Doorbell Camera
When choosing an affordable doorbell camera, balancing cost with essential features is important to ensure you get a reliable and effective security solution. Here are key considerations:
Image quality: Strike a balance between cost and image quality by opting for a resolution like 1080p. Choose a level that provides acceptable clarity within your budget constraints.

Chime trigger: Doorbell chimes can work either through wired or wireless systems. Consider the convenience and flexibility of each option. Some cameras can trigger existing mechanical chimes, offering a blend of modern features with traditional setups.

Night vision: Night vision is essential for low-light conditions. Some cameras offer color night vision, using onboard processing to add artificial color to well-lit areas. Please make sure that the camera provides clear and detailed footage in various lighting conditions.

Two-way intercom: A two-way intercom feature enhances communication with visitors. This feature allows for real-time interaction, making it convenient for various scenarios, such as receiving packages or greeting guests.

Local or cloud storage: Understand the storage options. Cloud storage involves remote servers, often with a monthly fee, while local storage uses accessories like microSD cards. You can choose the option that aligns with your preferences and budget.

Scrutinize the warranty policy: Examine the warranty details closely. Focus on the duration of coverage and whether the doorbell camera can be replaced or repaired without additional expenses during the specified period. Consider aspects like responsibility for shipping fees in case of returns.

Go for trusted brands: Prioritize established brands that balance affordability and quality. Trusted brands often have a track record of customer satisfaction, providing reliability in your home security setup without compromising performance.
While opting for a budget-friendly doorbell camera can be tempting, it's crucial to exercise caution and be wary of potential hidden fees associated with cheaper options. Before making a purchase, let's delve into the considerations and uncover the aspects that might not be immediately apparent with these affordable doorbell cameras.
Accessories: Check whether the cheap doorbell camera comes with essential accessories such as cables, batteries, and screws. Some may lack these items, leading to additional purchases.

Installation costs: Assess the ease of installation for DIY doorbell cameras. Some affordable options may require professional installers, incurring extra charges.

Subscription fees: Investigate whether the cheap security camera systems entail mandatory monthly subscription fees. While the initial cost may be low, ongoing subscriptions can accumulate, potentially outweighing the camera's affordability.

Shipping and customs fees: If purchasing budget-friendly home security cameras online, particularly from platforms like Amazon or eBay, consider additional expenses like shipping fees and customs duties. These costs can significantly impact the overall budget, so factor them in when evaluating the affordability of the camera.
FAQs
1. Are there cheap wireless doorbell cameras?
Certainly! There are affordable wireless doorbell cameras with features like 720p or 1080p resolution, wireless connectivity, night vision, two-way audio, and cloud or local storage options. Look for easy installation and app integration for convenient monitoring via smartphone. While these budget-friendly options may not have advanced features found in higher-end models, they provide reliable basic home security surveillance without a hefty price tag.
2. Do any wireless doorbell cameras not require a subscription?
Yes, there are wireless doorbell cameras that do not require a subscription. Many budget-friendly options provide free basic functionalities without the need for ongoing subscription fees. These cameras typically offer features like live streaming, local storage, and two-way audio without additional costs. However, keep in mind that some advanced features, such as extended cloud storage, may be available through optional subscription plans.
Conclusion
Investing in a cheap doorbell camera doesn't mean sacrificing security or functionality. The options mentioned above provide reliable features such as two-way communication and smartphone integration—all without putting a strain on your wallet. Whether you're a first-time buyer or looking for an affordable upgrade, these cameras offer a cost-effective solution to keep an eye on your home and enhance your overall peace of mind.