When it comes to home security, video doorbells, and security cameras rank high among the most popular options. A video doorbell camera can safeguard the entry point while a security camera can be placed anywhere to protect your property.
Both of them have pros and cons, but which one is the better choice?
In this article, we'll give a thorough comparison of video doorbells and security cameras, helping you to easily find out their differences and make a decision based on your preference.
Video Doorbell vs. Security Camera: A Thorough Comparison
Many people are torn between the choice of a video doorbell or a security camera because both devices can provide you peace of mind and deter intruders.
But they are quite different in terms of scenarios, coverage, video quality, etc., all of which should be taken into account. If you don't know which is right for you, the following video can help you choose.
Now let's dive into the differences between video doorbells and security cameras.
Application Scenarios
The primary purpose of video doorbells is to see who is at the front door without opening the door in person. This can be especially useful if you are expecting packages or visitors.
Also, video doorbells will alert you whenever someone rings the bell, allowing you to view live footage on your phone or PC before determining whether or not to answer the door.
By comparison, security cameras are more versatile as they can be used in multiple scenarios such as monitoring yards or entryways, viewing packages being dropped off, keeping an eye out for suspicious activity around the property, and much more.
Video doorbells are more suitable for people who care most about their front doors. They are perfect choices if you live in an apartment. But if you live in a standalone house, security cameras are definitely better as a part of your home security system.
Installation
The cost and knowledge required for installation vary between video doorbells and security cameras.
Video doorbells are typically installed near your front door at eye level, so you don't have to climb on a ladder for wiring. It would be a little more complicated to install a wired video doorbell. To save the trouble, you can choose a wireless video doorbell that doesn't need power cabling.
The installation of security cameras can be challenging because they are often placed under the eave or ceiling for the best viewing angle.
There is more to consider when installing a security camera, such as the position, power source, cabling, etc. Even though wireless security cameras can save you some energy, you may need to think about the WiFi range.
Generally speaking, it is easier to install a video doorbell camera than a security camera. But if you're a DIY lover, installing either of these devices won't be a time-sponge task for you.
Coverage
Many believe that video doorbells offer limited coverage based on their mounting positions, which are mostly near the porch/entryway.
To some extent, that's true.
Video doorbells focus on what's happening at your door. But this doesn't mean their viewing angle is always narrow.
Manufacturers keep upgrading their doorbell cameras. Many video doorbells with wide-angle lenses can provide you with a wide view. For example, Reolink Video Doorbell can offer a 180° diagonal view and let you see as much as possible.
Some brands also equip their video doorbells with two lenses in order to cover more areas. Users can view two images from the video doorbell and check their packages easily.
But if you want a wider angle view, you should consider security cameras. There are numerous security cameras in the market with viewing angles ranging from 90° to 360°. They can see not only what is directly in front of the door, but even everything in the entire front yard.
You can always find the one that suits your needs. Especially, a dual-lens security camera can cover a super large area in your property - making them ideal for monitoring yards and garages.
Video Quality
Video quality matters a lot for both video doorbells and security cameras. Most video doorbells in the market are equipped with 1080p HD.
Some advanced video doorbells have higher resolution like 2K 4MP, making it possible to capture everything happening at your front door with great details.
But for security cameras, you have much more choices with resolutions ranging from 4MP to 12MP. Security cameras with higher definition deliver vivid details like an intruder's clothing and a license plate number.
Besides, security cameras with color night vision can offer better image quality at night than video doorbells do.
Detection
Motion sensors are necessary for all these smart home devices because motion-triggered notifications are critical for people to deal with unusual events.
Video doorbells typically have person detection while some also have package detection. The major reason is that doorbell cameras are designed to capture everything at the front door, of which people and packages are among the most commonly seen and the most important objects.
On the other hand, smart security cameras often come with specialized person, vehicle, or pet detection options. This makes them better suited for both security and caring needs. You can use a security camera to keep an eye on your property and watch your family members and pets at home.
Pricing
Video doorbells are usually more affordable than security cameras. Generally speaking, video doorbells range from $40 to $200 at most depending on features and brand. With $100 you're able to get a decent video doorbell from reliable brands. If you have a limited budget, you can consider a doorbell camera with subscription.
However, the price of security cameras tends to vary significantly depending on features and quality - ranging from $20 to $500 or even higher. Entry-level indoor and outdoor security cameras from renowned brands typically cost around $100, while high-end cameras with 4K resolution and advanced features cost $200 or more.
Pros & Cons of Video Doorbells and Security Cameras
If you still feel hard to make a decision, here is a straightforward chart to help you have a better and more comprehensive understanding of these two different types of devices.
Pros & Cons
Video Doorbell
Security Camera
Pros
* More affordable
* Can be monitored from anywhere with a mobile device
* Simple to install and easy to operate
* Person detection; package detection
* Can be monitored from anywhere
* Can be installed anywhere
* High resolution up to 12MP
* Cover a wide area
* More features available such as pan, tilt, zoom, etc.
* Person detection, vehicle detection, pet detection
Cons
* Lower quality video
* Less customization of settings
* Limited monitoring coverage
* Potential privacy concerns
* Installation and wiring can be challenging
* More expensive
* Potential privacy concerns
Actually if you have sufficient budget and plan to build a solid home security system, you can even combine these two devices together. It's better to purchase from the same manufacturer as the products can be easily integrated.
Best Video Doorbells and Security Cameras Recommendation
Looking for a quick security solution? Here are the best picks.
We've selected several competitive products in terms of performance and pricing. Whether you need a video doorbell or a security camera, they can meet your needs perfectly!
Reolink Video Doorbells come with a chime and other great features, including 5MP super HD footage and a 180° diagonal viewing angle to cover more areas at your front door.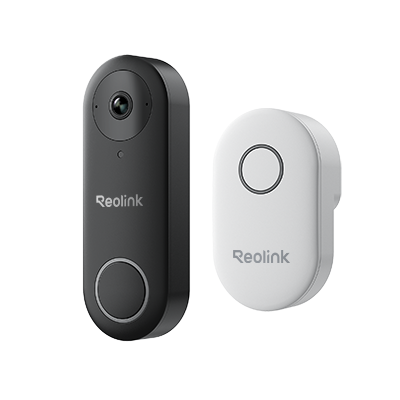 Reolink Video Doorbell (PoE)
Smart 5MP Video Doorbell with Chime
5MP Super HD, Person Detection, Power over Ethernet, 180° Diagonal Viewing Angle, Two-Way Audio, High-Quality Night Vision.
With on-device person detection, you'll get an instant push notification when any visitor arrives at your door. You are free to speak to the delivery guy, greet your friends, or deter suspicious strangers. You can customize the voice messages to quickly respond to visitors when you're busy.
Also, there are PoE versions and WiFi versions for you to choose from. Both of them are easy to install and use. For all these great features, Reolink Video Doorbells cost around $100! And subscription is not necessary for you to enjoy security at your door.
RLC-811A/Argus 3 Pro - Best Indoor/Outdoor Security Cameras
If you prefer a security camera, these two are the best choices.
RLC-811A PoE security camera features 4K 8MP UHD video and color night vision to help you see clearly day and night. It also has two-way audio allowing you to hear and talk to any visitors. This powerful PoE camera costs around $120 and requires no subscription fees for all its features.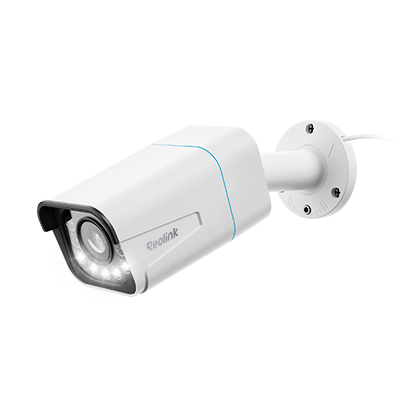 Reolink RLC-811A
4K Smart PoE Camera with 5 Spotlights
4K 8MP Ultra HD Day & Night, Person/Vehicle Alerts, 5X Optical Zoom, Two-Way Audio, Built-in Siren, Color Night Vision, Live View Anywhere.
For those who want a wireless security camera, Argus 3 Pro is built for them. This WiFi wire-free battery security camera comes with a compact design and a reasonable price of around $100 with discounts. Many essential features are available including person/vehicle detection and two-way audio.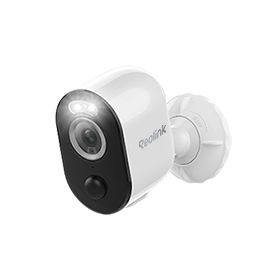 Reolink Argus 3 Pro
2K 100% Wire-Free Spotlight Camera
2K 4MP Super HD, Battery/Solar Powered, Person/Vehicle Detection, 5/2.4 GHz Dual-Band WiFi, Color Night Vision, Two-Way Audio.
Both of these two security cameras can serve as excellent guards for your family. Also, you are free to install them anywhere to watch your property.
FAQs
Do video doorbells deter burglars?
Yes, video doorbells can be an effective deterrent against burglars. Studies show that doorbell cameras can greatly reduce the chances of house burglary. The thought of being seen and recorded on camera is enough to stop would-be criminals.
Even if an event occurs, you will receive instant alerts so you can view real-time video footage and speak directly through the two-way audio. Thus, video doorbells are effective devices to enhance home security.
Do I have to pay a monthly fee for a video doorbell?
Not really. Many video doorbells require a subscription plan for advanced features such as person detection or cloud storage. However, some video doorbells work without subscription fees. They feature on-device detecting technology and can save the footage to an SD card. You can choose these video doorbells to reduce your cost.
Is it better to have an outdoor camera or a doorbell camera?
It's hard to give a definite answer because the decision depends on a variety of factors, including the level of security you require, your budget, and the layout of your home.
Outdoor cameras are designed with higher-quality lenses and better night vision capabilities than doorbell cameras. Also, outdoor cameras can be placed around your house and provide a wide-view angle for you to monitor large areas. If you need enhanced protection and surveillance in large areas, an outdoor security camera is likely the best option.
On the other hand, if all you need is a basic way to keep track of who comes through your front door or gate entrance when you're not home, installing a doorbell camera might be more suitable. Doorbell cameras are generally much cheaper and have the basic features to watch your door.
Will thieves steal doorbell cameras?
Yes. Your doorbell cameras are likely to be stolen because they are near your front door and can be easily found by anyone. However, there are several precautions you can take to prevent potential thieves from tampering with or stealing your doorbell cameras.
Secure the camera with screws to avoid easy removal.
Secure all wires leading up to the device and cover up exposed nails.
Store video recordings remotely, for example in the cloud. The recordings are still available even if the doorbell camera is stolen.
Make sure your router's password is changed regularly as this will reduce the possibility of uninvited access by hackers.
While having certain preventive measures in place certainly helps protect against theft, nothing can guarantee complete safety. Thus, you'd better be proactive about maintaining its security over time through regular checks up on its hardware components.
Conclusion
When deciding between a video doorbell and a security camera, there is no right or wrong choice. The decision ultimately depends upon your needs and preferences. By learning about their differences and pros & cons, you'll know how these devices can help you enhance home security.
In a word, if you care about the cost and only want to watch your front door, video doorbells are the best choice. If you want more features and expect to monitor a large area, security cameras should be the answer.