"We are looking for a 1080p security camera with perfect night vision for our new home, need suggestions from you guys to purchase and set up."
"I'd like to invest in wireless 1080p security cameras that provide clear video footage so that faces and number plates can be recognized without effort."
As you can see, 1080p security camera systems are still the mainstream in the home security market.
So why should you choose 1080p HD security cameras over those 4K higher megapixel security products? What are the best 1080p HD home security cameras and systems?
Jump to: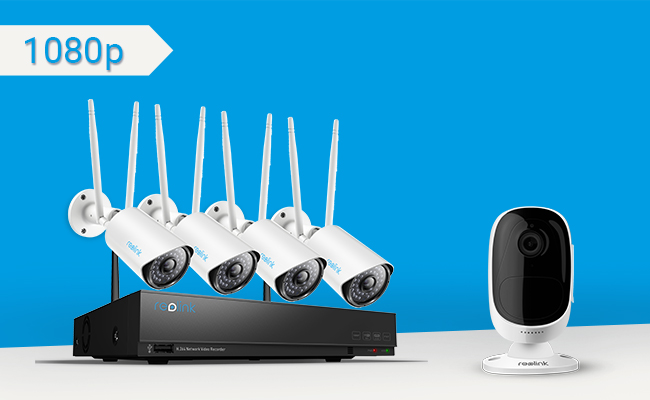 #1. 1080p Security Camera Meaning & Comparison
A 1080p security camera is the surveillance camera with a resolution of 1920 x 1080. In the world of HD security cameras, 1080p indoor and outdoor security cameras also refers to 2MP (2 megapixels) IP cameras.
Below is the detailed comparison of HD 1080p security cameras systems with 720p, 960H, 4MP and even 4K IP cameras.
720p vs. 1080p security cameras: 1080p high definition security cameras have two times the pixels of 720p security cameras (1280 x 720), producing much clearer images than 720p cameras.
960H vs. 1080p WiFi/PoE security cameras: 1080p HD security camera systems feature much easier setup and higher definition compared with standard analog video cameras, such as 960H security cameras.
Those 1080p 960H analog security cameras use BNC (coaxial) cable to get power and data connection. You need to run messy wires for the 960H analog security camera types.
1080p digital security cameras, on the other hand, are extremely easy to install and set up. Normally, you only need one wire or even zero wire (for battery powered 1080p security cameras ) to realize power/data transmission.
1080p vs. 3MP/4MP/4K IP security cameras: 3MP, 4MP, 4K and higher megapixel security cameras will provide higher resolution images and wider coverage than 2MP Full HD (1080p) IP security cameras, but more storage space and bandwidth are also required.
| | | |
| --- | --- | --- |
| Resolution | Frame size in pixels | Pixels per image |
| 720p (1MP) | 1,280 x 720 | 921,600 |
| 1080p (2MP) | 1,920 x 1,080 | 2,073,600 |
| 3MP | 2,048 x 1,536 | 3,145,728 |
| 1440p (4MP) | 2,560 x 1,440 | 3,686,400 |
| 4K | 3,840 × 2,160 | 8,294,400 |
Bonus: Click here to learn the full comparison of 4K vs 1440p vs 1080p vs 720p security cameras.
With the differences among 1080p security camera systems and other options in your mind, read on to learn why you should opt to 1080p wired and wireless security camera systems.
#2. Why Should You Choose 1080p PoE or Wireless Security Cameras
So here comes a question: why should you choose 1080p WiFi/PoE security cameras and systems instead of those 2K/4K types?
1080p Security Cameras Are Affordable & Cost-Effective
Many of you may fall into the myth that 1080p security cameras are more expensive than the 720p cameras or 960H cameras.
That is a big no-no.
The fact is that, some outdoor 1080p security cameras from reputable brands can be even cheaper than the 720 ones, like the top rated 1080p security camera Reolink Reolink® Lumus at a decent price below $100 dollars.
Compared with the high resolutions ones like 4K security cameras, 1080p wired and wireless security cameras hold absolute advantage in terms of price.
1080p Security Camera Systems Have Low Demand on Storage Space and Bandwidth
The 1080p security camera systems require less storage space and bandwidth than the 4MP, 5MP and 4K IP cameras.
That is to say, you don't need to worry that your WiFi 1080p security cameras will eat up too much data and slow down your home network.
With a same SD card or HDD, the 1080p HD security cameras can record more video files before the storage space is full.
No Need to Upgrade Infrastructure with HD 1080p Security Cameras
1080p security cameras also don't require you to overhaul your entire infrastructure to support them.
To be more specific, 1080p PoE and wireless security cameras are compatible with the almost all the standardized technology (such as your iPhone or Android smartphones, PC, TV, monitor, etc.).
But the same is not true with some megapixel security cameras, like 4K IP cameras, which need a 4K TV or monitor to display high resolution images and videos.
1080p Outdoor Security Cameras Are Good for General-Purpose Video Surveillance
The last, but also one important reason for you to choose 1080p security cameras is that, they are ideal for general-purpose video surveillance.
Though the 1080p home security camera systems can't match 4MP, 5MP and 4K cameras in terms of image quality, at least they can allow you to recognize vehicle number plates and the general information of suspects.
Also Read: Click here to learn if 1080p HD security camera systems can identify license plate numbers and people.
#3. Best 1080p Security Cameras and Systems You Are Gonna Love
The options of available 1080p security cameras are continually expanding, and we recommend checking out our roundup of the best 1080p security camera systems for more suggestions to get started.
1. Smart 1080p Security Camera-Reolink Lumus
This 1080p security camera adds the bright motion-triggered LED spotlight, which allows for color night vision and powerful deterrent effect for criminals. Loading with smart features like PIR and motion detection and siren, this outdoor spotlight cam gives you one-of-a-kind protection. Wired for non-stop power and continuous protection, this device can be connected to 2.4 GHz WiFi for simple and flexible wireless installation.
Boating 1080p Full HD, you can see and save videos in clarity and vividness. Through two-way audio you can talk to your loved ones anytime you want via your smartphones.
If you want to choose an outdoor 1080p security camera with smarter motion detection, Reolink Lumus is definitely the best option for you.
Key Features
1080p Full HD
Plug-in power& Wi-Fi connection
Color night vision
Smart motion detection& PIR motion sensor
IP65 weatherproof
Built-in micro SD card slot
Below is an introduction video of Reolink Lumus. This video may help you know more details about this product.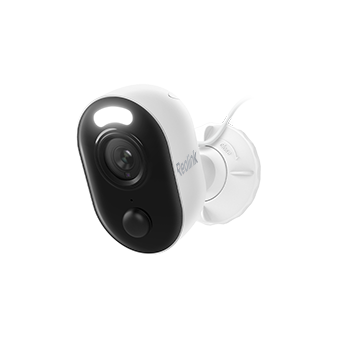 Reolink Lumus
Outdoor WiFi Security Camera with Motion Spotlight
Bright, Motion-Activated LED Spotlight, Instant Siren Alarm, and Remote 2-Way Audio to Ward off Would-be Burglars even in Dark Areas; 1080p and Full Color Night Vision.
2. Best-Budget 1080p Security Camera System - RLK8-410B4
If you are looking for a 4-camera 1080p security system, RLK8-410B4 security camera system will be your best option.
With 4 outdoor 4MP/5MP security cameras, you can also switch the security camera resolution to 1080p from the device settings. All the video footage will be recorded to the dedicated NVR. You can review what happened to your property without your knowing.
Key Features:
Support 1080p Full HD
Ideal for 24/7 recording
Excellent night vision (up to 100ft)
Plug & play
IP66-waterproof cameras
Support audio recording
Get more details from the 1080p security camera system reviews here.
Below is a video shared by a user of RLK8-410B4.
Reolink RLK8-410B4
8-Channel PoE Security System
4 pcs 5MP/4MP Security Cameras; 2TB HDD 8-Channel NVR for 24/7 Reliable Recording; Plug & Play; 2 Network Solutions.
3. Top-Rated Battery Powered Wireless 1080p Security Camera - Reolink Argus® 2
This wireless 1080p security camera Reolink Argus® 2 stands out among other contenders with the 100% wire-free feature: in virtue of the built-in rechargeable battery and optional solar panel, it is super easy to install and requires no messy cables.
Boating 1080p Full HD, it delivers sharp and clear images day and night. The two-way audio also enables you to talk to your family in real time via your iPhone or Android smartphones from anywhere.
If you want an outdoor 1080p wireless security camera with wide viewing angle, Reolink Argus® 2 is certainly a nice option you wouldn't regret later.
Key Features:
1080p Full HD
Battery powered & solar powered
Starlight night vision
Smart PIR motion sensor
IP65 weatherproof
Built-in micro SD card slot
Check this Reolink Argus® 2 1080p outdoor security camera reviews here for more details.
And below is a video shared by a real user of Reolink Argus® 2.
Reolink Argus 2
100% Wire-Free Starlight Camera
Rechargeable Battery & Solar Powered; Outdoor/Indoor Protection; 1080 Full HD; Starlight Night Vision; 2-Way Audio; Live View Anytime Anywhere.
4. Best-Value Cellular Outdoor 1080p Security Camera – Reolink Go
Looking for a 1080p HD security camera for areas with no WiFi and no Internet? Try this best seller among the 4G outdoor 1080p security cameras – Reolink Go.
Operating on the 4G/3G mobile network, this 1080p IP security camera is ideal for places even without power supply and Internet access, such as your barns, farms, vacation home, boats, and other remote or rural locations.
Key Features:
1080p Full HD
Battery powered & solar powered
Starlight night vision
Customized Voice-Recordable Alerts
IP65 weatherproof
Built-in micro SD card slot
Watch the video below to check the image quality of this 1080p outdoor security camera Reolink Go (shared by Jens on his Youtube channel ).
Buy 1080p Security Cameras & Systems Now
The prices of 1080p security cameras and systems for sale vary greatly at online stores, such as Amazon, BestBuy, eBay, Costco, etc.
It is more recommended that you buy 1080p security cameras systems from the sellers' official security camera online store, as you can place your order in US, UK, Canada, Australia, South Africa, or anywhere you are and get better after-sales service.
For any more questions about 1080p security cameras, please feel free to leave your comment below and we'll reply to you soon.