For a long time, 1080p HD resolution was the top quality available to video cameras. Cameras that recorded footage at this resolution created videos that had clear images and high levels of detail; however, there is a new standard for high resolution video, the 4K resolution.
Currently, many security camera manufacturers are starting to offer cameras with high resolution ranging from 4MP to 12MP. However, those who want a video doorbell camera to safeguard the entry point of their home may not be able to find doorbell cameras with such high resolution.
This advance in security cameras may be predictive of the next step for video doorbells. As video doorbells become an increasingly popular component of home and office security systems, many consumers want these devices to capture suspicious activity with as much detail as possible.
As a special type of 4K security cameras, demands on 4K video doorbell are increasing. But if you can't find one, you can choose 4K security cameras as an alternative. Just check our comprehensive guide on 4K security cameras to get more ideas!
Consumer Demand for 4K Video Doorbells is Increasing
Mounted on or near the front door, video doorbells can capture footage of activities around the doorstep and notify property owners every time motion is detected, which many people find gives them peace of mind when they are not there.
As with common security cameras, video quality matters a lot for doorbell cameras. Most video doorbells on the market now are equipped with 1080p HD resolution. Some advanced video doorbells have higher resolution like 2K 4MP or 2K+ 5MP, making it possible to capture everything happening at your front door with great detail.
Understandably, many consumers are not satisfied with the current available resolution, and they have begun to expect doorbell cameras with higher resolution to match the many 4K security cameras that are now available.
Unfortunately, it is almost impossible to find 4K video doorbell cameras from major security camera manufacturers. There are several factors that make the 4K camera more useful than its lower resolution counterparts, so it makes sense that there is a growing demand for a new doorbell model.
Important Components of Video Doorbells
What makes a 4K doorbell camera so great? For many consumers, there are several factors that go into choosing a video doorbell as part of their security system, and people often want the best available camera to monitor their homes and businesses.
Resolution
The first and most important thing to consider when choosing a camera is its resolution. Having higher resolution creates a clearer picture. Generally, the normal resolution of a doorbell camera is 1080p (1920 x 1080 pixels), 1536 x 1536 pixels (considering the picture ratio of most doorbell cameras is 1:1), and 2K (2560x1440 pixels). Some advanced manufacturers have launched 2K+ 5MP (2560X1920) doorbell cameras to provide users with more clarity. But there is still a limited number of 4K 8MP doorbell cameras.
If you want your video doorbell to capture more details, high resolution is a good choice. Suppose your front door is facing the street and a suspicious vehicle happens to pass by on the road; the 1080p may capture a blurry video and you wouldn't be able to recognize the numbers on the license plate, but if your doorbell camera has a resolution of 2K+ 5MP, you can see the details of the license plate number. With 4K, your ability to read license plates would be even better.
Frame Rate
Videos consist of fast-moving images. When replaying footage, your device presents images at high speed, and then your brain fills in any blanks and creates continuity. Each of those images is called a "frame".
Frame rate is the terminology used to describe the speed at which each frame flips through. "FPS" stands for "frames per second" and usually expresses a certain frame rate of digital devices. If your security camera or video doorbell captures and plays the video back at 30 fps, that means each second of the video shows 30 distinct still images.
Frame rate influences the quality of videos you capture. The image quality of video doorbell cameras with low frame rates may be blurry while those with too-high frame rates cannot provide accurate motion detection.
Considering the scenarios of doorbell cameras, a frame rate that is too high is a problem. After all, the main function of the video doorbell is to capture every move that happens at your front door. A too high frame rate will make the process of events you want to review thoroughly nonspecific enough that the footage won't be as useful and you won't receive alerts correctly.
HDR
HDR is also important for image quality. It affects the details of exposed images. High Dynamic Range (HDR) is a camera feature that combines many photographs at varying exposures into a single frame to create a more uniformly exposed image (or video).  With high HDR, in the case of strong light, you can still see the details of the dark places clearly.
More importantly, even in brilliantly illuminated surroundings, you can still pick out details in the footage captured by video doorbell cameras with HDR function. You can also utilize the HDR toggle in the app of whatever video doorbell brand you're using if you want more detail in brightly lit regions.
Aspect Ratio
Aspect ratio refers to the proportional relationship between an image's width and height. Essentially, it describes an image's shape. Aspect ratios are written as a formula of width to height, like this: 4:3. For example, if a square image has an aspect ratio of 1:1, that means the height and width of this image are the same.
The aspect ratio can affect the perspective of images captured by security cameras or video doorbells. The perspective reflects the view field of your cameras. For most 4K 8MP high-resolution cameras, the aspect ratio is 16:9, which gives a much wider view.
However, without 4K resolution, doorbell cameras cannot reach this ratio. Most video doorbell cameras can view a field of 160 to 180 degrees, so if mounted at the correct eye level, they will accurately capture activity near your front door.
Some doorbells use a 1:1 view of the screen. Some cameras use a binocular camera to expand the camera's viewing angle for a wider range of views. Some cameras are vertically placed in a 3:4 ratio, allowing a good view of anything from the mat all the way up to a visitor's face.
Limits to Traditional Cameras
When asked why they want 4K doorbell cameras, many consumers point to the problems that doorbell cameras of other resolution ranges have, like the 1080p ones. Compared to 4K doorbell cameras, these doorbells have the following possible problems when used for home security systems.
Insufficient Clarity
The first flaw of common 1080p doorbell cameras lies in their clarity. Pictures or videos captured by 1080p doorbell cameras can be blurry and they can't show the details you may need. For example, if a suspicious car passes by, they can't capture the license plate. If some burglars walk through your house, these doorbell cameras will have difficulty capturing and rendering accurate facial features.
Poor Night Vision
Another drawback of 1080p doorbell cameras is the night vision. Many doorbell cameras with 1080p resolution don't have night vision functionality. They can't capture clear footage at night. If any accident or danger happens in the evening, these doorbells can't record useful evidence. For those who want a 24/7 protection, 1080p doorbells may not be a good choice.
Limited Viewing Range
The aspect ratio of common 1080p doorbell cameras is 1:1 or 4:3. Compared to some 4K security cameras with 16:9 perspective, the viewing range of these doorbell cameras is relatively limited. As a result, users can only see the footage when people or other objects come close to their front door. Many times, doorbells can't even capture the full picture or all features of objects.
Features to Look for in 4K Video Doorbell Cameras
With all the possible flaws that come with 1080p doorbell cameras, many users are eagerly anticipating the arrival of 4K doorbell cameras. Just like 4K security cameras, future 4K doorbell cameras may have the following advantages.
High Resolution
4K security cameras stand out among other security camera products fortheir high resolution. 4K cameras capture footage at a resolution of 3840 x 2160 pixels. This resolution is four times higher than that of standard 1080p HD cameras. If doorbell cameras have the 4K resolution feature, they can deliver more detailed, sharper images with improved color accuracy, making it easier to identify people, objects, and potential threats at your door.
Night Vision
In low-light environments, 1080p doorbell cameras sometimes fail to capture or record necessary footage. Night vision without ambient light requires a built-in infrared fill light that switches to black-and-white mode in low-light conditions. Some advanced cameras also have color night vision functionality. A feature of decent video doorbells is using an integrated spotlight to create artificial color when the outside light is insufficient for full color footage.
Perspectives
To deliver crisp pictures, 4K cameras have strict perspective requirements. The perspective from which you look through your doorbell camera matters as most door cameras have a visibility of 160 to 180 degrees. That means that when correctly installed, they will be able to accurately capture any activity at your front door.
Furthermore, the wider the viewing angle cameras cover results in the higher aspect ratio they require. The aspect ratio of most 4K security cameras is 16:9, which allows you to display your entire video without cropping the sides to fit in the displays, like computers or TV screens, as you would have to do with a 4:3 aspect ratio video. This ratio aspect looks even more amazing when having your doorbell camera installed at a certain height and recording a high angle shot, allowing you to capture all the events happening below.
Smart Features
As technology develops, some doorbell cameras are integrated with AI algorithms, which gives them some smart features. 4K doorbell cameras may have some functionalities that 1080p doorbells do not. For example, some doorbell cameras have a smart detection for monitoring and alerting you to activities that happen at your front door, like the arrival of mail or packages, knocks on the door, etc.
Smart Home Compatibility
Unlike common security cameras, doorbell cameras require smart home compatibility. Compatible with smart home applications like Alexa or Google Home, you can use voice commands to control doorbell functions. This can be especially helpful when your hands are full, and you need to answer the door. With 4K resolution, you can monitor your front door or surrounding areas with clearer images, and the higher resolution will improve the quality of the smart detection.
Chime Trigger
Apart from monitoring everything that happens at your front door, another vital function of video doorbells is keeping you informed of visitors. For this, you may need a chime to accompany your 4K doorbell.
The chime is the part of a doorbell camera located inside your house. Every time the push button of your doorbell is pressed, the chime will make a sound and let you know that someone is knocking at your door. Most video doorbells can use your existing doorbell wiring to power the camera and your chime. If some products don't have this compatibility, consult the store page, and figure out if a chime is included in the product box. Alternatively, however, you could rely on alerts sent to your phone.
Challenges of 4K Doorbell Cameras
Despite all the advantages 4K doorbell cameras have, there are legitimate challenges for both manufacturers and consumers that prevent them from being widely available.
Subscription Model
Like other doorbell cameras, if 4K doorbell cameras don't come with an SD card or don't have any local storage capacity, you may need to purchase a subscription plan from the manufacturer or brand to save the footage to the cloud for days, weeks, or a longer period.
The problem with this is that the cloud-based storage subscription fees can be expensive. This high subscription cost combined with the relatively high cost of a 4K camera makes a 4K doorbell camera somewhat unfeasible for many consumer budgets. However, there are some doorbell cameras without subscrption you can consider.
Power Supply
All the features mentioned before, including smart features, require processing power, which means 4K doorbell cameras need a stable power supply. A battery cannot meet the power demands of these devices, and special power wires and cables are required.
If your doorbell camera had a full 1080P HD 15fps video stream, and you compare this to a 4K 30fps stream, you would need 8 times as much processing power to monitor the living videos and send out the relevant notifications.
Extra Storage Space
Another challenge is that the higher resolution requires more storage, which means if you choose a 4K doorbell camera, extra cloud or local storage space is required. For example, if your doorbell cameras are PoE ones , and you choose to store your data in an NVR, the storage space that 4K footage takes up is four times bigger compared to full HD 1080P video.
Internet Bandwidth
Streaming 4K footage captured by your 4K doorbell cameras also takes up more Internet bandwidth. To guarantee that you'll to be able to watch the footage in the quality you want, you'll need your minimum broadband speed to be safely above the required speed of 4K videos. This may pose a challenge because many users of security and doorbell cameras have busy households with lots of Internet-connected devices. Every device takes up a part of the whole bandwidth.
According to statistics, for 720p standard definition (SD) streaming you'll need at least an average speed of 3 mbps, for 1080P HD 5-8 mbps and 4K UHD you'll need 25 mbps minimum, but normally a connection of 50 mbps to cover all scenarios is required. For instance, 4K live streams require more speed. If you have a 4K doorbell camera, make sure the Internet connection is stable and can support different devices at the same time.
Best Alternatives to 4K Video Doorbell Cameras
The biggest challenge of 4K doorbell cameras is that there are almost no doorbell camera products of 4K resolution on the market now, but here are some alternatives that have some similar benefits.
Reolink video doorbells with 2K+ 5MP resolution and a 180° diagonal viewing angle can deliver sharper footage and cover more areas at your front door. Video doorbells with 5MP resolution are one of the most advanced in the industry for now.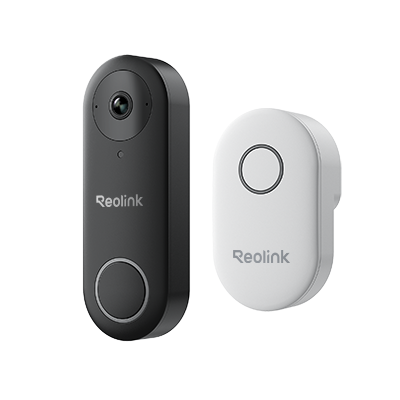 Reolink Video Doorbell (PoE)
Smart 5MP Video Doorbell with Chime
5MP Super HD, Person Detection, Power over Ethernet, 180° Diagonal Viewing Angle, Two-Way Audio, High-Quality Night Vision.
With smart features like person detection, you'll get an instant push notification when any visitor arrives at your door. You can speak to the delivery guy, greet your friends, or deter suspicious strangers through built-in speakers and microphones any time they show up at your door. You can customize the voice messages to quickly respond to visitors when you're busy. Also, there are PoE versions and Wi-Fi versions for you to choose from. Both are easy to install and use.
If you want to find 4K doorbell cameras, but there are no matching results online or in stores, you can use 4K security cameras as an alternative. Although these cameras can't directly be installed on your front door, by mounting them on the ceiling they can also monitor activities that happen in front of your house. Many security camera manufacturers have launched their 4K products, and Reolink is one of them.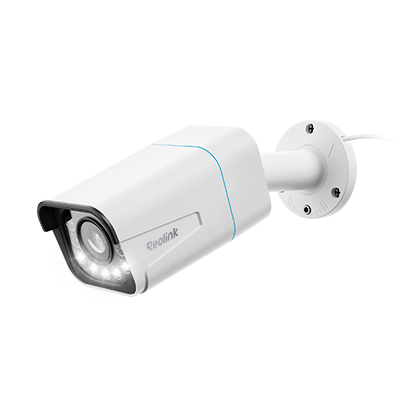 Reolink RLC-811A
4K Smart PoE Camera with 5 Spotlights
4K 8MP Ultra HD Day & Night, Person/Vehicle Alerts, 5X Optical Zoom, Two-Way Audio, Built-in Siren, Color Night Vision, Live View Anywhere.
Reolink RLC-811A is one of the best 4K security cameras on the market right now. This PoE security camera features 4K 8MP UHD video and color night vision to help you see both day and night. It also has two-way audio allowing you to hear and talk to any visitors. With smart features like person and vehicle detection, it can provide you and your loved ones an all-day-long protection.
FAQs
Why Are There So Few 4K Doorbell Cameras on the Market?
4K doorbell cameras can provide pictures and footage with details, but due to its special requirements like permanent power supply, larger storage space, and higher Internet bandwidth consumption, it is hard for manufacturers to solve all these problems at the same time and launch 4K doorbell cameras. In addition, most users choose to install 4K doorbell cameras at their front door, which also introduces some difficulty in wiring and installing.
Is It Better to Have a 4K Outdoor Camera or a Doorbell Camera?
It depends on your needs, like the level of security you require, your budget, the layout of your home, and the installation difficulty.
4K outdoor cameras are designed with higher-quality lenses and better night vision capabilities than doorbell cameras. Also, outdoor cameras can be placed around your house and provide a wide-view angle for you to monitor large areas. If you need enhanced protection and surveillance in large areas, a 4K outdoor security camera is likely the best option.
On the other hand, if all you need is a basic way to keep track of who comes through your front door or gate entrance when you're not home, installing a 4K doorbell camera might be more suitable. Doorbell cameras are generally much cheaper than security cameras. Right now, the limitation of products sold on the market is the biggest restriction. You could use a 2K+ 5MP video doorbell as an alternative for now.
Do All Video Doorbell Cameras Require a Subscription?
Not all doorbell cameras require a subscription. If the doorbell camera you bought comes with an SD card or is compatible with storage devices like NVRs, they don't require a cloud subscription plan and you don't need to pay extra fees. However, if the camera you've chosen doesn't have these features, you may need to pay for a cloud storage subscription to store the daily footage recorded by your doorbell.
How Do I Choose the Right Video Doorbell Camera?
The choice of the right doorbell camera ultimately depends on your needs, but there are some important features to consider before buying one, including resolution, viewing angle, chime trigger, night vision, storage preferences, internet connectivity method, and two-way intercoms.
Besides these, there are also many other tips on how to choose a video doorbell camera on our blog to help you understand what you need and you can choose the best one.
Conclusion
4K doorbell cameras are still limited on the market right now. Many factors affect the image quality delivered by them, like frame rate, HDR function, and aspect ratio. Compared to common 1080P full HD doorbell cameras, 4K doorbells have their advantages but still face a lot of technological challenges. If you are looking for 4K doorbell cameras, but haven't found the right one, you can consider using a 2K+ 5MP video doorbell or a 4K 8MP security camera as an alternative.
Are you looking forward to seeing more 4K doorbell cameras on the market? What is the highest resolution you have seen on a doorbell camera? Share your thoughts and experiences with us in the comment section below!