As we move deeper into a fully digitized world, capturing high-quality visuals is no longer a luxury. It's a necessity. Audiences and users expect the best, so whether they're broadcasting a live event, managing security systems, or streaming a conference, video quality can make or break the experience. Thankfully, 4K PTZ cameras are a solution to satisfy all needs.
Capable of broadcasting at a superior resolution and offering dynamic control, 4K PTZ cameras transform the way we perceive and utilize video technology. To help understand 4K PTZ cameras a little better, we've put together a comprehensive guide that digs a little deeper into their unique features, benefits, and applications.
4K PTZ cameras are 4K security cameras with Pan&Tilt and Zoom function. If you want to know more about 4K security cameras, check out our comprehensive guide on 4K security camera!
Understanding 4K PTZ Cameras
The 21st century has us changing the way we utilize video capturing, 4K PTZ cameras are at the forefront of that movement. But what is a 4K PTZ camera? And how do they differ from other cameras on the market? Let's take a look at these amazing devices.
What is a 4K PTZ Camera?
A 4K PTZ camera focuses on two aspects of videography—ultra-high resolution and flexibility. The "4K" of the "4K PTZ" refers to the maximum resolution, which tops out at around 4,000 horizontal pixels for remarkably sharp image quality.
"PTZ" stands for Pan-Tilt-Zoom and indicates a camera that can move its lens horizontally (pan) or vertically (tilt) and adjust its focal length to change the camera's perceived depth (zoom).
Being able to move on all axis makes 4K PTZ cameras invaluable in broadcasting, security, and any industry where a broader visual scope is needed.
Different Types of 4K PTZ Cameras
When exploring the world of 4K PTZ cameras, you'll come across the following four different types, each most practical in different applications based on their unique features and advantages.
Indoor 4K PTZ Cameras
Indoor 4K PTZ cameras are designed specifically for indoor use and are generally smaller and more discreet. You'll find them in schools, businesses, churches, and other facilities where video monitoring and surveillance may be needed. Their PTZ function is smooth for more thorough coverage of the space.
4K PTZ Cameras Outdoor
Because outdoor 4K PTZ cameras are typically left in the elements 24/7, they're built to be more durable. Their robust, sturdy construction can withstand blistering heat and freezing cold temperatures without sacrificing high-quality video surveillance. Many outdoor 4K PTZ cameras are also vandal-resistant, to prevent theft or tampering.
Outdoor 4K PTZ cameras cover a larger area than indoor cameras and are ideal for parking lots, public parks, and city streets.
Network/IP 4K PTZ Cameras
Connected to the Internet or via a local area network (LAN), network/IP 4K PTZ cameras live stream footage over an IP network. These cameras can be accessed remotely via a hub or through a designated smartphone app. Because they're constantly connected to the Internet, they can be accessed and controlled from virtually anywhere.
Network/IP 4K PTZ cameras are very common as part of home security systems so homeowners can watch over their home, even when on vacation. Professional surveillance also utilizes these cameras to oversee retail floors and keep an eye on merchandise.
HDMI PTZ Camera with 4K
When image quality trumps all other aspects of the recording, an HDMI PTZ camera with 4K is preferred. Best for professional broadcasting and live streaming, these cameras transmit high-quality 4K video and audio through a single HDMI (High-Definition Multimedia Interface) cable. HDMI PTZ cameras maximize video quality preservation and are best for television studios, live events, and professional videography.
Along with pristine video quality, you can easily integrate HDMI 4K PTZ cameras with other devices that have an HDMI input. You can easily connect to monitors, recorders, and other broadcasting equipment while maintaining swift control over the pan, tilt, and zoom functions during live productions.
Practical Applications of 4K PTZ Cameras
Versatility is what makes the 4K PTZ camera stand out, and you're bound to find a use for them in a number of different industries. Below, we'll explore some practical applications for the camera's 4K pan-tilt-zoom functionality.
4K PTZ Camera for Churchs
Technology is continuing to change how we communicate and connect, and these changes have led to the use of 4K PTZ cameras in religious settings, specifically churches. The sleek, remote operation of a 4K PTZ camera removes the need for a camera operator, allowing the church to save money.
These advanced cameras also help churches extend their reach by streaming services to congregants who can't physically attend services. Virtual services benefit from the superior pan, tilt, and zoom functions of the 4K PTZ cameras. The nuances of a service, from the pulpit to the choir, are delivered in a broadcast-quality stream and the 4K video provides an immersive experience that encourages remote participation.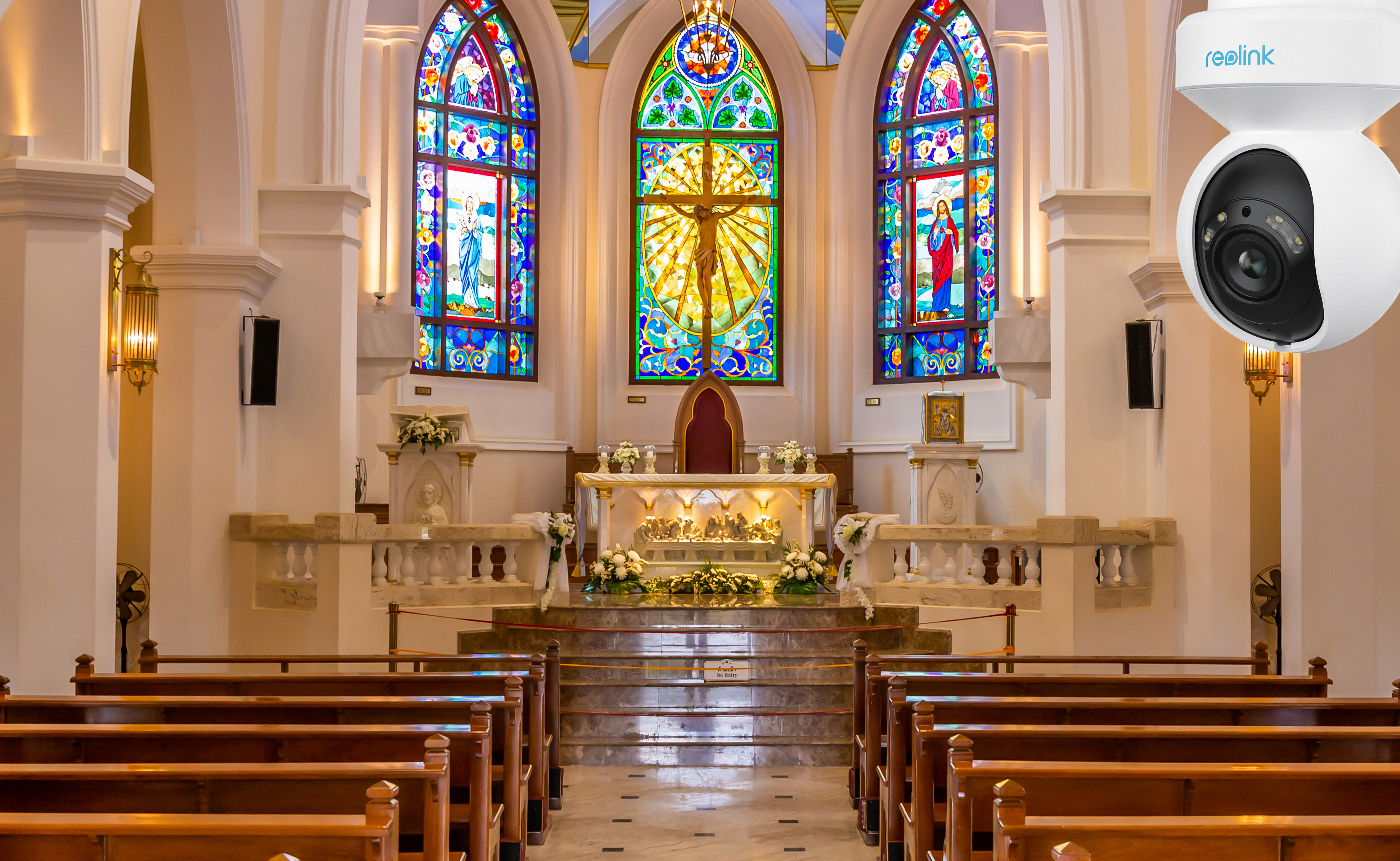 4K PTZ Cameras for Live Streaming
Live streaming performances, lectures, webinars, and other events have become a popular service recently, and the 4K PTZ camera's unparalleled visual quality and flexibility have been pivotal tools in its emergence.
The remote viewing experience has been enhanced by the high-quality video output of the 4K PTZ camera. While the 4K resolution ensures you don't miss a detail of the streamed event, the pan-tilt-zoom function allows for more dynamic shots. Using a 4K PTZ camera, you can capture wide-angle shots or zoom in for a close-up with ease, adding a touch of professionalism to the finished product.
Want to follow an object or person without having to physically pan the camera? 4K PTZ cameras can auto-track a subject and keep them in focus during the live stream, which can be crucial for sporting events and live performances.
At 4K resolution, the video image will display even the most minute of details for a more immersive viewing experience that standard cameras can't achieve.
4K PTZ Camera for Surveillance and Security
Security is among the most common application of 4K PTZ cameras. Pan, tilt, and zoom functionality help cover a large area for more efficient monitoring of shopping centers, parking lots, and office buildings. The 4K PTZ camera can track suspicious activity and subjects of interest remotely, effectively replacing the need for multiple fixed cameras.
The incredibly clear video footage enables easier identification of suspicious individuals while night vision, auto-tracking, and motion detection enhance the camera's security capabilities. Trespassers will be detected automatically and tracked, allowing security personnel time to act.
Key Features Explained: Zoom and PTZ Functionality in 4K PTZ Cameras
While shopping for a 4K PTZ camera, you'll want to look at two fundamental features that can make or break their performance - zoom and PTZ. To help make an informed decision, we've dissected these features in greater detail.
Optical Zoom vs. Digital Zoom
Optical zoom is a true zoom feature that changes the magnification of the image by using real optics and adjusting the physical length of the camera lens. This allows the camera to maintain its high resolution and crisp details while zooming in on a subject. Security cameras benefit most from optical zoom, as it doesn't compromise the image quality.
Digital zoom has no bearing on the camera's optics and instead magnifies the image data as if you were pinching an image on your smartphone to zoom in. The camera will crop a portion of the image, enlarging and distorting the quality with pixelation and loss of detail. Digital zoom has its uses in some scenarios, but it's largely unreliable for capturing high-quality, detailed images, especially when compared to optical zoom.
Zoom Speed
How long does it take the camera to go from a wide-angle to a telephoto view? That measurement is the zoom speed, which can affect the user experience and determine whether a camera is useful in specific scenarios.
For example, a security officer would want a quick zoom speed to be able to get a closer look at suspicious activity as it's happening. On the other hand, filming or live-streamed events may benefit from a slower, more controlled zoom speed. This allows for a smoother transition between wide and close-up shots, creating a visually appealing and less disorienting image for viewers.
Different 4K PTZ camera models offer different zoom speed ranges, with some cameras allowing the user to adjust this setting to their preference. As with other camera features, understanding your specific needs will help determine how important zoom speed is in your decision.
PTZ vs. EPTZ
As previously established, a PTZ camera refers to a camera that can move left or right (pan), up and down (tilt), and zoom in or out. You can get a wide area of coverage with detailed views of specific points of interest. The full range of motion makes PTZ cameras great for large spaces like parking lots, schools, and retail stores.
An Electronic Pan-Tilt-Zoom (EPTZ) camera is one that uses software to maneuver the digital image. There's no mechanical implementation, but rather an illusion that lets you digitally zoom in and pan around an image captured by a wide-angle lens. Zooming in on an EPTZ camera leads to pixelation and loss of detail, so it's not effective in instances where a clear view is necessary.
Delving into the Market: Comparing the Top 4K PTZ Camera Brands
Several brands dominate the world of 4K PTZ cameras, each priced based on the features they bring to the table.
Among the most notable is Sony, which delivers innovative technology, exceptional image quality, smooth operation, and advanced features like image stabilization. Unfortunately, these premium features come with a premium price tag attached.
Panasonic's 4K PTZ cameras are esteemed for their durability and reliable performance, providing users with a balance of high-quality video and powerful zoom. They, too, are priced on the higher side due to their solid reputation and technological prowess.
PTZOptics is wholly dedicated to PTZ cameras and offers dynamic, user-friendly controls. They're a favorite among live streaming professionals, especially due to their competitive pricing, superior video streaming capabilities, and wide field of view.
Best 4K PTZ Security Camera Recommendation
For those working with a limited budget and want a 4K PTZ security camera, Reolink is the best choice. The brand is known for its reliable security, which extends to its line of surveillance cameras designed to protect families and businesses around the world.
Reolink recently launched a series of 4K PTZ security cameras, each with unbeatable features.
This model is an excellent choice for users looking for a durable, high-performance 4K PTZ security camera. The E1 Outdoor PoE offers superior image quality and crystal clear 4K resolution so you won't miss out on any critical details.
The PTZ function of the Relink E1 Outdoor PoE is also unmatched, with motorized pan and tilt capabilities for a wide viewing angle that minimizes blind spots. You'll also have access to 3x optical zoom for detailed inspection of distant objects without significant pixelation. With motion alerts, you can respond swiftly to potential security threats, zooming in quickly on points of interest.
Whether you're monitoring your backyard or keeping an eye on a large parking lot, this smart camera captures every moment in unprecedented detail.
Offering a blend of flexibility and convenience, the Reolink TrackMix WiFi is a dynamic 4K PTZ camera with wireless pan and tilt capabilities for comprehensive coverage and zero blind spots without sacrificing 4K quality.
The Trackmix WiFi features a dual-lens design with auto-tracking. One lens is a wide-angle lens dedicated to capturing a broader view while the other is a telephone lens focused on finer details. When used together, the lenses can show a spot movement, auto-track it, and zoom in without distorting the image.
Best Wireless Battery Pan & Tilt 4K Camera - Argus PT Ultra
If you're looking for a wireless 4K PTZ camera, the Argus PT Ultra is a top contender. The Argus boasts 4K ultra-high definition for a crisp, clear video and image. You'll be able to more easily identify people, vehicles, and other objects captured by the camera.
Unique to the Argust PT Ultra is a completely wire-free design. The camera runs on a rechargeable battery and can be installed virtually anywhere without an external power source or Ethernet cable. To prolong the battery life and maximize cost-efficiency, the eco-friendly Argus PT Ultra supports solar charging.
Amplifying the camera's appeal is two-way audio and a smart passive infrared (PIR) sensor, which measures infrared light to differentiate a person from an object.
How to Choose the Best 4K PTZ Camera for Your Needs
Finding the perfect 4K PTZ camera means looking at several factors. Each component plays a vital role in the overall performance and usefulness of the camera. Below is a breakdown of what you should look for in your next 4K PTZ camera.
Lens Quality
At the core of every camera lies the lens. A high-quality lens can make a world of difference in the clarity and detail of images captured. When choosing your 4K PTZ camera, check that it has a premium-grade lens with an optional light-gathering function. This will both boost your image quality and improve the camera's performance in even low-light conditions.
Autofocus and Auto Tracking
Autofocus and auto-tracking are essential features in your next PTZ camera. A camera with autofocus will quickly focus on and provide a clear image of a single subject. Auto-tracking is similar, except it follows the subject if they start moving within the camera's field of view. Both are useful for surveillance applications or event coverage as they keep the subject in the frame and in focus.
Low-Light Capabilities
Low-light performance is an important feature to have when filming in dimly lit conditions. A 4K PTZ camera with a dynamic range and low-light sensitivity will provide clear images even when there is little light to work with. These cameras often come with infrared or night vision functions to enhance late-night recording.
Audio Features
While video quality is paramount in a PTZ camera, in many applications, audio is equally as important. If you're live streaming or broadcasting, you'll need a camera with a high-quality built-in microphone or a port for an external mic. Some 4K PTZ cameras also have two-way audio, so you can communicate with the people you're filming.
Durability and Build
Durability is important to consider if you plan on setting your camera up outdoors. Your 4K PTZ camera should sport an IP rating for weather resistance so it can survive the elements. The materials used in the construction of the camera will determine overall durability. A camera with a metal body is more durable than a plastic camera.
Price vs. Value
Finally, think about the price compared to the value the 4K PTZ camera offers. Do the features and quality justify a high price tag? Generally, a higher-priced camera will have more features and produce a higher-quality video. Think of your specific needs and go for a camera that provides the best value for your investment.
Flexible Ways of Installing a 4K PTZ Camera
Installing a 4K PTZ camera is the best way to benefit from the high-definition surveillance and flexible pan, tilt, and zoom functionality. Let's explore some of the most efficient ways to install your next 4K PTZ camera.
Ceiling mount
To get complete coverage of an area, you'll want to mount your camera on the ceiling. This approach leverages the height and centralized location to provide a broad view. Whether in a retail store or large office space, a ceiling-mounted 4K PTZ camera can provide an unobstructed view, making it ideal for surveillance.
Wall mount
If you want to focus on a specific point of interest, then consider wall-mounting your camera. This can be helpful to watch over entrances, exits, and other areas of importance. While you don't get the same broad view, you do get directed surveillance at a specific zone of activity.
Parapet mount
The parapet method of installation is great for outdoor surveillance. The camera is mounted on a parapet or rooftop edge and surveys the area in front of it. Installing on a parapet offers a wide field of view to cover large areas like building perimeters and parking lots.
Pole mount
If there's no wall or ceiling to mount to, you may have to get creative with a pole mount. As the name suggests, you'll mount your 4K PTZ camera onto a pole for wide video at parks, sports fields, and industrial sites.
Corner mount
Corner mounts may be the most effective solution for mounting your 4K PTZ camera. Being mounted in the corner, you'll have a good view of practically everything. This method reduces blind spots and is a good option for security and surveillance.
Regular Maintenance Tips for 4K PTZ Cameras
Regular maintenance is crucial in extending the lifespan and ensuring your camera's optical performance. By taking a few simple steps, you can prevent common issues such as blurry images, equipment failures, and network connectivity problems.
Here are some maintenance tips to keep your camera running at its best.
Mechanical Inspection: Periodically check the mechanics of your PTZ camera for wear and tear. The gears and motors that enable the pan, tilt, and zoom functions are prone to wearing out over time, especially in outdoor applications.
Software Updates: Keep your camera's firmware and software updated. Manufacturers often release updates that enhance the performance of your camera and address known bugs.
Position Calibration: Test the preset position and the patrol routes of your 4K PTZ camera regularly to make sure they are working properly. Ongoing minor shifts can lead to significant drift in the camera's field of view.
Zoom and Focus: If you're constantly zooming or using auto-tracking, test these features often to check for degradation.
Dust and Debris: Check that dust or debris hasn't accumulated on the moving parts of your PTZ camera. Build-up can cause the camera to move unevenly or get stuck. Use a soft, dry cloth or compressed air to clean these parts.
Problem and Solution: Common Issues and Their Fixes
4K PTZ cameras are advanced pieces of technology, but like all devices, they can run into problems. Understanding these issues and how to resolve them can save you time, unnecessary stress, and money:
Blurry or Unfocused Image: This is a common issue that can mean your lens is dirty or the software is glitching. The solution can be fairly easy, just clean the lens regularly with a microfiber cloth to prevent dust from accumulating. If the problem persists, try resetting the camera or updating its firmware.
PTZ Not Working: If you can't pan, tilt, or zoom (PTZ) properly, start by making sure the camera is correctly connected to the controlling device. Check that the camera is up to date and push through any outstanding updates.
Camera Not Powering On: It's possible that you are having an issue with the power source or power cable. If a different power outlet or cable doesn't help the issue, your 4K PTZ camera may need to be professionally serviced.
Night Vision Not Working: If your camera's night vision isn't functioning, it may be due to malfunctions with the infrared (IR) lights. In a dark room, check that the IR lights are still on. If not, try factory resetting the camera or updating the firmware.
Connectivity Issues: If your PTZ camera 4K isn't connecting to your network, double-check the network settings and the camera's configuration. You can try updating the camera's firmware or resetting your router.
FAQ
What are the advantages of using a 4K PTZ camera?
The biggest advantage of using a 4K PTZ camera is that it can capture high-resolution video. Additionally, these cameras have pan, tilt, and zoom functions that allow you to cover a large area with just one camera. The camera's 4K resolution promises detailed and clear images and video, allowing for effective identification of people or objects in the video feed.
Are 4K PTZ cameras suitable for home use?
Absolutely! 4K PTZ cameras can enhance your home security or help you monitor and interact with your pets while you're away. The pan, tilt, and zoom capabilities let you see a wide viewing angle, making them ideal for surveying larger properties and outdoor spaces.
What is the maximum range of a PTZ camera?
The range of a PTZ is determined by the quality of its optical zoom function. The higher the quality, the longer the range. On average, PTZ cameras can cover several hundred feet, but some high-end models can reach up to a mile or more under perfect conditions. It's important to note that range can be affected by factors such as lens quality, sensor size, and environmental conditions.
How far can a PTZ camera zoom in?
The zoom capability of a 4K PTZ camera varies greatly depending on the model. Lower-end models may have digital zoom, while high-end models can zoom in up to 30x optically. Remember that optical zoom is preferred to digital zoom as it maintains the image's clarity while zooming.
Can I use my 4K PTZ camera in outdoor conditions?'
Yes, many 4K PTZ cameras are made to withstand the elements. These cameras are built with durable materials and generally have weatherproof ratings of IP66 or IP67. Cameras that carry either rating should be protected from the outdoors, but always check the manufacturer's specifications to ensure it is designed to be outside.
Conclusion
As this guide has laid out, 4K PTZ cameras are not only superior in terms of video quality, but they also offer remarkable versatility and control and are useful for both amateur and professional users.
With all of this information in mind, we'd love to hear your thoughts and comments below. We're here to engage with our community, answer your questions, and help you navigate the exciting world of 4K PTZ cameras.