PoE security cameras are a versatile and efficient surveillance solution that utilizes Power over Ethernet technology. By connecting through a single Ethernet cable, these cameras can get power and network connectivity at the same time; therefore, they can simplify installation and reduce cable clutter, making them an increasingly popular choice for both residential and business security applications.
Furthermore, to meet diverse demands of users, PoE security cameras have updated their features. The higher resolution is one of them. They combine 4K 8MP resolution with PoE technology. So such 4K HD security cameras can provide users with clearer images and videos and more effective security solutions.
In this comprehensive guide, we will provide you with a thorough understanding of 4K PoE IP cameras and how they can optimize your security experience.
Please check out our comprehensive guide on 4K security cameras if you are interested in learning more about them.
4K PoE: Basic Terminology
To begin, let's go over the basics of 4K security cameras and PoE connectivity.
What is 4K?
The term "4K" derives from the approximately 4,000-pixel width of the camera footage. 4K resolution is the latest offering in the world of HD video surveillance cameras. Using 8-megapixel (3840 x 2160) image sensors, 4K security cameras deliver footage with improved contrast, color, and low-light performance. So, you may see that descriptions of 4K security cameras use both 4K and 8MP to indicate high resolution.
What is PoE?
PoE stands for Power over Ethernet. It is a technology for using wired Ethernet local area networks (LANs) that provide a device with the electrical current necessary for operation. Ethernet data cables carry power instead of standard electrical power cords and wiring, which minimizes the number of wires attached to the device. Integrated with PoE technology, 4K security cameras work with just one cable that provides both power and a network connection.
Compared to Wi-Fi security cameras, 4K PoE cameras provide a significantly more reliable and safer network connection. Higher resolution typically requires more bandwidth than a lower resolution camera, but a good 4K PoE camera will often use H.265 compression, which reduces the impact. Bandwidth use with H.265 compression should not exceed 15Mbps, but an ethernet connection decreases the likelihood that this will clutter and slow down your network.
Different Types of 4K PoE Security Cameras
The combination of PoE technology and 4K 8MP high resolution made 4K PoE security cameras a hit when the launched on the market. To cater to consumer needs, the cameras come in three types, the bullet, the dome, and the PTZ.
4K Bullet PoE Security Cameras
Bullet cameras are named for their cylindrical shape. 4K PoE bullet security cameras are a common type of 4K security camera that most people think of when they think about security cameras. This does have one downside: A bullet camera is more conspicuous than other types due to its recognizable shape.
What you lose in subtlety is made up for by utility, fortunately. Users can adjust the 4K bullet PoE cameras to point to the area they want to monitor. These cameras focus on a specific area and leverage a combination of high resolution and magnification to capture details. The cameras do well in outdoor locations like your yard or driveway. For example. Reolink RLC-811A is highly recommened for outdoor use to monitor the area outside your house.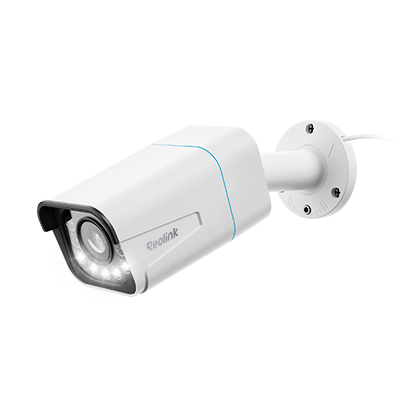 Reolink RLC-811A
4K Smart PoE Camera with 5 Spotlights
4K 8MP Ultra HD Day & Night, Person/Vehicle Alerts, 5X Optical Zoom, Two-Way Audio, Built-in Siren, Color Night Vision, Live View Anywhere.
4K PoE Dome Cameras
The circular design of a dome camera allows users to monitor a wider field of vision when compared to a bullet camera. When paired with the 4K PoE camera's advanced sensors, dome cameras can capture high levels of detail with a very wide scope.
Since the camera is smaller in size and its lens has a spherical protective case, they are durable and often more resistant to vandalism. 4K PoE Dome security cameras are effective in both indoor and outdoor settings. Due to their discreet appearance, they are specially popular for indoor business use, like hotels, stores, garages, and office spaces.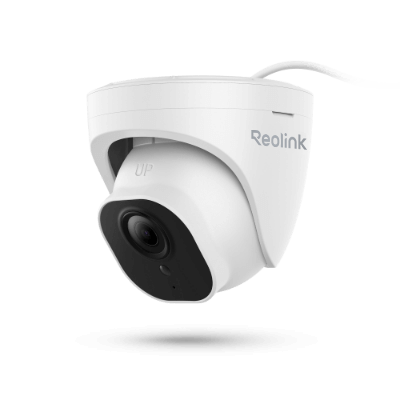 Reolink RLC-822A
4K Smart Detection PoE Camera
4K 8MP Ultra HD, Person/Vehicle Alerts, 3X Optical Zoom, Audio Recording, Time Lapse, 100ft Night Vision, Live View.
4K PoE PTZ Cameras
PTZ is short for pan-tilt-zoom, and PTZ camera has remote directional and magnification capabilities. This means you can turn your camera and zoom in on anything of interest from an app on your phone.
They can be deployed to monitor a wide area and to adjust their field of view to track target movements. Due to their high pixel count, many 4K PoE PTZ cameras allow users to zoom in on distant subjects and capture ultra-HD images with great detail. Just like Reolink 4K PoE PTZ camera RLC-823A, with its Pan&Tilt functionality and 16X varifocal lens, this camera can capture distant objects fastly and accurately without affecting image quality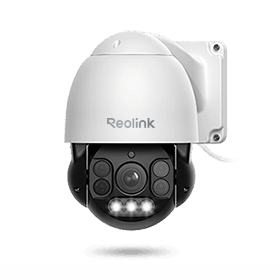 Reolink RLC-823A
Smart PTZ PoE Camera with Spotlights
4K 8MP Ultra HD, Person/Vehicle Detection, 5X Optical Zoom, Auto Tracking, Manual Pan & Tilt, Two-Way Audio, 190ft Night Vision, Live View.
Features to Look For in 4K PoE Security Cameras
Choosing the right 4K PoE security camera for your surveillance needs is not easy. Here are some key factors and features to help you select the ideal 4K PoE security cameras and systems.
PoE Standard
The PoE standard determines the power output that the PoE camera can receive and ensures compatibility with your existing PoE equipment. There are two common PoE standards: IEEE 802.3af (PoE) and IEEE 802.3at (PoE+) standards. The IEEE 802.3af standard provides up to 15.4 watts of power per port, while the IEEE 802.3at standard offers up to 25.5 watts.
The 802.3at is backward compatible with the 802.3af standard, which means that devices supporting the 802.3at standard can also supply power to devices designed for the 802.3af standard. To avoid compatibility issues, it's essential to choose a 4K PoE camera that matches the PoE standard of your existing equipment, such as PoE switches or injectors.
Image Quality
Image quality of cameras is one of the top things to consider when choosing a security solution. 4K 8MP PoE security cameras offer 4 times the resolution of 1080p security systems. With such high resolution, 4K PoE security cameras & systems for both indoor and outdoor protection allow you to see images and videos with the highest level of detail and to get wide-angle monitoring.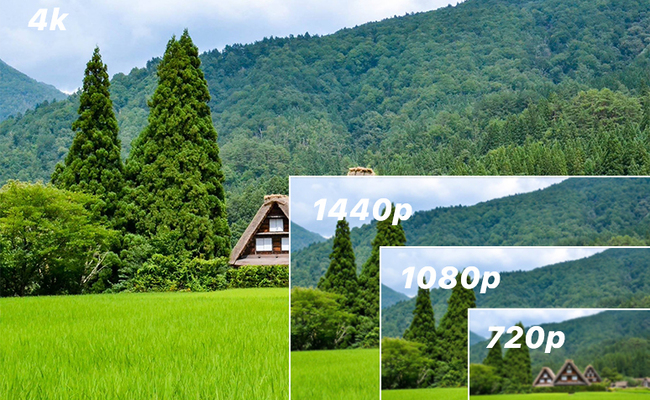 Two-way Audio
Two-way audio means users can speak and listen directly through microphones and speakers built into high-definition video cameras. Having this feature can help you communicate with visitors in real-time or deter would-be intruders.
Night Vision
4K PoE security cameras are often equipped with infrared light support to provide clear night vision up to 100 feet in front of the camera for 24/7 monitoring. In total darkness, the images will automatically switch to black and white to ensure maximum quality. Some top 4K 8MP security cameras are even equipped with spotlights to support full-color night vision function.
To learn more, check out the video footage captured by Reolink RLC-823A 4K 8MP PoE cameras to see some of the features of 4K PoE security cameras.
Tips for Choosing the Right 4K PoE Security Camera for Outdoor Use
Because of its special features, many people choose 4K PoE security cameras for outdoor use. Here are some features that will work to your advantage.
High IP Rating
The IP rating is a two-digit code that indicates how waterproof a security camera is and forms a key point for 4K cameras deployed in outdoor settings. The first digit indicates intrusion protection, while the second digit indicates moisture protection. The higher the value of the digit, the more protection a camera has.
Weather resistance should be the first feature to consider if you want to put your camera outdoors, so it's important to look for this number before you make a purchase. The IP rating of most 4K PoE security cameras, and the number that your camera should be, is IP66 or higher.
Wide Viewing Angle
When used in outdoor settings, 4K PoE security cameras are expected to cover a larger range. To meet this demand, choose 4K PoE security cameras with a wide viewing angle. For a large property, an outdoor 4K PoE IP camera with a wide field of view (FOV) (over 80°) helps cover large areas and reduces blind spots.
The PTZ camera type can rotate 360°, and you can pan or tilt the camera as needed to check additional areas. This camera will zoom in on specific areas, and if you connect your camera to Wi-Fi as well, you can control it remotely.
Check Working Temperature
If you live in areas where summer could be extremely hot, particularly if average temperature exceeds 90°F as it can in areas like Arizona or Nevada, be sure to check the maximum heat rating. If you live in places with freezing cold winters that drop below -17°F like Fairbanks, Alaska, be sure to check the minimum working temperature.
It's important to check outdoor PoE security cameras' working temperature before your purchase to ensure that it isn't ruined by normal use. Reolink 4K PoE camera for outdoor use is designed to operate in temperatures between 14 °F to 131 °F with humidity ranging from 10% to 90%, for example.
4K PoE Security Cameras: Pros & Cons
4K PoE security cameras may have some features you have been looking for, but to help you evaluate whether it is the best option for your property, we have assembled a pros and cons list.
Pros:
Crisp images: 4K 8MP Ultra HD PoE cameras deliver about twice the detail in images as 1440p cameras, 4 times clearer videos than 1080p cameras, and 8 times sharper footage than 7200p. With 4K 8MP PoE cameras, you are more likely to recognize human faces and license plate numbers effortlessly.
Easy magnification: Thanks to the 4K image quality, you can conduct digital magnification of 8MP PoE IP camera images as you wish. All details are represented vividly, and they will be clearer than 1080p images even after 2x magnification.
Simple installation: 4K PoE security cameras require only one Ethernet network cable to both receive power and transmit data. It will save you from drilling multiple holes and complicated cable routing.
Compatibility with NVRs or existing systems: If you are already using 4K-compatible systems or NVRs, you can add 4K PoE security cameras to these devices as needed. Saving money on NVRs allows you to use your budget for more cameras or other components.
High compression rates: Compared to H.264 PoE cameras, 4K PoE cameras apply advanced H.265 codec encoded videos at the lowest possible bitrate while retaining video quality. Therefore, you won't endure slow network speeds and constantly almost-full storage space.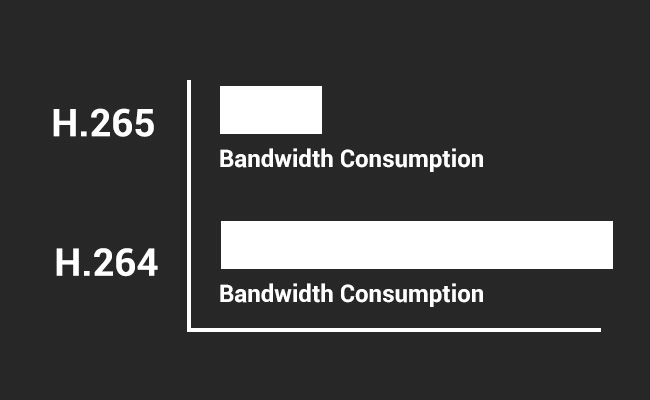 Cons:
Possible power insufficiency: Different PoE standards have different power outputs. For example, the 802.3af PoE standard's maximum power output is below 15.4W, and this is sufficient to provide power supply for most IP cameras. However, this power is insufficient for high consumption devices such as 4K PoE PTZ cameras.
Centralized risk: PoE cameras get power and Internet through Ethernet cables. Sometimes a PoE switch is needed. Generally, a PoE switch connects to multiple IP cameras, so if the PoE switch encounters any problems, all IP cameras will stop working.
High equipment and maintenance cost: Compared to other power supplying methods, PoE technology may need more maintenance due to the single source for both power and data transmission.
4K PoE Security Camera Systems: A Reliable Security Solution
For a reliable security solution that works for a variety of needs, consider buying a 4K PoE security system. Equipped with a network video recorder (NVR) as a storage backup and other components, including one of the previously mentioned cameras, this system has some features that may satisfy your particular needs.
Components of 4K PoE Security Camera System
4K PoE Security Cameras: In a 4K PoE security camera system, 4K PoE cameras capture images and videos. With their built-in 8MP image sensor, these cameras deliver crisp images and high-quality video.
NVR: A central component, NVRs in a 4K PoE security camera system are used to process, decode, and store images and video footage. An NVR also provides robust video processing and management of multiple video streams for security camera systems. To ensure your NVR will work properly with 4K PoE security cameras, make sure that it is 4K-compatible.
Monitor: To view the high-quality videos captured by 4K cameras, a display or monitor is beneficial. After all, if you are capturing very high-quality and detailed footage, you should have a monitor that can support the quality of the footage. Most NVRs have HDMI or VGA ports to connect compatible monitors and video output.
Ethernet Cables: To support PoE, you will need a Cat5 or Cat6 ethernet cable that connects to your network devices.
PoE Switch(optional): PoE switches combine the functionality of a switch with a power source. It has multiple Ethernet ports that can be used to connect to other devices like IP cameras. The switch is responsible for providing power to the connected devices and eliminating the need for separate power cables. PoE network switches are often used in network deployments where power outlets are scarce or when the devices are in hard-to-reach places.
How to Set UP 4K PoE Security Camera Systems
To set up your system, use an ethernet cable to connect a camera to an on-premise network PoE switch and plug the NVR into a network switch. Network switches come with multiple PoE ports, enabling you to set up and power four or more cameras from one device. PoE camera systems reduce cabling and streamline operations.
To view video footage, you have several options. For example, you can connect a monitor directly to an on-premise NVR using a VGA or HDMI cable. Or, for remote viewing, connect your NVR to the internet via a network router, and then you can watch the footage on your smartphone.
If you have a cloud-based NVR (sometimes called a network gateway), you can connect multiple cameras to a PoE switch or injector to distribute power and network connections. Then activate and connect your cameras and gateway through cloud-based software. Using viewing software, video management software (VMS), or mobile apps on smartphones, you can access and stream video feeds from anywhere.
Be sure to pay attention to the storage capacity of your NVR. As 4K PoE cameras capture images and videos with high resolution, this footage requires more storage space than a traditional security camera. Choose a 4K- compatible NVR with larger storage units to mitigate this issue.
Like other security camera manufacturers, Reolink also release its own 4K security camera system kits. Equipped with 4K PoE security cameras and NVR with 2TB pre-installed HDD, these kits can be your best home security solution.
Reolink RLK8-800B4
4K 8-Channel PoE Security System
4 pcs 4K Ultra HD Security Cameras; 2TB HDD 8-Channel NVR for 24/7 Recording; Person/Vehicle Detection; Plug & Play; 2 Network Solutions.
4K PoE Security Camera Installation Tips
Mount your camera up high. This makes sure it gets a clear and wide view and covers as many entries as possible. Wide coverage can save you money due to needing fewer cameras for your system. Keep your security cameras out of reach of intruders and thieves (or children).
Check light sources. Avoid pointing your camera directly at a light source, or it will result in a slight underexposure of videos and images captured by the CCTV camera.
Use the mounting template. Most companies include one in the product box. All you need to do is decide where to place your camera, attach the mounting template to the wall and then use a drill bit the same size as the screws that came with your camera to drill holes in each of the marked locations on the template. This makes it easier to determine where to drill.
Manage Ethernet cables. 4K PoE security cameras get power and web connection through ethernet cables, but even a single cable can be challenging to hide. Use fish tape to guide the cable through drilled holes, and use a wire protection cover to maximize the cable's lifespan.
Ensure proper wiring. Make sure that the camera is connected to the router with an Ethernet cable. The router must be connected to the PoE switch with a LAN cable and the PoE switch must be connected to the power adapter with a power cord. Do not forget that if you are using an NVR and a monitor, both devices need to be wired and powered up correctly.
Do a final check. Before you can say that your installation job is done, it is recommended for you to recheck the views of each camera. Make sure your camera is capturing everything you need it to. If desired, download the camera's mobile app and/or desktop software and test any available functions.
FAQs
Should I Use 4K PoE Cameras for Outdoor Settings?
You can choose the 4K PoE cameras for outdoor use according to the materials of the camera and its weather resistance capacity (IP rating). 4K PoE security cameras designed for outdoor use are typically made of more durable materials (like metal), and come with fully-sealed waterproof designs to protect against vandalism and harsh weather conditions. Choose cameras with an IP66 rating or higher.
Is 4K Worth the Price?
The choice of camera resolution depends on your needs. Higher resolution creates more detailed footage. If you want to view crisp images, 4K security cameras are worthwhile. 1080p cameras have approximately 2 million pixels, 5 MP cameras have approximately 5 million, and 4K cameras have over 8 million. Because the number of pixels plays a big role in the image quality of cameras, that means 5 MP is better than 1080p HD, but 4K towers over them.
Can 4K PoE Security Cameras Work with NVRs?
If the NVRs are 4K-compatible, the camera will work. If you want to run 4K PoE cameras on NVRs from different brands, you need to pay extra attention to their specifications to ensure compatibility. To ensure the best performance and results, you are suggested to run 4K PoE CCTV cameras on NVRs that are from the same brand.
Do 4K PoE Security Cameras Slow Down the Internet Connection?
They may slow down the internet a little bit, but not as much as you may think. You mostly use the download bandwidth to access the internet, but the cameras use upload bandwidth, so there is a minimal effect on your online activities. Additionally, 4K PoE security cameras are usually the H.265 or H.264 codec, either of which compresses the recording files to a small size to minimize needed bandwidth.
Conclusion
4K 8MP PoE cameras have become popular on the security camera market. With the combination of Power over Ethernet (PoE) technology and 4K resolution, these cameras can satisfy the demands of many different users. 4K PoE security camera systems formed by 4K PoE cameras, NVRs, switches, and monitors also offer some special features that give users a more reliable and effective security solution.
If you want to buy a 4K security camera, you should consider the PoE version. What advantages do you think 4K PoE security cameras have? Please share your ideas and opinions with us in the comment section below! We'd love to hear from you!